MEMA updates winter storm damage in state
The Mississippi Emergency Management Agency (MEMA) continues to respond to the winter weather event that resulted in extreme cold and two rounds of wintry precipitation across the state throughout the week of Feb. 15.
Statewide there have been a total of five storm-related fatalities reported in Warren (2), Lafayette (1), Neshoba (1) and Oktibbeha (1) counties.
The official damage reports have been submitted to MEMA by the following counties:
Adams County – 113 homes; 5 businesses
Chickasaw County – 9 businesses/farms
Clay County – 7 businesses/farms
Copiah County – 2 homes affected; 2 businesses
Grenada County – 23 homes affected; 2 businesses
Jefferson Davis County – 1 home
Kemper County – 3 homes
Leake County – 7 homes affected; 2 farms
Marshall County – 1 home affected; 1 business
Oktibbeha County – 2 homes
Smith County – 9 homes affected; 1 business
Warren County – 10 homes
Washington County – 15,750 homes affected because of water supply issues
Yazoo County – 1 home
*These are preliminary numbers and could change throughout the assessment process.
MEMA will continue to work to fulfill supply requests from the counties. Currently, MEMA has delivered and/or is processing the following requested resources:
Bottles of Water – 333,714
Tarps – 310
The Mississippi Emergency Management Agency is working with counties to assess reported damage. Those damage assessments will be used to determine if the state is eligible for federal public assistance for local and state governments.
If there are immediate unmet needs, MEMA encourages you to contact your county emergency management agency. Resources must be requested through the county EMA to be submitted to MEMA for resource coordination.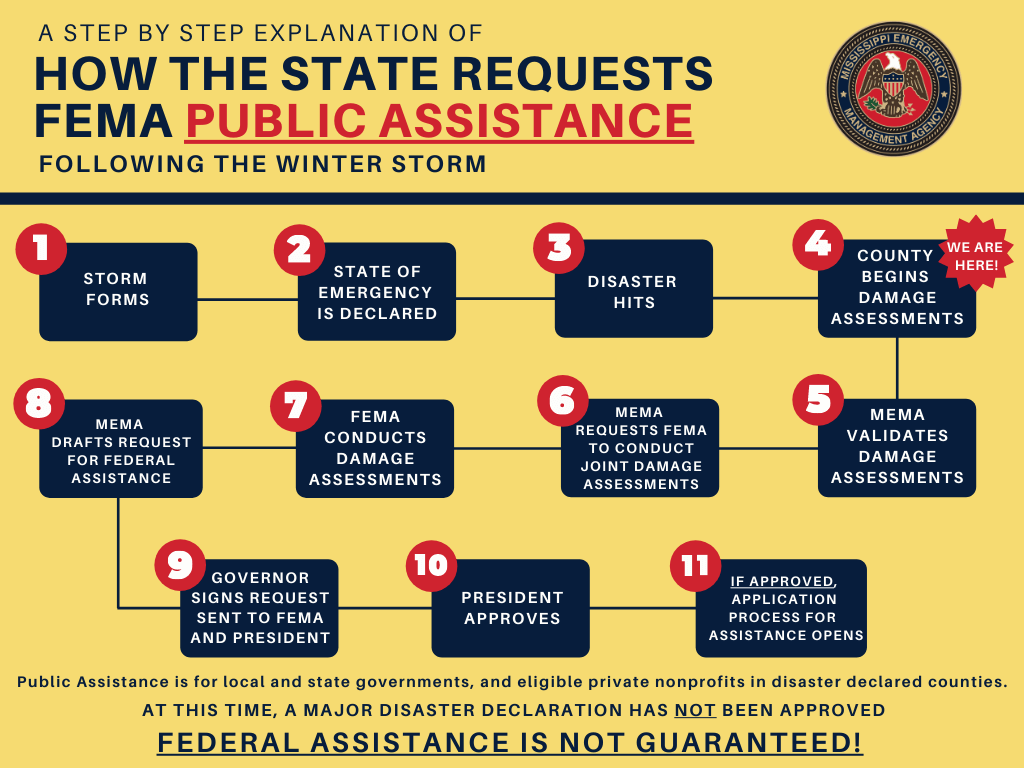 MEMA News Release