Housing Assistance for Teachers Program available in Mississippi
Several Mississippi school districts are facing the start of the new school year with a shortage of teachers, an recurring issue that continues each year, as districts struggle to get instructors to move, locate, and stay in their districts.
In an effort to attract teachers to locate and reside in Mississippi public school districts, there is a program that provides assistance for teachers in paying for closing costs associated with the purchase of a home in the district the teacher is working in.
The Mississippi Critical Teacher Shortage Act of 1998 offers attractive incentives for qualified teachers, according to the Mississippi Home Corporation, which is working with the state Department of Education.
The state Education Department will provide up to $6,000 in loans to pay for closing costs to teachers purchasing a home in an area deemed to have a critical shortage of instructors. DeSoto County School District this year is one of those districts that qualify for the program, as are Tate County, Tunica County, Marshall County, and Holly Springs school districts. The one main requirement is that they agree to stay and teach in those districts for at least three years. The amount loaned to any teacher will be converted to an interest-free grant if the teacher completes three years of employment in a critical shortage area.
Homebuyers must provide at least one percent of the home sale down payment and one month's reserves. The residential property must be inside the county where the teacher is employed which is designated by MDE as a critical shortage school district. A list of those districts is found below.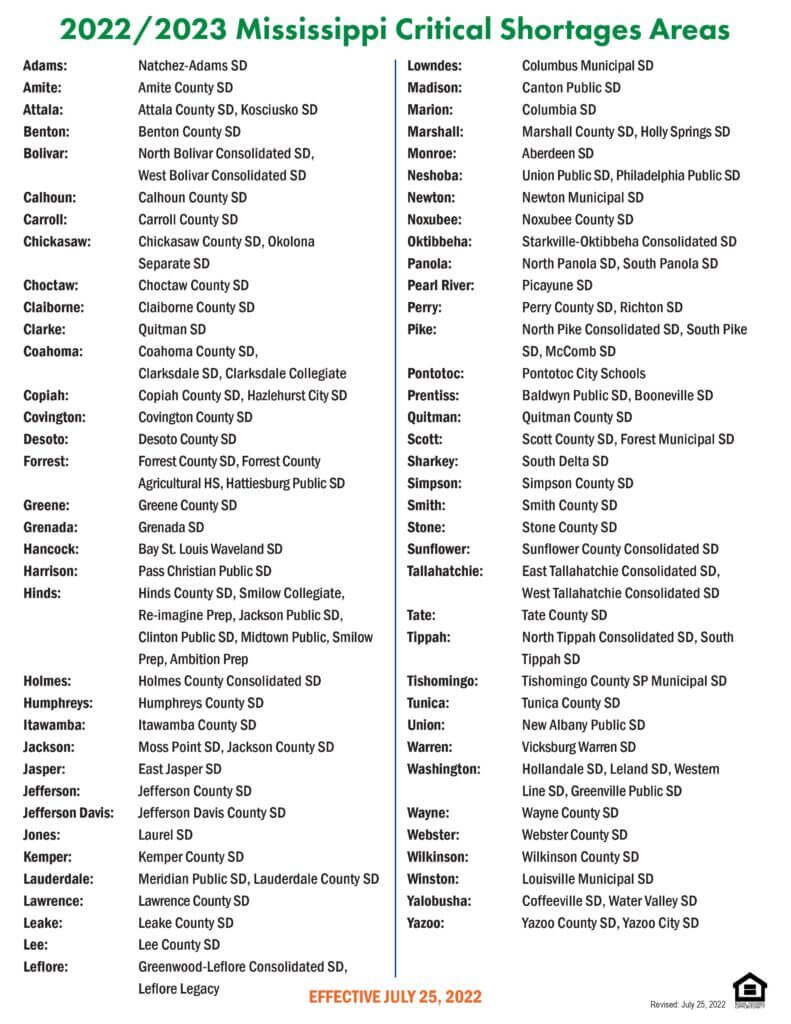 Eligible teachers shall include any employee of a school board of a school district who is required by law to obtain a teacher's license from the State Board of Education and who is assigned to an instructional area of work as defined by the MDE for the equivalent of a minimum of three normal periods per school day. 
The teacher's house must be situated in the county in which the school district, or any portion of the school district, is located. 
Teachers may contact MS Home Corporation at (601)718-4642 or www.mshomecorp.com with questions concerning the application process. More details are also found below.