Wednesday sports: Quistors, Eagles both fall at state basketball
Photo: Reece Garrison of Olive Branch fires a shot from outside during Wednesday's loss to Brandon. (Bob Bakken/desotocountynews.com)
The MHSAA 6A state basketball semifinals at Mississippi Coliseum Wednesday night pitted Rankin County against DeSoto County, with Northwest Rankin and Brandon representing Rankin County, and Horn Lake and Olive Branch bringing the DeSoto County banner.
But, at the end of the night, the Mississippi Coliseum PA announcer made the announcement that Saturday's 6A championship was going to be an "all-Rankin County contest," as both Northwest Rankin and Brandon had posted solid victories over their DeSoto County opponents.  
Northwest Rankin avenged an early-season 71-56 loss to Horn Lake in Wednesday's 58-46 victory over the previously once-beaten Eagles. The second result was even more emphatic, as Brandon manhandled Olive Branch 77-49.
The shooting struggles for Horn Lake started from the very beginning, as the Eagles went through the entire first quarter without scoring a basket and trailed 13-1 after eight minutes. When Conner Simms scored inside with 6:26 left in the first half, that was the first points for Horn Lake since the first quarter free throw.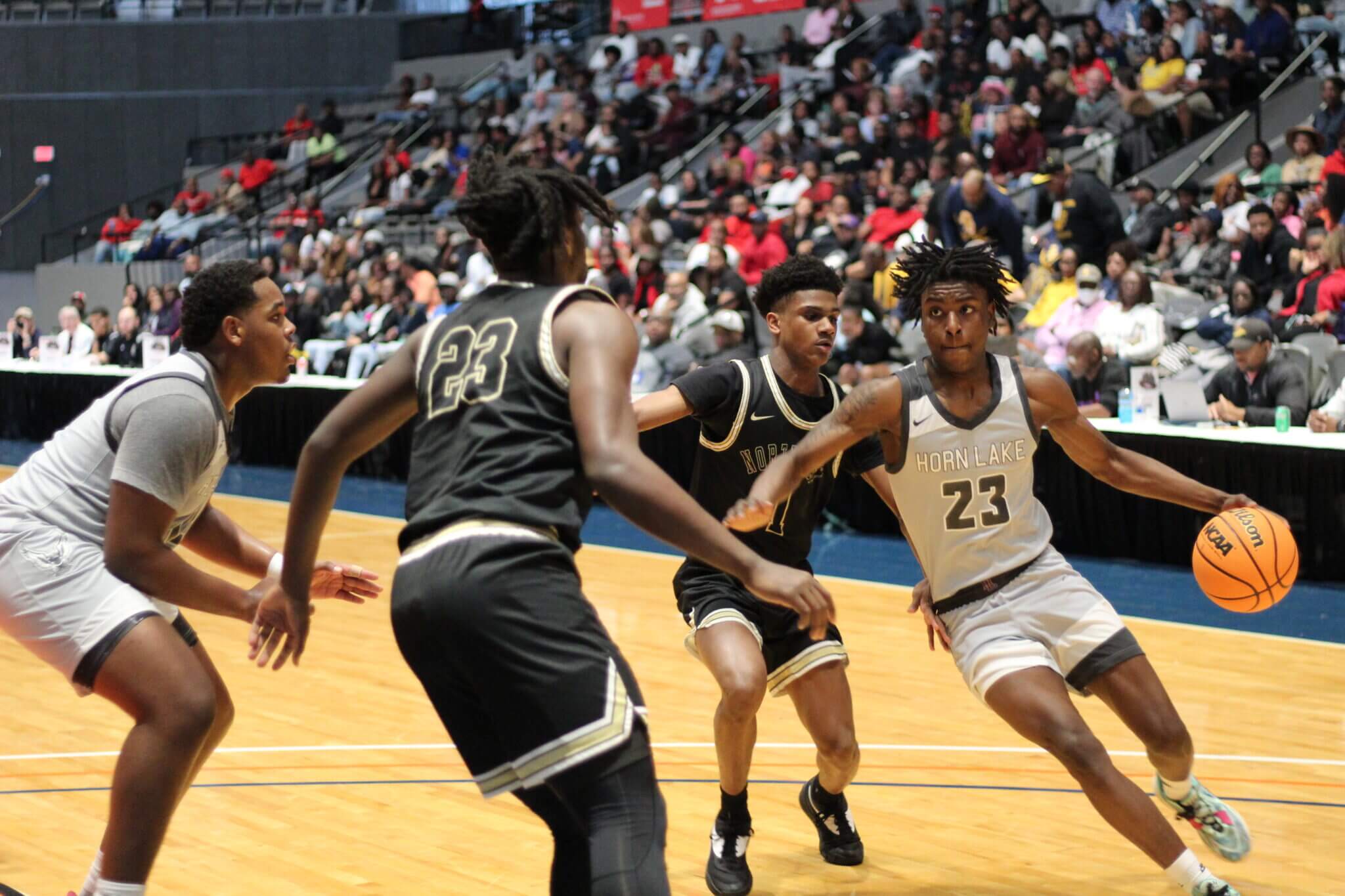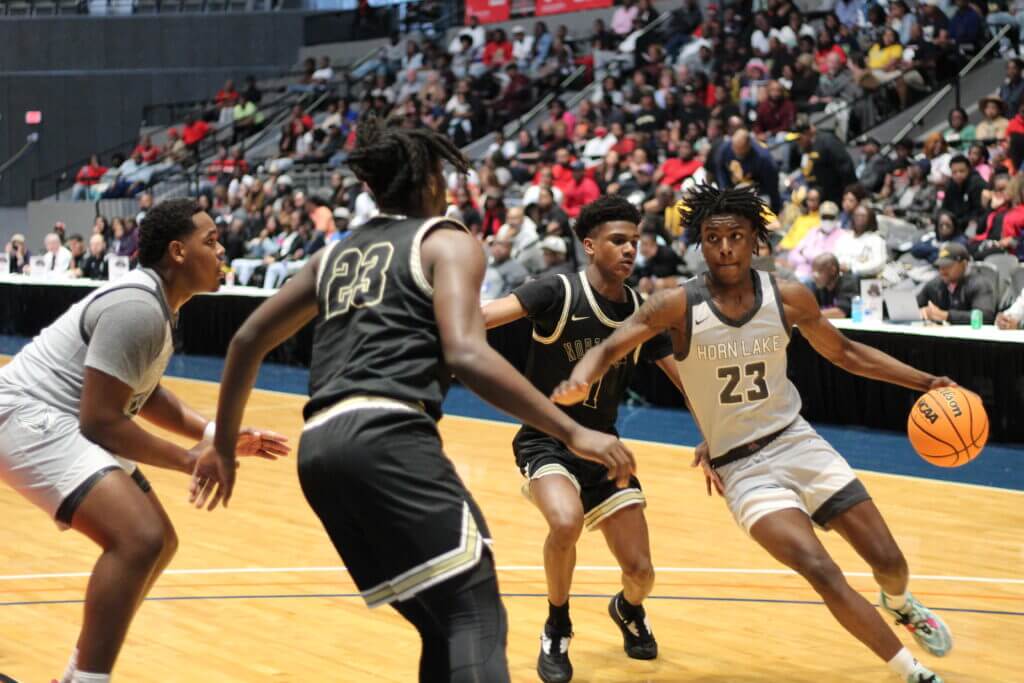 The Eagles would come back and get within 27-21 Cougars at halftime behind nine points from Simms and eight from Kylen Pernell.
The third quarter would be a battle with Northwest Rankin holding a 35-30 lead with two minutes left in the quarter. However, Horn Lake's inside presence of John Randle had left the game with his fourth foul.
The Cougars would take advantage, as a five-point quarter-ending lead became a 10-point bulge at 44-34 with about two minutes gone in the fourth quarter.
But the Eagles then went on a run that brought the score to within 48-46 with about three minutes remaining. But those points would be the last points scored for Horn Lake the rest of the night, as Northwest Rankin hit the last 10 points of the game for the victory.
One of the better boys basketball seasons in recent history for Horn Lake ended at 30-2. Northwest Rankin improves to 25-8 with the victory.
"That's a team that has grown over the year," said first-year Horn Lake coach Chico Potts about Northwest Rankin. "They wanted to come out and beat us up and they beat us up. We didn't get the ultimate goal but we've had a ton of success over the course of the season."
Brendan Brown was unstoppable for Northwest Rankin, finishing with a game-high 29 points. Kylen Pernell scored 18 for Horn Lake and Conner Simms added 14.
The nightcap of Wednesday's semifinal twinbill was even more frustrating for Olive Branch, which after a close first quarter fell behind and never could recover in Brandon's 77-49 victory.
Olive Branch trailed by just one at 12-11 after one quarter, but the Quistors were held to just four points the remainder of the first half. Brandon took a 30-15 lead to the locker room at intermission.
Brandon continued to pour it on and Olive Branch had no answers. The Bulldogs led 38-19 with five minutes left in the third quarter and after three quarters, the lead had ballooned to 53-26.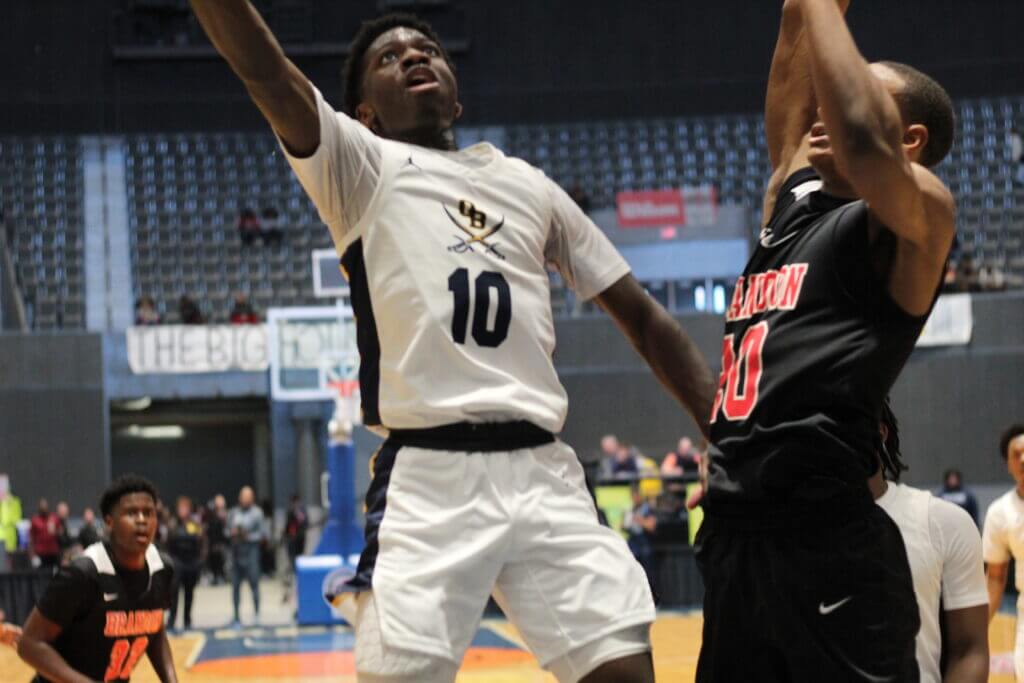 Javion Stephen became a bright spot for the Quistors in a fourth quarter that became out of reach for Olive Branch, hitting four three-point shots for a total of 12 points. That would put him one point short of team-high honors for the game. Jaylyn Tyler had that honor with 13 points.
Isaiah Davis led all scorers with 22 points for the 25-7 Bulldogs, followed by Marcel Bridges with 17.
"We felt like we had a good game plan going in," said Olive Branch coach Eric Rombaugh. "We didn't do a lot of the things that we worked on. They kept making shots, so we didn't get any long rebounds or run outs. We couldn't get the ball out quick enough to get any transition baskets going."
After being stopped in last year's state championship game 76-75 to Clinton, Rombaugh said this year's group "worked so hard to get back here."
"We're a resilient group and we're bringing back almost everybody, so they're going to be ready to get back here again," Rombaugh said.