UPDATE: MDEQ details chemical spill response to Hernando mayor
Hernando firefighters were called out to Schulz Xtruded Products (SXP) Saturday morning, Feb. 25 on the report of a fire at the location, 2785 McCracken Road. In the course of the fire, it was determined a chemical had spilled from a container and some of the chemical had entered the nearby Mussacuna Creek.
Crews were called in to clean up the spilled Hydrofluoric Acid and have built a dam on the creek to limit potential dangers to downstream aquatic life.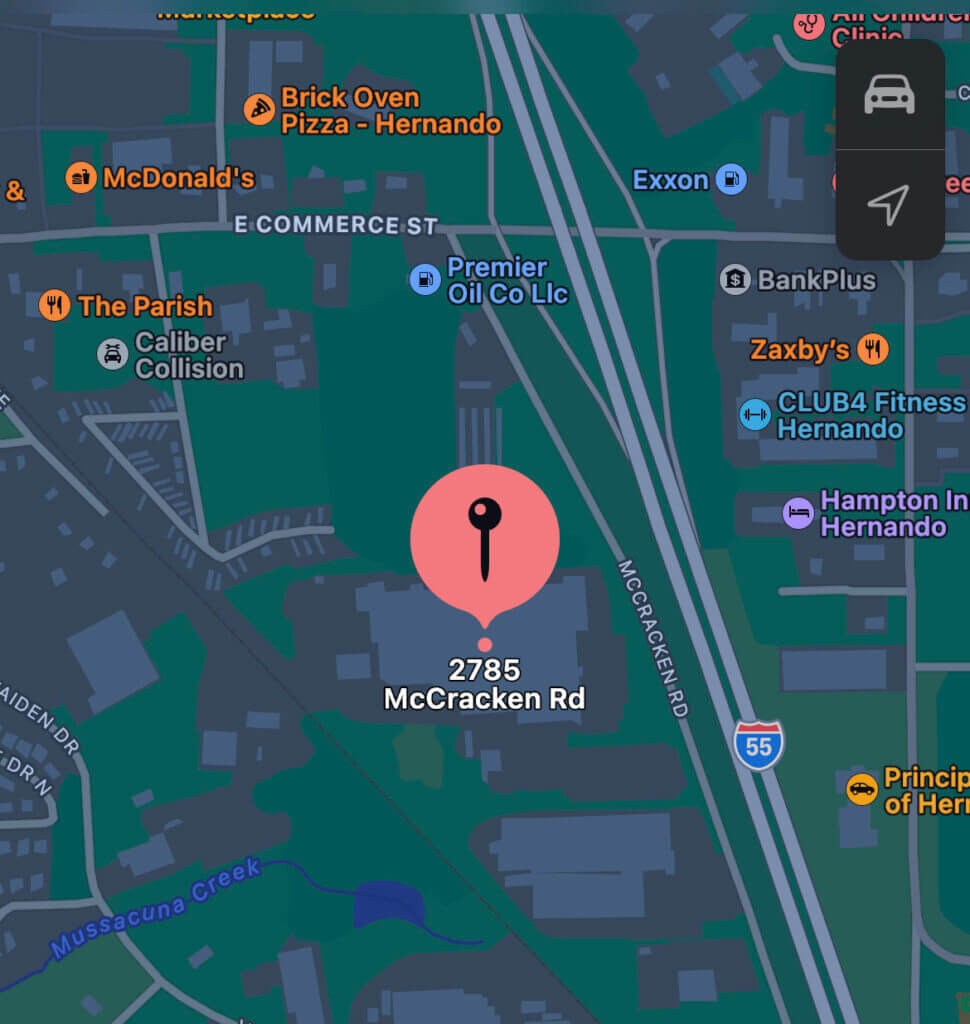 The Mississippi Department of Environmental Quality (MDEQ), DeSoto County Emergency Services, and environmental cleanup crews hired by (SXP) are involved in the dam construction.
There is no danger to drinking water or to residents who live downstream or upstream from the creek. However, residents are asked to avoid the creek in the area while crews continue working to remediate the water. The DeSoto County Sheriff's Department late Saturday put out an alert stating that Robertson Gin Road would be closed to thru traffic between Green Village and Ranch road for a number hours to provide for crew and equipment parking while the dam is being built on Mussacuna Creek.
Hernando Mayor Chip Johnson said he was monitoring the situation, adding the dam was being built because a slight pH level had been detected in the creek.
"The lead person from MDEQ drove up from Vicksburg and is carefully monitoring the mitigation work being done by professional contractors hired by SXP," Johnson said. "City of Hernando public works personnel are helping them as they check our sewer and storm water system for any contamination."
Late Saturday night, MDEQ said the dam to contain the runoff is complete and is working well. MDEQ is carefully monitoring the mitigation work being done by professional contractors hired by SXP.
Sunday Update on SXP spill: (From DeSoto County Government)
The environmental cleanup companies contracted by SXP worked through the night to stabilize the areas impacted by the spill. The Mussacuna Creek was temporarily dammed up near Robertson Gin road to ensure no product continued downstream to Arkabutla Lake. At that time, testing showed slightly lower PH levels in the creek water. Actions were taken to neutralize the PH levels and the PH of creek water has returned to normal limits. Soil samples and water samples have been taken and will continue to be taken during the duration of cleanup efforts.
The Mississippi Department of Environmental Equality (MSDEQ) is satisfied with the progress, so the dam is currently being removed to allow the creek flow to return.
Consensus among the environmental companies and MSDEQ state there is no indications of any contamination of drinking water both for the city water system or any private water wells in the areas along creek.
As a precaution, community air quality survey testing was completed with no measurable detection obtained. Air monitoring will continue on site throughout the cleanup. Cleanup efforts will continue on site at SXP for several more days and crews will continue to assess nearby creeks and waterways for any impacts from the spill and mitigation efforts and protective measures will remain in place to prevent any future contamination.
Update on test results
Hernando Mayor Chip Johnson on Tuesday, March 1, released a letter he received from the Mississippi Department of Environmental Quality regarding its results from the SXP site. Findings are that there is no further residual risk but follow up will continue. The MDEQ letter stated a heater caught on fire to cause a containment to melt and overflow. About 3,500 gallons of hydrofluoric acid was released.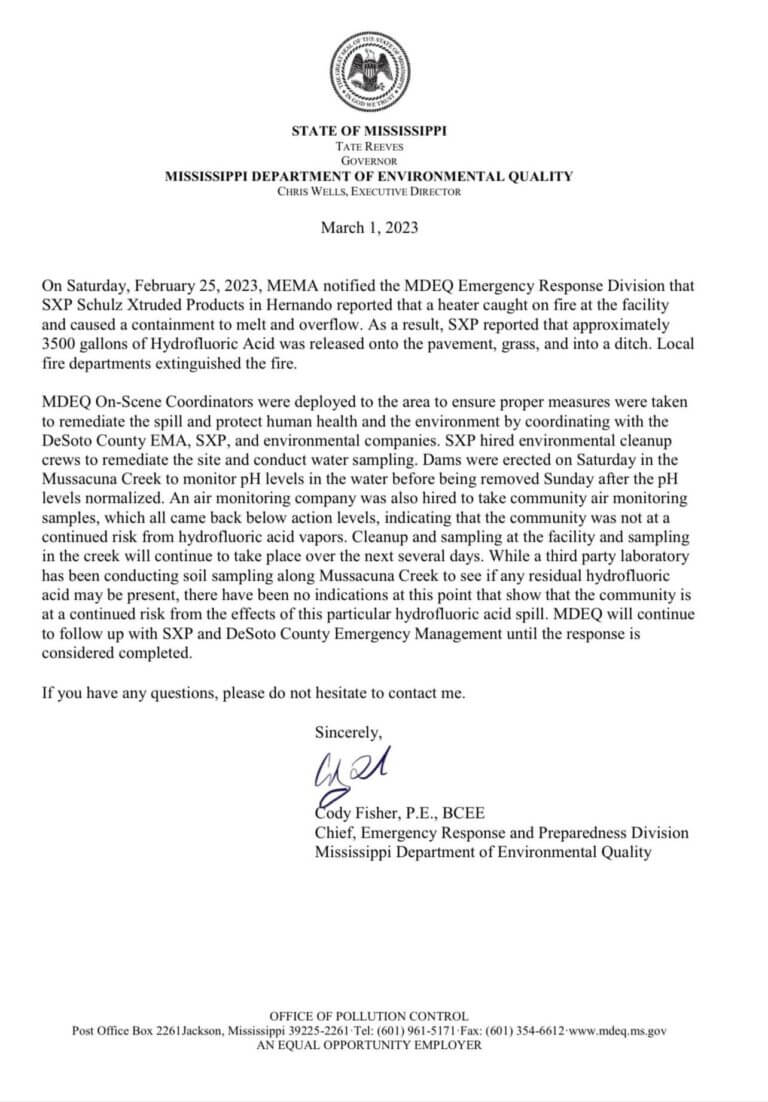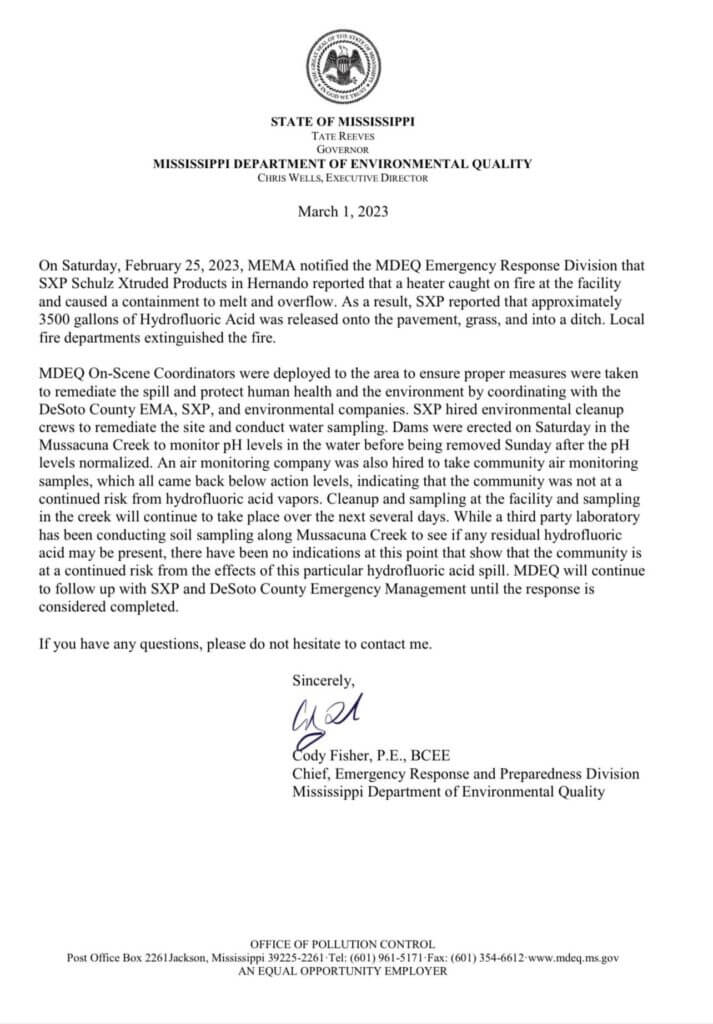 We will update this item when more information is made available.