Tournament update: Gators take district in overtime thriller
Photo: Olive Branch girls' basketball players hoist their district championship trophy after the Lady Quistors' 61-57 victory over Tupelo Friday night. (Bob Bakken/DeSoto County Sports)
FRIDAY'S VITAL NUMBERS SCOREBOARD
MHSAA 6A district at Olive Branch
(Girls' championship) Olive Branch 61, Tupelo 57
(Boys' championship) Tupelo 72, Olive Branch 52
(Girls' consolation) DeSoto Central 56, Lewisburg 44
(Boys' consolation) DeSoto Central 56, Lewisburg 55
MHSAA 6A district at Oxford
(Girls' championship) Oxford 47, Hernando 45
(Boys' championship) Southaven 61, Oxford 38
(Girls' consolation) Horn Lake 46, Southaven 35
(Boys' consolation) Hernando 55, Horn Lake 46
MHSAA 5A district at Lake Cormorant
(Girls' championship) Saltillo 36, Lafayette 27
(Boys' championship) Lake Cormorant 58, Center Hill 56 (overtime)
(Girls' consolation) Center Hill 67, Lake Cormorant 46
(Boys' consolation) Saltillo 49, Lafayette 32
FEATURED GAMES: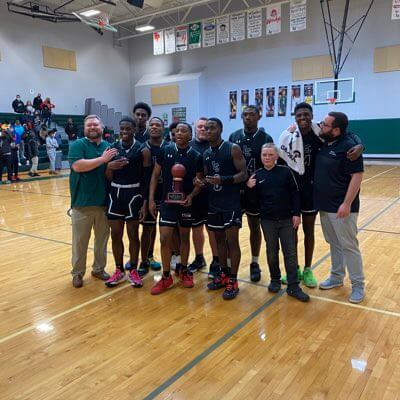 Lake Cormorant boys 58, Center Hill 56 (overtime)
The third time's the charm for the Lake Cormorant Gators, which won its 5A district championship over the Center Hill Mustangs 58-56 in overtime against a team that had soundly beaten the Gators twice in the regular season. Friday was the Gators' night, however, stopping a run of district titles for Center Hill. Donovan Sanders led the way for Lake Cormorant with 18 points, including five in overtime, and Sanders was aided by K.B. Brooks, who scored 14 in the victory. Zandon Haralson led the Center Hill offense with a game-high 32 points and Kaeden Laws scored 12, however all five Mustang points in the overtime period came on Haralson free throws.
D.J. McKnight of Lake Cormorant set a school record for career blocks after swatting away two in the game, to go with 10 rebounds and eight points.  
The Mustangs had to rally to force overtime after trailing 34-30 after three quarters, but put together a 21-point final eight minutes of regulation behind 15 fourth-quarter points from Haralson.
In addition to Sanders' five points in the extra period, Marshall Odum knocked down a pair of free throws in overtime for the final margin of victory.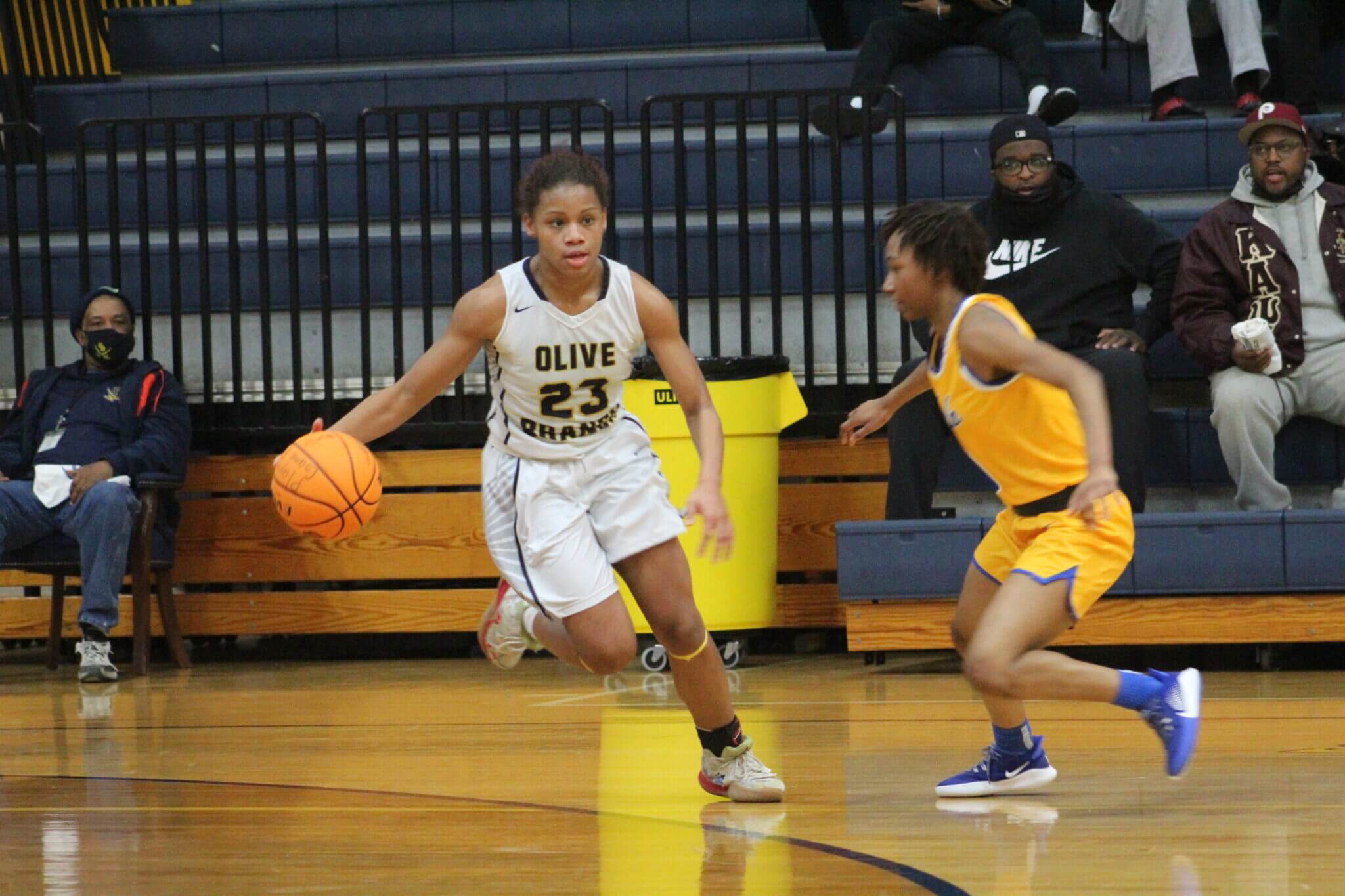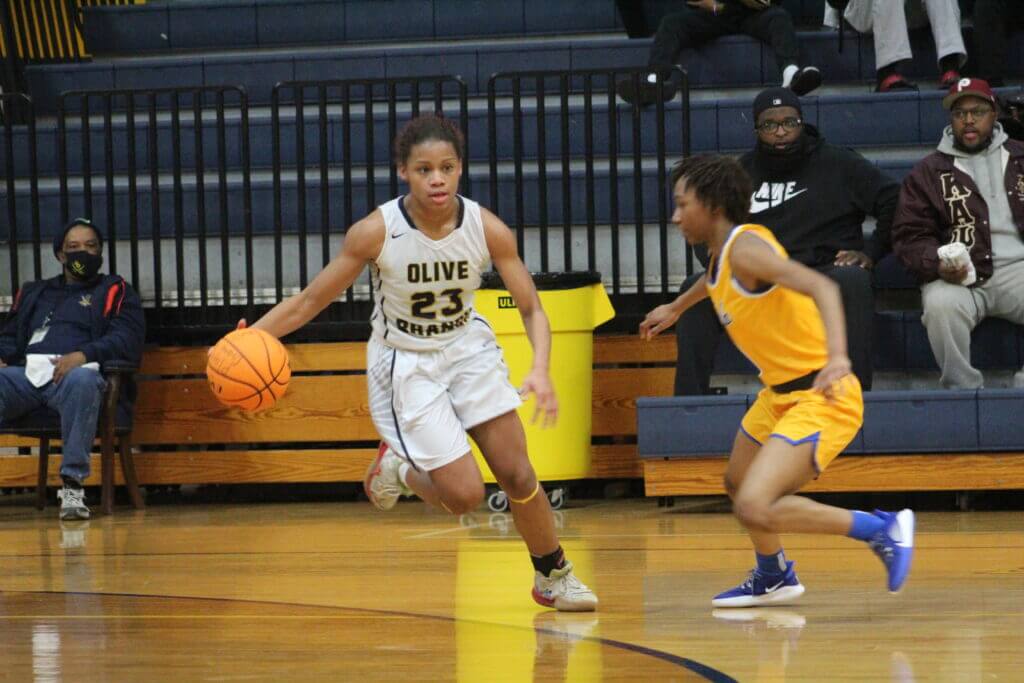 Olive Branch girls 61, Tupelo 57
The defending MHSAA 6A state champions and top-ranked 6A girls' basketball team in Mississippi Olive Branch Lady Quistors fought off another challenge from district rival Tupelo to win their 6A district championship, earn a number one seed, and a first-round bye with Friday's 61-57 victory at Charlie Bibbs Gymnasium in Olive Branch.  
A high-scoring first quarter had the Tupelo Lady Wave on top 20-15, but Olive Branch recovered in the second quarter to take a 32-29 lead into the locker room at halftime.
It was Tupelo's turn in the third quarter to knot the contest at 46-46 heading into the final quarter. But Olive Branch came out to score the first eight points of the fourth quarter and took a 54-46 lead before the Lady Wave could get on the scoreboard.  When they did, Tupelo brought the game within 56-52 Lady Quistors, but Tupelo could get no closer the remainder of the game.  
Addison Howell led the way for Olive Branch with 23 points, including 14 in the second half.
"Addison really wanted to win this game and she was determined to try to get there (state tournament) and this was one step closer to that," coach Jason Thompson said. 
Brynea Eason had 13, including three three-pointers for the Lady Quistors. Eason hit a trey in the fourth quarter that was the momentum stimulus Thompson's squad needed to put the game away.  
"That's what she (Eason) does," Thompson said. "She locks down on defense and then she makes those big threes, essentially game-in and game-out."
Lamarah Cleaves was Tupelo's top-scorer with 16 points.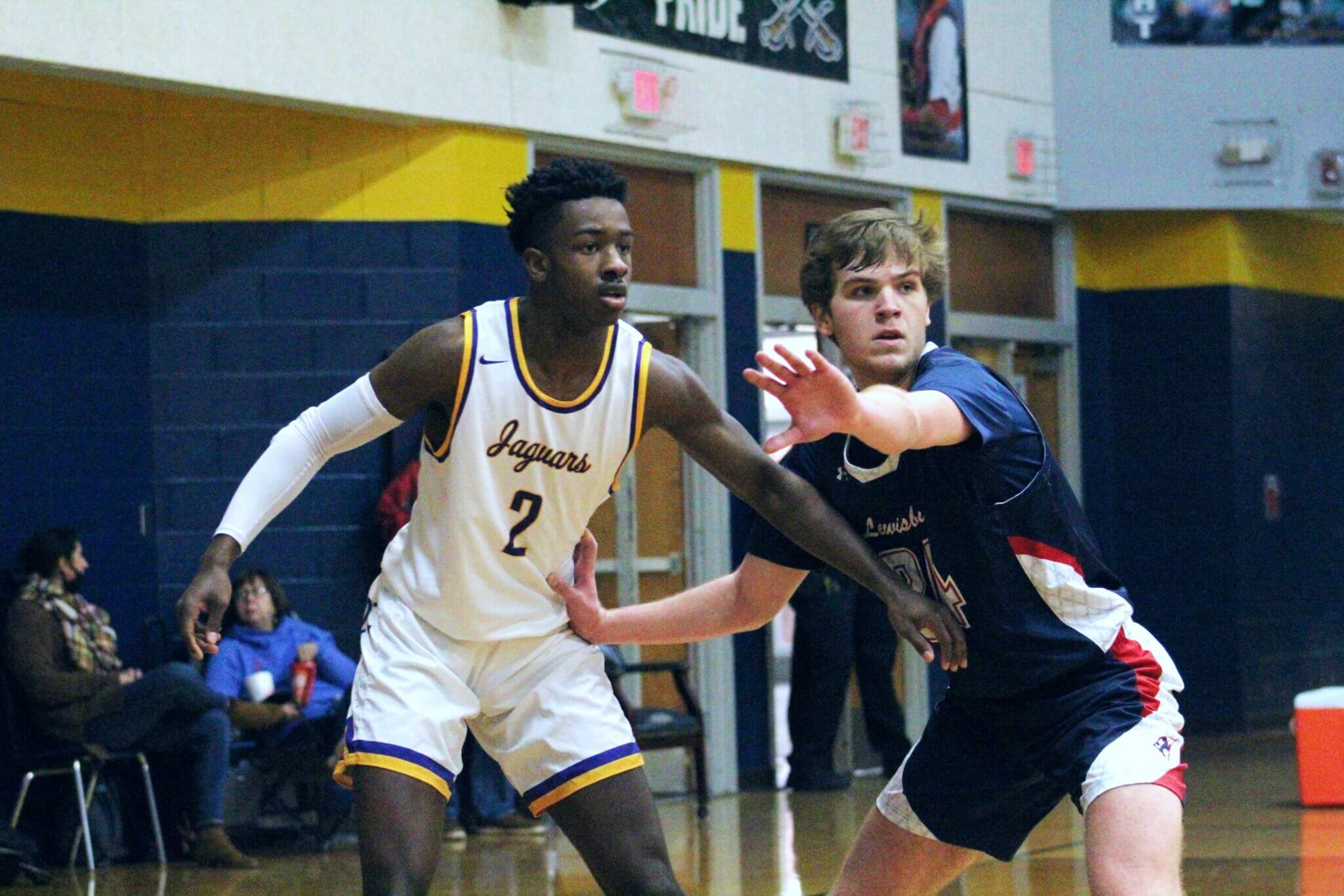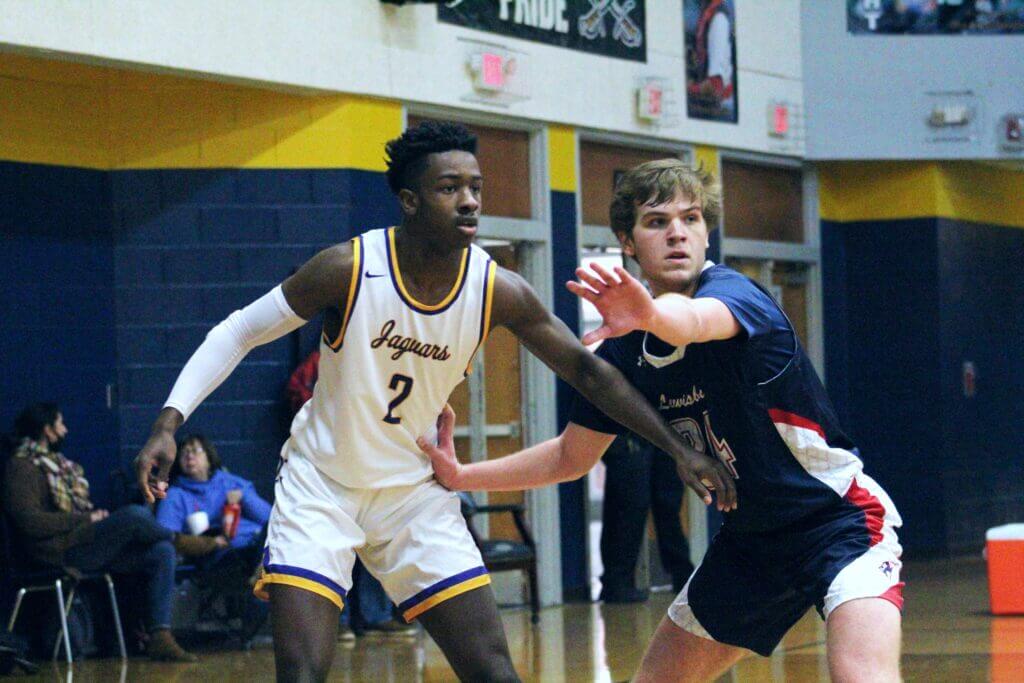 DeSoto Central boys 56, Lewisburg 55
Dorian Whitley scored 20 points for the DeSoto Central Jaguars against the Lewisburg Patriots, but it was Kendal Lewis' three-pointer with just 18.3 seconds left that defeated the Patriots 56-55 in the 6A district consolation boys game at Olive Branch.
"He's a guy who's made some big shots in big spots before," Jaguars' coach Blake Orman said. "Our guys called that on their own to try to find him one more look and it was a big time shot in a big time spot."
Lewis scored only seven points for DeSoto Central in the game but the late trey kept playoff hopes alive for the Jaguars and stole the Patriots' dream of playing on.
Matthew Smith scored 14 and Malik Jones added 11 for the Jaguars.
Eli Lamb and Logan Coker were the one-two combination for Lewisburg, as Lamb scored 11 of his game-high 20 points in the second half and Coker netted 16 of his 18 points in the first half, a total that included four from outside the arc.
Tupelo boys 72, Olive Branch 52
The Golden Wave Friday took home the 6A district title and a first-round bye with a dominating performance against the host Conquistadors 72-52.
"We just couldn't really get it going," said Quistors' coach Eric Rombaugh. "Tupelo played really well tonight. They did some things that really frustrated us and they were consistent shooting the entire night. We've gotta bounce back and get ready for Tuesday," when Olive Branch hosts its first-round state playoff game.
Tupelo led from the tipoff, taking a 21-7 lead after one quarter and led 39-20 at half time. Olive Branch cut into the lead slightly in the third quarter, as the margin shrunk to 49-33 after three quarters, but the Wave put together its second quarter of 20-plus points to pull away for the win.
The Wave led by as much as 23 points in the contest.  
Tupelo was led in scoring by the tandem of Dayveun Andelson and Jamarquas Tilman, each with 13 points. Brayton Bishop added 12. Olive Branch was paced by Jonathan Burns, who scored 13 points, but no other Quistor got more than nine points in the loss.  
"Playing hard for 32 minutes is what Olive Branch basketball is all about, and we didn't do that tonight," said Rombaugh.
NOTABLES
DeSoto Central girls moved into the 6A state playoffs with a 56-44 victory over Lewisburg in the district consolation contest at Olive Branch. Janiya Jones led DeSoto Central with 17 points and Rachel Hightower added 14. Allie Carroll led Lewisburg with 16 points in the Lady Patriots' season finale.  
Kayleigh Prentiss scored 23 points and Hope Mealer contributed 15 more for Center Hill in the Lady Mustangs' 66-47 victory over Lake Cormorant in the 5A district consolation game. 
HERE'S THE FIRST ROUND PLAYOFF BASKETBALL SCHEDULE
Saturday, Feb. 13
Prep boys' basketball
TSSAA Division II-A West Region (first round)
Jackson, Tenn, Christian at Northpoint Christian
Monday, Feb. 15
Prep girls basketball
MHSAA 6A playoffs (first round)
South Panola at Hernando
Horn Lake at Starkville
DeSoto Central at Clinton
MHSAA 5A playoffs (first round)
Center Hill at Provine
TSSAA Division II-A West Region
Fayette Academy at Northpoint Christian
Tuesday, Feb. 16
Prep boys' basketball
MHSAA 6A playoffs (first round)
Hernando at Germantown (Madison)
Warren Central at Olive Branch
DeSoto Central at Madison Central
MHSAA 5A playoffs (first round)
Provine at Center Hill
SPORTS ETC.
Former Olive Branch basketball standout Myah Taylor had a career night for Mississippi State Thursday night in the Bulldogs' 86-80 loss to 18th-ranked Arkansas. Taylor, a three-time Gatorade Mississippi Player of the Year at Olive Branch, scored 22 points and grabbed eight rebounds for the Bulldogs. Taylor shot 50 percent from the floor and hit a career-high five three-pointers. Mississippi State plays at Ole Miss on Sunday.