Thursday sports: Lewisburg sweeps Lady Jags
Photo: Lewisburg's Allie Kate Hall volleys as teammates Jayda Bradley (16) and Reagan Meadows (7) watch the action Thursday against DeSoto Central. (Bob Bakken/desotocountynews.com)
Lewisburg High School will get a first-round bye in the MHSAA 6A volleyball playoffs and a home playoff match in the second round after a 3-0 sweep of rival DeSoto Central Thursday night at Lewisburg.
With the victory, Lewisburg finished the regular season undefeated in Region 1-6A play in a region that also includes Center Hill and Olive Branch.
Thursday night, the Lady Patriots opened the match with a 25-17 set one victory over the Lady Jags.
After taking a 5-2 lead in the initial set, DeSoto Central rallied to tie the set 10-10. However, the next four points went to the Lady Patriots and the Lady Jags called a timeout.
The timeout did little to quell the momentum and when Lewisburg took a 19-14 lead in the set, DeSoto Central called another timeout. Lewisburg would take six of the next nine points to clinch the set.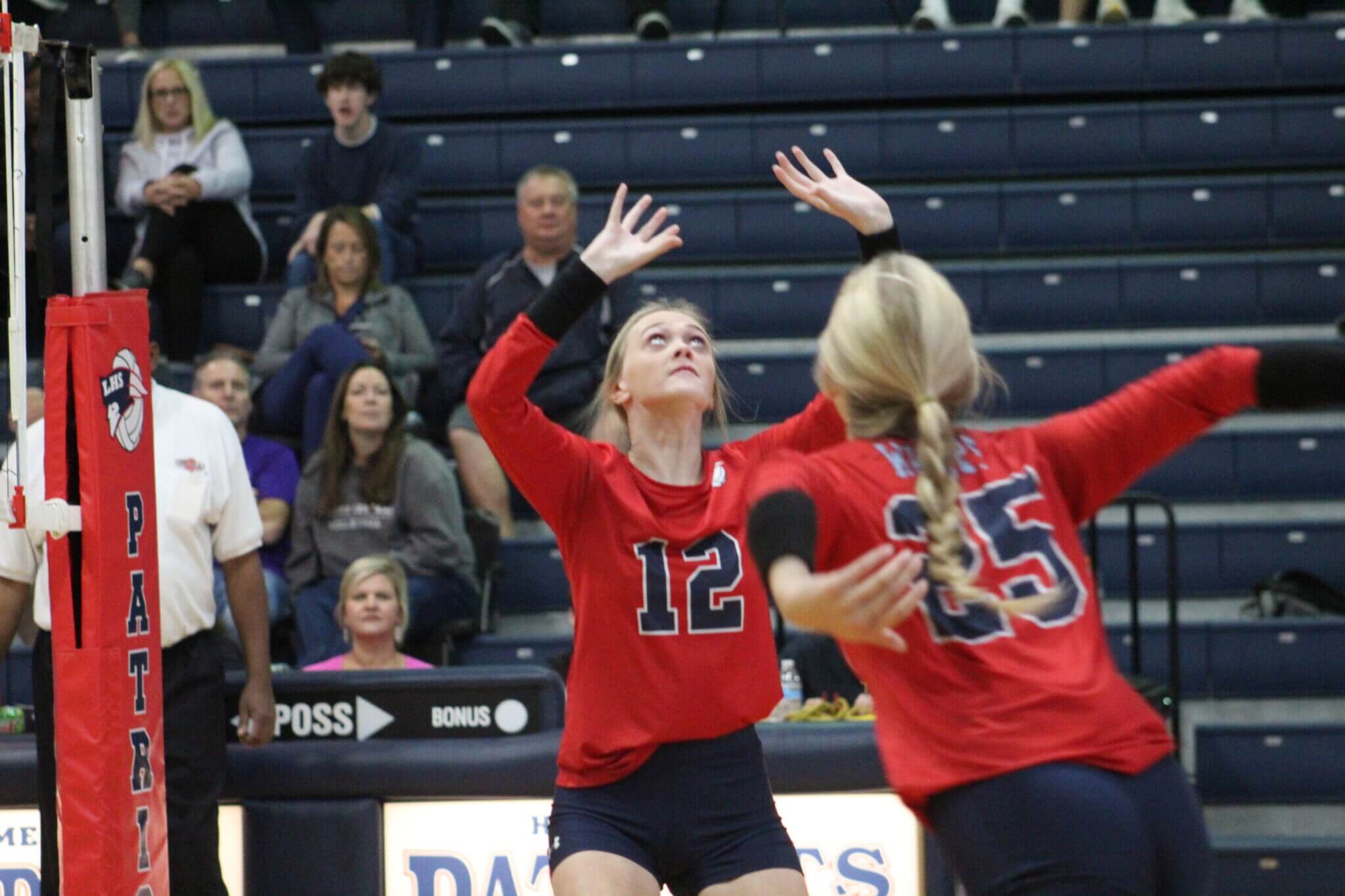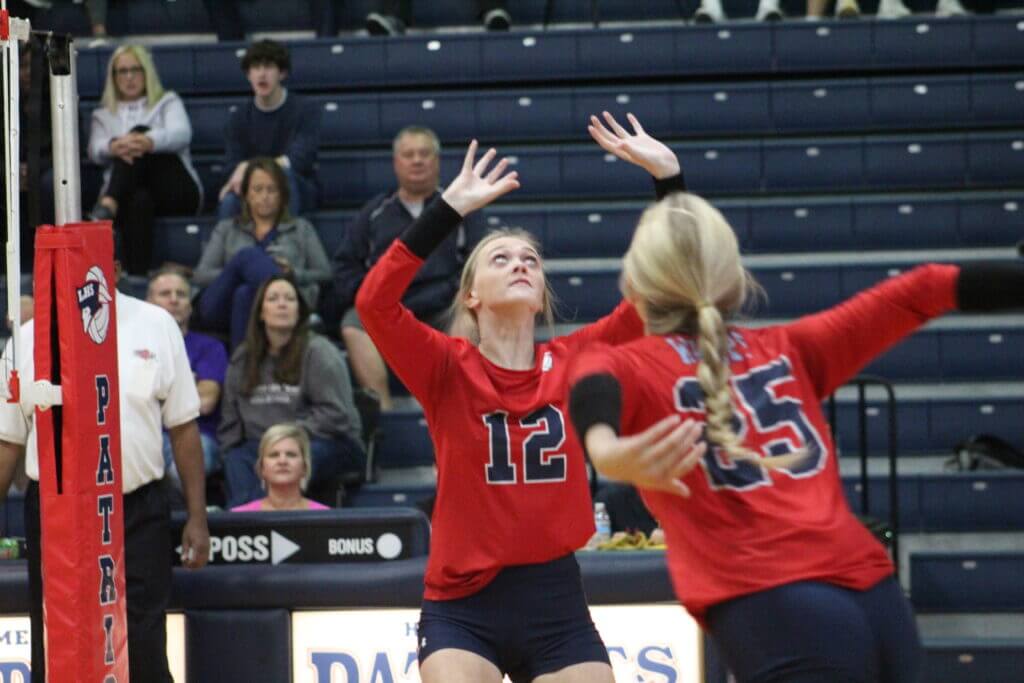 A key point in the match was the second set, which Lewisburg won by a 25-23 score. DeSoto Central took a 10-5 lead in the set and the Lady Patriots called a timeout, followed by a five-point run to knot the set at 10-10. It would remain tight in the set, with Julia Jones' ace pushing the Lady Jags' lead to 15-13.
Lewisburg rebounded to tie the set again at 17-17, but three straight DeSoto Central points caused another Lewisburg timeout to be called.
The action continued to be close as the set progressed with a Lady Jag timeout coming as Lewisburg cut the difference to 22-21. A long DeSoto Central serve tied the set at 23-23 and the Lady Patriots scored the last two points of the set for a 25-24 victory.
"It was a pure execution thing and I'm proud of the team for responding, competing and pushing back," said Lewisburg coach Amy Hendrichovsky.
Lewisburg never trailed in the deciding third set, leading by as much as nine points on their way to the 25-18 set victory.
For Lewisburg, Ella Grace Holloway and Jayda Bradley each had 11 kills. Lillian Hodges finished with 14 digs and Claire Smith made 17 assists, followed by Baylee Burchyett with 15 assists.
Prep volleyball
Lewisburg 3, DeSoto Central 0 (25-17, 25-23, 25-18)
Lake Cormorant 3, Oxford Lafayette 0 (25-16, 25-13, 25-12)
For Lake Cormorant, Sofia Gonzalez had 10 kills, Jania Rose served five aces and had 21 digs. Dallas White made 30 assists.
Center Hill 3, Olive Branch 0 (25-6, 25-12, 25-18)
Northpoint Christian 3, St. Mary's 0 (25-19, 25-21,26-24)
For Northpoint, Quinn Thurman had 12 kills and two aces. Sailor Cole earned 20 digs and Sophie Bauer finished with 27 assists.
Southaven at South Panola
JUCO football
Northwest 38, East Mississippi 21