Thursday sports: Lafayette volleyball tops Lake Cormorant
Photo: Adajah Morgan of Lake Cormorant leaps high for a volley in Thursday's contest against Lafayette. (Bob Bakken/DeSoto County Sports)
The rematch between two MHSAA 5A district volleyball rivals that last year included a North Half finals meeting happened Thursday night. Oxford Lafayette, which kept Lake Cormorant from the state championship match, took the first district meeting of the year 3-1 at The Swamp. Set scores were 25-13, 20-25, 25-18, 25-23.
The Lady Dores got off to a quick start in the first set, forcing Lake Cormorant coach Christina Morgan to take a time out after Lafayette had forged a 6-1 lead. Lafayette extended the lead to 10-3 in the set before the Lady Gators settled in. However, Lake Cormorant was again forced to take a timeout when Lafayette gained a 17-9 advantage. However, the margin continued to grow until the set was over.
Lake Cormorant jumped on the Lady Dores in the second set, scoring the first 10 points of the set before Lafayette got on the scoreboard. The huge lead was needed because Lafayette started to slowly chip away as the set continued, getting back within 17-12 and the Lady Gators timeout. Five points was all the closer Lafayette could get, however, as Lake Cormorant came away with the set victory.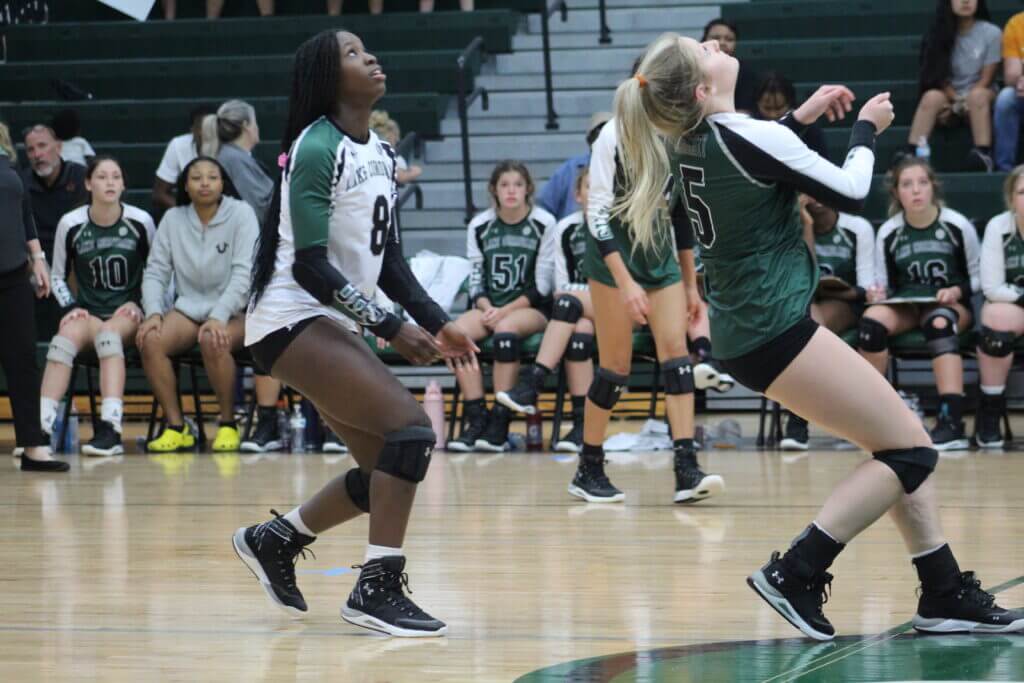 The Lady Gators took an early lead in the third set, but Lafayette was able to rally back to win the set 25-18, aided by a number of service errors by the Lady Gators giving Lafayette extra points in the set. Lake Cormorant did get within 16-15 when Lundyn Wilson slammed home a kill, but the Lady Dores recovered and pulled away from there for the win.
The fourth set was a tight one early on, tied twice in the first 20 points, including 10-10 after a Lake Cormorant service ace from Dallas White. But Lafayette began to pull away from that point, at one point leading the set 20-14.
Lake Cormorant made one more charge, however, forcing a Lafayette timeout when the score reached 23-20 Lady Dores. The Lady Gators knotted the set at 23-23 but Lafayette scored the winning point when a volley fell inside the line on the Lake Cormorant side to end the match.
"I think Lafayette played better than us tonight," Morgan said after the match. "We're both really good teams and tonight they came out on top. We'll get back and work on some stuff."
Prep volleyball scores
DeSoto Central 3, Olive Branch 0 (25-11, 25-5, 25-11)
For DeSoto Central, Madison Fairley and Jordis Newsome each had 6 kills and Kasey Scruggs had 5 kills. Reese McIntosh had 5 aces and 3 digs. Madison Young had 5 aces and 13 assists. Sydney Tague had 14 assists, 2 aces, and 3 digs.
Hernando 3, Center Hill 2 (25-23, 21-25, 19-25, 25-22, 15-7)
For Hernando, Mary Catherine Couch served four aces and had 18 digs. Amberlee Holley had 29 assists. Irby Norris had 17 kills.
Collierville, Tenn. 3, Lewisburg 1 (21-25, 25-22, 25-18, 25-18)
Oxford Lafayette 3, Lake Cormorant 1 (25-13, 20-25, 25-18, 25-23)
Northpoint Christian 3, St. George's (Collierville) 0 (25-17, 25-21, 25-23)
For Northpoint, Quinn Thurman had 12 kills, 2 digs, 4 aces; Sailor Cole had 18 digs, and one ace; Hassie Clare Thurman 5 kills, 3 digs, 5 aces; Isis Reid had 7 kills, 3 blocks; and Renee Hastings 1 kill, 4 blocks.
JUCO volleyball
Northwest 3, Pearl River 0 (25-19, 25-15, 25-23)
Northwest 3, Freed-Hardeman JV 0
First program win ever for Northwest over Pearl River
Girls soccer
St. George's 3, Northpoint Christian 1
JUCO football
Northwest Mississippi 31, Hinds 28