Lake Cormorant's Gonzalez among Miss Volleyball winners
The Mississippi High School Activities Association (MHSAA) and Mississippi Association of Coaches (MAC) on Wednesday, Oct. 11 announced the winners of the inaugural C Spire Miss Volleyball awards. Sofia Gonzalez of Lake Cormorant was named the Class 6A Miss Volleyball.
The 2023 C Spire Miss Volleyball award winners are listed below by classification: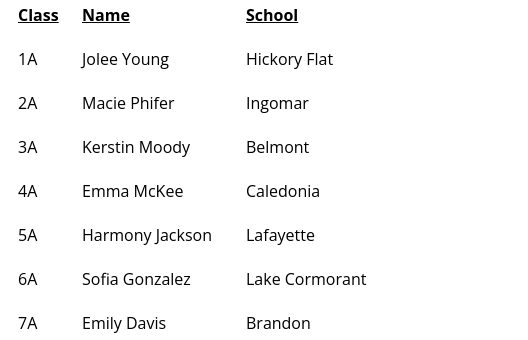 All 2023 C Spire Miss Volleyball winners will be recognized during the MHSAA State Championships, hosted in Oxford at Ole Miss on Oct. 19-20. The winner for each classification will be recognized pregame before each championship game. The full schedule of championship matches follows.
Recipients will also be honored at a special awards luncheon, which will also be live streamed on the NFHS Network, in the MHSAA Conference Center on Wednesday, Oct. 25.
2023 MHSAA Volleyball State Championships (presented by Blue Cross Blue Shield of Mississippi)
Thursday, Oct. 19: 5A (1:00 pm) / 6A (3:00 pm) / 7A (5:00 pm)
Friday, Oct. 20: 1A (1:00 pm) / 2A (3:00 pm) / 3A (5:00 pm) / 4A (7:00 pm)