Thursday sports: Hustle open regular season victorious
Eagles win second straight at Hattiesburg tournament
Photo: Kenny Lofton Jr. (6) of the Memphis Hustle stares down South Bay's 7-foot-1 Jay Huff during Thursday's 122-103 Hustle victory at the Landers Center in Southaven. (Bob Bakken/desotocountynews.com)
Winners of the last eight of the last nine, including three straight victories, the Memphis Hustle Thursday improved their regular season record to 1-0 with a 122-103 victory over the South Bay Lakers at the Landers Center.
Sound a bit confusing? Maybe, but remember the Hustle just finished playing 18 games of what the NBA G League calls the Showcase Cup, climaxed by two wins in games played last week before Christmas in Las Vegas.
"We handled things well in Vegas and really competed well," said Hustle coach Jason March. "Tonight, this was probably the most complete effort as a group. We were very locked in and focused."
So Thursday's game now became the start of the actual NBA G League regular season and the Hustle got it off to a positive start with the victory.
Seven Memphis players hit for double figures in the win, led by Kenny Lofton Jr. and Jake LaRavia, who each scored 18 points. LaRavia, a former Wake Forest forward, is on assignment to the Hustle.
"Coming in and being on assignment sometimes is not easy for guys," March said. "Jake has handled and accepted it. The guy loves to play and he can get a shot off on anyone."
Lofton fashioned a double-double with 10 rebounds to go with his 18 points.
David Roddy and Vincent Williams Jr., both starters, each scored 17 points, followed by reserve Terrell Brown Jr. with 16. Dakota Mathias (12) and Justin Bean (11) also scored in double figures.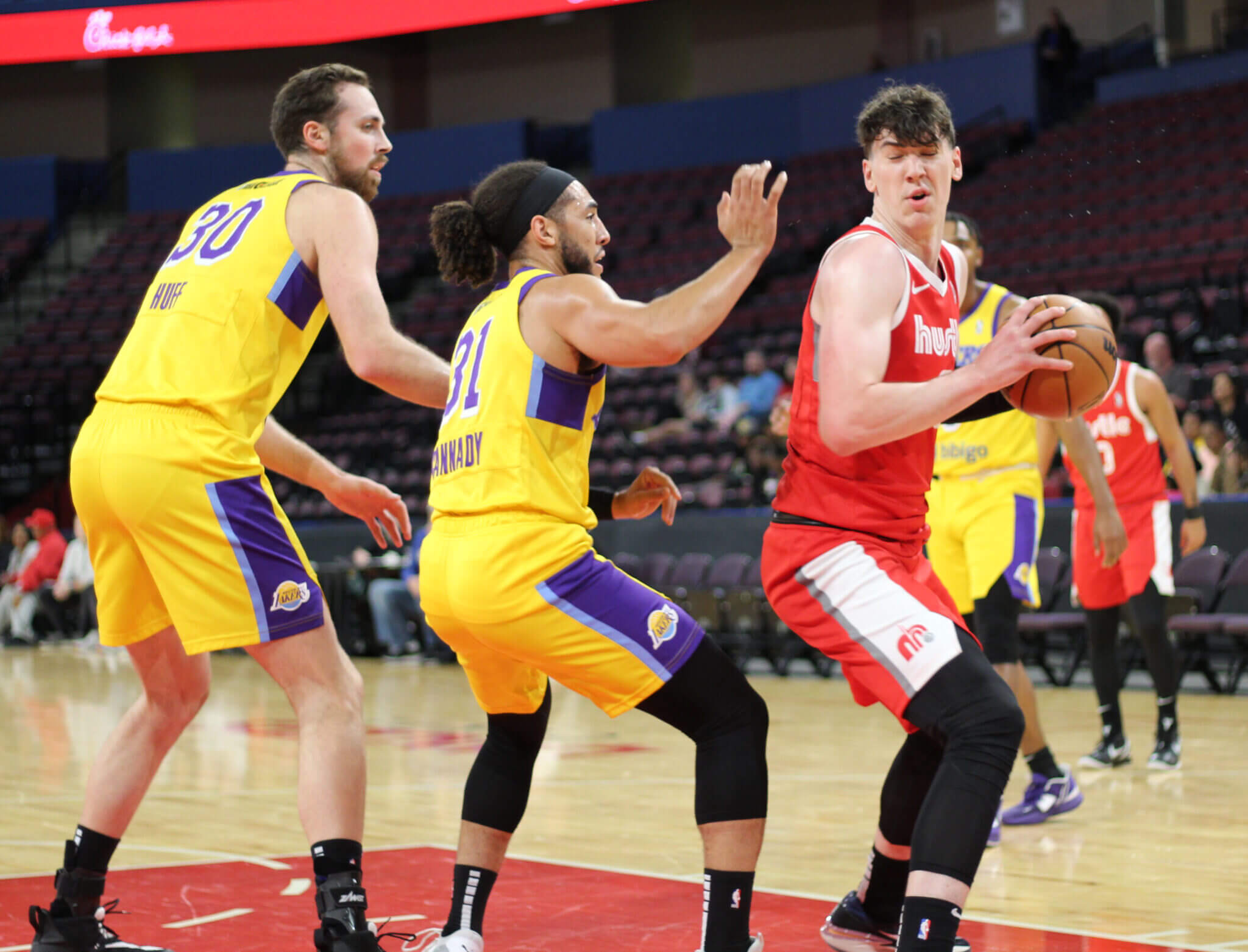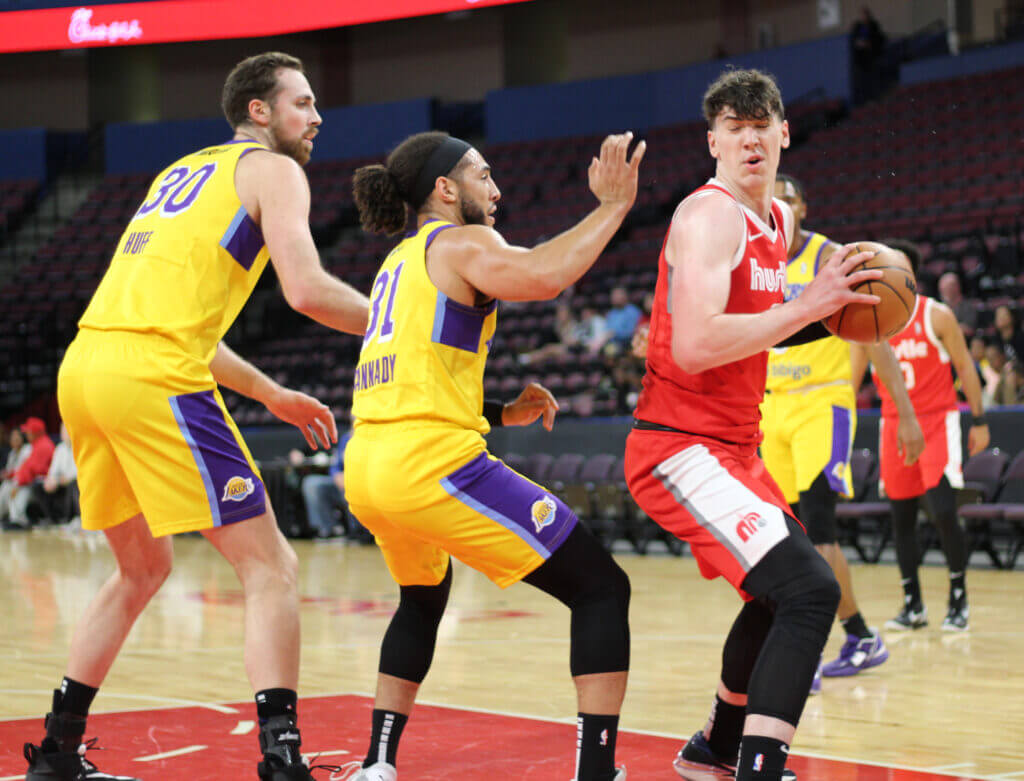 Scotty Pippen Jr. led the Lakers off the bench with a game-high 19 points.
Memphis took a 27-25 lead after one quarter and led 52-45 at halftime. The Hustle broke it open with a 40-point quarter for a 92-72 advantage going into the fourth quarter of play.
March is not looking at the start of the regular season as a refresh or reboot, saying the team has been building to get to this point.
"We play a total of 50 games," said March. "At the end of the season I'm not going to look and say, 'What was our record in the Showcase?' I'm going to see what our record was for the 50 games, and then see what we have done with our players."
Another bit of a victory of sorts Thursday came at the box office, where the franchise has struggled to attract fans to the Landers Center. Outside of the 1,395 fans who came to the first game of the Showcase Cup in early November, the team has seen more than 1,000 in the building just once this year. That was Thursday night and just barely, as 1,001 was the listed attendance.
We'll see if the trend continues on what the team calls "Hustle and Hounds" Night Friday night, again against the South Bay Lakers. Doggies get in free for the 7 p.m. tipoff.
Here's the Thursday night scoreboard of DeSoto County basketball action:
Prep boys basketball
Thursday, Dec. 29
Pontotoc 71, Lake Cormorant 49
Olive Branch 83, Memphis Ridgeway 72

Olive Branch: Trey Wall 16, Caleb Hunt 15, Reece Garrison 12
Coca-Cola Holiday Classic at Hattiesburg
Horn Lake 64, Hattiesburg 44

Horn Lake: Kylen Pernell 24, Kyren Pernell, Connor Sims 10 each
New Hope Trojan Classic at Columbus New Hope
Columbus 63, Hernando 52

Hernando: Ryan Taylor 24, Derrell Tate 10

Hartfield Academy 57, Center Hill 39
Lewisburg Holiday Hoops Classic
H.W. Byers 66, Lewisburg 55

Lewisburg: Amarion Davis 17
H.W. Byers: Michael James 24

Holly Springs 57, Oxford Lafayette 44

Holly Springs: J. Sims 24
Lafayette: A. Robinson 14
Prep girls basketball
Thursday, Dec. 29
Biggersville 54, Southaven 51
Olive Branch 49, Memphis Ridgeway 10

Olive Branch: Brianna Black 13
Dragon Fire Invitational at Collierville, Tenn.
Center Hill 57, Madison Ridgeland Academy 52

Center Hill: Madison Bush 16, Taylor Ware 11, Zarria Shipp 11, Dominique Collins 10
Madison Bush of Center Hill – All-tournament team
New Hope Trojan Classic at Columbus New Hope
Lewisburg Holiday Hoops Classic
New Albany 71, H.W. Byers 42

New Albany: 36 points
H.W. Byers: Chamiya Watson 12 points

Lewisburg 70, H.W. Byers (Girls) 25

Lewisburg: Allie Carroll 21, Allison Irby 13
H. W. Byers: Andrea Carter 11
NBA G League basketball
Memphis Hustle 122, South Bay Lakers 103 (box score)