Saturday sports: Lady Trojans reach TSSAA state volleyball tournament 
Photo: Northpoint Christian School's Valerie Hurdle and Kylee Reynolds set the block against Donelson Christian Academy in Saturday's sub-state match at Northpoint. (Bob Bakken/desotocountynews.com)
Northpoint Christian School became the first DeSoto County prep volleyball team to qualify for its state tournament/championship game when the Lady Trojans defeated Donelson Christian Academy (DCA) 3-0 Saturday afternoon. The TSSAA Division II-A sub-state win puts Northpont in the state Final Four tournament to start Tuesday, Oct. 17, at Middle Tennessee Christian School in Murfreesboro.
"They played well, they played very well," said Northpoint coach Kim Robinson. "They absolutely worked all of the way to the end and never quit. This is what they have worked for, for three years."
It's the third trip to state for Northpoint, which played in the 2007 tournament as Southern Baptist Education Center, and again in 2021 as Northpoint. The Lady Trojans will be looking for its first state tournament victory when they play Tuesday at Middle Tennessee Christian School in Murfreesboro, Tenn.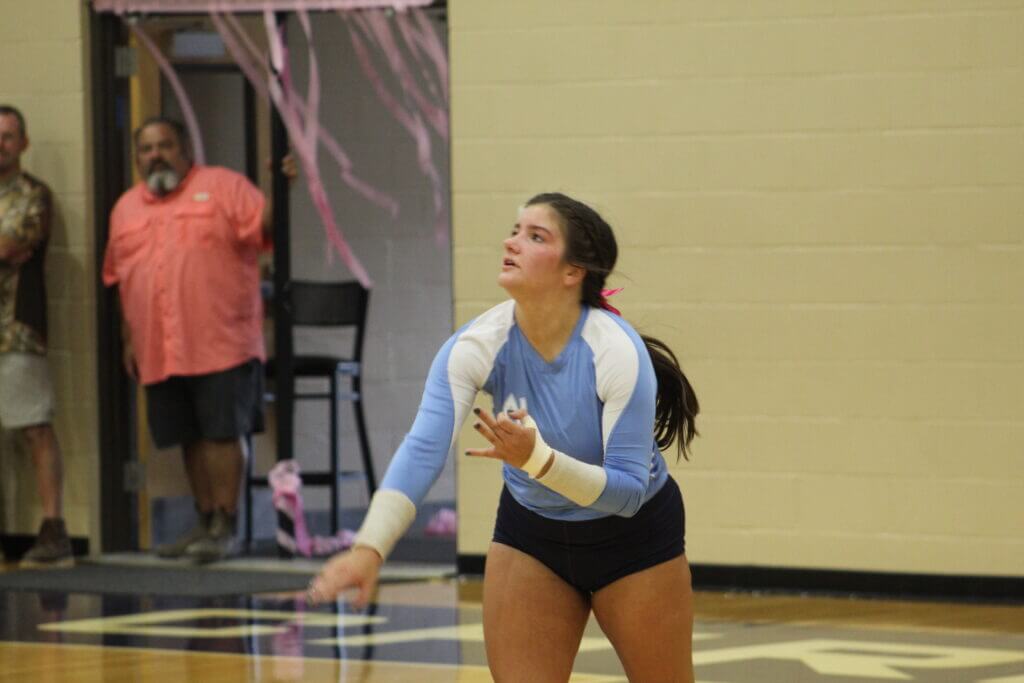 Here's a recap of the sub-state contest: 
SET 1: NORTHPOINT 25, DCA 21
The Lady Trojans trailed early in the set 11-8 when a volley ended in the net for a Lady Wildcats point. A DCA kill increased their lead to 14-10 and another point off a block grew the lead even more to 17-12. Northpoint would score the next five points to tie the set at 17-all after a DCA volley went out-of-bounds. The Lady Wildcats regained control of the set until Northpoint was able to tie the set at 20-20. From there, the Lady Trojans would score five of the final six points, a run that included a Quinn Thurman kill and ended with a Kylee Reynolds kill for the set.
SET 2: NORTHPOINT 25, DCA 19
The Lady Trojans never trailed in the set, taking a 3-1 lead early and led 8-4 when a DCA volley found the net. At 13-8, the Lady Wildcats took a timeout but the service run continued for two more points to 15-8 after Sarah Johnson served an ace. The set got to 18-10 before DCA forged a late comeback but Northpoint continued to score and would win the set on a kill from Reynolds.
SET 3, NORTHPOINT 25, DCA 17
Northpoint led 2-0 off the start of the set and after a Quinn Thurman kill took a 6-2 lead. However, the Lady Wildcats came back with a four-point streak to tie the set at 6-6. Both teams battled through points until Northpoint got a 12-9 edge on an ace by Sailor Cole. Two more points would move the score to 14-9 and the Lady Wildcats called a timeout. An ace out of the timeout got DCA within 14-11, but Northpoint then ran a five-point streak to 19-11 and the Lady Wildcats called their second timeout. From there, the set continued until this point ended the match:
For the match, Quinn Thurman finished with 17 kills, 12 digs and served two aces. She also was honored for reaching 1,000 career kills.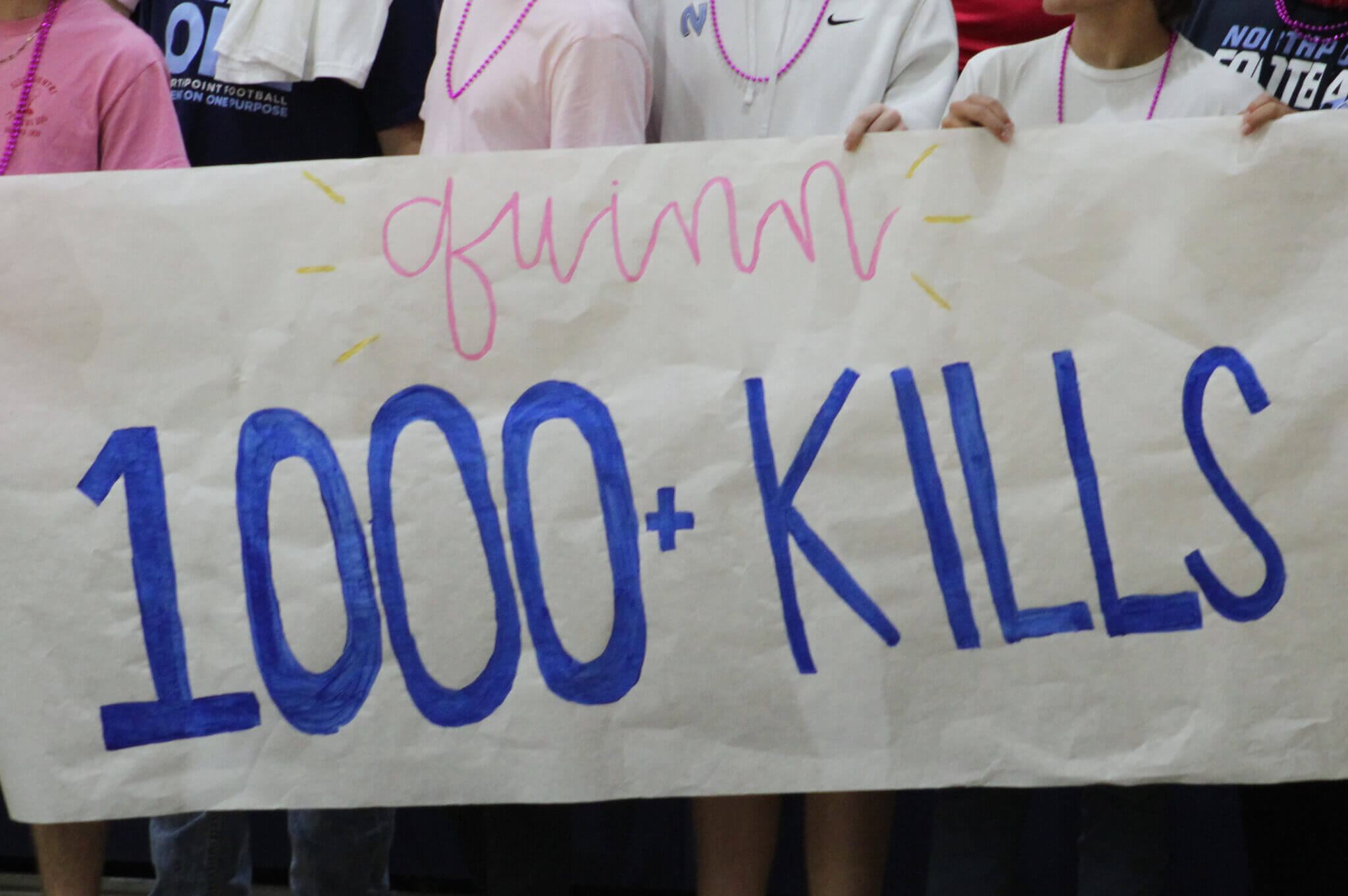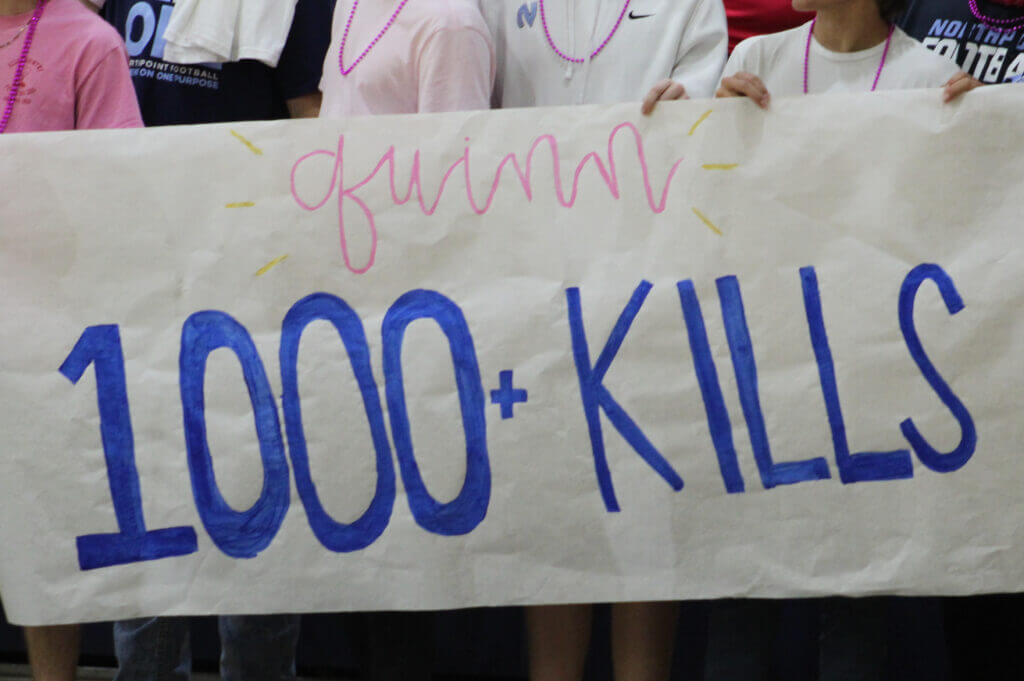 "I didn't know I was anywhere near that," Thurman said. "I was surprised, I didn't know. I'm so excited to keep playing with this team, I didn't want it to end today."
Robinson also said Thurman has over 850 digs, which is a school record.
Kylee Reynolds had 11 kills, four digs and five blocks. Isis Reid had four kills, one block and one dig. Sarah Johnson made 35 assists, had five digs and served two aces. Hassie Clare Thurman recorded two kills and 13 digs. Sailor Cole earned 10 digs and EC Pierce eight digs.
The TSSAA Division II-A state volleyball tournament is a double-elimination event that will start with Northpoint opening at Middle Tennessee Christian School in Murfreesboro against the host MTCS at 9:30 a.m. If they win, the Lady Trojans will next play on Wednesday against the winner of St. George's (Collierville) and Providence Christian.
If Northpoint loses, they'll go to an elimination game against the loser of St. George's-PCA later on Tuesday. The finals are Thursday at 11 a.m.
WATSON CROSS COUNTRY CLASSIC RESULTS: DeSoto County cross country teams compete in the Watson High School Cross Country Classic in Clinton on Saturday. In the Gold Boys division, DeSoto Central had the best team score, taking ninth place with 305 points. Lewisburg was 10th with 343 points and Hernando was 11th with 345 points. Olive Branch boys also ran and finished 19th among 21 teams with 437 points. Pearl won the team title. Gavin Brown had the best DeSoto County individual finish, taking sixth place in a time of 15:50.42.
In the Gold Girls division, Hernando's Kaitlyn Burge was the individual winner in a time of 18:04.33 for the five-kilometer race. As a team, Hernando finished 12th(267 points) behind Lewisburg's 10th place finish (259 points). DeSoto Central ended in 16th place among 18 schools running with 383 points. St. Joseph's Academy was the team champion in the meet.  
NORTH HALF SWIMMING: Qualifying DeSoto County swimmers competed in the North Half swim meet at Delta State University on Saturday. Top qualifiers from that meet advance to the state meet on Friday, Oct. 20 in Tupelo.