Tuesday sports: Lady Trojans ousted at TSSAA state volleyball
Photo: Kylee Reynolds of Northpoint Christian School (left) battles Middle Tennessee Christian School's Haley Hudson at the net during Tuesday morning's state tournament game. (Bob Bakken/desotocountynews.com)
The Northpoint Christian School volleyball team saw its season end on Tuesday, Oct. 17 with losses to Middle Tennessee Christian School and St. George's of Collierville at the TSSAA Division II-A state tournament.
Saddled with playing on the home court of Middle Tennessee Christian School and in front of their students and fans, Northpoint battled but lost to the Lady Cougars 3-1 in the first game of the day. Set scores were 25-14, 23-25, 25-17, and 25-16. It was the first state tournament meeting between the schools and Middle Tennessee Christian School improved a stellar season record to 42-3 with the victory.
Dropped into an elimination game Tuesday afternoon, Northpoint faced St. George's (16-16), a team the Lady Trojans had success against during the regular season and in the playoffs leading up to the state tournament.
"We had played them three times this year," said Northpoint coach Kim Robinson. "We played them in camp very early, we played them in district once and we beat them, and we played them in the tournament and we beat them. It's really hard to beat a team three times."
St. George's had just finished a five-set loss to Providence Christian Academy and then had to play Northpoint. But the Lady Gryphons had just enough to outlast the Lady Trojans in five sets with scores of 25-16, 10-25, 23-25, 25-18, and 15-11. It was the second win at state for St. George's over Northpoint/SBEC, with the other meeting coming in 2007.
"We knew it was going to come down to a fourth or fifth set match," Robinson said. "They had just played and had 20 minutes between games, but they came back and they were ready."
The Lady Gryphons opened the match with a 5-0 lead and ran it to 10-1 before Northpoint stopped the run with a side out. The Lady Trojans were able to cut the deficit to 15-6 before St. George's opened up and extended the score to 22-12. A service ace put the Lady Gryphons within set up, which they eventually claimed the set 25-16.
The Lady Trojans quickly answered back in the second set and built a 6-2 lead after an ace from Hassie Clare Thurman. A volley not returned by St. George's grew the lead to 10-5 and at 13-6 Northpoint, the Lady Gryphons called time. A long serve later gave Northpoint an 18-7 lead and another long serve made the score 22-9. Isis Reid then fired a kill for a 23-9 edge, leading to the 25-10 set win and a 1-1 tie in the match.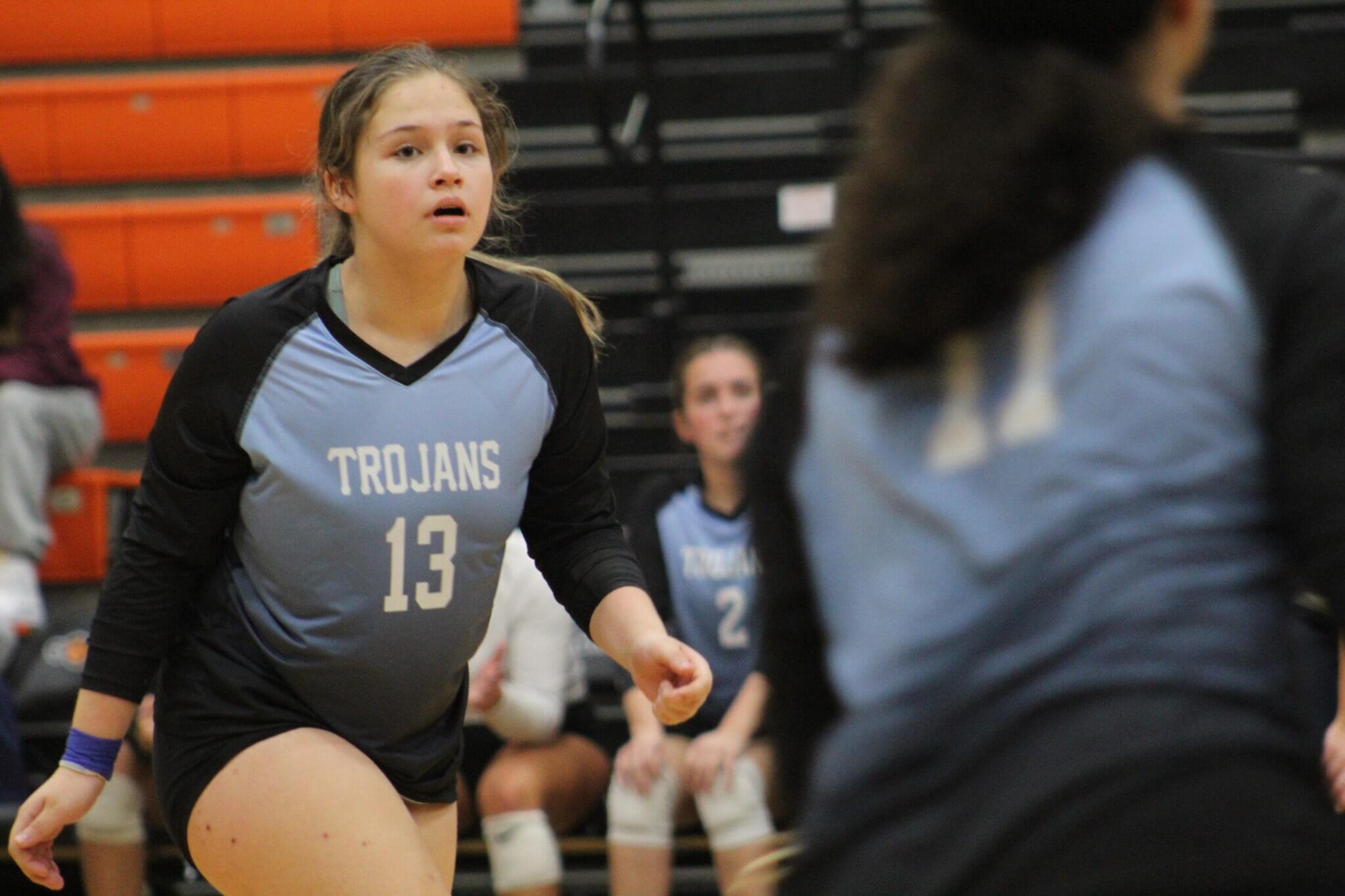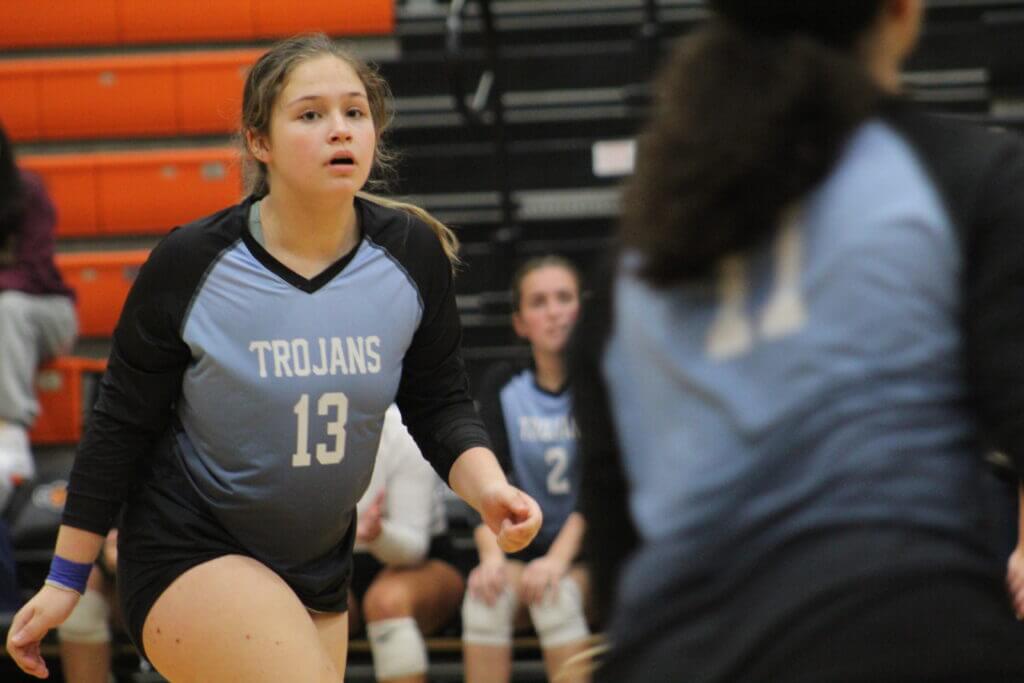 The third set was much closer until St. George's took a 15-12 lead and Northpoint took a timeout. The Lady Trojans never took the lead the rest of the set until a rally at the very end. Kylee Reynolds scored on a block to tie the score at 17-all, but the Lady Gryphons took a 23-21 lead before Northpoint scored the final four points for the set win and a 2-1 match lead. Isis Reid scored on a block, then powered a kill, followed by another point on a block to get Northpoint to set point. That's when Sarah Johnson's drop shot ended the set at 25-23.
In the fourth set, St. George's staked itself to a 4-1 lead but Northpoint got within 8-7 before the Lady Gryphons opened an 18-12 edge on a kill. An ace would get Northpoint within 18-15 but no closer on the way to a 25-18 St. George's win.
In the deciding fifth set, Northpoint had a 6-2 lead after an ace from Hassie Clare Thurman and led 7-3 after another kill from Reid. But St. George's rallied to tie the set at 8-8 and scored off a tip for a 9-8 advantage, and went from there to the 15-11 set and match win.
A number of seniors led Northpoint on the Lady Trojans' return trip to the state tournament. Reid, Avery Huen, Sailor Cole, were credited by Robinson for their contributions. Two others were mentioned when talking about her team's play.  
"Our bench players came in, EC Pierce, in particular, played a phenomenal game," Robinson said. "She is a freshman who came in this year, passing, digging, good hustle, making plays, she helped a lot. Valerie Hurdle played very, very well. Her game plan was to come up and swing high and hard and she became a whole, different, elite player today. She's 15 years old and she played like a senior."
Robinson added the future remains bright for volleyball on Getwell Road.
"We have another class that will be coming up from the eighth grade to the ninth grade so we'll be looking to add to our team, and we'll be back here again next year," Robinson said.
Northpoint finished their season with a third state tournament appearance, with previous visits in 2007 as SBEC and two years ago as Northpoint Christian. The Lady Trojans dropped to 0-6 in state tournament competition.
This year's Northpoint squad finished with a 21-7 record.