Russell, Hectorne, leads teams to first field victories
Photo: Quarterback Braydon Wright of Olive Branch looks for running room in Friday's victory at St. George's (Collierville, Tenn.). (Bob Bakken/DeSoto County Sports)
THE VITAL STATISTICS
PREP FOOTBALL
Northpoint Christian 42, Murray County, KY 7
Lake Cormorant 32, DeSoto Central 15
Olive Branch 21, St. George's (Collierville,TN) 14
Lewisburg 45, Byhalia 14
Columbus 10, Southaven 6
Center Hill 47, Kirby 35
Hernando 49, Cleveland Central 42
Lafayette (Oxford) 38, Horn Lake 7
Friday's high school scores/schedule
THE DETAILS
Two first-year football head coaches in DeSoto County left the gridiron Friday night with victories. One got his first-ever win as a head coach. For the other, it was his second win as a head coach, although for the first one, his team won when the squad never had to take the field.
Jason Russell of Olive Branch saw his Conquistadors leave St. George's in Collierville with his first coaching victory on the field, a 21-14 win over the Gryphons.
The Quistors actually improved to 2-0 for the season because last week's game resulted in a forfeit win when Trezevant (Memphis) canceled because of excessive COVID-19 cases.
Meanwhile, Dustin Hectorne of Lewisburg departed Byhalia with his and the Patriots' first win of the season, a 45-14 conquest of the Indians, a result that evened the Patriots record to 1-1.
OLIVE BRANCH 21, ST. GEORGE'S (COLLIERVILLE, TN) 14
Olive Branch had to rally from an early deficit and held off a last-minute attempt to tie or win the game by the Gryphons in the Conquistadors' victory.
Friday's game was the first-ever meeting between Olive Branch, a DeSoto County school in Mississippi's largest classification of MHSAA 6A, and the Collierville private school, which is in the same Tennessee TSSAA Division II-AA classification as Northpoint Christian.
St. George's quickly opened the scoring in the first quarter on the Gryphons' initial drive of the game after an Olive Branch punt. Quarterback Wilson Whittemore found wide receiver Jake Seward open downfield and threw a 39-yard scoring completion for a 7-0 lead with less than two minutes gone into the contest.
Another first-quarter drive by the Quistors was stopped when a fourth-down play at the St. George's 10-yard line did not get a first down.
Olive Branch did get on the scoreboard with 9:33 left in the first half, however, when junior running back Jakobe Walls scored a short-yardage touchdown. The score came after an apparent long touchdown run earlier in the drive was taken away on a penalty against Olive Branch.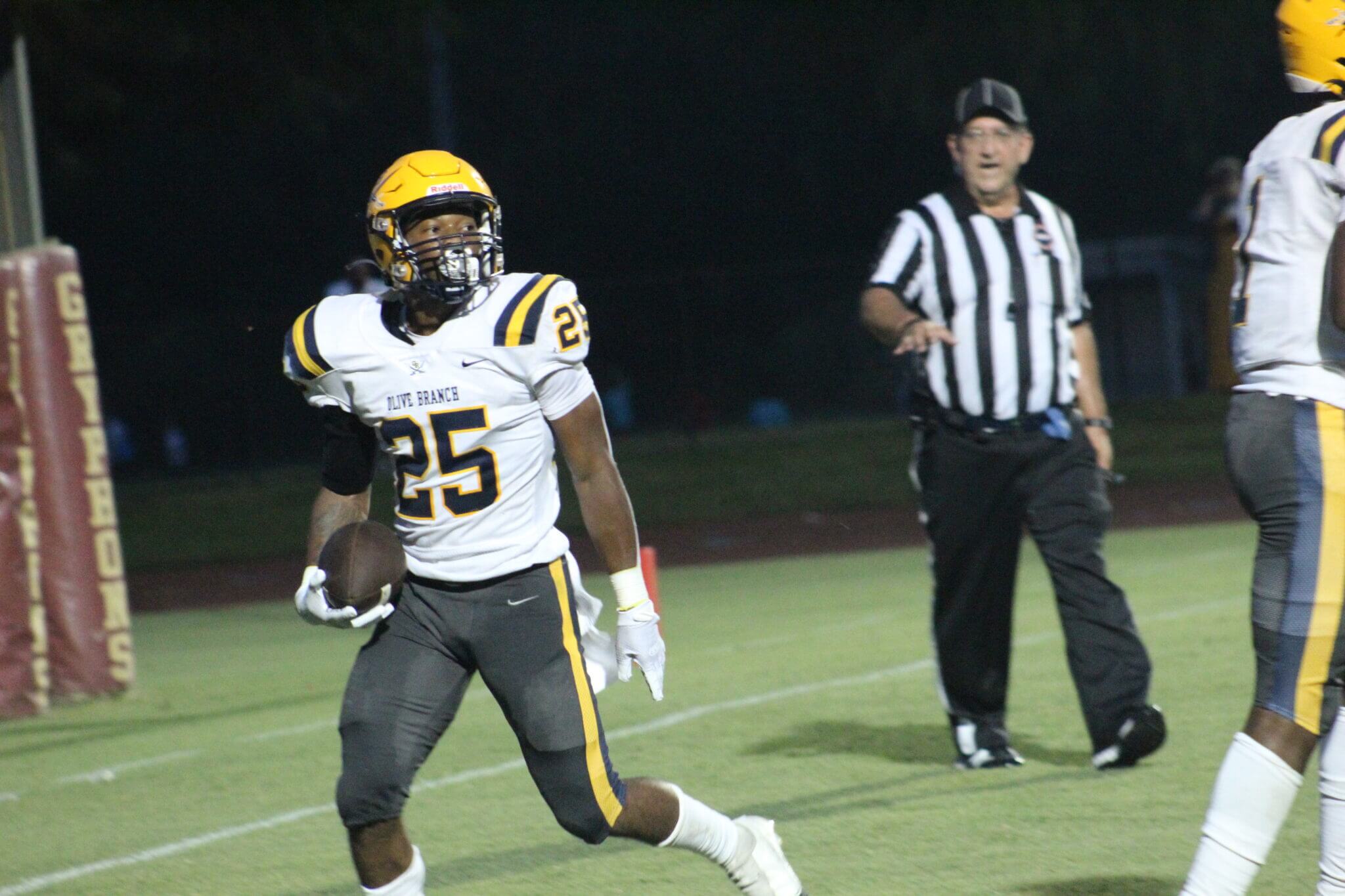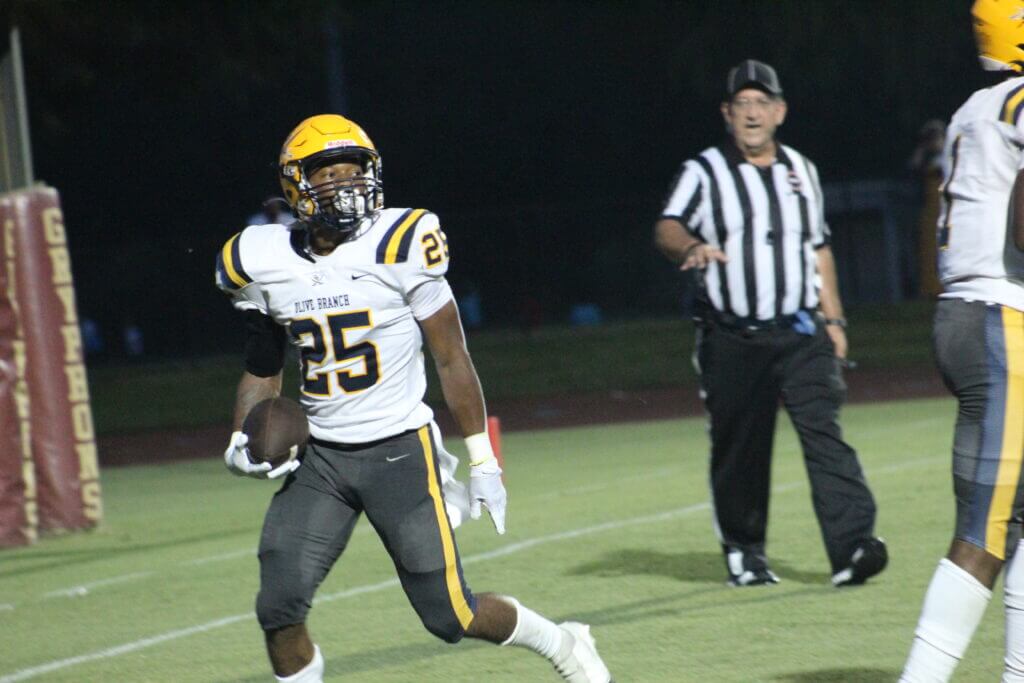 Olive Branch got within 7-6 Gryphons at that point, but the kick attempt for the extra point failed.
The Quistors scored twice more before halftime, when quarterback Braydon Wright ran 24 yards for the go-ahead touchdown with 3:55 left in the half at 12-7 after another extra point kick try failed.
For a first start as a quarterback, Russell said Wright did some good things leading his team.
"He did make some really good plays with his legs, so he did some really good things in the game and we don't win the game without him," Russell said.
The two points missed on extra points were returned to Olive Branch late in the first half with a safety. Deep in Quistor territory, a snap for a St. George's punt went high with 1:19 left in the half and left the field of play when it struck the crossbar for 14-7 Olive Branch lead.
The only scoring in the third quarter gave Olive Branch an important two touchdown lead, when Keshun Sessom scored from two yards away for the 21-7 lead, a touchdown that came with 8:16 left in the period.
Jackson Harding's seven-yard touchdown run for St. George's early in the fourth quarter got the Gryphons within 21-14, but Olive Branch, controlling the football in the final five minutes for the victory.
Russell said he was happy with the victory but saw several items that will be worked on in the weeks ahead.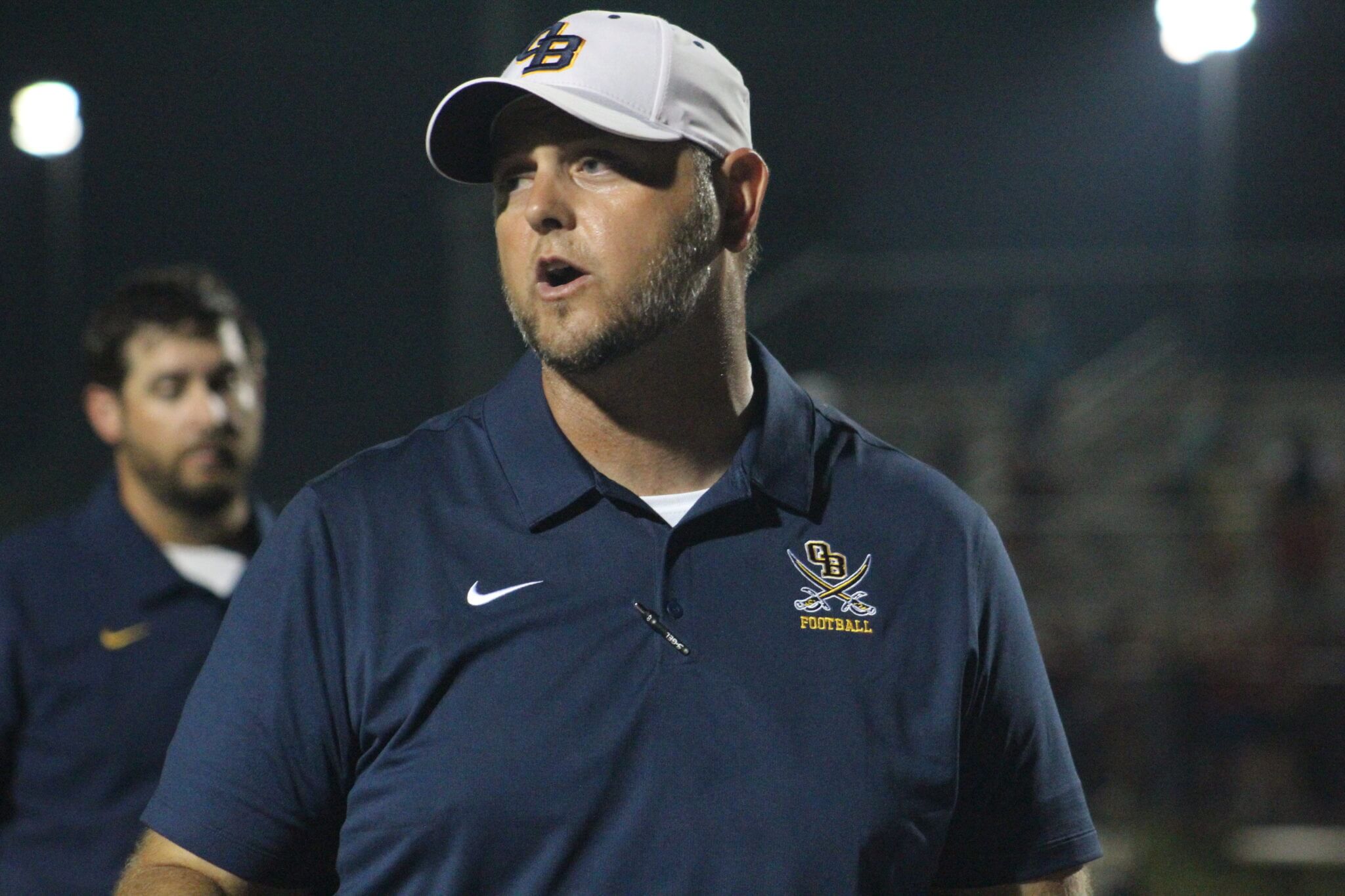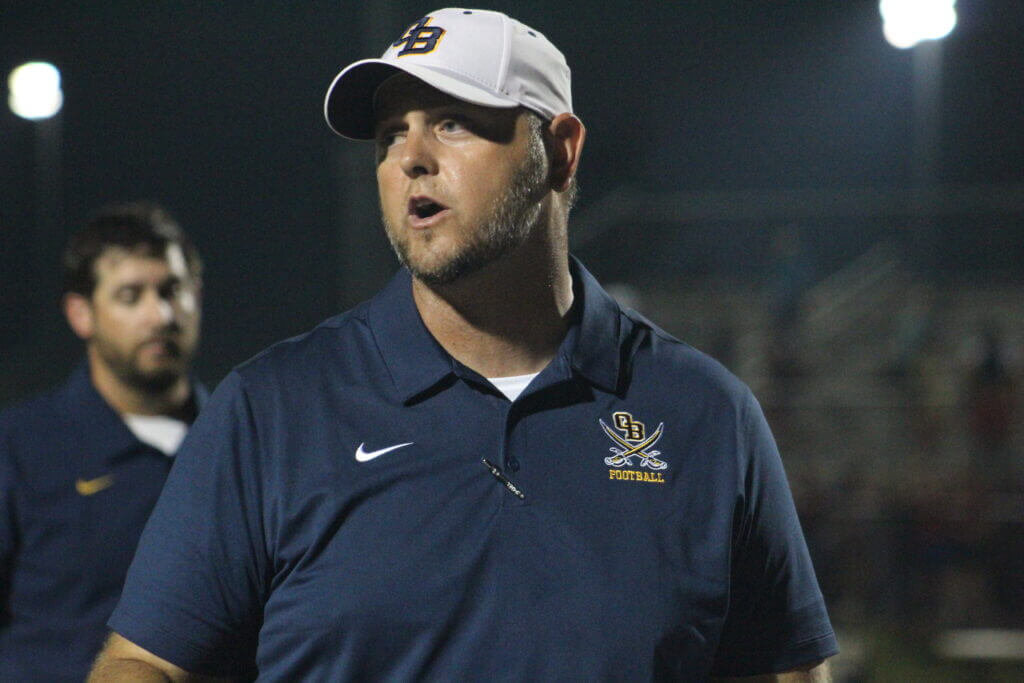 "We made too many mistakes as a team to get where we want to be as a team, so we've got to improve a lot and we've got to get back to work next week," Russell said. "The big thing we're going to take away out of this is that we got in better shape and we got used to playing for an entire game and really having to fight for a whole game."
Russell said he was also happy that his squad hung in there when the game was on the line late in the contest.
"Our guys never really flinched," Russell said. "We were confident with what we were able to do offensively, we felt confident the defense was going to fix the issues they were having, and they did just that. We had an opportunity to come right back."
With the win, Olive Branch improved to 2-0, including last week's forfeit by Trezevant (Memphis). St. George's fell to 1-1.
According to Olive Branch football statistician/historian Greg "Buz" Phillips, the Conquistadors have played 28 different Tennessee football teams for the first time and have a record of 27-1 in those games.
LEWISBURG 45, BYHALIA 14
The Patriots put together a solid performance in posting Friday's victory at Byhalia, the first head coaching victory for Lewisburg leader Dustin Hectorna.
After trailing 7-0, Lewisburg reeled off three straight scores for a 24-7 halftime lead. Coleman Dowell scored two touchdowns on runs of one and 13 yards, followed by JT Swift's interception of a Dustin Grisham pass for a third score.
Lewisburg scored two-point conversions on all three scoring plays.
In the third quarter, Byhalia did get back on the scoreboard when Grisham hooked up with Miles Jones for a 49-yard scoring strike and Byhalia was now trailing the Patriots 24-14.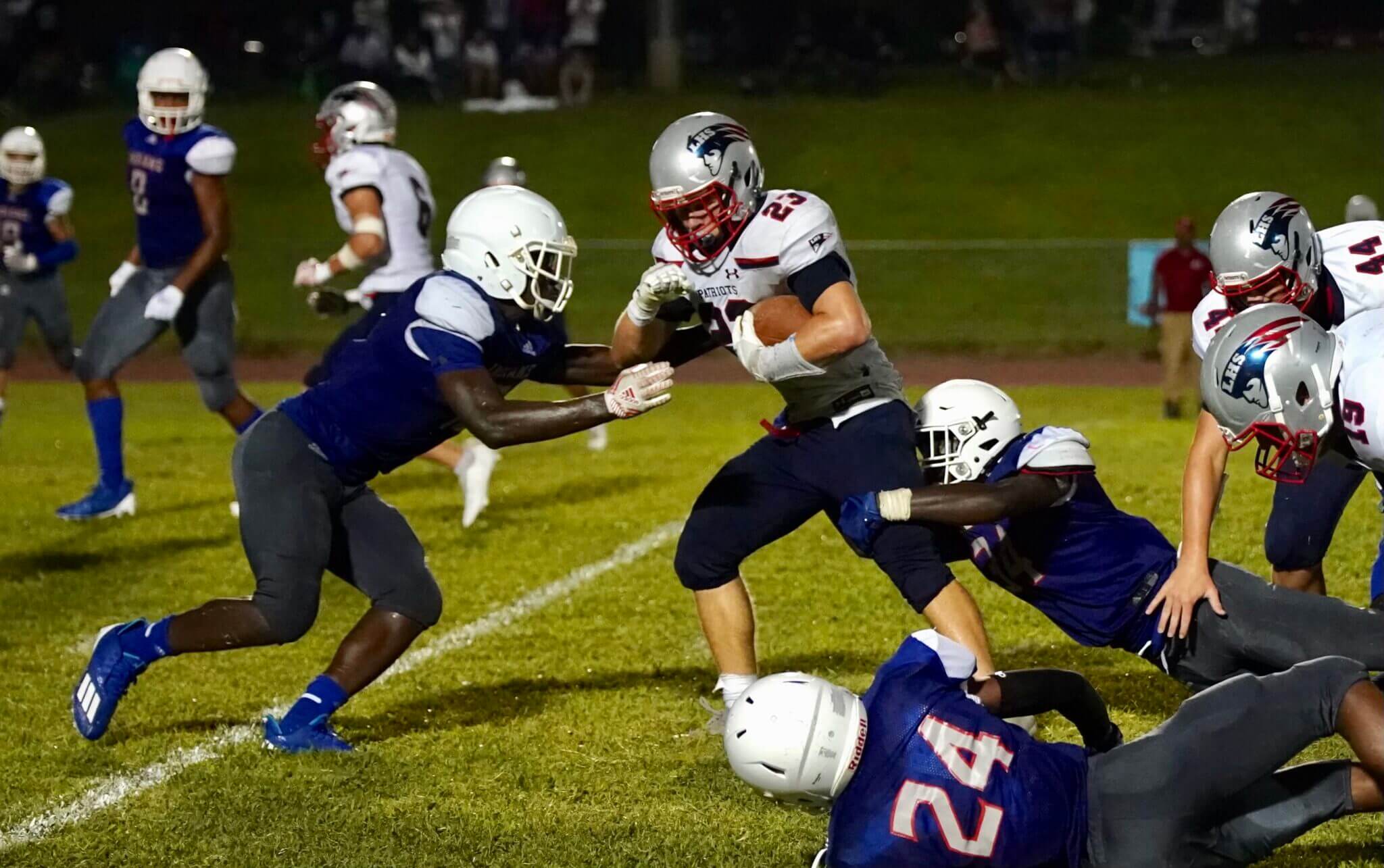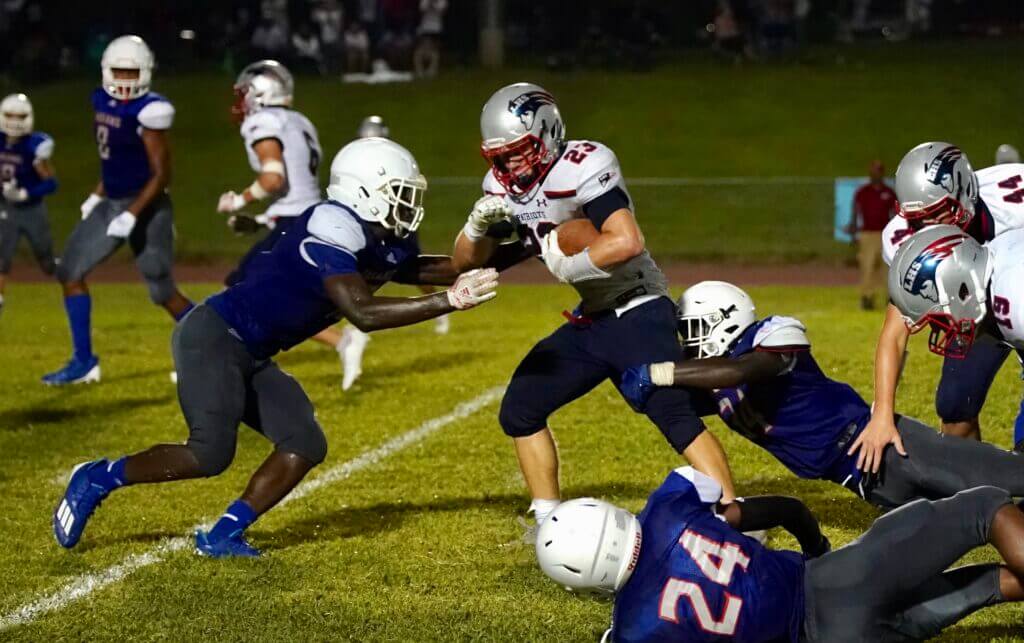 But Lewisburg wrapped the game up for three more scores, another two touchdowns from Green for 44 yards and three yards, and Dowell hitting the end zone again from one yard.
Rushing was a big factor in the victory, as Lewisburg out rushed the Indians by a 297-101 margin.
Dowell finished with 183 yards on 29 carries and scored three touchdowns.
WORTH NOTING…..
Quarterback Telvin Amos scored three times in Lake Cormorant's 32-15 victory over DeSoto Central. Jaden Norwood threw for a touchdown for DeSoto Central, but also broke his leg when tackled by a pair of defenders. Norwood was taken from the field by ambulance.
Northpoint Christian has averaged over 52 points a game in three contests this season and Friday got their first victory, a 42-7 win in Murray County, Kentucky. It was the third of three straight road games to start the season. The Trojans had a 42-0 lead before a late touchdown by Murray County.
Last week we mentioned the great statistical information provided by Matt Hammond at Lewisburg High School. This week, we have to give a shout out to Greg "Buz" Phillips, who has been Olive Branch's statistician/historian for 40 years. Phillips provides a weekly release on the Conquistadors, and box scores on the previous week's game, which is as detailed as any we've seen over the years for high schools.