Prep football: Jags fall at South Panola
Photo: DeSoto Central defenders chase down South Panola running back Demaurian Perteet (6) in first-half action Friday night at Batesville. (Bob Bakken/DeSoto County News)
THE VITAL STATISTICS
Northpoint Christian 42, Sheffield (Memphis) 0
South Panola 35, DeSoto Central 6
Olive Branch 20, Center Hill 13
Hernando 27, Horn Lake 26
Lake Cormorant 28, New Hope 14
SOUTH PANOLA HANDS JAGUARS FIRST REGION LOSS
Marquis Fields scored the only touchdown for DeSoto Central as South Panola defeated the Jaguars 35-6 Friday night to become the only unbeaten team in Region 1-6A. DeSoto Central fell to 5-4 overall and 4-1 in the region and are tied with Southaven for second place.
Fields' one-yard blast with 44 seconds left in the first half got DeSoto Central within 14-6 South Panola and came after Taurean Davis intercepted a Tigers' pass with 4:21 remaining.
D'Maurian Perteet scored two first-half touchdowns, one from 42 yards out in the first quarter and again from one yard away in the second quarter, to stake South Panola to an early lead.
Defenses stiffened in the third quarter with no scoring and DeSoto Central appeared to have a chance to get back into the contest until two successive pass interceptions for touchdowns in the early part of the fourth quarter, part of a 21-point final 12 minutes of the game for the Tigers.
Marcus House got the first "pick-six" of about 30 yards with 10:54 left and Kalik Boothe snagged the next one for about the same distance about a minute later.
"At 14-6, if we make a couple of plays, it's a different game," DeSoto Central coach Shelby Ford said. "They made the plays, we didn't."
DeSoto Central's final big scoring chance was stopped on downs at the South Panola 12-yard line with 6:28 remaining and was followed by Da marion Shaw's three-yard touchdown score with about three minutes left in the contest.
"I told our guys that 4-0 versus 4-0 is going to be intense," Ford said. "Our defense played really well but our offense struggled."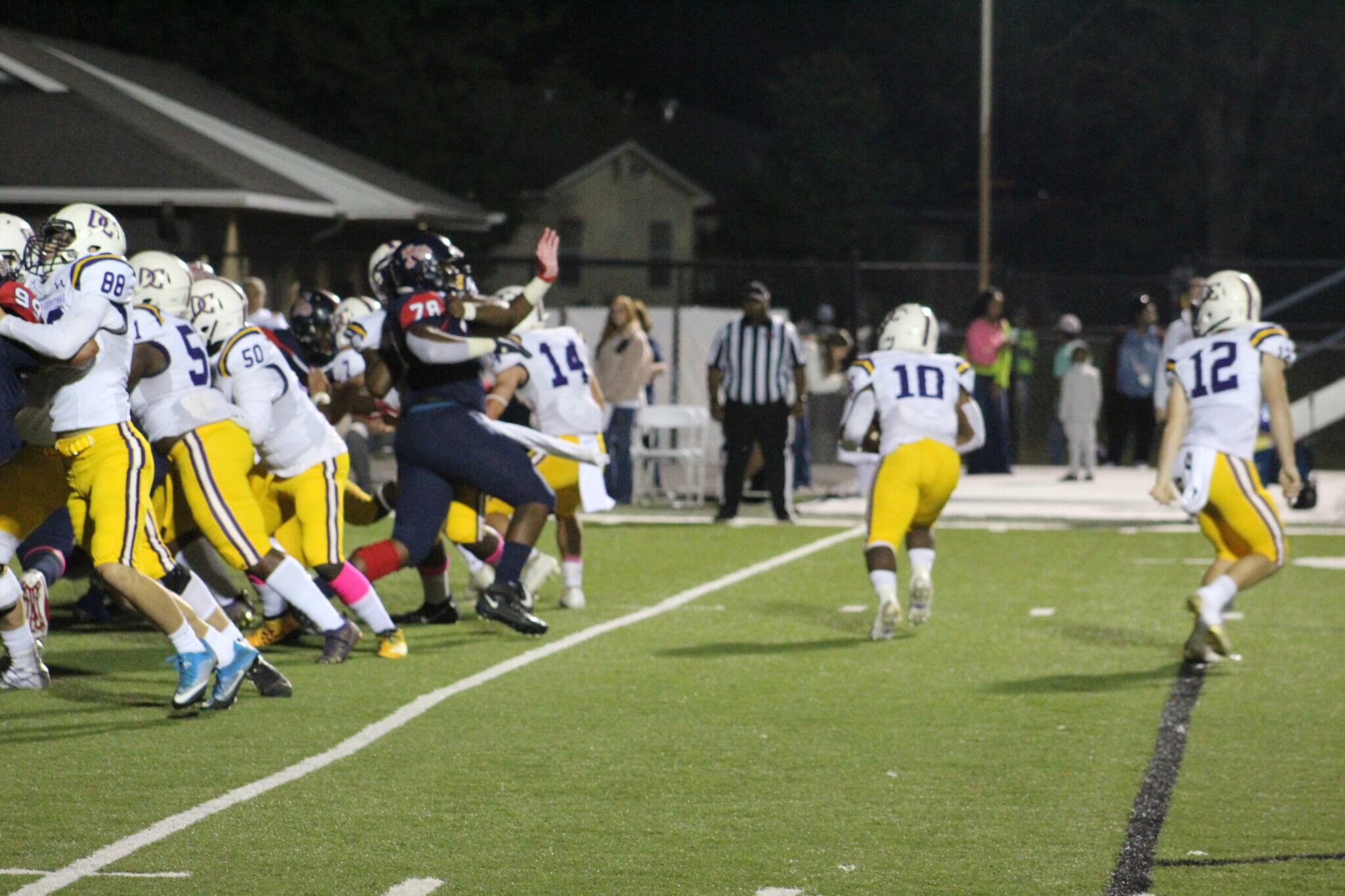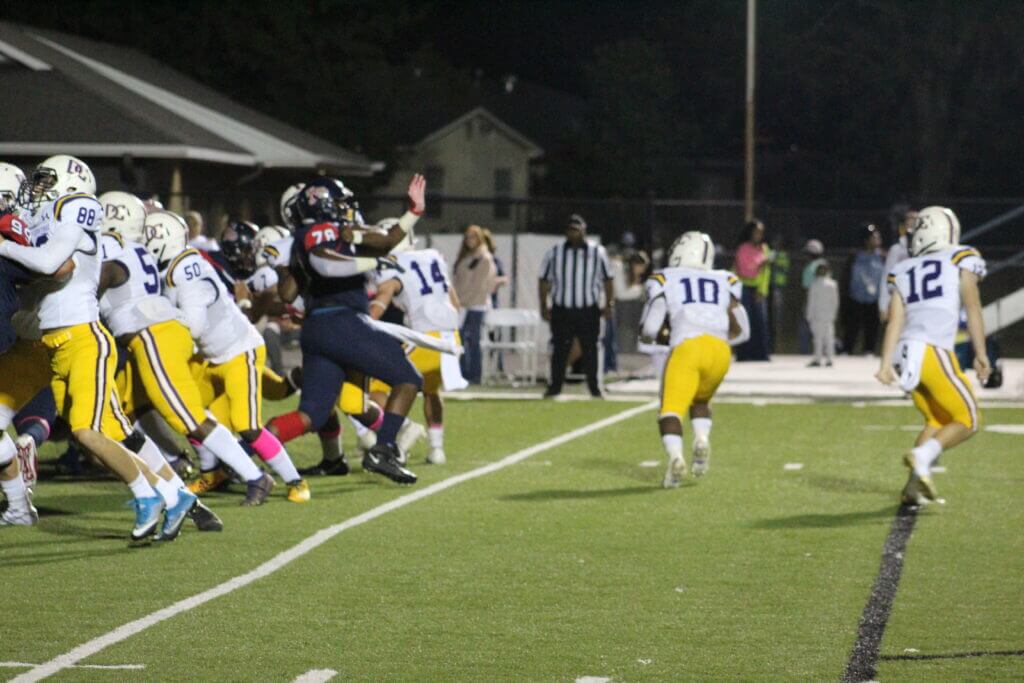 South Panola remained undefeated all-time against DeSoto Central at 13-0-0.
WORTH NOTING:
Topher Jones scored two early touchdowns for Hernando but Joey Davis' interception with 47 seconds remaining sealed a comeback victory over Horn Lake 27-26 Friday night. Hernando also got a touchdown run from quarterback Zach Wilcke that at the time had given the Tigers a 20-6 lead, before Horn Lake came back to take a 27-26 lead. The win stopped a two-game winning streak for Horn Lake and Hernando rebounded from their loss at DeSoto Central.  
Olive Branch defeated Center Hill 20-13 in the first meeting between the schools as 6A opponents. The Mustangs suffered their third straight loss, but Olive Branch broke the county's longest losing streak at six straight with the win. Tralyn Oliver's eight-yard touchdown run in the fourth quarter was the difference in the game for Olive Branch. Oliver ran for 257 yards on 31 carries. Marq Holmes scored the Mustangs' touchdown in the second quarter that gave Center Hill a 7-3 lead at the time. Keon McChristian led the Mustangs' rushing offense with 129 yards on eight attempts. Austin Taylor of Olive Branch and Carter Burton of Center Hill each kicked a pair of field goals, including a 41-yarder by Burton in the second quarter. It was the third straight time the schools have met on the football field with Olive Branch having won the previous two. Both games were from when the schools were together as 5A competitors. Photos from the game are available courtesy Cody Carter Photography. https://twitter.com/_Photography_CC/status/1451746711257374721 
Lake Cormorant bounced back from its loss to West Point last week with a 28-14 victory at New Hope in Columbus. The Gators shut out New Hope after the Trojans staked themselves to a 14-0 first-quarter lead. Lake Cormorant scored 21 third-quarter points to take the lead and put the game away with a fourth-quarter touchdown by Jeremy Henderson of 80 yards with just under 10 minutes left in the game.  Telvin Amos threw a scoring pass to Kejuan Williams and Jordan Martin also scored a short yardage touchdown, a score that tied the game at 14-14 in the third quarter.  
Northpoint Christian routed Sheffield (Memphis) 42-0 on the Trojans' Senior Night, scoring all their points in the first half, including a 35-point first quarter.  The game was reduced to a running clock and eight-minute quarters in the second half and a running clock was used after Northpoint had put together their big lead in the first quarter.  Jack Patterson threw for three touchdowns, while Darius Naylor, Josh Fisher, and Jackson Thomason also ran for Trojan touchdowns, who have a big TSSAA Division II-A region game at Lausanne Collegiate next week. Ethan Peripichay scored on a pass interception return for a score.  Northpoint enters that contest now with a four-game winning streak at stake.  
The Southaven Chargers roared out to a 47-0 lead Thursday night against Lewisburg before the Patriots scored a touchdown in the closing minutes of the contest. Southaven scored 27 straight points in the first quarter and added a pair of touchdowns in the second quarter. Quarterback Jakylan Robinzine of Southaven threw for three touchdowns in the victory. The game was moved to Thursday due to a statewide shortage of available officials.