Monday sports: Patriots enter playoffs with a win over Oxford
Photo: Lewisburg's Trae Cagle connects on a pitch during Monday's 2-1 victory over Oxford. (Jody McRee/DeSoto County Sports)
Lewisburg's baseball team goes into the MHSAA 6A playoffs this weekend with a 2-1 victory over Oxford in the regular season finale for both teams. The Patriots finish the regular season with a 23-3 record and will host Madison Germantown in the first of a best-of-three playoff series on Friday night.
Neither team mustered much offense in the contest, with the Patriots able to muster just four hits in the victory. Oxford didn't fare much better, producing one unearned run on just three hits.
The Patriots (23-3) struck first with solo runs in the first inning and again in the second for a 2-0 lead. The first run came from Jacob Hill, who walked, reached third after a wild pitch and scored on a ground ball out from Austin Hannigan.
Lewisburg's second, and eventual game-winning run came the next inning when Jarrett Morris scored after Trae Cagle reached base on an error.
Oxford would score a run in the third inning when Ben Gobreaux came across after Thomas Rayburn reached base on an error.
That would be all of the offense for either team in a game that didn't mean much for either team other than the final result.
"We didn't look super into it tonight," said Cagle. 'I think Oxford kinda felt the same way, but we wanted to play, get some guys some outings and get some guys on the mound. We accomplished the goal, I just wish we had been a little more assertive at the plate."
Cagle had the only extra-base hit for the game with a double. In a game where Lewisburg used seven pitchers to save arms for the weekend playoffs, starter Scott Sharp (4-1) earned the victory, allowing one hit, walking one and striking out three. For the game, Patriot pitchers struck out 10 Chargers. Gunnar Gilmore earned the save, his third of the year.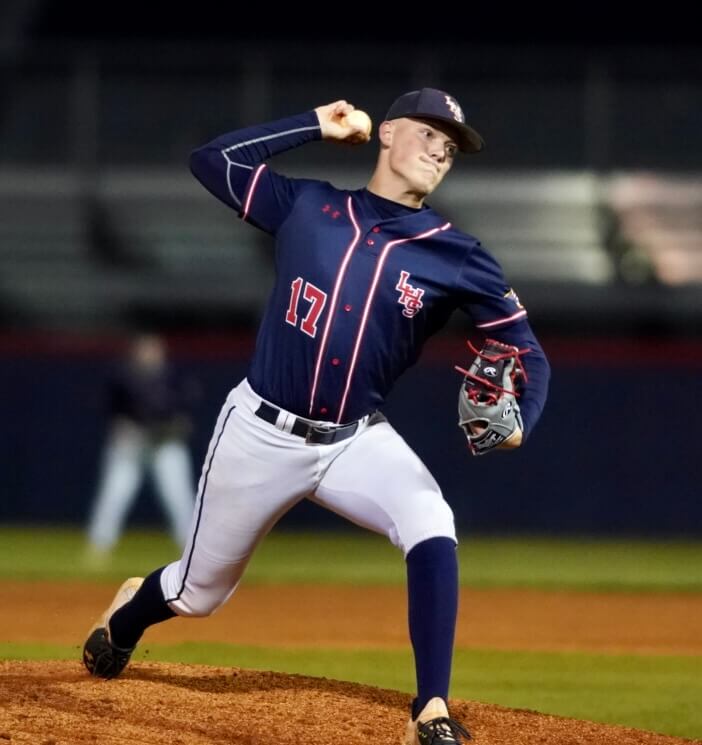 "We'll have everybody available Friday night," Cagle said about inserting several relievers into the contest. "We'll play with what we need to play with on Friday and then worry about Saturday on Saturday."
Jack Harper took the loss for Oxford, as he gave up two runs on two hits in three innings pitched. Vaiden Ellis struck out two in three innings of relief.
Now, for the first time in school history, Lewisburg will be playing in a first round series of the baseball playoffs. The Patriots will host Madison Germantown Friday at 7 p.m, then travel to Germantown for the second game of a best-of-three series Saturday, also at 7 p.m. If a third game is needed, it will be back at Lewisburg on Monday, April 25.
Here are the first round pairings for the MHSAA 6A baseball playoffs involving DeSoto County teams:
*Lewisburg vs. Madison Germantown
*Clinton vs. Center Hill
*Grenada vs. Southaven
*-home field advantage as higher seeded team
Teams with first-round byes: Hernando and DeSoto Central. As region champions, both teams will have the home field advantage in the second round.
In Class 5A, Lake Cormorant meets Callaway in the first round with Lake Cormorant having the home field advantage.
Prep baseball
Lewisburg 2, Oxford 1
Bartlett, Tenn. 5, DeSoto Central 1
Prep softball
Lewisburg 10, Brighton, Tenn. 0 (6 inns.)
SPORTS ETC.
Olive Branch native Myah Taylor, a three-time Gatorade Mississippi Player of the Year in high school and part of the Mississippi State women's basketball program, now will play her final year of collegiate basketball at in-state rival Ole Miss. Taylor entered the transfer portal shortly after Sam Purcell was named new Bulldog coach and announced her decision on social media Monday. She has one year of eligibility remaining after being a redshirt her freshman season. Had she stayed at Mississippi State, Taylor would have played for four different coaches in her Starkville career.
Northpoint Christian School was ranked sixth in the latest TSSAA Division 2-A Tennessee Baseball Coaches Association rankings.