Grenada charges past Tigers in Friday football
THE VITAL STATISTICS
Prep football
Horn Lake 27, Lake Cormorant 14
Water Valley 76, Northpoint Christian 49
Collierville, Tenn. 47, Center Hill 6
Grenada 40, Hernando 22
Kosciusko 40, Lewisburg 12
Briarcrest Christian, Tenn. 26, DeSoto Central 20
Starkville 38, Olive Branch 7
Lafayette (Oxford) 12, Southaven 8
DeSoto County football scores and weekly schedule
THE DETAILS
The phrase is "a rolling stone gathers no moss," but in this case was a running back by the name of Moss that rolled over the Hernando defense Friday night in Grenada's 40-22 victory over the Tigers at Anthony Jenkins Field.
Joe Moss scored three touchdowns and was nearly impossible to stop in the Chargers' victory, as Grenada moved to 3-0 for the season and dropped Hernando to 1-2.
"We knew that was going to be an issue coming in because we knew he was a good player," said Hernando head coach Will Wolfe after the game. "He did a great job, but the defense responded and we got some stops and we had a chance to win it."
Moss, a 200-pound senior running back, opened the scoring in the first quarter, finishing off Grenada's first possession with an eight-yard touchdown run for a 7-0 lead with 8:06 left in the quarter.
Quarterback Jaheim Shack added to the Chargers' lead in the second quarter with a 16-yard scoring run for a 14-0 lead with 8:24 left in the half. 
Hernando came close to putting points on the scoreboard as the Tigers' offense moves down to the Chargers' five-yard-line, but a Zach Wilcke pass was knocked down on a fourth-and-goal call with three minutes left in the half, an incompletion that stopped Hernando's best chance to score in the opening 24 minutes.
Grenada appeared to be on their way to another score before halftime, but a long run by Moss to the Tigers' 20-yard line was called back with a sideline encroachment penalty against the Chargers' bench.
Moss scored his second touchdown of the evening in the third quarter on a 47-yard run with 9:07 left for a 21-0 lead.
But that's when Hernando started a comeback.  Wilcke found Joey Davis for a 18-yard pass completion and a touchdown with 4:02 left in the quarter to get within 21-7 for Grenada.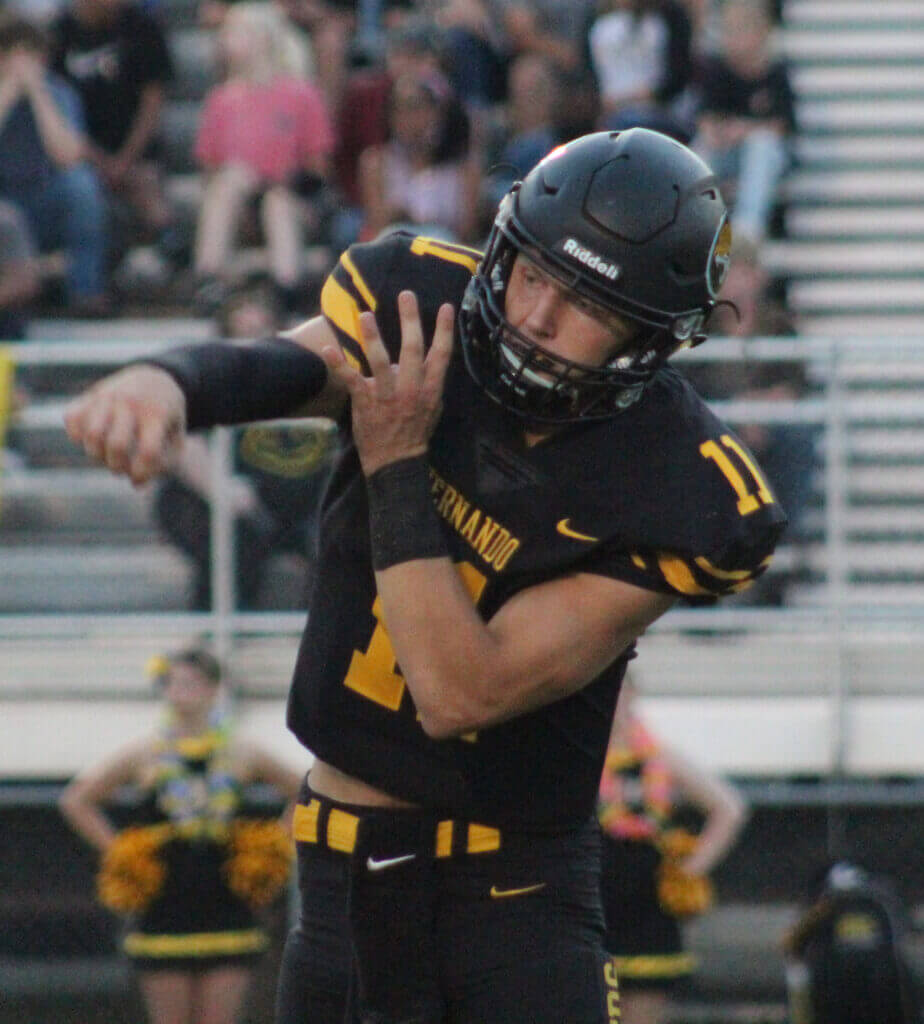 The Chargers followed with a drive ending when Moss had an apparent touchdown but fumbled the ball into the end zone where Hernando recovered the football, stopping the drive and taking the ball back. 
Wilcke and the Tigers' offense moved the ball toward midfield and then Wilcke aired it out to receiver Jalen Smith for a 48-yard touchdown pass completion to get Hernando within 21-14 as the third quarter ended.
"We've developed some depth (at receiver) and they're playing at a good level," said Wolfe. 'Our receivers have done well. We're still inexperienced, but we are talented."
Touchdown number three for Moss came with just under nine minutes remaining in the game for a 27-14 Grenada lead. A 25-yard field goal grew the margin to 30-14, but Wilcke answered with a second scoring strike to Smith, this time for 26 yards. Curdarrious Bullock barrelled his way into the end zone to get Hernando to 30-22 in favor of the Chargers.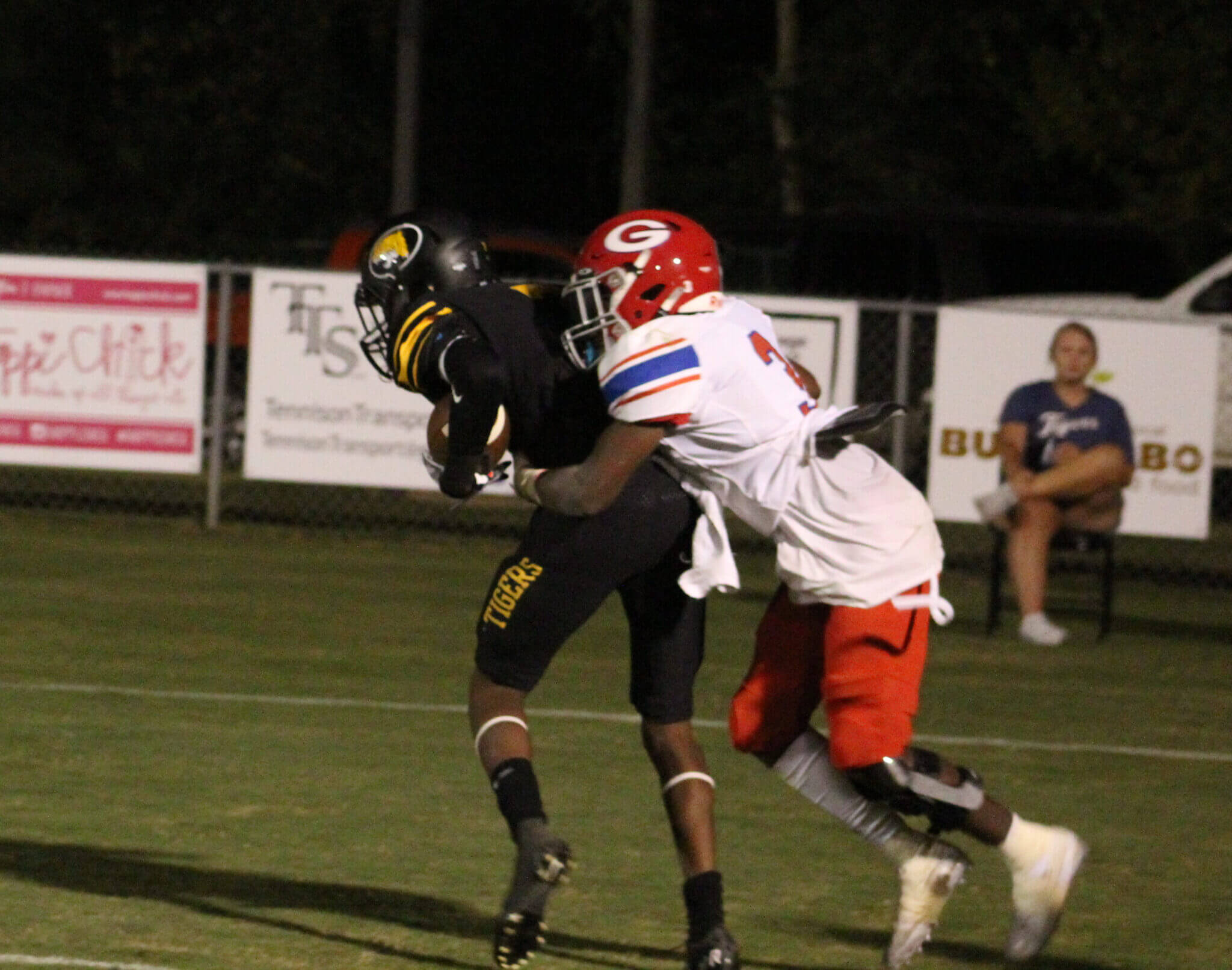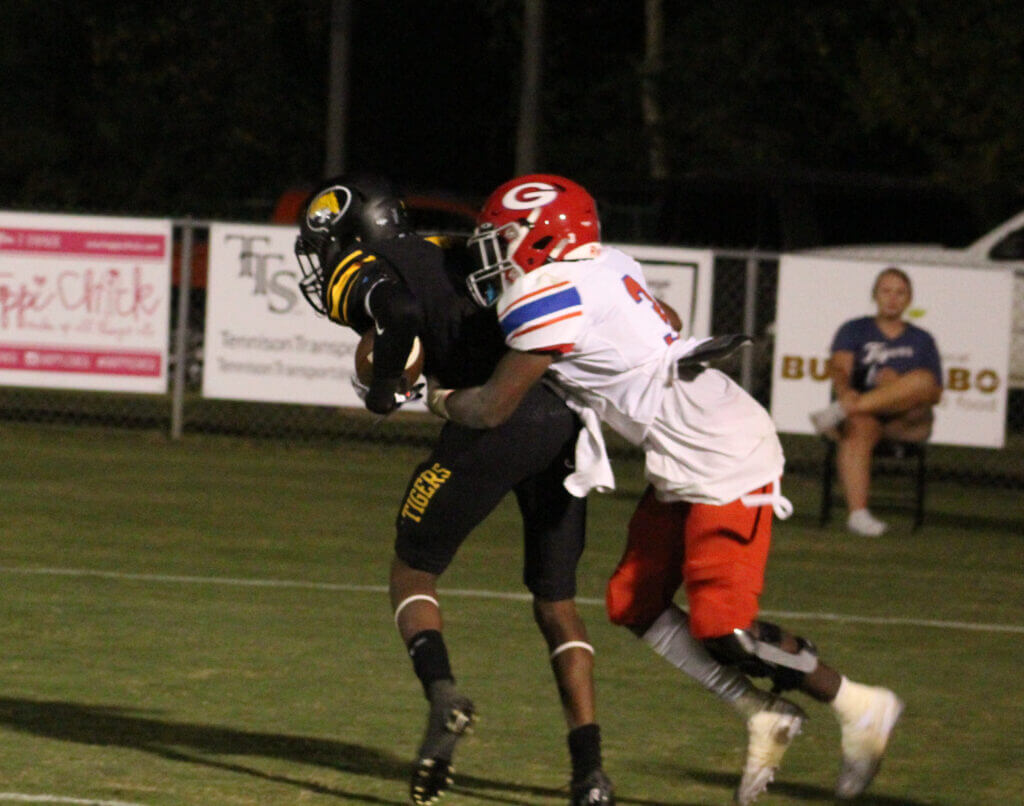 Jackson Uselton was then able to place the ensuing onside kick to where teammate Hallas Lawson could recover the ball, but Hernando was not able to capitalize.
A 21-yard field goal by the Chargers with 1:11 remaining, followed by a 40-yard interception touchdown return of a Wilcke pass by Jalon Townes finished off the Tigers by a 40-22 final score.
"We made a lot of mistakes, but the kids never gave up," Wolfe said. "All you can ask against a good football team is at the end of the game you have a shot to win, and we had a shot to win."
Hernando has now played Grenada eight times in school history and has yet to defuse the Chargers. Friday's game was the first meeting since Grenada's 31-14 victory in 2019.
The Chargers are back in MHSAA 6A this year, after spending the past two years as a 5A school.
Hernando is back in action next Friday night, playing at Lausanne Collegiate in Memphis.
WORTH NOTING….
Friday's 27-14 victory by Horn Lake over Lake Cormorant returned the annual Lake Bowl traveling trophy to the Church Road campus. Last year, Lake Cormorant defeated Horn Lake 31-21. The season series between the Eagles and Gators is now tied at 6-6-0.
Water Valley and Northpoint Christian had never met in football before, but Friday's 76-49 Blue Devils victory dropped a high-scoring Trojans' football team to 1-3 for the season. Northpoint has averaged 51.5 points per game on offense, but has allowed 53.25 points per game on defense so far this season. The 76 points are the most allowed by the Trojans in a game this season, two points more than the 74 points allowed in a 74-69 loss at Brighton, Tenn. Friday's game was quickly arranged after Palestine-Wheatley, Ark. could not play Northpoint due to COVID-19 issues and serious injuries depleted an already light roster.
After having to sit out the first two weeks of the football season due to COVID-19 issues, Kosciusko started its 100th season of football Friday night with the Whippets' 40-12 win over the Patriots at Lewisburg. Despite the losing effort, Lewisburg sophomore quarterback Gunner Gilmore, making his first start, threw for 261 yards and a pair of touchdowns. Graycen Crumbley was Gilmore's top receiving target, with seven catches for 142 yards and a touchdown.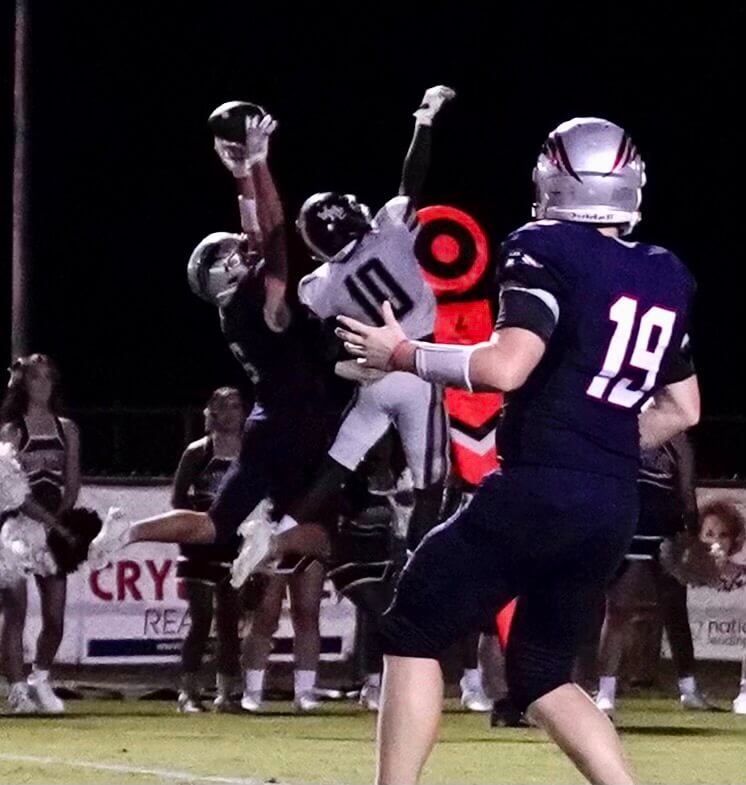 Briarcrest Christian's 26-20 victory at DeSoto Central came in the teams' first-ever meeting. Ryan Musselwhite caught a pair of touchdown passes for DeSoto Central in the loss.
Olive Branch is now 7-10-0 all-time against Starkville after Friday's 38-7 loss to the Yellowjackets.
Southaven is winless all-time against Lafayette, now at 0-3-0 after Friday's loss.
Center Hill fell to 0-6-0 against Collierville, Tenn., which beat the Mustangs 25-24 in the teams' last meetin in 2019.