Gilliland's 33 points lead Northpoint to basketball sweep
Photo: Christian Gilliland (2) of Northpoint Christian follows through on a shot for two of his game-high 33 points against Fayette Academy Tuesday in Southaven. (Bob Bakken/DeSoto County Sports)
THE VITAL STATISTICS…
Boys Basketball
Center Hill 90, South Panola 56
Hernando 52, Senatobia 38
DeSoto Central 77, Lake Cormorant 73 (overtime)
Northpoint Christian 59, Fayette Academy, Tenn. 36
Southaven 75, Byhalia 39
Lewisburg 54, Water Valley 40
Horn Lake 76, Independence 35
Boys Soccer
Lewisburg 0, Hernando 0 (Lewisburg wins 3-1 in PKs)
Lake Cormorant 5, Byhalia 3
Southaven 2, DeSoto Central 1
Horn Lake 7, Strayhorn 0
Girls Basketball
Center Hill 61, South Panola 57
Hernando 60, Senatobia 40
DeSoto Central 68, Lake Cormorant 39
Northpoint Christian 50, Fayette Academy, Tenn. 38
Southaven 45, Byhalia 19
Lewisburg 57, Water Valley 36
Horn Lake 57, Independence 45
Girls Soccer
Hernando 2, Lewisburg 2 (Hernando wins 6-5 in PKs)
Lake Cormorant 3, Byhalia 0
DeSoto Central 3, Southaven 0
Strayhorn 1, Horn Lake 0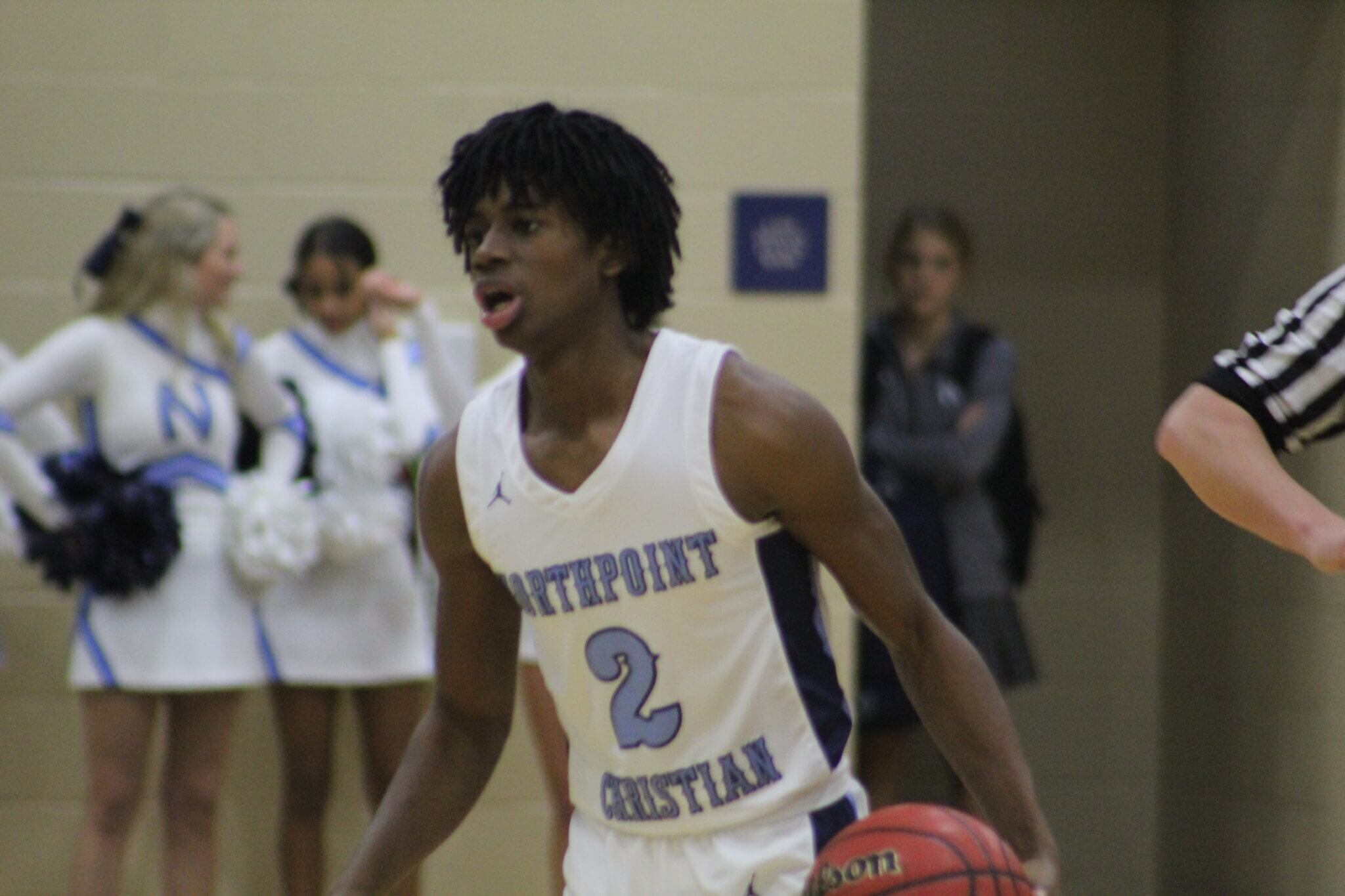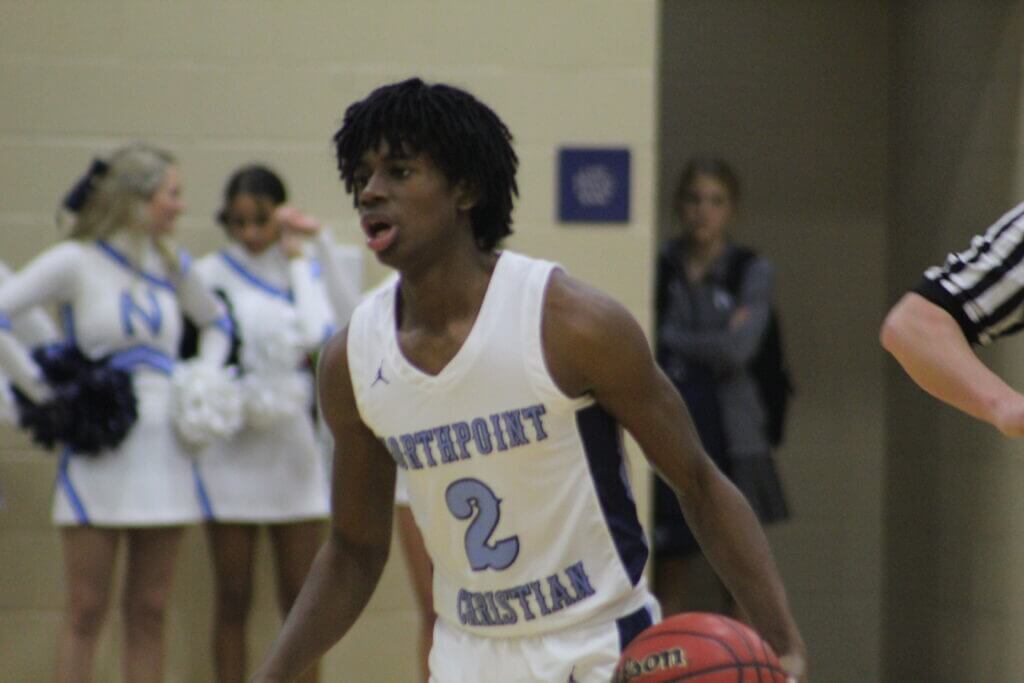 NORTHPOINT CHRISTIAN BOYS BASKETBALL 59, FAYETTE ACADEMY 36
Christian Gilliland dominated the night with a 33-point scoring performance in Northpoint Christian School's 59-36 victory over Fayette Academy Tuesday night in Southaven. A sophomore, Gilliland erupted for 22 points in the second half to help break open a contest that was tied at halftime 17-17.
Northpoint held a scant 12-11 lead after one quarter over the Vikings but only 11 points were scored between the teams in the second quarter for a 17-17 tie.
Northpoint coach Barry Gray was especially pleased with his team's defensive play throughout the contest, and when talking about Gilliland, pointed out his play on the defensive end.
"In the second half he locked up their number 12 (Corbin Bowling) like I know he can," Gray said. "We haven't required him to guard one of the best and tonight we put him on their best guy."
Bowling did not score in the entire contest for Fayette Academy.
Gilliland went to work offensively in the second half, scoring 14 points in the third quarter and adding nine more in the final frame to lead all scorers. Darius Naylor was the only other Trojan in double figures with 10.  Ryan Eubanks was the leading scorer for Fayette Academy with 16 points.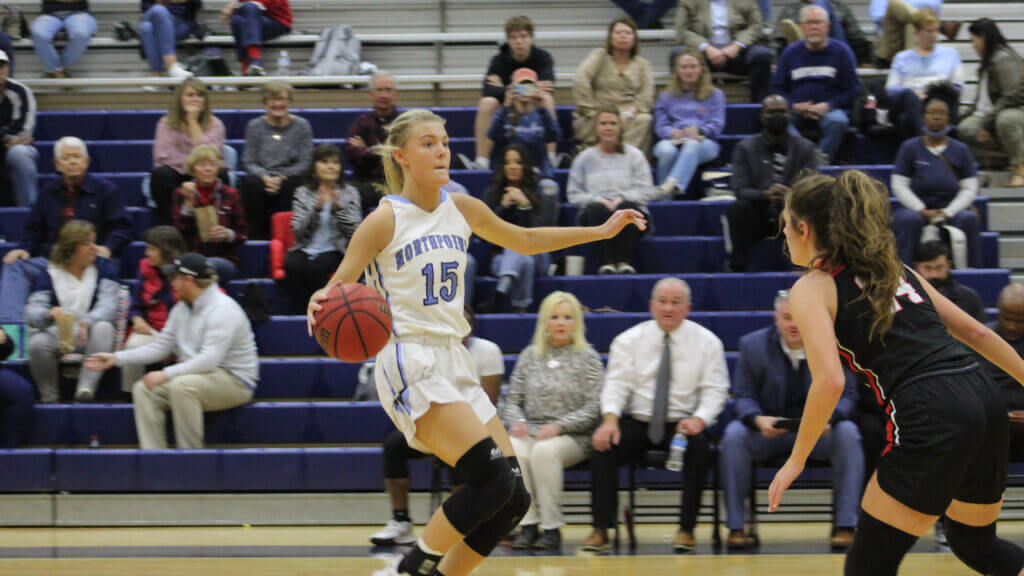 NORTHPOINT CHRISTIAN GIRLS BASKETBALL 50, FAYETTE ACADEMY 38
Brylee Faith Cherry's 23 points led the Lady Trojans to their 50-38 win over the Lady Vikings on Tuesday evening in Southaven. Cherry combined with Bethany Wright's 16 points to put away the visitors, taking a 28-14 lead into the locker room at halftime after building a 15-5 first quarter advantage.
"I thought tonight she (Cherry) was good until she got real tired," Gray said. "She's dramatically improved over last year. Her total game is different. She can shoot the three, she can flash in the post, and she defends well. She's become a more complete player than she was a year ago."
Fayette Academy kept pace with Northpoint in the second half, but the first half Lady Trojans' lead was too much to recover from for the Somerville, Tennessee team.
Emmie Moore led Fayette Academy in scoring with nine points, all coming in the second half.
WORTH NOTING…
Top scorers for Lewisburg in the boys basketball win over Water Valley were Amarian Davis with 14 points and Hayden Drumwright with 13.
In the Center Hill boys' basketball win over South Panola, Deshun Dunn finished with 23 points and Kaison Sanders scored 18.
Leading scorers for Horn Lake in the boys basketball win against Independence were Dimp Pernell with 25 points and Ky Pernell with 15.  
DeSoto Central boys were led in scoring by Alex Pete (23), Dorian Whitley and De'Onte Green (13 each) and George Saulsberry (12) in the overtime victory over Lake Cormorant.  
Center Hill girls were led in scoring by Jairya Rankins (16), Kayleigh Prentiss (15) and Dominique Collins (14) in the basketball victory over South Panola.  
In the Lewisburg girls basketball win over Water Valley, Allie Carroll led the Lady Patriots with 18 points and Haylie Hodges added 10.  
Hernando girls were led by Damyia Cummings with 20 points and Abbey Harrison with 20 points in the basketball win against Senatobia. 
DeSoto Central girls were led in scoring by Janiya Jones (15), Tereah Hayslett (13) and Mya Richardson (11) in the basketball victory over Lake Cormorant.  
Horn Lake scoring leaders were Indiya Bowen with 17 points and Kaitlyn Williams with 15 in the girls basketball win over Independence.
The Hernando girls soccer victory over Lewisburg marked the second time this season the Lady Tigers have beaten the Lady Patriots in penalty kicks. 
DeSoto Central goals were scored by Micah Benson, Ruby Barton, and Katelyn El-Beck in the girls soccer defeat of Southaven. 
Hernando goals were scored by Liv Norris and Macey Riggs in the girls soccer victory against Lewisburg, which was won in penalty kicks.