Gators chomp Patriots to open football year
Photo: A drone view of the Lewisburg High School football field appears to have a Field of Dreams look as the DeSoto County high school football season began Friday night. (Photo credit: Jody McRee)
THE VITAL STATISTICS
Prep football
Brighton, Tenn. 74, Northpoint Christian 69
West Plains, Missouri 38, Center Hill 12
DeSoto Central 20, Senatobia 6
Grenada 14, Horn Lake 8
Olive Branch 1, Trezevant (Memphis) 0 -forfeit to Olive Branch
Southaven 30, Valley View (Jonesboro, Ark.) 0
Lake Cormorant 40, Lewisburg 10
Neshoba Central 38, Hernando 6
Football scores/weekly schedules
THE DETAILS
LAKE CORMORANT 40, LEWISBURG 10
It was the first game of the season for DeSoto County high school football teams and when Lake Cormorant traveled to Lewisburg to start the year Friday night, it also marked the first game as head coach for Patriots' leader Dustin Hectorne.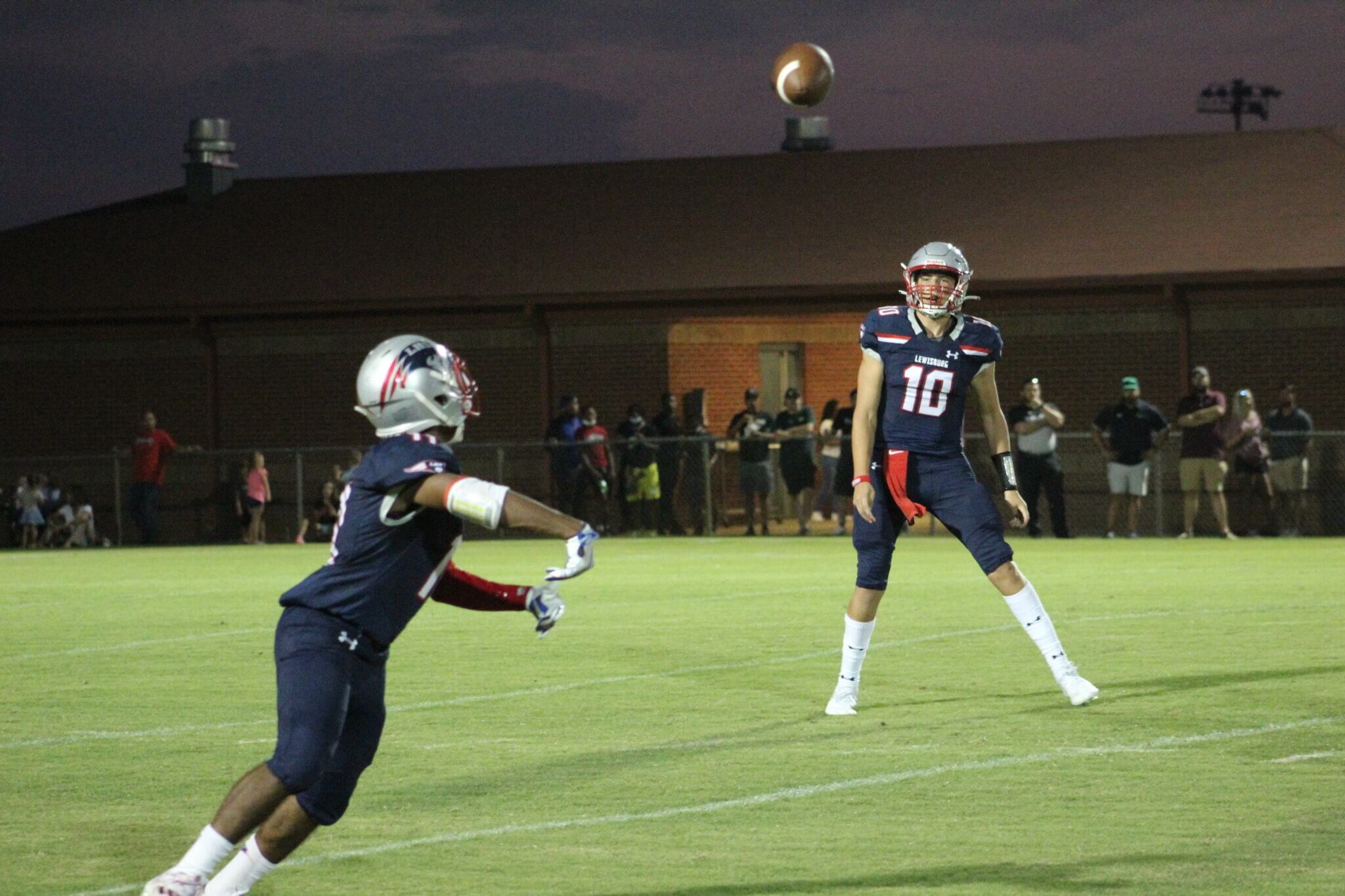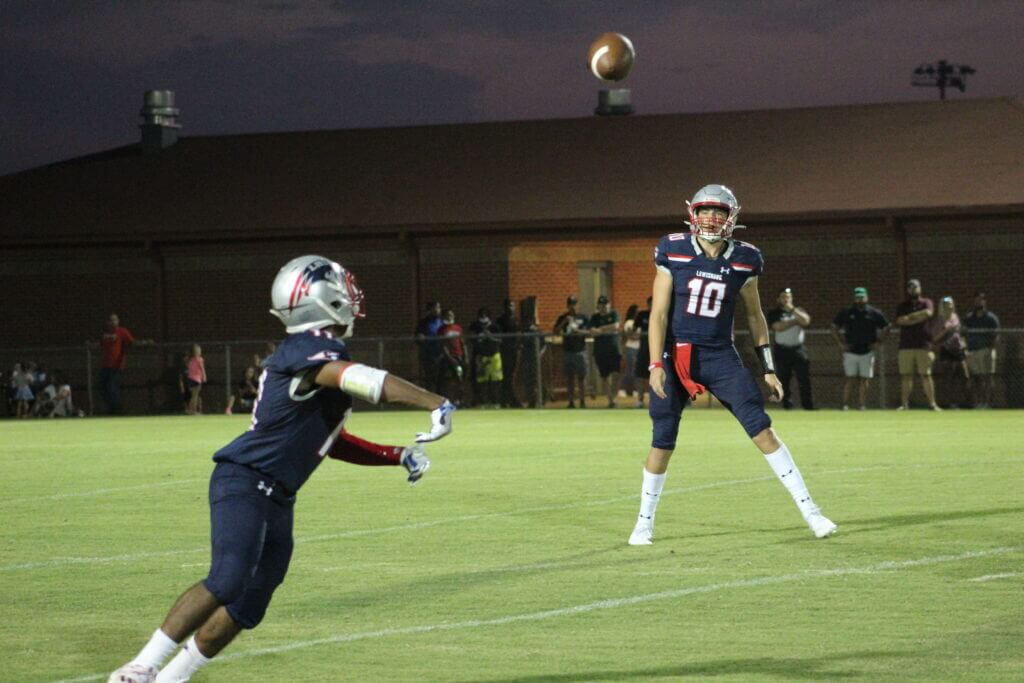 It was extra special for Hectorne to take the field with his own team, although the final 40-10 outcome for Lake Cormorant was not a great way to start the year.
But Hectorne was savoring the moment of leading his squad onto the field for the first time.
"It was great to be out here," Hectorne said. "With all of the uncertainty (with COVID-19), that was the most exciting thing to be out here with our guys, how hard they've worked and put something on the field. It was great to be out here with a bunch of guys who play hard."
But it was not a pleasant start for the Patriots, as Lake Cormorant quickly struck for three touchdowns and a 20-0 lead after one quarter.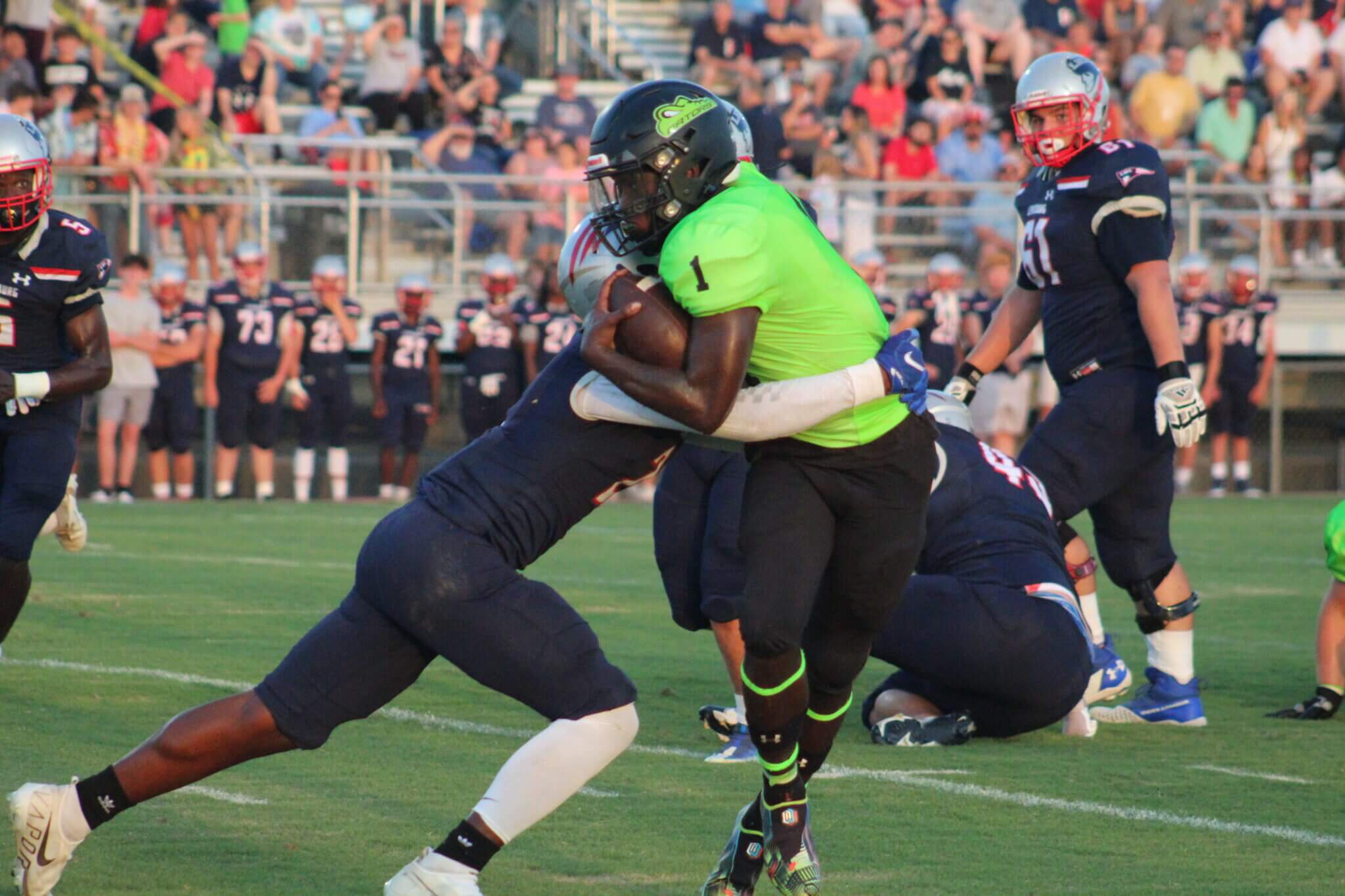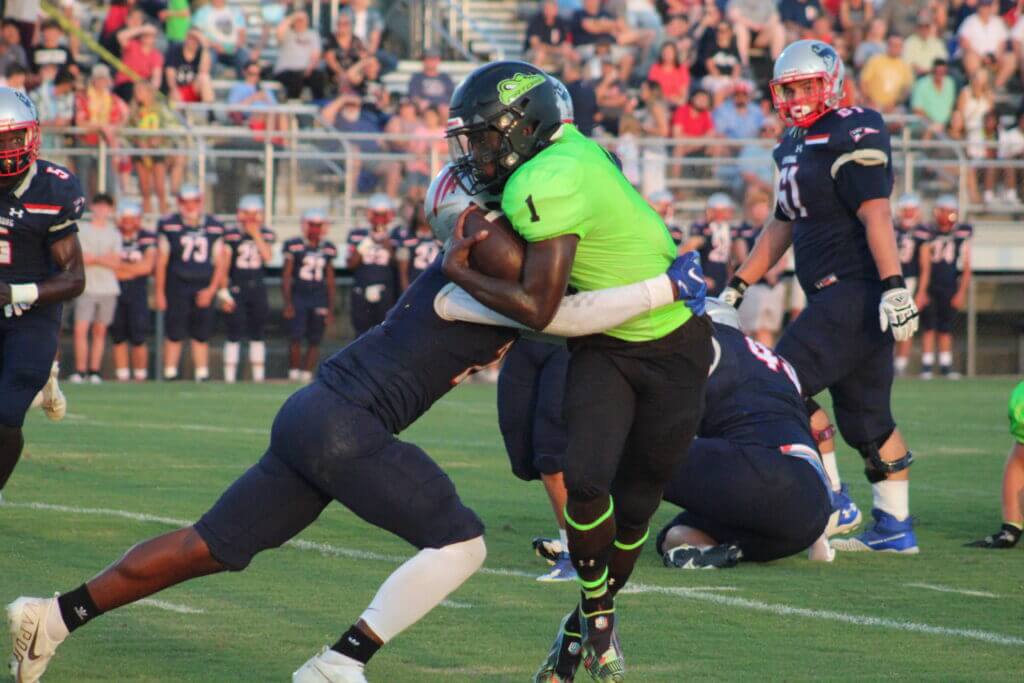 Quarterback Tevin Amos factored into two of the first three scores with a one-yard plunge for a score and an 11-yard touchdown pass to Kejuan Williams for another.
In between, Jeremy Henderson scored the first of his three touchdowns, running up the middle for 10 yards and the second touchdown of the quarter.
"Jeremy showed a lot of promise last year but we lost him towards the end of the season to an elbow injury," said Gators coach Nick Nester. "It looks like he bounced back from that pretty good. He looked really good out there for us."
Henderson caught a 55-yard pass from Amos to open the second quarter for a second touchdown to give Lake Cormorant a 27-0 lead, and he then went 92 yards for his third score and a 34-0 Gator edge halfway through the second quarter of play.
Lewisburg would finally notch points on the scoreboard when Coleman Dowell completed a drive with a four-yard run in the final minute of the first half and a 34-7 halftime score for the Gators.
Defenses started to take over a bit in the second half, but not before Amos found Kevin Watts for a 16-yard touchdown and a 40-7 lead when the extra point kick was blocked.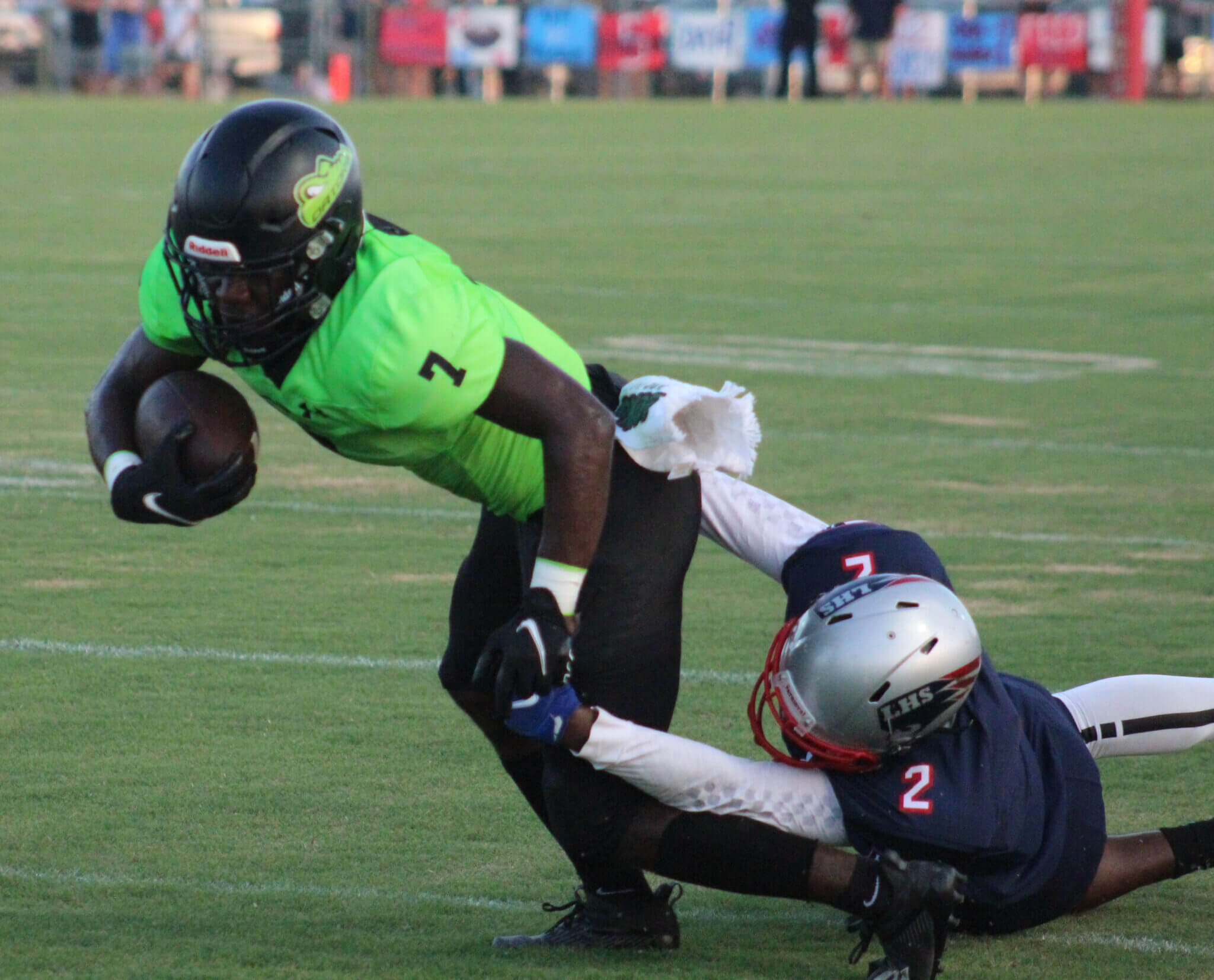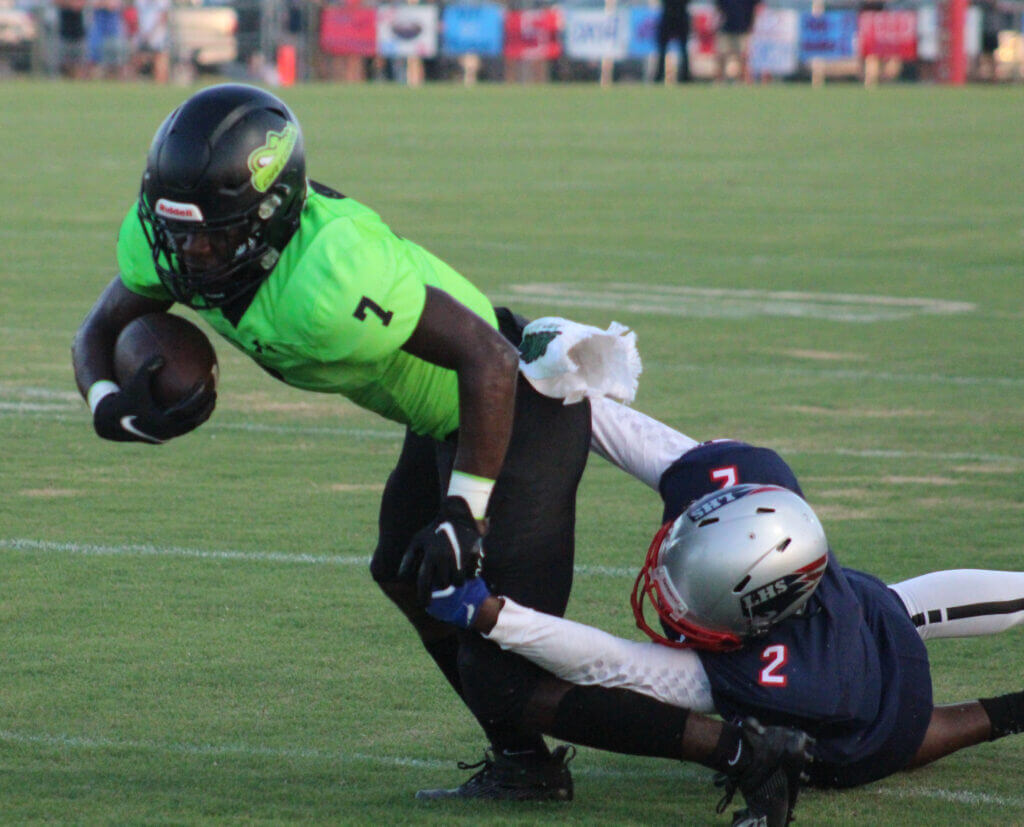 Lewisburg would complete the scoring with a 23-yard field goal by Zach Dennie with four minutes left in the third quarter. As reserves started to take over in the fourth quarter, there would be no further scoring in the game.
"I think we started fast so that really helped us in the first half," said Nester. "The quarterback (Amos) looked like a three-year starter, and made some good decisions. Jeremy (Henderson) made some big plays. I was really proud of our effort. Our defense really played well with a bunch of young guys."
For the night, the Lake Cormorant offense dominated the Patriots by a 565-159 yard margin. The Gators racked up 316 rushing yards to Lewisburg with 49 and in the passing department, Lake Cormorant picked up 249 yards in the air to 110 for the Patriots.
Henderson ended the night with 235 yards on the ground for the Gators.
Amos threw for three touchdowns and no interceptions, while Lewisburg signal caller Taylor Hill finished completing 13-for-31, for 110 yards and also no interceptions.
"It's how we play and how we come out to attack and we didn't do that in the first half," Hectorne said. "I felt like we did it a little bit better in the second half. We've got to build on that. I think we did some good things but it's got to be consistent and we weren't consistent tonight.
WORTH NOTING….
Northpoint Christian has given up 130 points in two losses this season, but the Trojans losses have come by a combined total of 15 points. Following last week's season-opening 56-46 loss at Jackson, Tenn. Christian, Northpoint scored 69 points at Brighton, Tennessee Friday night, but the home team came away with a 74-69 victory.  The Trojans play at Murray County, Kentucky next Friday.  
Center Hill's game at West Plains, Missouri was quickly put together when original opponent Clarksdale was forced into virtual learning Wednesday by COVID-19 cases and could not play. The Mustangs held their own for a while against the Zizzers but fell 38-12.  
Similarly, Hernando found itself on the road Friday, heading to Neshoba Central instead of hosting Rosa Fort (Tunica) at Anthony Jenkins Field. That Hernando was able to play at all came when the school moved from virtual to hybrid learning on Wednesday of this week. Otherwise, MHSAA rules would not have allowed the Tigers to play.  
Cameron Taylor's 61-yard run for a DeSoto Central touchdown gave the Jaguars an eight-point lead on their way to Friday's 20-6 win over visiting Senatobia.  
Thanks to Matt Hammond and Lewisburg High School for an excellent game notes and stat package in preparation for Friday's game. The game notes were available to fans via QSR codes displayed around the stadium and the statistics quoted here were the official statistics Hammond and the school provided. More schools should look at what is being done at Lewisburg to promote their teams and provide information.  
Friday's Lake Cormorant at Lewisburg football game was broadcast on 95.3 The Rebel, the first of a weekly series of DeSoto County high school games the station is airing with Austin Eldridge and Dalton Starkey providing the call. Look for a feature on the series coming up in the very near future at DeSoto County News.