Patriots win, Trojans, Jags, Gators fall in playoff baseball
Photo: Northpoint first baseman Hudson Brown makes the play on an ECS batter at first early in Tuesday's playoff contest. (Bob Bakken/desotocountynews.com)
Playoff baseball continued for DeSoto County high school teams still in action in both the Mississippi and Tennessee playoffs Tuesday night, May 9. Lewisburg opened its MHSAA 6A series with an extra-inning walk-off win over Oxford, while DeSoto Central and Lake Cormorant dropped their playoff openers in Mississippi. Meanwhile, Northpoint Christian fell to Evangelical Christian School in the Division 2-A West Region championship game, however the runner-up finish keeps the Trojans in the state playoffs, facing a first-round game this weekend.  Here's a recap of Tuesday baseball action: 
EVANGELICAL CHRISTIAN 3, NORTHPOINT CHRISTIAN 2: Evangelical Christian (ECS) scored two runs in the seventh inning and then, after a leadoff walk, relief pitcher Noah Wilder struck out the side to preserve a 3-2 victory over Northpoint Christian in the TSSAA Division 2-A West Region baseball championship game at Northpoint.
"I think it was a good battle tonight," said Northpoint coach Stephen Kirkpatrick. "They got the big hits when they needed to and we couldn't whenever we needed to. Timely hitting just wasn't on our side tonight."
Northpoint opened the game in the bottom of the third inning when Hudson Brown scored from third on a ground ball out by KL Farr for a 1-0 Trojans lead.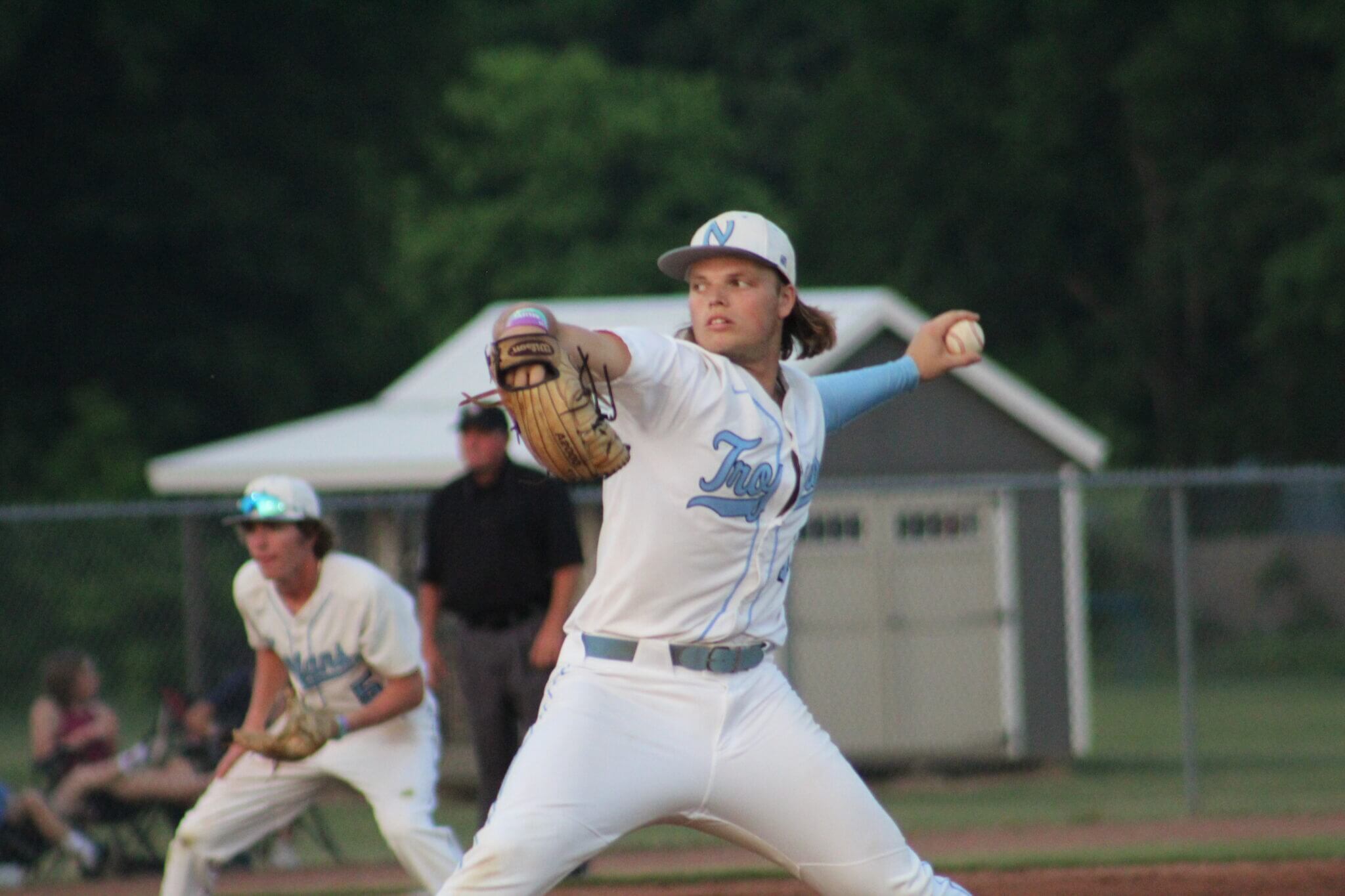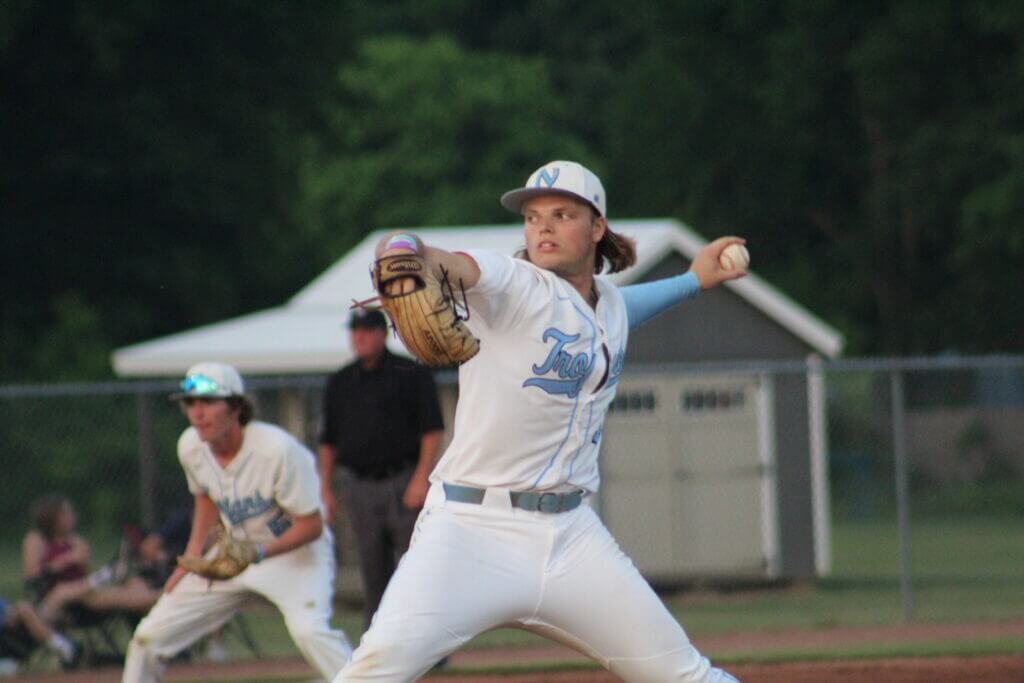 ECS tied the game in the next half inning, but Northpoint answered with a run in the bottom of the fourth on a sacrifice fly to right by Rob Hayes that scored pinch runner Grayson Simonton for a 2-1 Trojans' advantage.
In the Eagles seventh, a bases loaded walk tied the game followed by a sacrifice fly to score the eventual game-winning run. That's when Wilder came in to set down the heart of the Northpoint order to win the game, the West Region championship, a number one seed and a bye in the state Division 2-A playoffs' first round.
The Northpoint season is not finished, however. The Trojans face a single elimination contest this weekend, most likely at Northpoint, against a team from Middle Tennessee to be determined on Wednesday, May 10.
"I'm just super proud of the character they showed, the fight they showed," Kirkpatrick said about his club. "We'll come out now and get better."
Northpoint players named to the all-West Region tournament team were Cade Freeze, Sammy Chapman, Hudson Brown, and Conner McKnatt.
LEWISBURG 2, OXFORD 1 (8 INNINGS): The Patriots took a 1-0 lead in a best-of-three MHSAA 6A third-round baseball series with a run in the seventh and one more in the eighth for a 2-1 game one victory. Talon Haley picked up the pitching win in one inning of relief, striking out the side and working around a one-out double. Cayden Baker went the first seven innings, striking out eight and working around a first-inning run.
In the seventh, Lewisburg's Cooper Bennett reached on a two-out error that scored Easton Fesmire, who led off the inning with a single.
The next inning in the eighth, Sam Richardson doubled home Caden Nelson from first with no outs for the victory. Game two of the best-of-three series scheduled for Friday at Oxford, starting at 7 p.m.
GERMANTOWN (MADISON) 12, DESOTO CENTRAL 2 (5 INNINGS): The Mavericks jumped on the Jaguars with nine runs in the first two innings, seven of which came in the Germantown second for a 9-2 lead. The Mavericks got another run in the fourth and put the game away with a pair of runs in the fifth to win the game with the 10-run rule. Ryan Moore doubled as the only extra-base hit for DeSoto Central in the loss and Jacob Lott reached base twice on base hits as the only Jaguar with more than one hit among the four-hit attack. DeSoto Central also committed four errors. Gavin Brassfield suffered the loss for the Jags, allowing eight hits, nine runs (eight earned) and walking two in just an inning and a third.
DeSoto Central will need to win at home Friday to keep the series going to a deciding third game Saturday, back at Germantown.
RIDGELAND 13, LAKE CORMORANT 3: The Titans took a 1-0 lead in the best-of-three third-round MHSAA 5A baseball series with a 10-run victory over the Gators at Ridgeland. Statistical leaders for Lake Cormorant were Baker Walker with a home run and two runs-batted-in, Brayden Moberly with two hits and an RBI, and Michael Callahan with a hit and a run scored. Game two of the series is at Lake Cormorant on Friday night.
Here is the Tuesday DeSoto County scoreboard:
Prep baseball
MHSAA 6A playoffs – third round, best of three
Lewisburg 2, Oxford 1 (8 innings) (Lewisburg leads 1-0)
DeSoto Central at Germantown (Madison) 12, DeSoto Central 2 (5 innings)
MHSAA 5A playoffs – third round, best of three
Ridgeland 13, Lake Cormorant 3 (Ridgeland leads 1-0)
TSSAA D2-A West Region tournament at Northpoint
ECS 3, Northpoint Christian 2 (ECS wins D2-A West Region championship)
SPORTS ETC.: DeSoto Central High School Tuesday announced Harley Smith as its new softball coach, replacing Ashley Ford. Smith, a former standout at Lake Cormorant, was in her first season this spring as an assistant to Ford. Before coaching, Smith was a pitcher at Northwest Mississippi Community College during the 2017 and 2018 seasons.
In a text to DeSoto County News, Ford said she had recommended Smith to be her replacement. Ford, the wife of the school's football coach Shelby Ford, said she wanted to step aside to focus on raising their family. Smith will be assisted by David Smock and Morgan Gresham on the coaching staff.