Friday sports recap: Basketball, soccer, wrestling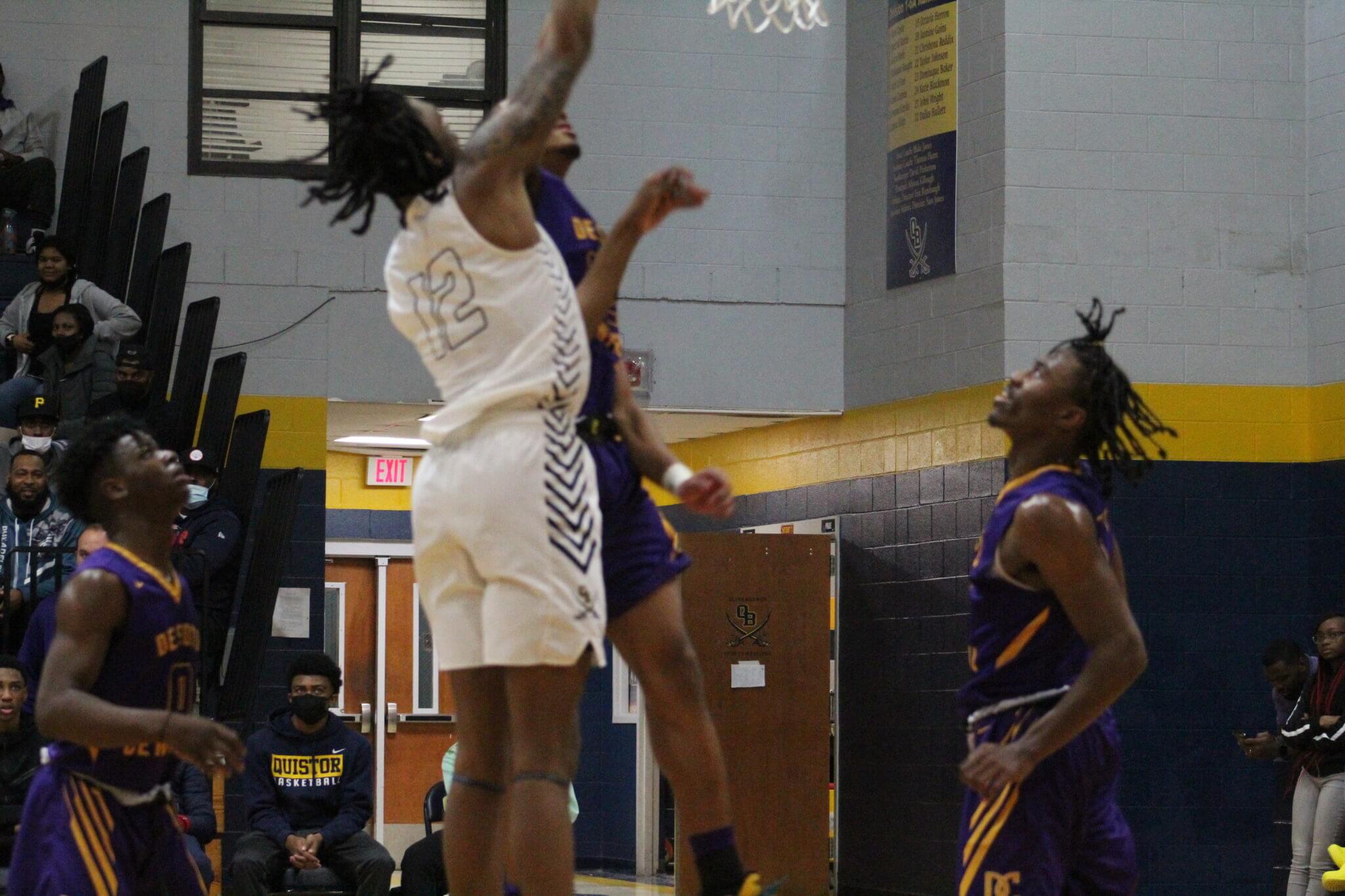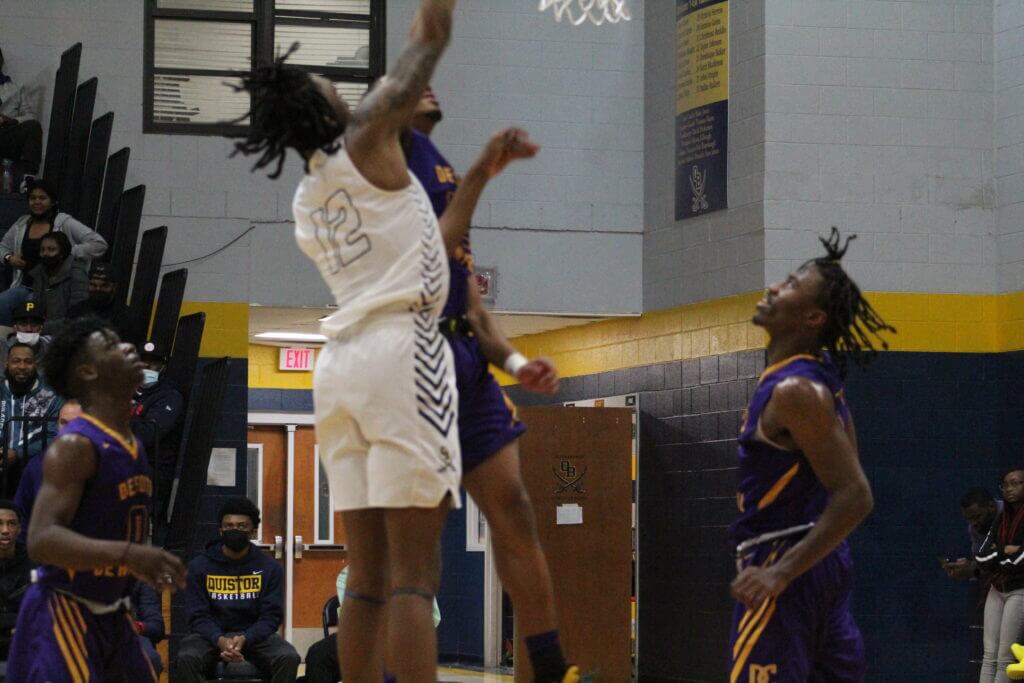 OLIVE BRANCH STAYS UNBEATEN IN REGION 2-6A
The Olive Branch Conquistadors outshot the DeSoto Central Jaguars 88-64 in a 6A district battle inside Charlie Bibbs Gymnasium in Olive Branch Friday night. Olive Branch went to 3-0 in the district standings behind the 20-point effort of Darren Davis, whose 14 points in the first half put the Quistors in front 46-32 at halftime.
"He (Darren) has had a great senior year," said Olive Branch coach Eric Rombaugh. "He does all of the little stuff that won't show up on the stat sheet. He gets rebounds, is gritty and talks on defense."
A balanced attack in the second half kept the pressure on the Jaguars, as Davis was supported by Jaylyn Tyler's 17 points and Zahir Guitierrez's 16. Tyler connected five times from beyond the three-point arc, as Olive Branch hit 11 treys in the game.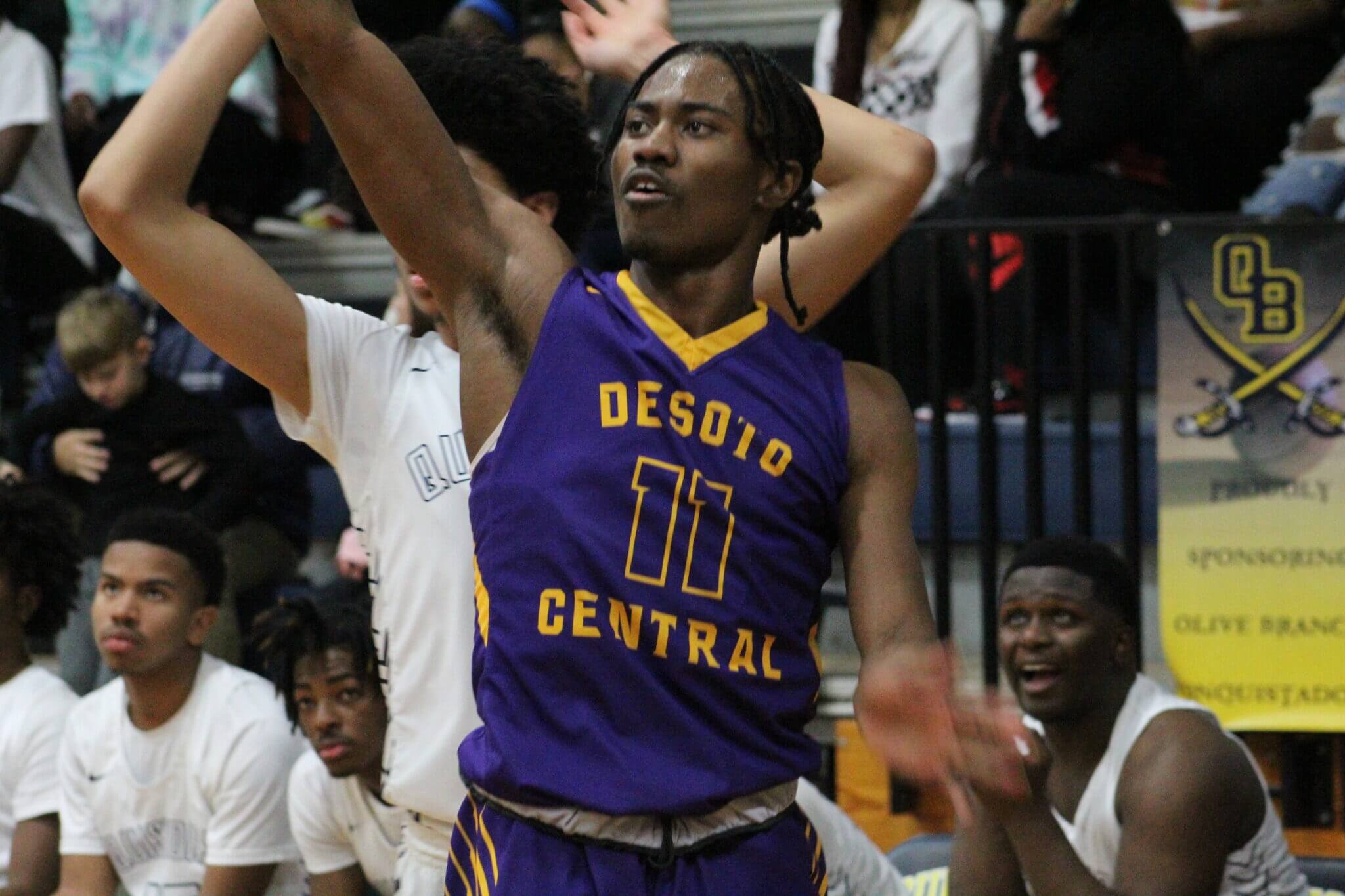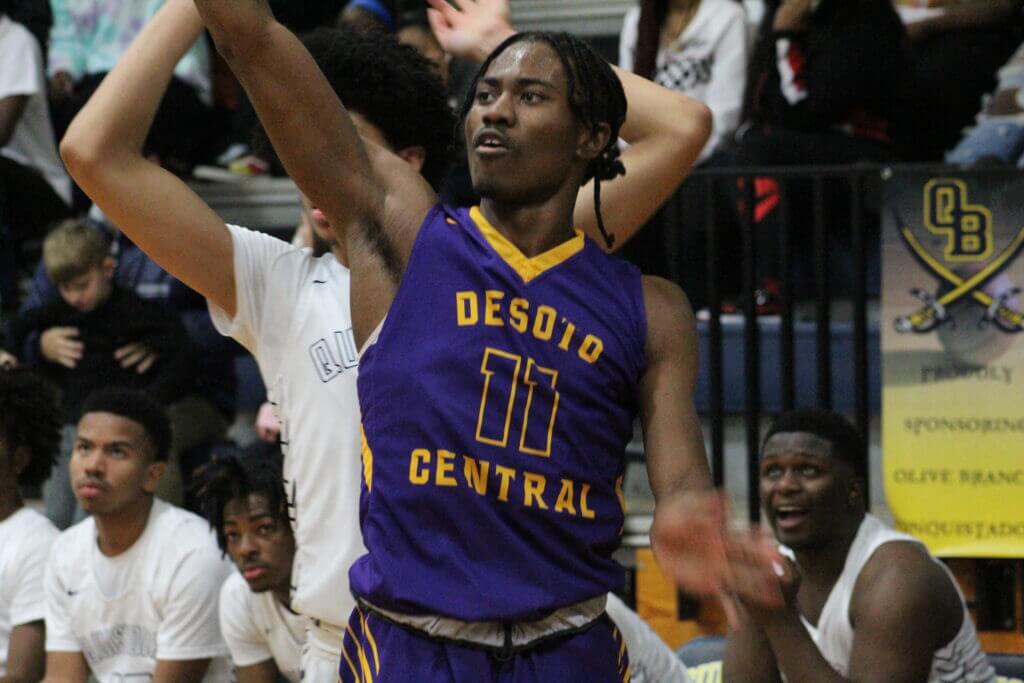 DeSoto Central was also hitting from outside, led by Dorian Whitley's 19 points, De'onte Green with 17, and Caleb Curtis converted for 15 against the Quistors. The Jaguars were also throwing them in from "downtown" to the tune of eight three-pointers, five of which came from Green and Curtis hit the other three from outside the arc.
"We've been focusing a lot on sharing the basketball," said Rombaugh. "Nobody cared who scored as long as we scored, nobody cared about who got the stop as long as we got the stop. It's a good team."
Boys Basketball
Olive Branch 88, DeSoto Central 64
Center Hill 72, Lewisburg 57
Lake Cormorant 59, Greenville 54
Southaven 79, Hernando 37
Horn Lake 84, South Panola 73
Northpoint Christian 64, Lausanne Collegiate 52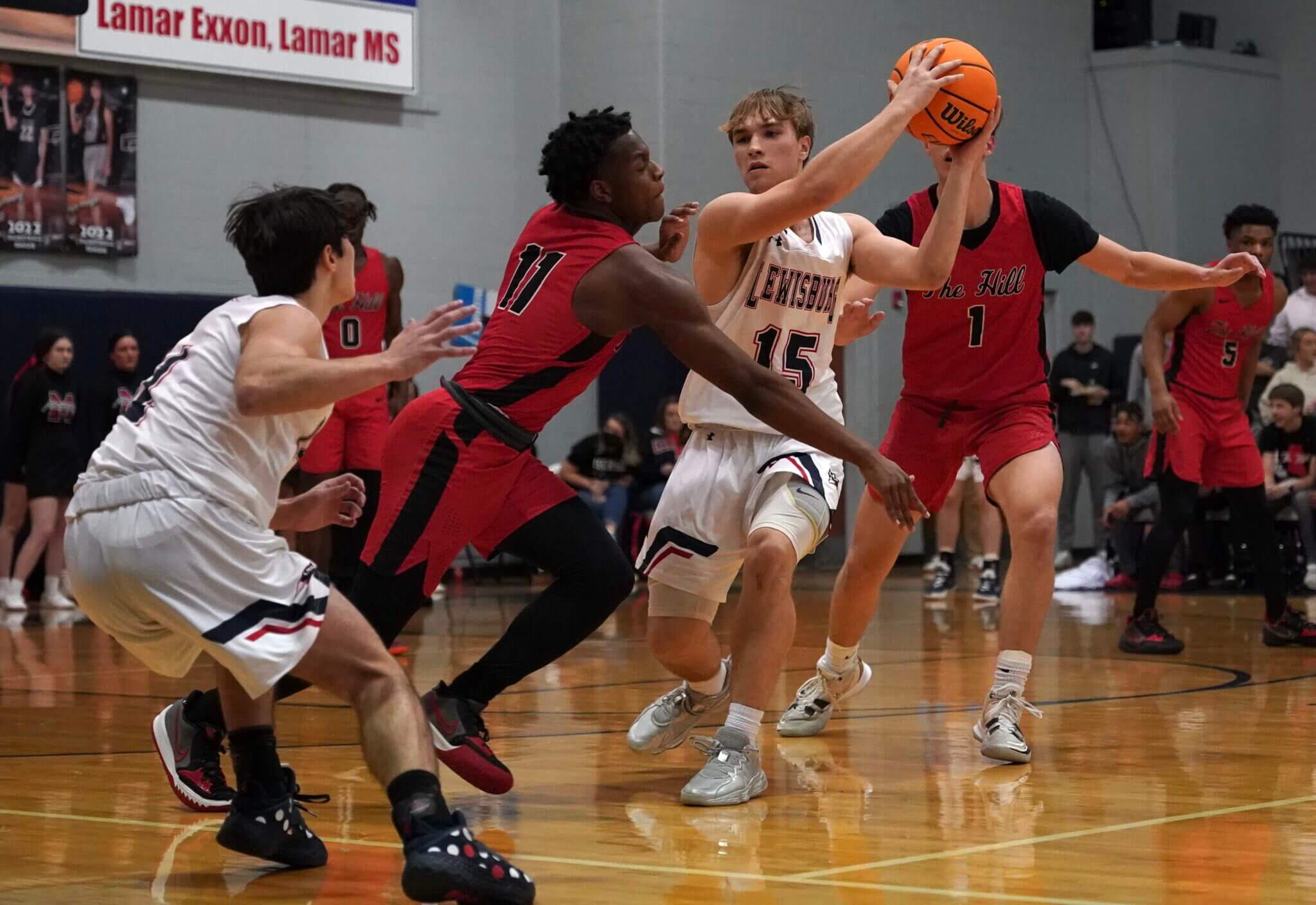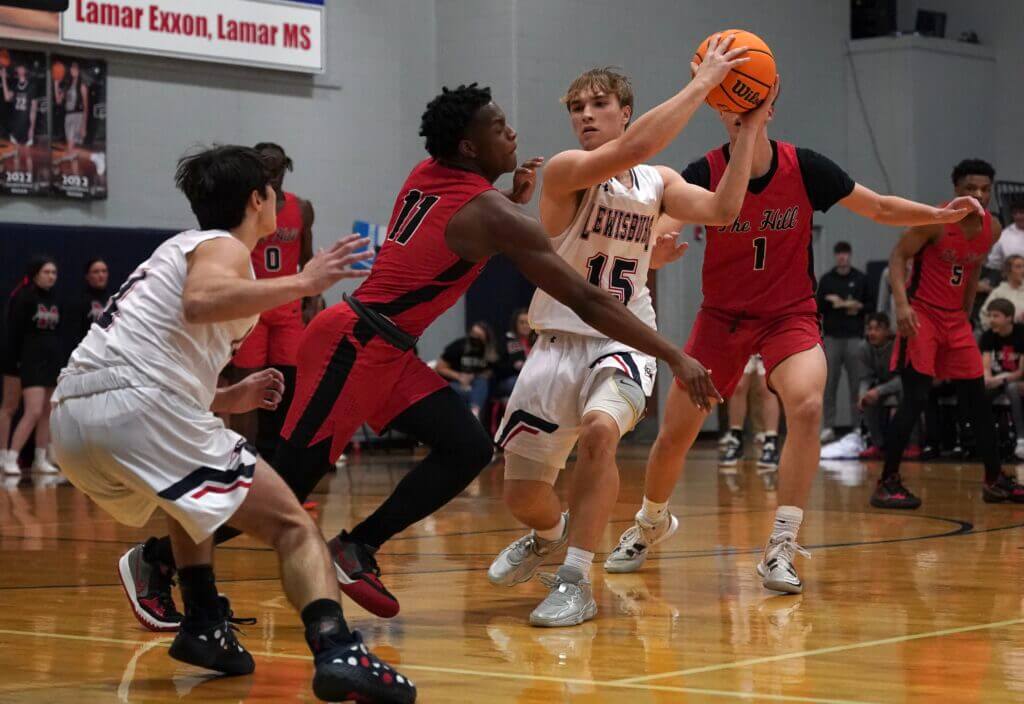 WORTH NOTING…
Ky Pernell scored a whopping 32 points for Horn Lake in the Eagles' win against South Panola. Trevon Johnson hit five three-pointers and finished with 21 points, Jordan had 14 and Connor Simms added 13 for Horn Lake in the victory…Christian Gilliland finished with 30 points and Christopher Gilliland added 15 for Northpoint Christian against Lausanne Collegiate…Leading scorers for Lake Cormorant against Greenville were Dalen Anderson with 16, Kam Franklin 13, Jhordan Shivers 11, and Lamar Done with 10. Keviar Lang added nine for the Gators….Center Hill was led by Jhamal Ross with 15 points and seven assists against Lewisburg. Deshun Dunn added 16. Noah Jorgensen scored a game-high 20 for the Patriots. Josiah Nelson chipped in with 11 while Amarian Davis and Hayden Drumwright added 10 each…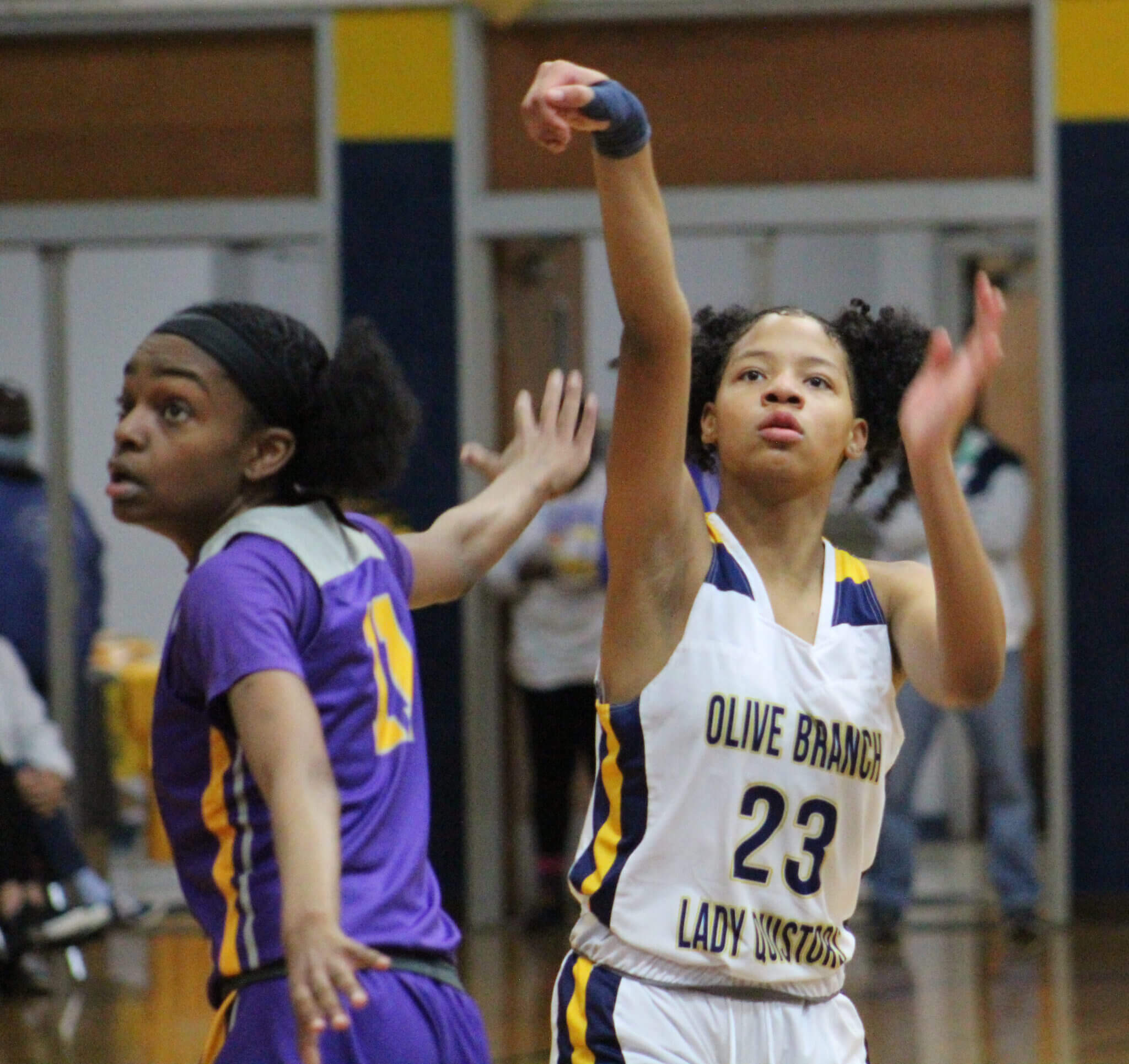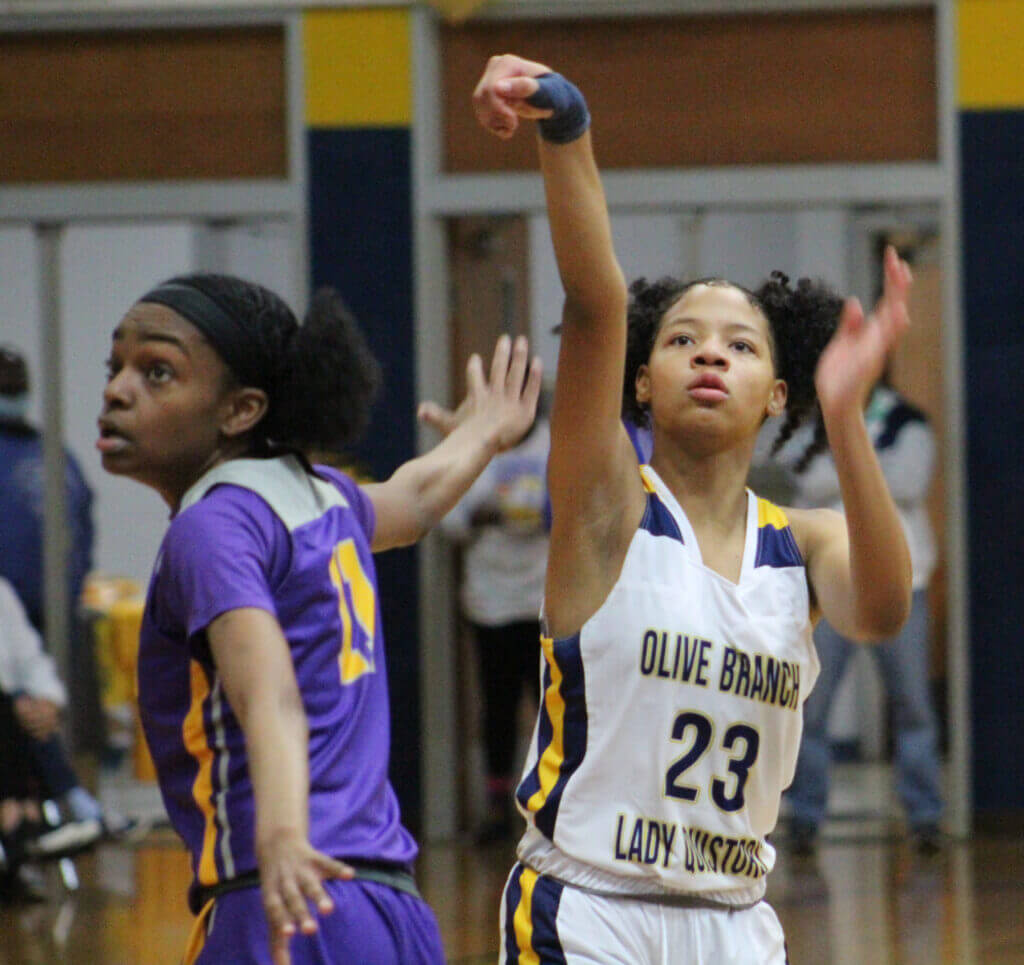 LADY QUISTORS OUTDUEL DESOTO CENTRAL
What was expected to be a tightly contested game between two favorites in Region 2-6A became anything but Friday night, as Olive Branch knocked off DeSoto Central 64-46 in what coach Jason Thompson felt might have been the best game his Lady Quistors have played this year thus far.
"They did a remarkable job of coming out of the gate with energy," Thompson said afterward. "They did all of the things that we've been trying to fine tune and correct, and put themselves in a position to win."
After a close 20-17 first quarter lead for Olive Branch, the Lady Quistors held the Lady Jags to a mere seven points in the second quarter while taking a 38-24 lead into the locker room at halftime. Addison Howell scored 12 of her team's 20 points in the first quarter, part of her game-high night of 18 points for Olive Branch.
"She (Addison) does things that can go unnoticed," Thompson said. "She's done a phenomenal job of being the leading scorer, taking charges and getting rebounds. She plays like a well-oiled machine."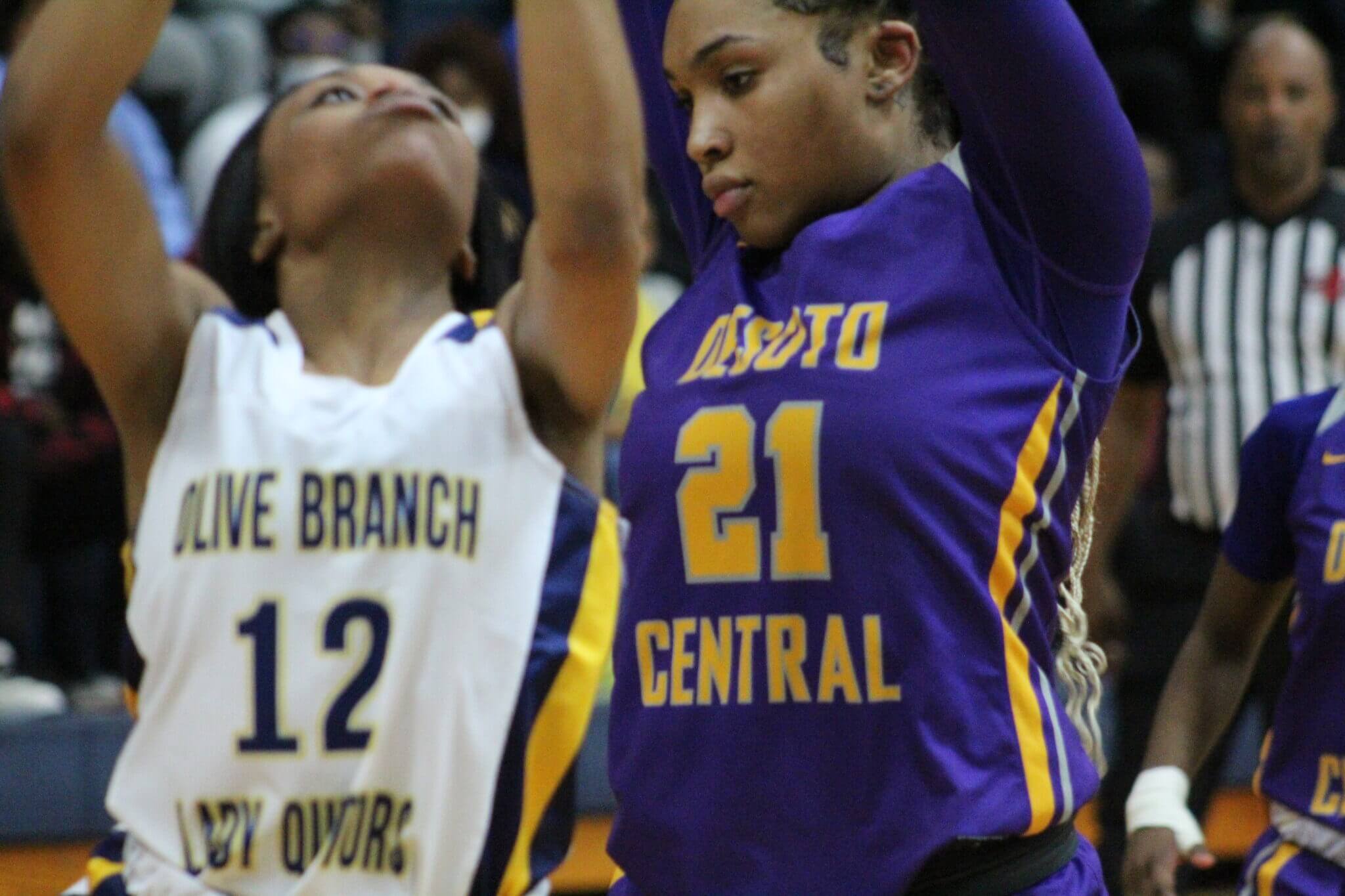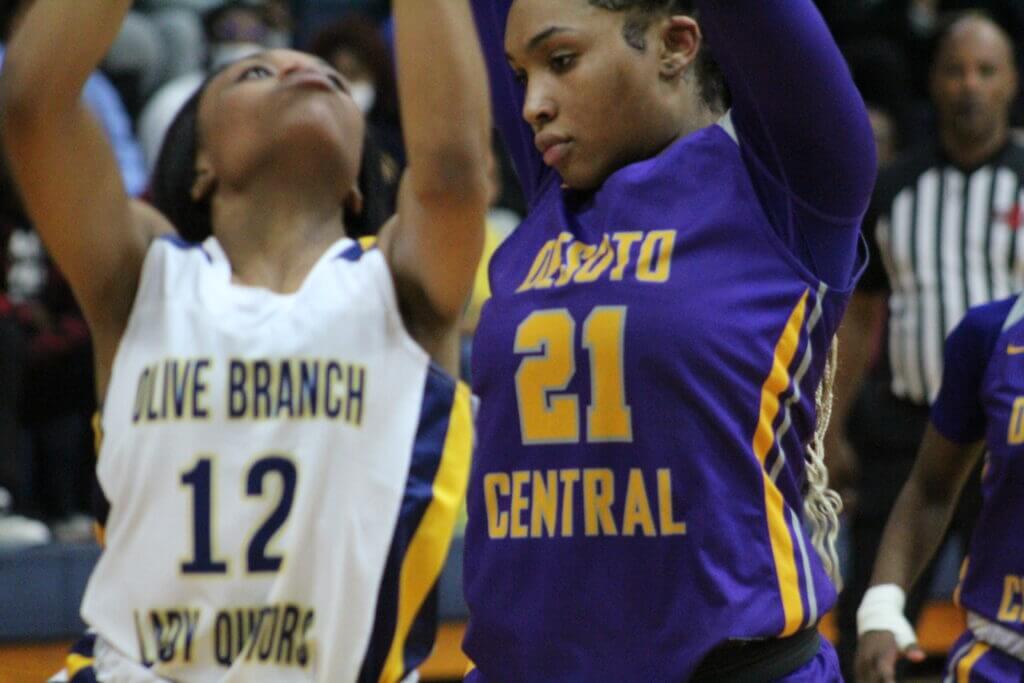 The offensive firepower of the Lady Quistors showed in the third quarter as Olive Branch took a 58-36 advantage into the final frame. Four Olive Branch players scored four or more points in the period, led by newcomer La'Monnie Owens with a pair of three-pointers for six points. Owens was playing in her third game for Olive Branch after sitting out the first semester for academic reasons.
After Howell, Owens and Rhema Pegues each scored 13 points in the win for Olive Branch. Tereah Hayslett and Janiya Jones were the leading players on the score sheet for DeSoto Central, each with 12 points.
Girls Basketball
Olive Branch 64, DeSoto Central 46
Lewisburg 54, Center Hill 50
Greenville 43, Lake Cormorant 34
Hernando 47, Southaven 30
Horn Lake 52, South Panola 40
Northpoint Christian 45, Lausanne Collegiate 31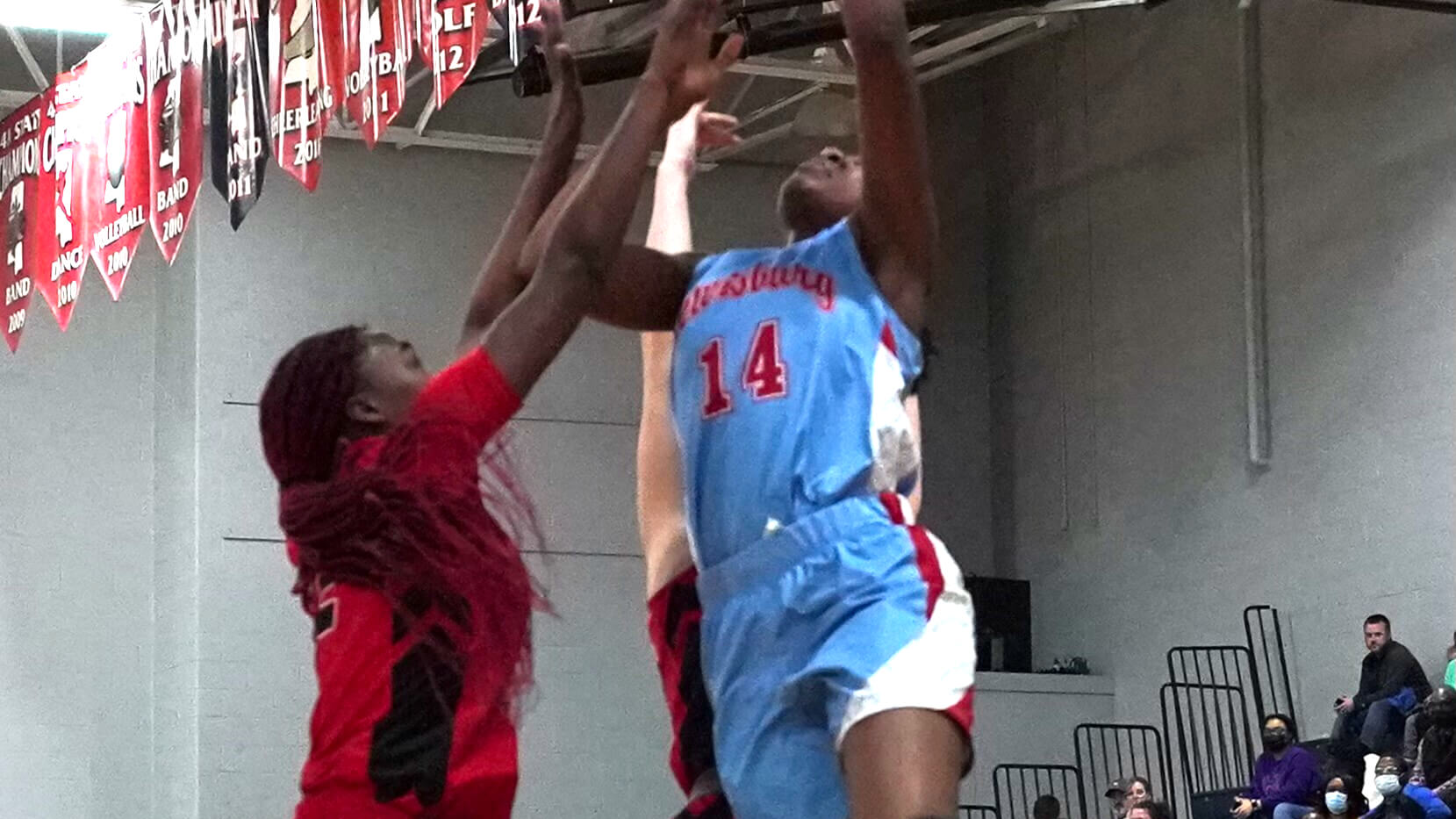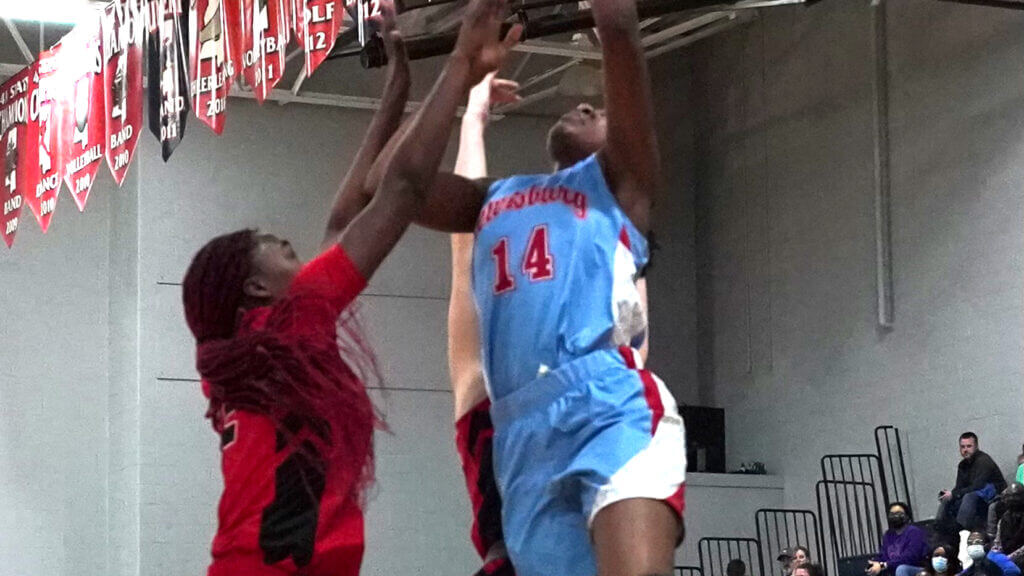 WORTH NOTING…
Indiya Bowen led Horn Lake in scoring with 26 points in the Lady Eagles' win against South Panola. Horn Lake is now 14-1…Jakeria Hawkins scored 13 points to lead Lake Cormorant against Greenville…Madison Bush finished with 16 points and Kayleigh Prentiss 15 for Center Hill against Lewisburg. The Lady Patriots were led by Allison Irby with 24, while Allie Carroll added 18 in the win.…Damyia Cummings scored 18 points, added 3 steals and 2 rebounds against Southaven. Abbey Harrison had 13 points, 10 rebounds and 7 blocks…Bethany Wright and Brylee Faith Cherry each scored 14 points to lead Northpoint Christian past Lausanne Collegiate.
Boys Soccer
DeSoto Central 7, Olive Branch 0
Center Hill 5, Lake Cormorant 1
WORTH NOTING…
DeSoto Central goals were scored by Jayden Armstrong, Eli Kitchens (2), Erick Betancourt, Isaac Penate, and JT Reesor (2) against Olive Branch.
Girls Soccer
DeSoto Central 8, Olive Branch 1
Center Hill 3, Lake Cormorant 0
WORTH NOTING…
DeSoto Central goals were scored by Micah Benson (2), Chesney Gunderson, Katelyn El-Beck (2), Bethany Walker (2), and Addie Solomon against Olive Branch.
Prep wrestling
North Pontotoc 51, Center Hill 24
Center Hill 36, South Pontotoc 18
WORTH NOTING…
Center Hill wrestler Garon Murley went 2-0, with one win by forfeit and one by fall in 27 seconds…Grayson Baxter of Center Hill went 2-0, both wins by fall.. Nate Taylor of the Mustangs also went 2-0, both wins by fall. Center Hill wrestled in only eight of the 14 weight classes in both meets Friday night.
SPORTS ETC.:
Hernando senior forward Abbey Harrison and guard Damiya Cummings were both honored at Friday's game against Southaven for each passing 1,000 career points.