DeSoto Central volleyball wins at Harding
Photo: Emma Claire Story (16) and Kasey Scruggs (12) set a block during DeSoto Central's 3-0 volleyball win at Harding Academy Tuesday night, Sept. 7. (Bob Bakken/DeSoto County Sports)
THE VITAL STATISTICS
Girls' volleyball
Hernando 3, Center Hill 2 (17-25, 25-18, 25-27, 25-18, 15-11)
Lake Cormorant 3, Southaven 0 (25-12, 25-15, 25-11)
DeSoto Central 3, Harding Academy, Tenn. 0 (25-21, 25-10, 26-24)
Lewisburg 3, Olive Branch 0 (25-7, 25-7, 25-14)
Northpoint Christian 3, Evangelical Christian, Tenn. 2 (25-10, 20-25, 25-15, 20-25, 15-4)
Girls' soccer
Northpoint Christian 2, Magnolia Heights 2 (tie)
THE DETAILS…
DeSoto Central had to work hard in sets one and three in particular in coming away with the Lady Jags' 3-0 victory at Harding Academy in Memphis Tuesday night. Set scores were 25-21, 25-10, 26-24.
The Lady Jags had to rally to win the first set 25-21, trailing 4-1 initially, but came back to tie the set at 10-10 when a Harding volley found the net and went no further for a DeSoto Central point.
Six of the next nine points went the Lady Jags' way for a 16-13 lead when the Lady Lions called timeout. Harding got within 18-17 DeSoto Central a bit later after a shot from Kennedy Smith went wide of the sideline. However, the Lady Jags scored the next four points for a 21-17 edge, forcing another Lady Lion timeout.
Teams traded points from there until a Harding shot came off Smith to get the Lady Lions within 24-21. However, on the next serve, a DeSoto Central shot went over the net and found the floor on the Harding side to end the set at 24-21.
"I thought the first set we started out a little slow and once we got into a rhythm on offense we just did a great job of running a fast offense and putting the ball away," Lady Jag coach Margaret Falatko said.
The second set went much easier for DeSoto Central, which led 7-3 and 11-4 when Harding asked for a timeout. Twelve of the next 17 points went to the Lady Jags for a 23-9 lead when a Lady Lion return was smacked into the net. Smith would add another kill to get DC within striking distance of the set at 24-10 and earned the final point for a 25-10 win.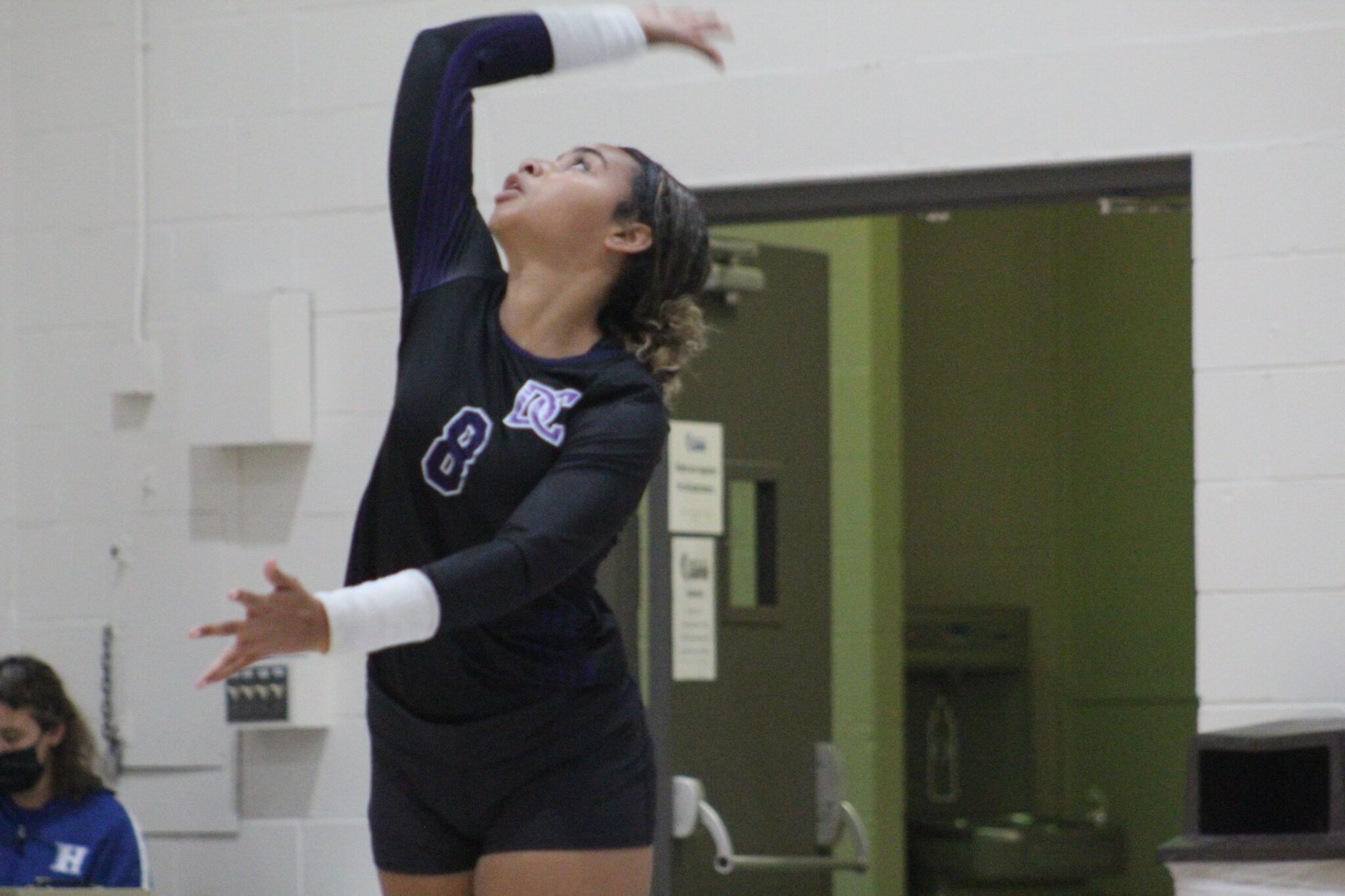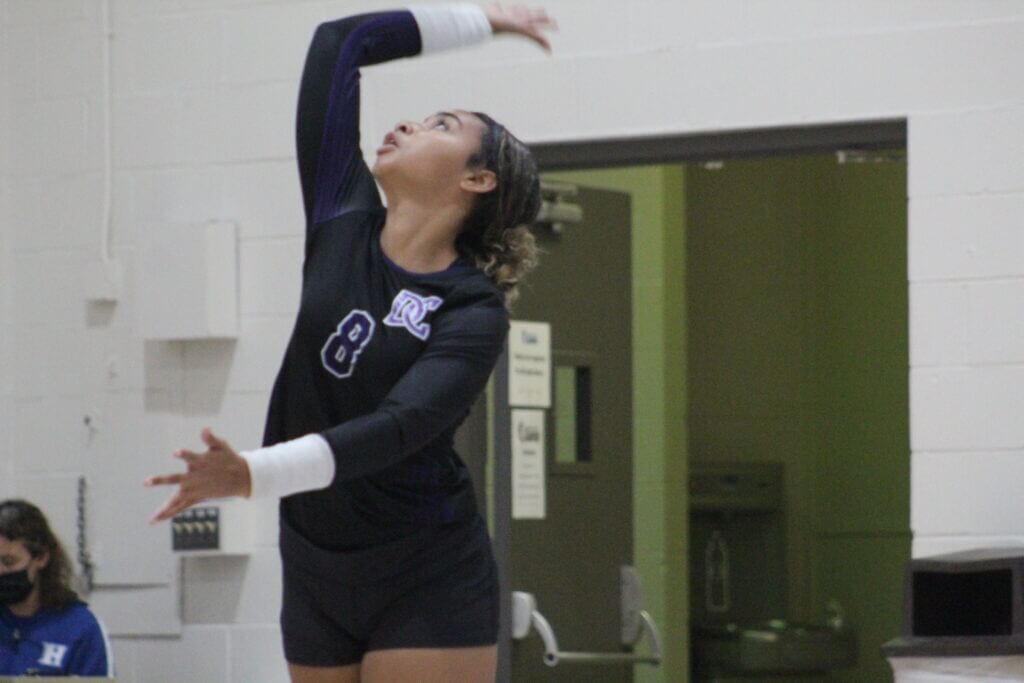 "They did a phenomenal job in the second set," Falatko said of her team's play in the middle session.
After Harding took a 3-0 lead in the third set, DeSoto Central came back for a 3-3 tie and both teams battled from there. Harding took a two-point lead at 11-9 when a shot went off a Lady Jag but DeSoto Central recovered and knotted the set at 15-15.
The Lady Jag run in the third set was triggered by Smith at the service line and by the time she was finished, DeSoto Central was up 23-22.
"Kennedy (Smith) has done a great job for us, front row, back row, she's been solid all the way around," Falatko noted. "She's definitely somebody we count on and rely on."
However, Harding scored the next two points and appeared to be on the verge of extending the match when a kill tied the set at 24-24, followed by two Harding volleys that failed to clear the net for the Lady Jag set and match victory.
"I saw a lot of good things tonight," said Falatko. "I saw a lot of hustle and a lot of energy. They did a great job of moving the ball around when we were running our offense."
Friday's victory was a good recovery from last weekend's play in the "Volley in the Ville" tournament at Collierville, Tenn. High School, where the Lady Jags finished with a 3-2 record for the event.
"We didn't play super great on Friday and played awful in our first match on Saturday" Falatko said. "The group that came out in the last two matches of the day did an excellent job."
For the match, Reese McIntosh and Avery Wolf each had 12 digs. McKenzie Brewer had 33 assists. Kennedy Smith had 17 kills and Katelyn Day had 7 kills.
With the victory, DeSoto Central is now 12-4 and travels to Madison Central Wednesday for a varsity match.
WORTH NOTING…
In Lewisburg's 3-0 volleyball win over Olive Branch Tuesday night, Kaley Rikard made seven kills, served seven aces, had five digs and two blocks.  Sadie Bridgforth also served seven aces in the match, had 11 digs and made three assists.  Hailey Stephens and Ava Golighty ran a balanced offense that hit .476 for the contest.  
In Lake Cormorant's 3-0 shutout win over Southaven, Paige Griffin led the Lady Gators with nine kills and Adajah Morgan added five kills.  Griffin served seven aces and Lundyn Wilson added four.  Jania Rose paced Lake Cormorant with nine digs and Jasmine Chacon had 16 assists.  
In Northpoint Christian's five-set thriller at Evangelical Christian School, Quinn Thurman 15 kills, 36 digs, two blocks and served three aces. Sophie Bauer was busy with 42 assists and nine digs, Hassie Clare Thurman scored 11 kills and had 25 digs, and Brylee Faith Cherry had 10 kills, four digs and had two blocks.
Lewisburg boys finished second and the girls were third at a swim meet in Tupelo yesterday. Walker Jones won the 200 intermediate medley and the boys' 200 meter freestyle relay took first.