DeSoto Central retires Austin Riley Jaguar jersey
Photo: Atlanta Braves' third-baseman Austin Riley is shown on his high school diamond ahead of Saturday's jersey retirement ceremony. (Bob Bakken/DeSoto County News)
When Austin Riley of the Atlanta Braves takes the field, he wears uniform number 27 and is the latest of 59 players in Braves history, dating back to 1930, to wear the number.
The list of previous Braves' "27's" includes the likes of Fred McGriff and Lonnie Smith.
The number of DeSoto Central High School baseball players to have worn the number "13" may not be easily available, but one thing is for certain: that number won't grow any more after Saturday.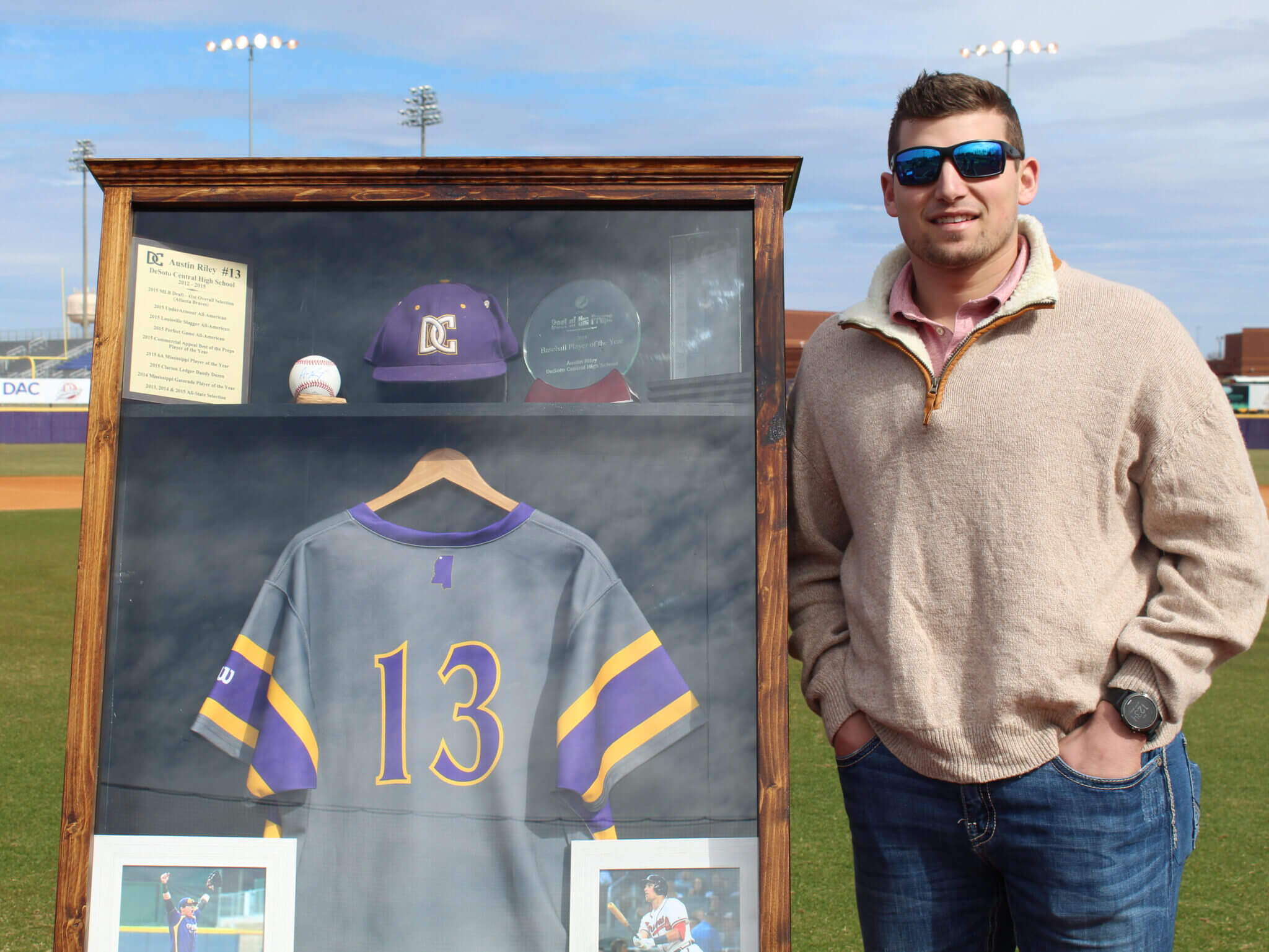 That is because Riley, who wore number 13 during his stellar career as a part of the DeSoto Central Jaguars, Saturday saw that number officially retired during a ceremony. The retirement event took place on the home diamond where he became a dominant high school baseball player in Mississippi, leading the Jaguars to the Class 6A state championship in 2015.
During his high school career at DeSoto Central, Riley played third base, shortstop and pitcher between 2012-2015 and was Mississippi Gatorade Player of the Year in 2014.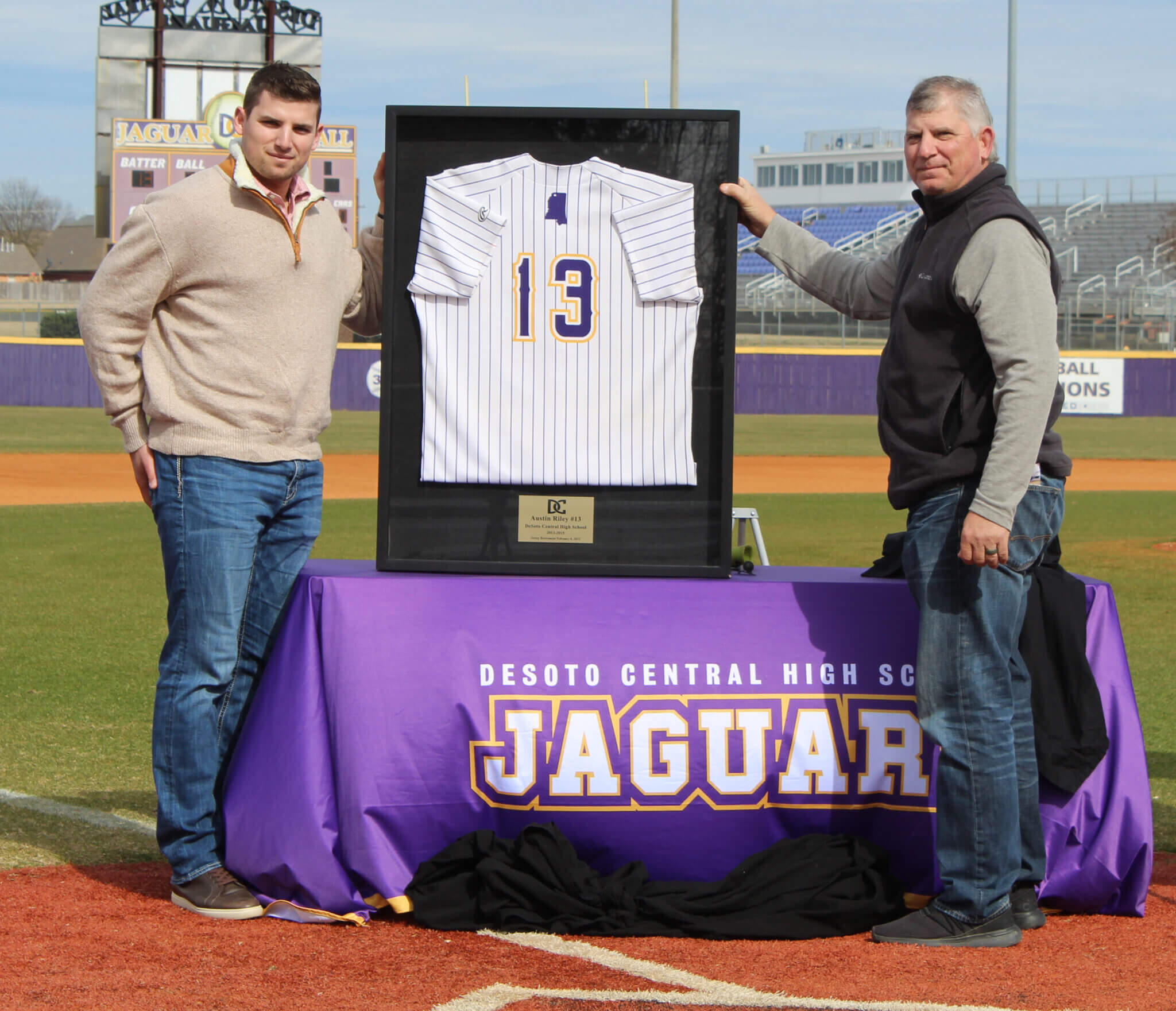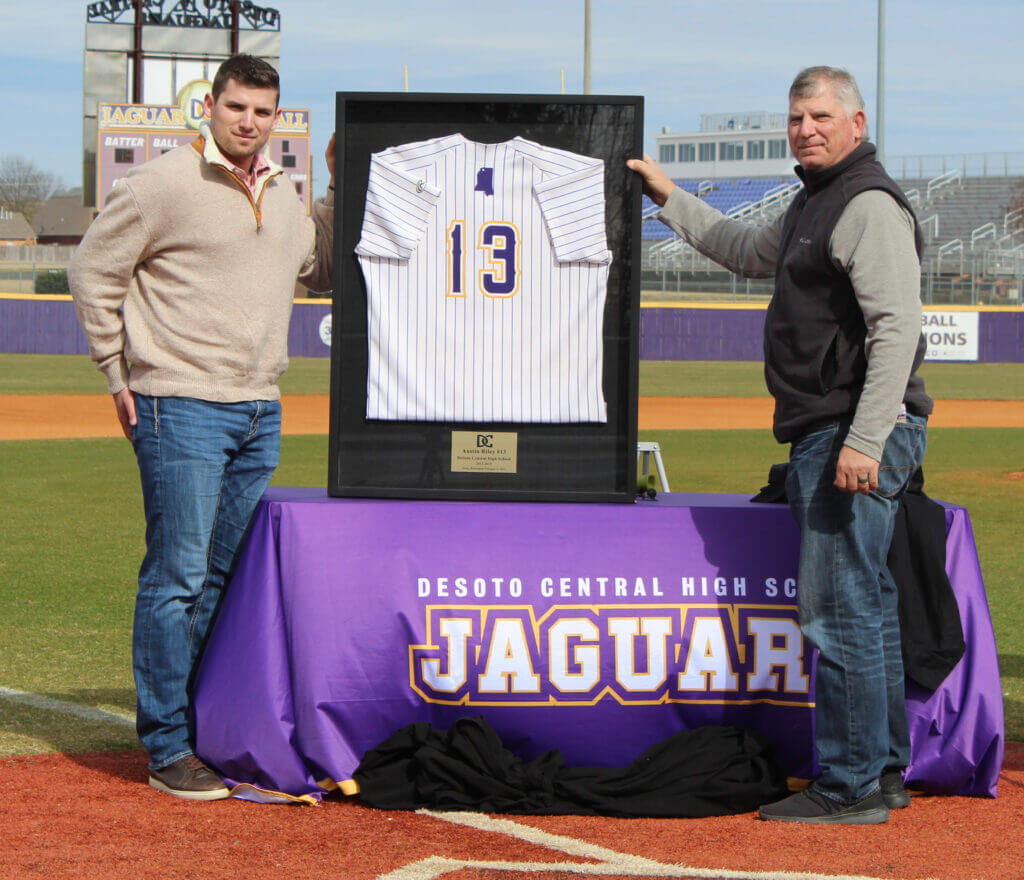 He committed to play college baseball at Mississippi State before Major League Baseball came calling. Riley was the 41st overall pick (first round) in the MLB Entry Draft and signed with the Braves.
Working his way up the minor league ranks, Riley eventually found his way to the big league stage with the Braves in 2019, where he homered in his second at-bat of his first game with the Braves and already had seven homers through his first 14 games in the bigs.
In May 2019, the Braves' third-baseman was the National League Rookie of the Month, despite playing in only 15 games. Last year, Riley was in 131 regular season games and 12 playoff games, most notably his Game 1 home run for Atlanta against the eventual World Series Champion Los Angeles Dodgers.
Putting up numbers for Riley goes back to his high school days with the Jaguars. In 514 plate appearances, he has a .408 batting average, hit 28 homers and drove in 139 runs batted in. On the mound, Riley struck out 245 and fashioned a career 1.54 earned run average.
Riley holds school career records for most RBIs, most hits, most home runs, most wins (as a pitcher) and most strikeouts.
Back home, his friends and family remember him for his imprint on the school and the community.
"We cannot thank you enough as a school for the impact you made and laid the foundation for what has become the best high school baseball program in the state of Mississippi," said athletic director Jake Long on Saturday.
As much as was said about Riley as a baseball player, speakers on Saturday also talked about Riley as a person.
"If there's one thing I realized about Austin early on is that he's surrounded himself with the best," said DeSoto Central baseball coach Mark Monaghan. "It allowed him to flourish as a person and as a baseball player. The impact that he leaves on this program, players and coaches, we will forever be impacted by who he is as a player and a person."
Riley called Saturday's jersey retirement an awesome experience.
"You dream about this as a little kid to get up here and see your jersey retired, they're saying that you made an impact on people and the school," Riley said. "For it to happen is an awesome experience to share with family and friends."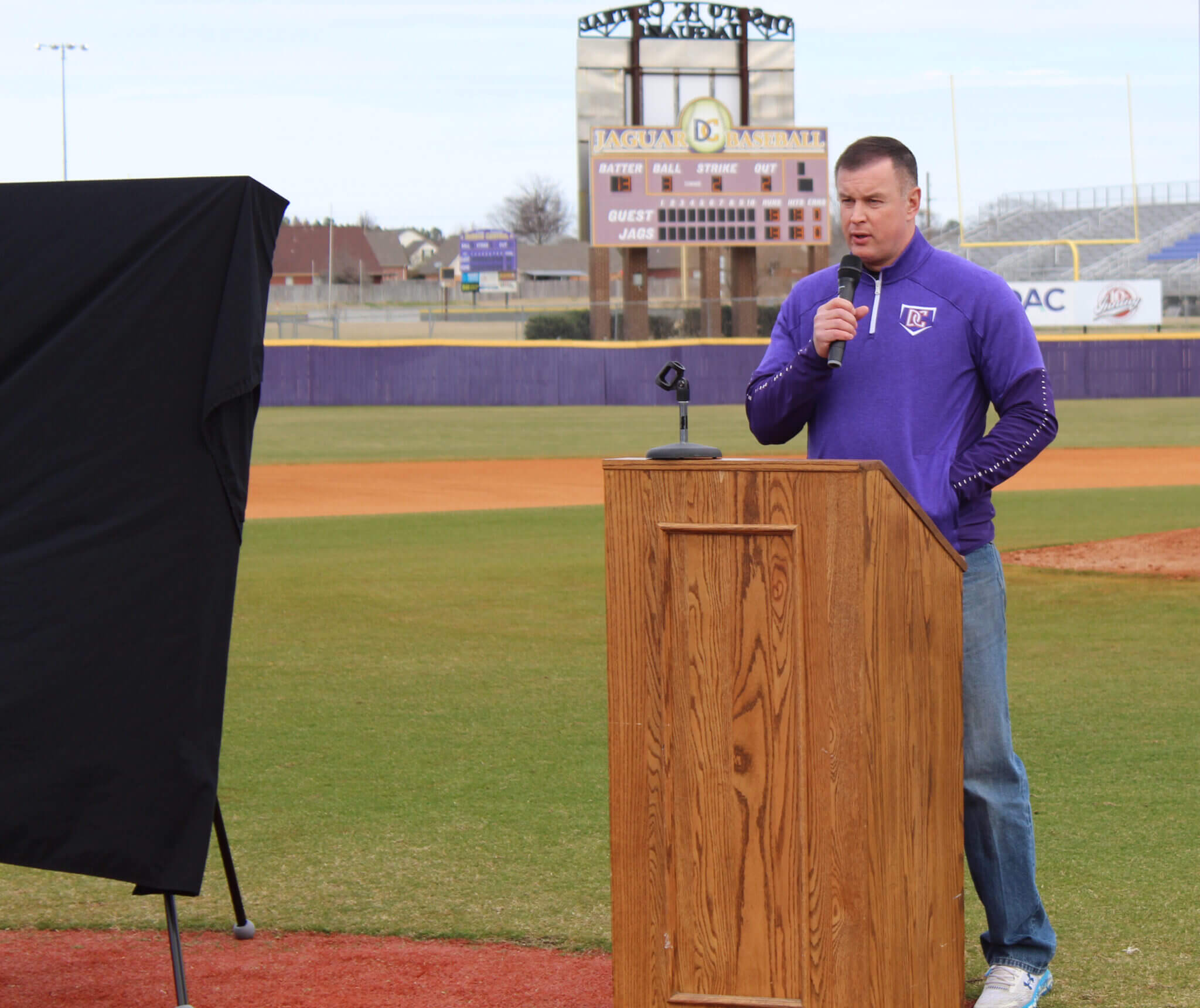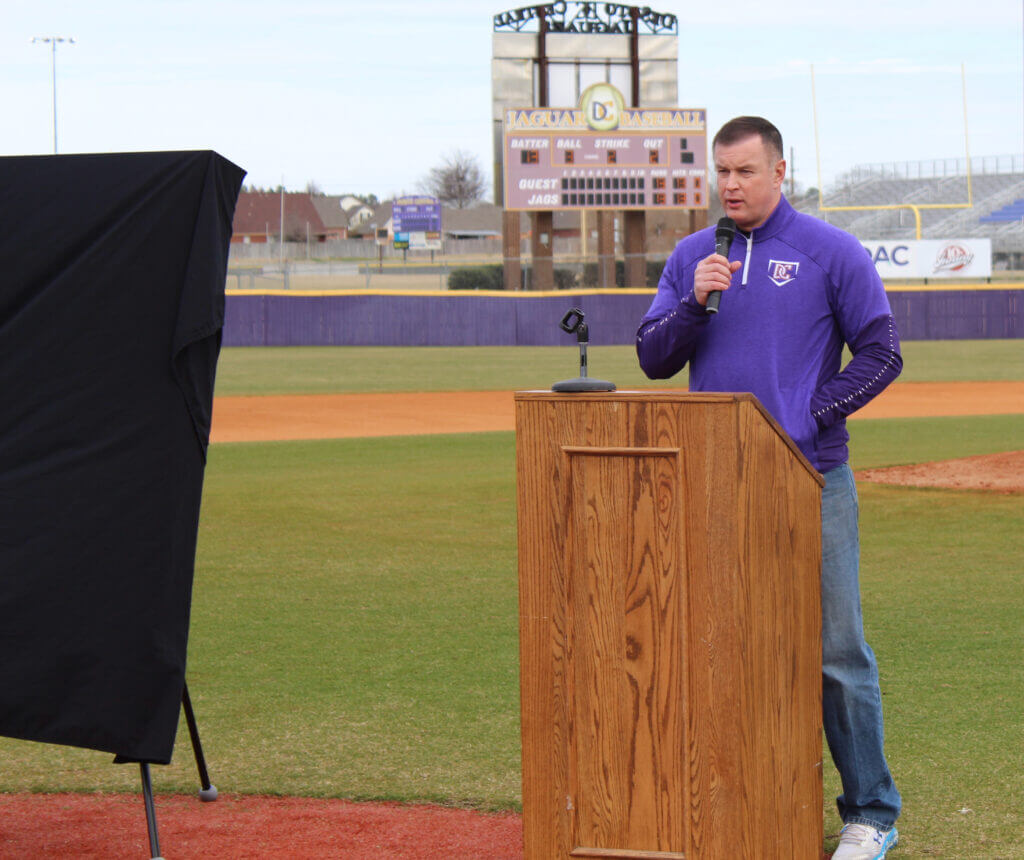 Southaven Mayor Darren Musselwhite admitted to Riley that he hadn't been a Braves fan until Riley joined the Braves, saying he now actively follows Riley's career.
"I get home, I try to find the Braves game on TV and see how you're doing," Musselwhite told Riley. "We're proud of him and proud of the way he represents us in Southaven."
Riley said before Saturday's event that he's been busy preparing for the 2021 baseball season. Spring training will start later this month.
"I'm working on a lot of things to get right with the swing, so I think I'm going to have an even better year than last year," Riley said. "It'll just continue to improve and I think we're going to have a really good team. We have some sense of urgency and we've got some unfinished business for this year but I think it's going to be awesome."