Wife appointed to fill election commissioner vacancy
The DeSoto County Board of Supervisors today (Monday, Jan. 4) appointed Barbara Chatham to the position of District 2 Election Commissioner. The seat became vacant with the death of her husband, Barry Chatham, on Dec. 24, 2020. Barry Chatham had served as Commissioner since 2004 and had won re-election in November.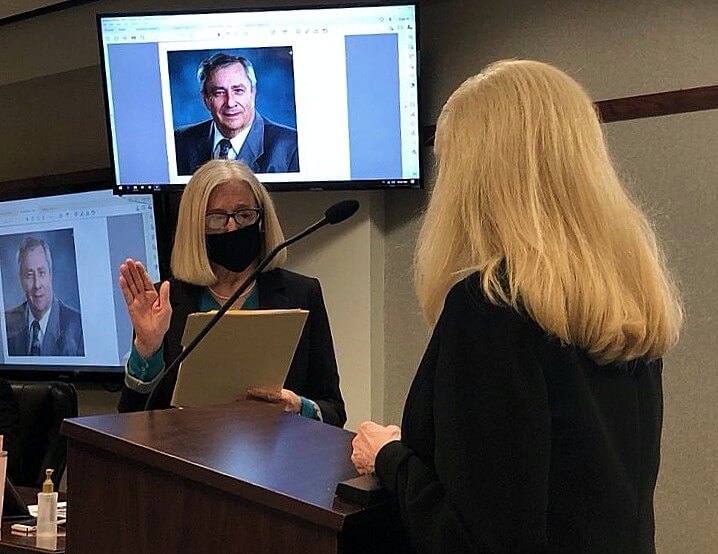 Circuit Court Clerk Dale Thompson administered Barbara Chatham's oath of office as a photo of Barry appeared on monitors in the Supervisors' board room.
She will serve as Election Commissioner through the end of the year. A Special Election will be held in November to fill the remainder of Chatham's term which ends in 2024.
The DeSoto County Board of Supervisors also issued a resolution in memory of Election Commissioner Barry Chatham.
It reads in part, "The dedicated and invaluable service rendered by Election Commissioner Barry Chatham was exemplified in a forthright and positive manner which earned him the respect of his poll workers and the community. Barry was a valuable contributor to the development of the DeSoto County election process, being careful to meet the letter of the law in all respects. DeSoto County is stronger because of his contributions."
Circuit Court Clerk Dale Thompson also swore in District 1 Election Commissioner Laura Edler, District 4 Election Commissioner Sissie Ferguson, and District 5 Election Commissioner David Ross.
DeSoto County Government News Release