Teenager accused in shooting
A Hernando teenager faces a court date in Memphis, charged with attempted murder and other charges in connection with a shooting that happened in Memphis after a confrontation in Horn Lake.  
Reports are that a man was confronted by two people in the 2000 block of Goodman Road West in Horn Lake on Sept. 23. The man and his mother, who was with him, identified one of the two people as Conner Johnson, age 18.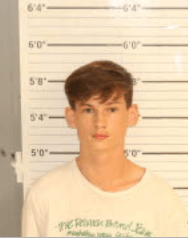 No shots were fired in the confrontation, however the man and his mother left the scene in a vehicle and were then followed by Johnson and the other person in a red Nissan Altima with Johnson reportedly driving the car.
As the vehicle turned from Getwell Road onto Holmes Road in Memphis, a shot from the Altima struck the unidentified victim in the shoulder. His mother then took the victim to Baptist-DeSoto for treatment. In talking with police three days later, both the victim and his mother identified Johnson as one of the occupants in the Altima.
Jail information from Shelby County reports that Johnson is facing attempted murder charges, along with using a firearm to commit a felony and reckless endangerment with a deadly weapon. He's being held on a $100,000 bond with a Sept. 30 court date scheduled.