Talking agricultural history with students for Ag Week
Photo: A Farmall tractor and I-H grain binder belonging to Jeremiah McCroskey. (Bob Bakken/DeSoto County News)
Jeremiah McCloskey of Olive Branch has a lot of history to tell. In fact, he brings it with him when he presents that history to children.
McCroskey is in the railroad industry by trade, working with the BNSF Railroad. but the Virginia native takes his family history with him when he shows youngsters how food was made in the 1930's and 1940's. Wednesday, McCroskey talked about his tractors and an old-time threshing machine to students of Susan Powell's second-grade Spotlight class and Tiffany Lyles' third-grade Spotlight class at Pleasant Hill Elementary School in Olive Branch.  
"He has talked to children and shown them where they get their cereal from," Powell said. "They talked about bread and what they enjoy eating today. He has also discussed with them the difference in machinery in the 1930's and 1940's and today."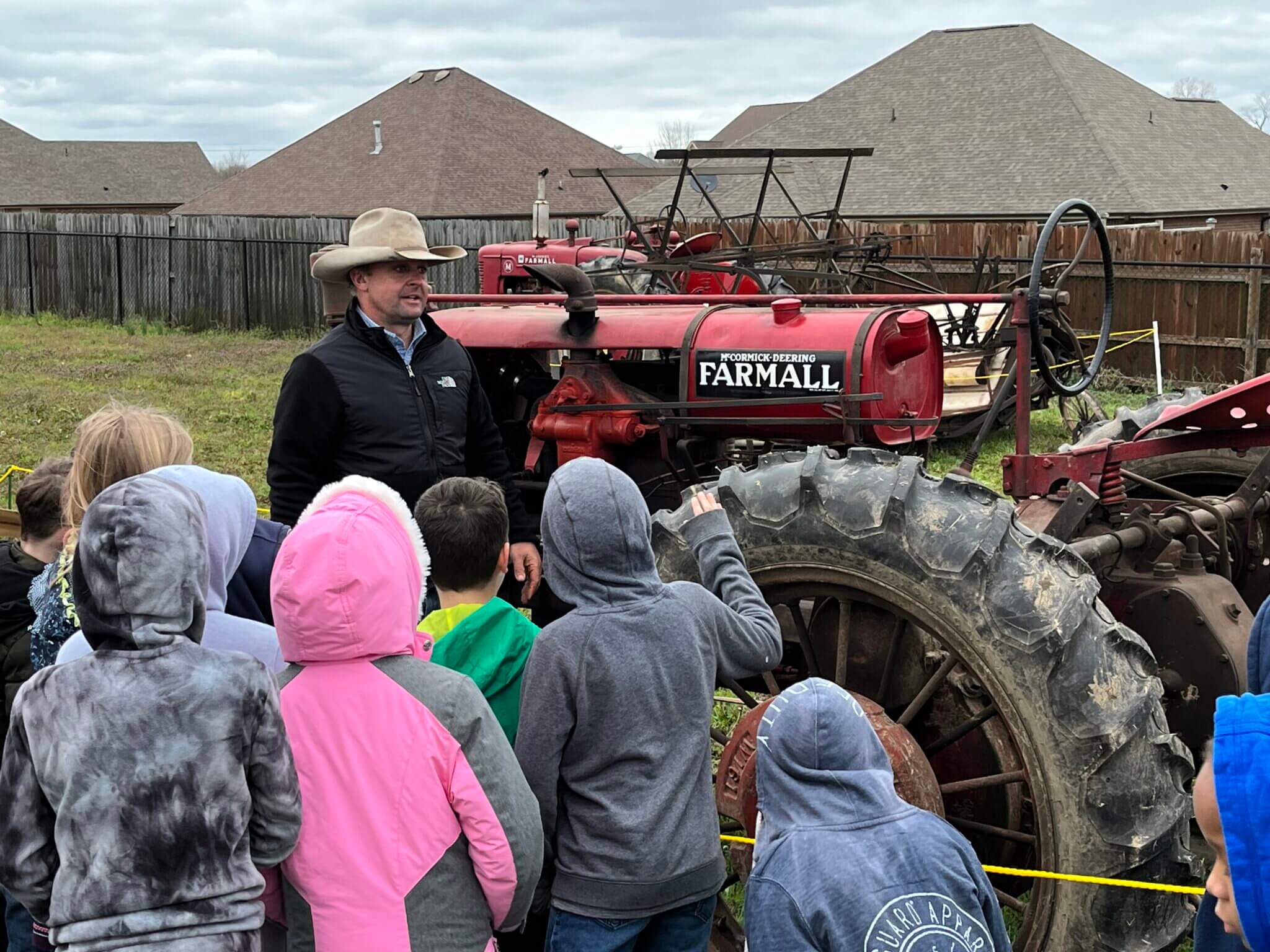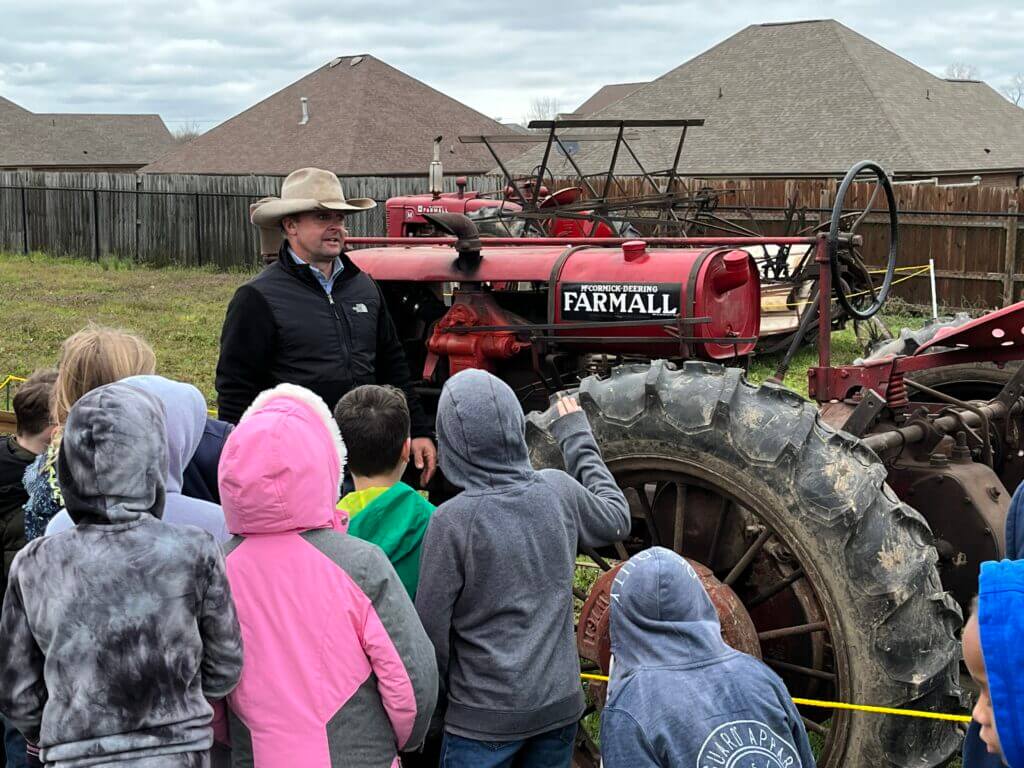 Powell added the students are also researching and they will continue to discuss what they're seeing. The activity is part of the observance of National Ag Week for the Spotlight class students.
McCroskey said he first broached the idea of presenting to elementary school students a couple of years ago. While much of the school year was virtual, he was still able to socially distance and talk about agriculture "back in the day" to the youngsters. As COVID-19 has waned enough that restrictions are removed, McCroskey and the students can more closely interact, even on the cold, cloudy day Wednesday brought to Pleasant Hill.
McCroskey said showing the kids his tractors and thresher is important to show, how many years ago, food was produced from field to store to table.
"I always thought it was a sense of duty, a sense of civic duty," McCroskey said. "I have the stuff, it's sitting over there. Otherwise, what good is it? For the children to be able to see something like this, to me it's a civic duty to bring those kids to light of where we come from, the hand crank to the key, the bond from the thrashing machine to the combine."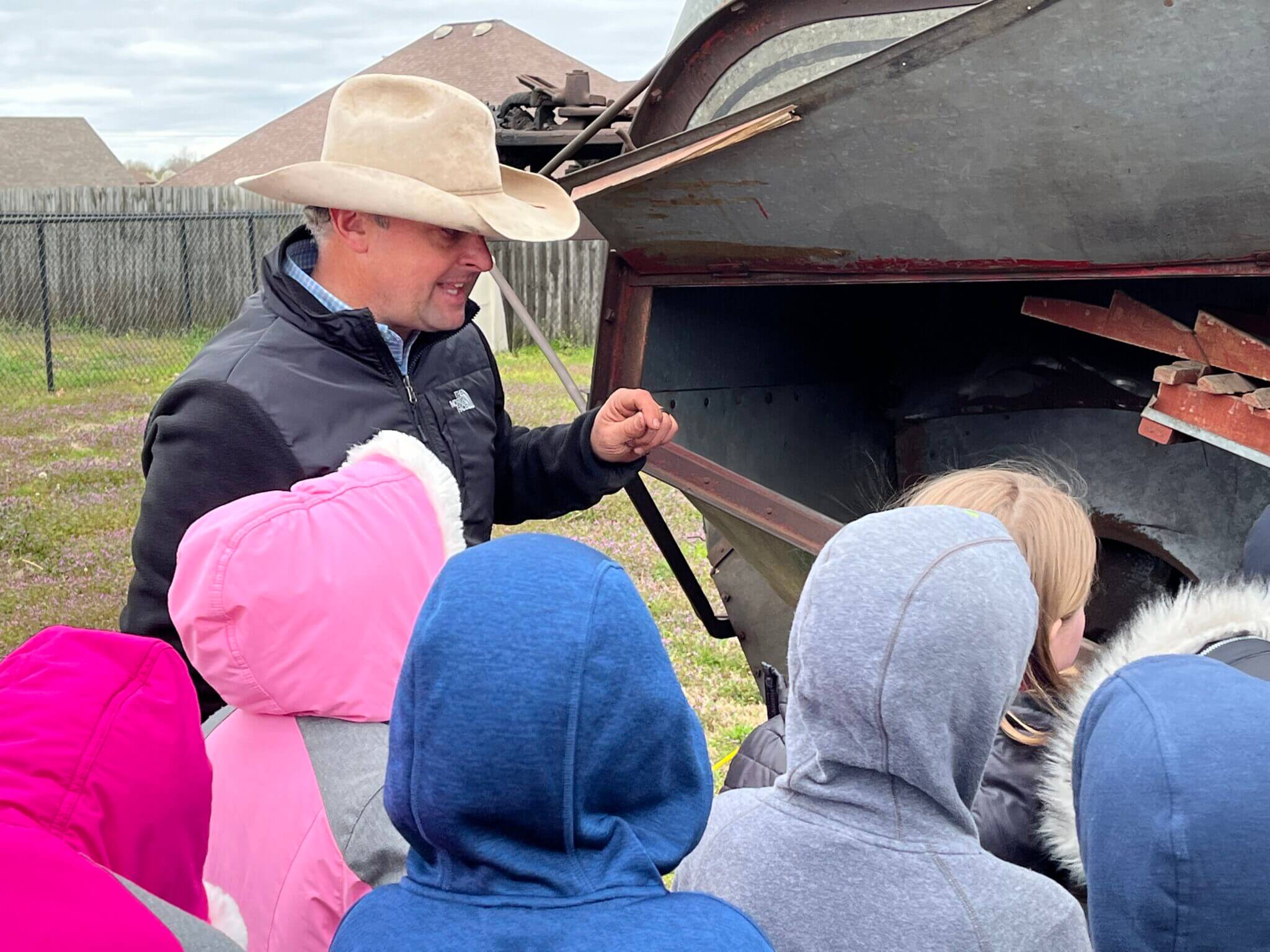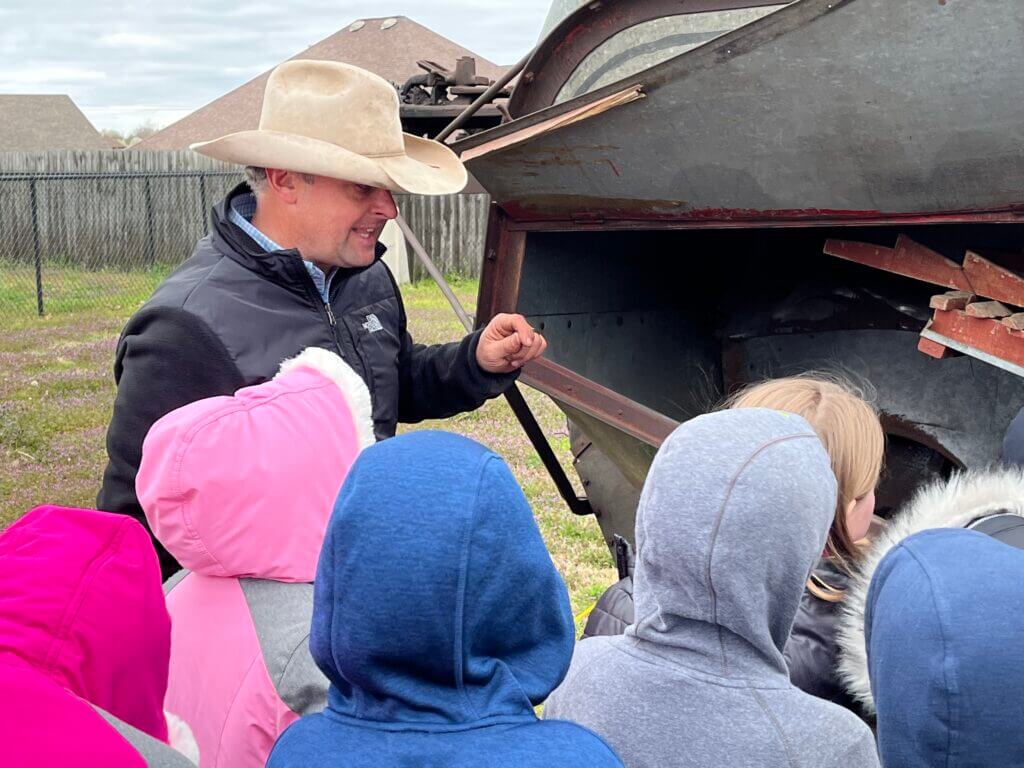 McCroskey relates his machinery acquisitions became not only his mission, but his hobby.
"In 1991, I was 11 years old and in the Appalachian mountains," McCroskey explained. "It was my hobby to save my family's agricultural history."
The tractors and thresher that he brought to the children on Wednesday were not given, but bought from his grandparents.
"I've collected this stuff since 1991," he said. " The tractors were in my family. The thresher was brought into Virginia, brought in via train and taken by horse to a little area called Cove Creek, Virginia, a small little holler down there by horse."
McCroskey added after being bought by his uncle and then acquired by his grandfather, McCroskey was able to purchase the machinery and eventually move them to DeSoto County.
But, in today's computer and internet world, a lot of traditional methods of the world are disappearing, such as farming. McCroskey cites Pleasant Hill Elementary School's land as an example.
"At one time there was a great big dairy farm here that spanned for miles," he said. "It was a beautiful farm. But, the history is gone. There is no history of it."
The Olive Branch man hopes the second and third-graders who joined him outside on a cold Wednesday morning will better appreciate agriculture, even in their metropolitan world.