Supervisors set Household Hazardous Waste Day
The DeSoto County Board of Supervisors Monday voted to hold another Household Hazardous Waste Day and set May 14, 2022 to hold. Board members also voted to extend the event by one hour due to demand until 1 p.m. that day in the Landers Center parking lot.
More information about Household Hazardous Waste Day is found here: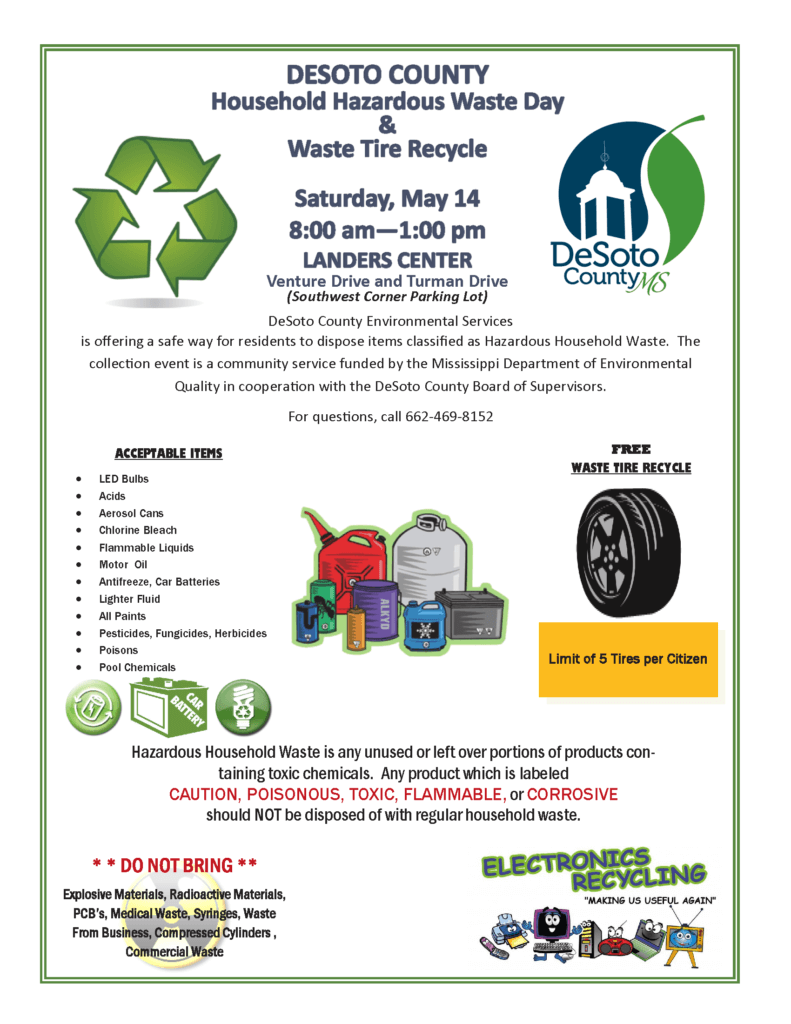 DeSoto County residents have access to three Rubbish Pits for the disposal of non-household trash and rubbish. Each county citizen can make up to four free visits to a County Rubbish Pit per calendar month.
The locations for the rubbish pits are: 
o Sandidge Rubbish Pit (Operated by DeSoto County: 5255 West Sandidge Road, Olive Branch, MS 38654
o Starlanding Rubbish Pit (Privately Operated): 9353 Starlanding Road West, Lake Cormorant, MS 38671
o Old Hwy 178 (Privately Operated): 11250 Old Hwy 178, Olive Branch, MS 38654 (Closed on Saturdays)
Materials that can be accepted at the rubbish pits: 
Appliances
Furniture
Leaves
Limbs
Non-household garbage
The Sandidge Rubbish Pit will also accept:
· Tires (Limit of 25 tires per month – No Commercial Vendors )
· E-waste & TV Recycling
NOTE: The Rubbish Pit cannot accept household garbage, food containers, or batteries.
Rubbish Pit Winter Hours
o Monday – Friday 7:00AM to 4:30PM
o Saturday 7:00AM to Noon
Holiday Hours
o Christmas Eve & Christmas: Closed
o New Year's Eve & New Year's Day: Closed
The Rubbish Pit can be reached at 662-895-9705 during normal business hours.
Tire Disposal Locations
Limit of 25 tires per month – No Commercial Vendors
o DeSoto County Central Maintenance Shop – 2339 Gwynn Road, Nesbit (Monday – Friday 7 am to 3:30 pm)
o DeSoto County Rubbish Facility – 5255 West Sandidge Road, Olive Branch (Monday – Friday 7:30 am to 4:30 pm and Saturday 8 am to noon )
E-Waste Drop-off Locations
o DeSoto County Rubbish Facility – 5255 West Sandidge Road, Olive Branch (Monday – Friday 7:30 am to 4:30 pm and Saturday 8 am to noon)
o Juvenile Justice Center – 311 West South Street, Hernando (24 Hours)
o Olive Branch Maintenance Shop – 10414 Hwy 178, Olive Branch (Monday – Friday 7 am to 4:30 pm)
Oil Disposal Locations
o DeSoto County Central Maintenance – 2339 Gwynn Road, Nesbit (Monday – Friday 7 am to 3:30 pm)
o Eastern Maintenance Shop – 10947 Highway 178, Olive Branch (Monday – Friday 7 am to 3:30 pm)
o Northern Maintenance Shop – 5700 Delta View Road, Walls (Monday – Friday 7 am to 3:30 pm)
o Southern Maintenance Shop – 8155 Boggan Lane, Hernando (Monday – Friday 7 am to 3:30 pm)