Southaven turns aside street light proposal, stays with Entergy
At the same time the Southaven Board of Aldermen voted to reject a bid from an electric services company for street lights in the city, the board and Mayor Darren Musselwhite reminded residents there is a way to quickly and directly report when street lights, owned and operated by Entergy, are not working.
Musselwhite said the company's proposal would save the city about $100,000 a year and would return street light control from Entergy to the city. City officials have been reviewing the proposal for sometime as a possible means of cost saving and better service for darkened street lights in neighborhoods.
But Musselwhite said he was asking the board to reject the plan because of the "unknowns" he felt there were about the proposal.
"I told them the city of Southaven is too big a city to be an experiment," Musselwhite said. "If you can show me crystal clear that this is going to be good for our citizens, reduce the turnaround time for street lights being out, reduce our cost, that would be something I could take to the board and advocate for it. We just don't have a comfort level to be able to do that at this time."
Entergy continues to provide the service, own the street light poles and fixtures. The city, in return, pays a rental fee for each light.
Musselwhite said Entergy has gotten better in the last several week in responding to lights that are not working and there has been a move toward future installation of LED lights.
Slow response to light outages has been an ongoing concern, as Alderman Charlie Hoots brought up a particular street light that has been out in his area for about three months, for instance. It did have a red marking on it indicating there was a larger issue about the pole than just the light, it was pointed out.
That led Musselwhite to say that Entergy has asked residents to call them directly when there is a light that has darkened.
These are some of the ways residents may contact Entergy and report a light outage: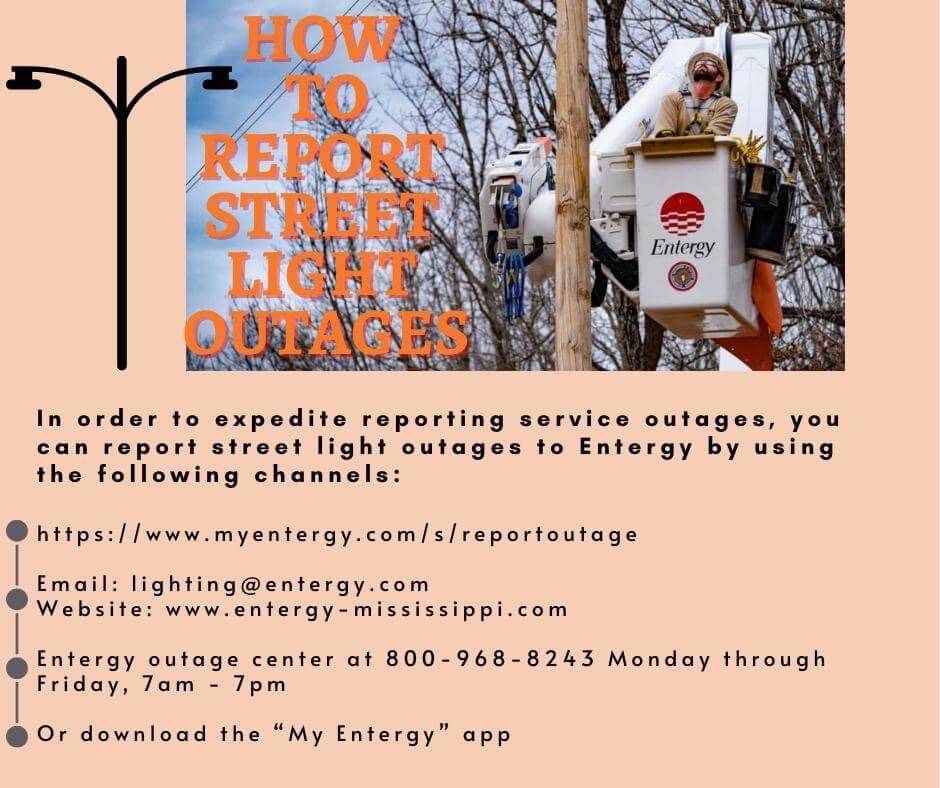 While Musselwhite said the switch to the electric services company would be a "monumental change" and is something he may review again in the future, now was not the right time to do it.
"I don't want to put the city of Southaven in an experimental situation," Musselwhite said. "I just don't feel comfortable about it at this time."
The move to turn down the proposal passed on a unanimous vote.