Shops look for sales boost on Small Business Saturday
This is the time of year where the holiday shopping season really gears up with designated days Black Friday and Cyber Monday, all meant to help stores get a jump start toward finishing their year financially strong.
Saturday, Nov. 28 is one of the "named" shopping days and takes on the name "Small Business Saturday." As the big-box stores, like Best Buy and Walmart, lean on Black Friday sales to boost a better bottom line, small shops and stores don't want to be forgotten when holiday shoppers take to the streets and go online for their presents.
Small Business Saturday was actually started 10 years ago by American Express and is observed each year on the Saturday after Thanksgiving.
American Express has estimated that in the 10 years of Small Business Saturday, a combined $120 billion has been spent by consumers.
American Express reported that about 64 percent of business owners felt this year was more important than ever. Roughly 110 people participated in Small Business Saturday last year, spending an estimated $19.6 billion, which American Express official Andy Goldberg said was a record.
Like Black Friday can turn a big-box store's financial outlook from going into the red and instead ending in the black, hence the name Black Friday, Small Business Saturday can make or break a business' bottom line, especially in the year of the coronavirus pandemic.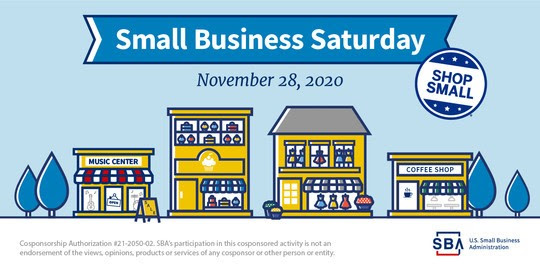 Sales this year nationally have plummeted due to closures and fractions of customers being allowed in the store while dealing with the growing number of COVID-19 cases nationally.
A report from the Opportunity Insights Economic Tracker, based out of Harvard University, indicated that small business revenue this year has dropped by more than 31 percent compared to January of this year.
However, another survey from Ware2Go, a UPS-owned company that helps businesses scale their production, indicates that 75 percent of American consumers feel more compelled to support small businesses this year thanks to the pandemic.
In DeSoto County, Saturday is also dedicated as another ReStart DeSoto weekend, which has been an ongoing effort to promote small businesses on the fourth Saturday of each month. The promotion began with the start of the pandemic through the local chambers of commerce to promote shopping local boutiques, hardware stores, coffee shops, restaurants, and other local stores in DeSoto County.  
There are about 262,000 small businesses in Mississippi and about 99.3 percent of all businesses are considered small. The U.S. Small Business Administration reports that small businesses generate two out of every three new jobs in the U.S. and half of working Americans either own or work for a small business.
Hence, business support organizations are urging shoppers to remember their neighborhood "mom-and-pop" stores and shop small today and every day.