Serve Local project to help Horn Lake family
Photo: Volunteers help in a Serve Local project nearly two years ago. (Courtesy photo)
"…you will be my witnesses in Jerusalem, in all Judea and Samaria, and to the end of the earth." Acts 1:8b
Broadway Baptist Church of Southaven youth and connections pastor Jason Grissom says the church aspires to model the part of the verse in Acts where disciples are to be witnesses "in Jerusalem…and to the end of the earth."
Grissom said that is where the Broadway church ministry "Serve Local" comes to be that witness in the county as well as the world.
Churches many times look to do ministry and missions in another part of the country, or to another part of the world. But, Grissom said there's also a need for missions in DeSoto County.
"We view DeSoto County as our Jerusalem, so we want to serve locally," Grissom said. "Serve Local is the umbrella of our local missions. We figured out as a church that it would be great to focus more on local missions."
A project being done by Serve Local early next month will provide a new roof for a Horn Lake family in need.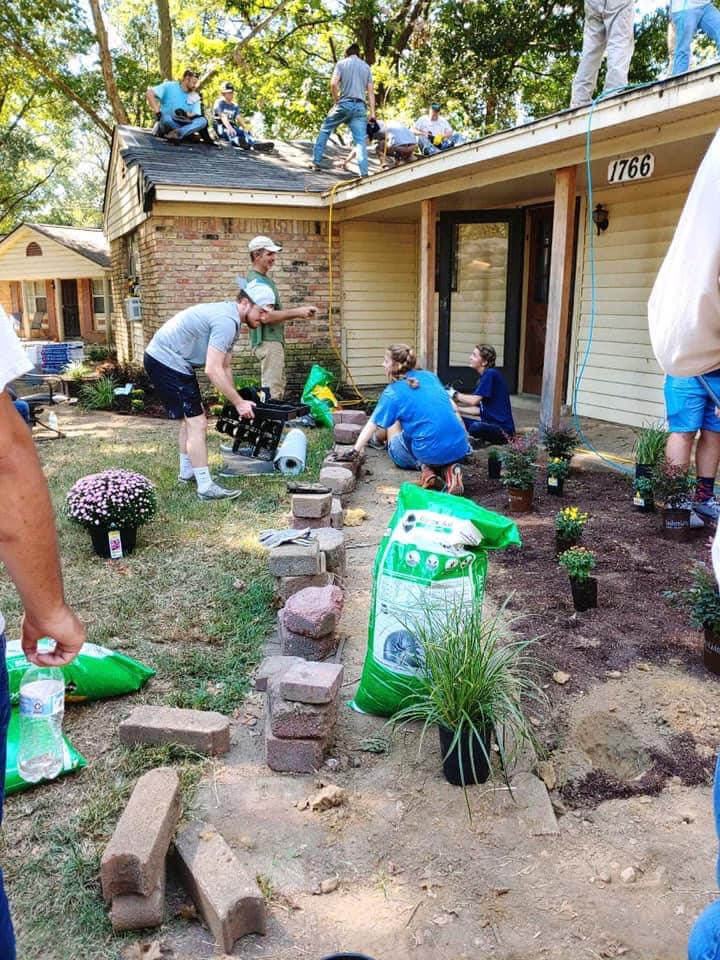 "March 5-6, we're going to be able to go and provide a brand new roof for a family in Horn Lake," said Grissom. "We're going to do some landscaping and put up a new fence, but the main thing we are going to do is to be able to just share Christ with that family and share the Gospel with them."
The family being gifted the new roof, landscaping, food and clothing, was determined through Grissom working with another DeSoto County faith-based organization.
"We partnered with Sacred Heart Southern Missions out of Walls," Grissom said. "Part of their ministry is to vet families for what types of needs that they have. So, we partnered with them and tried to see who has a need specific to this."
Much of the work will be done on Saturday, March 6, he said, although some prep work will take place the day before on Friday, March 5. Beyond just putting up a roof, the family will receive more from the Serve Local volunteers.
"We're also looking forward to blessing this family with clothing, Grissom noted. "There will be clothing for a grandson who is living there and food items, canned items that we'll be taking."
People from outside the church are offering to assist in the ministry.
"The Olive Branch Civitan Club is helping sponsor some of this with donations," Grissom said. "We've got an owner of DeSoto Roofing, J.C. Caldwell, who is donating his time and coming on to be one of our supervisors on the roof. He just heard about this and wanted to come out, show 10-12 people what to do and let them help and know that they're making a difference."
Serve Local has been involved elsewhere, with a clothing drive for schools and with DeSoto Grace back in November.
"Serve Local is an opportunity for us as a church to do some things locally," Grissom points out. "It's easy when we focus on international mission and missions in our country, which is great, but we're trying to live out, as part of our church, the Acts 1:8 model."
The program is funded now as part of the church budget, Grissom said, but community support and involvement is welcomed. He added volunteers will be asked to remember that we are still in a pandemic and measures to prevent coronavirus spread will be undertaken.
"Thankfully, it's an outdoor event and something where we're not going to be inside," he said. "We're encouraging people to wear masks, those who are comfortable doing that. We'll also practice social distancing as best we can. We do temperature checks here at church so we hope to do some of that at the beginning."
For more information, you can contact Grissom at Broadway Baptist Church, 662-349-2914.