Pedestrian bridge span to be installed
Photo: the span of the May Blvd. pedestrian bridge prior to its installation across Getwell Road in Southaven. (Bob Bakken/DeSoto County)
The May Blvd. Pedestrian Bridge across Getwell Road in Southaven will be installed on Aug. 19, city officials announced on Friday, Aug. 6.
Contractors plan to place the bridge structure above the roadway between 9 a.m.-2 p.m. that day.
Traffic will be detoured during that period of time as shown on the map.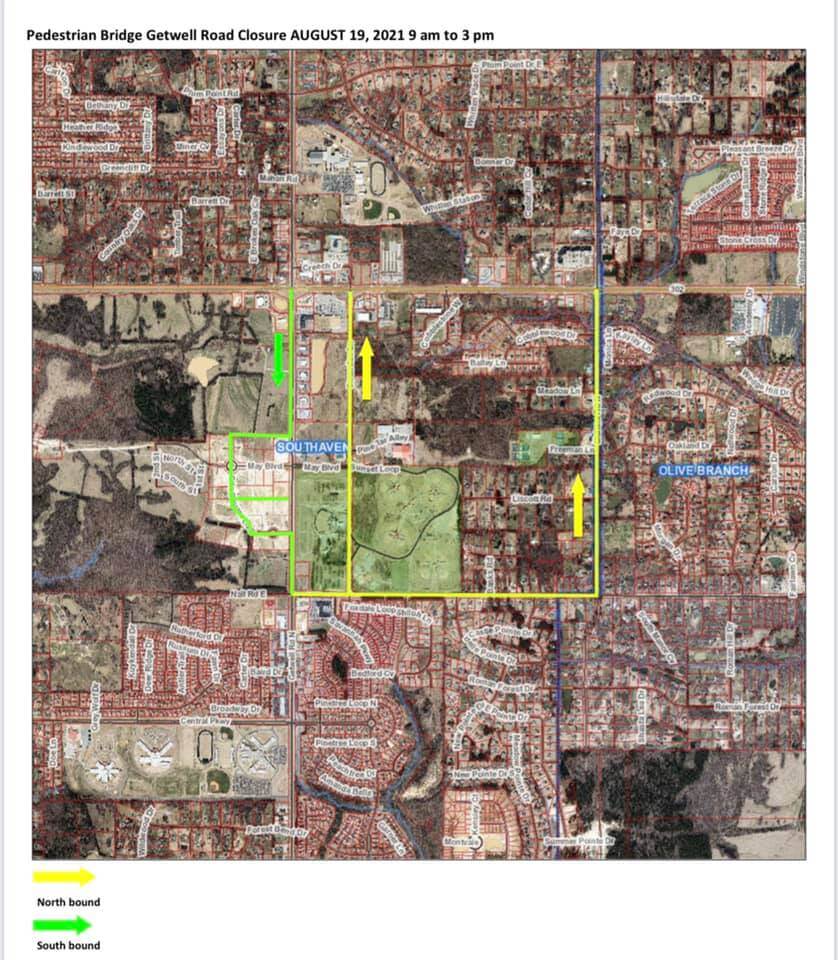 Southbound Getwell traffic will detour a short distance through Silo Square back to Getwell, while northbound Getwell traffic will be detoured at Nail Road east to Snowden Lane or other northbound routes back to Goodman Road.
"Obviously, Getwell Road facilitates a large traffic volume, so much information was considered and vetted to determine the timing of this work," said Southaven Mayor Darren Musselwhite. "We will have a heavy police presence during this time to assist drivers and make this detour as efficient as possible."
Musselwhite pointed out that the bridge will connect the largest pedestrian trail in DeSoto County history, as a bridge between the Tchulahoma (Central Park) multi-use trail and the Snowden Grove multi-use trail, which are both nearing completion.
"It will also improve traffic safety as it will separate pedestrian traffic from vehicular traffic in this high-volume corridor," Musselwhite said. "In addition, it has already proven to be a key link to economic development on both sides of Getwell Road, which will pay exponential financial returns on our investment to our city in the future."
Musselwhite said the bridge should be ready for use in October.