Multiple electric power outages being reported in DeSoto County
Early Thursday morning, multiple power outages were being reported throughout DeSoto County due to the Ice Storm.
An update from Northcentral Electric Cooperative
"As of 10:38 a.m., our crews are working 75 outages affecting 2,568 cases. As conditions change, we expect to see more outages affecting our area. However, we have all available crews working and are continuing to monitor the situation. Please call us at 662.895.2151 to report."
Icy conditions and fallen vegetation are making our work zones more dangerous for crews. Please use caution in those areas and avoid work zones. Northcentral wants to ensure our crews are working as safely as possible.
If a member needs to report an outage, please call Northcentral at 662.895.2151. Northcentral cannot accept outage reports via social media channels.
Due to the widespread area affected by this storm, Northcentral phone systems have been overwhelmed with high call volume. Please be patient and call back if you experience long hold times or busy signals.
As of 9:30 a.m. Thursday, there were 1,394 customers affected by power outages in Entergy's DeSoto County service area. A view of the Entergy outage map and where they outages were located is shown below.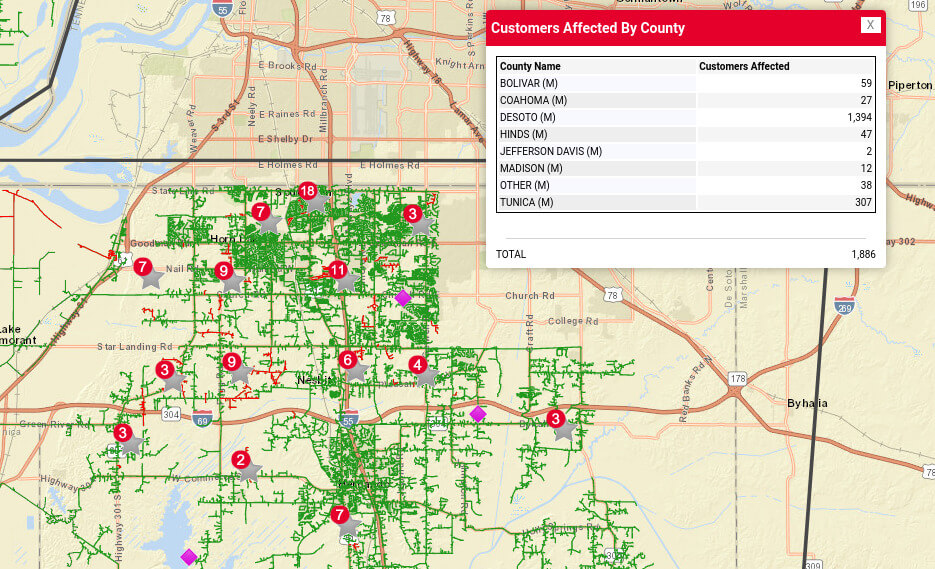 You can see a full report of ice storm related announcements here.