Hall to make run for state House in new District 20
Some DeSoto County voters will go to the polls in August, again in November, and going forward, to vote for representation at the state Capitol in Jackson.
From the Colonial Hills neighborhood of Southaven heading east along the state line into Olive Branch to Highway 78 and through the Cherokee Trails area to Church Road, voters will find they have become part of a new House District 20. The new District 20 was drawn with redistricting and its voters will likely come either from House District 6, 7, or 40.
Democrats have not yet announced if any candidate has stepped up and qualified for the seat but two candidates will face off in August for the Republican nod. One is current Southaven Alderman Charlie Hoots and the other is Rodney Hall.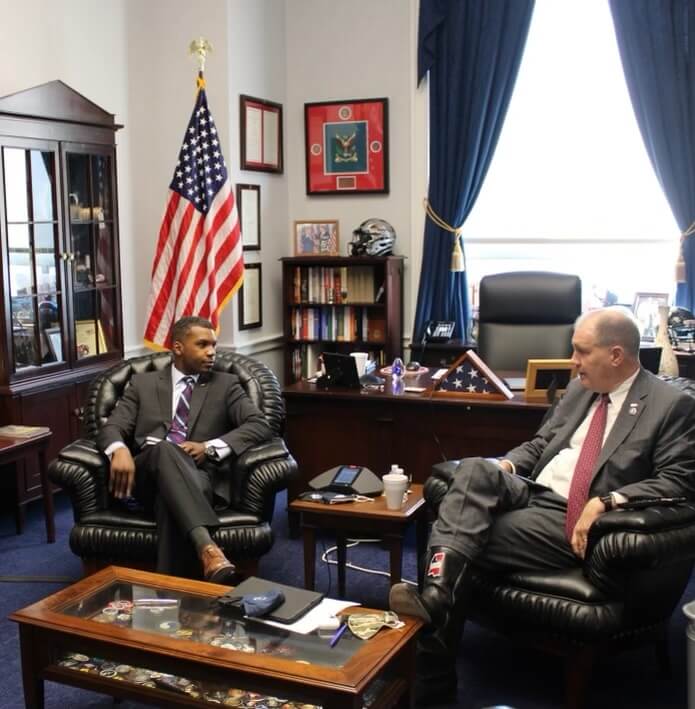 Hall, of Southaven, currently is a Shelby County prosecutor, but has a number of years experience in political circles previously working as legislative director and senior staffer for First District Rep. Trent Kelly (R-Miss.) in Washington, D.C. He said his time in Washington showed him that DeSoto County may not be getting as strong a voice at the state level as it should.
"Working with Trent, working inside the federal legislature, working with all of the leaders in DeSoto County, I saw the opportunity to bring the county back into the area that it should be in as a leader in the state," Hall said. "We should carry more weight inside of Jackson and for one reason or another it hasn't been happening."
Hall's background includes time spent in the service as an Army Infantry Officer with two tours of duty in the Middle East. He says his second tour of duty to Syria came after he had turned down a position in the Trump administration.
The position with Cong. Kelly came upon his return home from Syria and with Kelly's office, Hall said he saw that state legislators should be providing more to the citizens than was being done.
"I guess I was a little frustrated and a little disappointed by the lack of work happening inside the Mississippi legislature," Hall said about his return to home from Washington. "If you really want to affect people you gotta do that back here at home. If you want to make change and leave a lasting change for the better you gotta come back home and gotta do that here."
Hall said he has observed the federal programs that taxpayers are paying for aren't adequately benefiting the people who are paying for it, something he'd work to change if elected.
"We need to find a way to leverage what is going on at the federal level down here at the state level," Hall said. "That's going after the programs that have already been created and what we're already paying in tax dollars and accessing some of those funds and those programs to bring back here to modernize DeSoto County and the rest of Mississippi."
Among the many issues facing the state Legislature is another call to lower taxes, much like was done in the last session with the reduction in income taxes. Hall says a further reduction is something he would work to happen.
"The tax cuts are something that we absolutely have to continue to pursue," Hall said. "If we're going to be a leader here in the Southeast, if we're going to raise conditions for businesses and families and get small businesses to prosper here, if we have the ability to cut taxes then we need to cut the taxes."
A Rodney Hall election would also be a first for state Republicans, he said, because it has been a long time since an African American Republican has been elected at a state level in Mississippi.
"There hasn't been a Black person elected as a Republican in Mississippi since the Reconstruction era," Hall noted. "It hasn't been done here and I think we're ready for it, but it's not about changing our values or our identity. Our values are true and we hold firm to those."
Hall went on to say most people of color have those exact same values.
"They love God, they love their family, they don't like crime, they don't like taxes," Hall said. "The only problem is there hasn't been a candidate that's been able to go out there and show that we have the same values and there's support for us in the party."
Hall has a campaign website and you can learn more here.