DeSoto deputy doing the 'little things'
When DeSoto County Sheriff's Deputy Jake Bramlett was waved down on busy Commerce Street in Hernando recently, he thought he was about to work traffic control after a car accident.
In the end, Bramlett helped a "damsel in distress" and gave her a rose to remember him by.
An older woman who people simply knew as Sadie was having car trouble, was stalled and unable to continue that day, a hot Aug. 20 afternoon in Hernando.  
People who saw what was happening were trying to get Sadie's car off the street and into the parking lot in front of Hernando Flower Shop, 141 West Commerce Street. That's when Bramlett, on his motorcycle, came by and they waved him down to come help.
"I saw some people waving their hands and I thought someone was in a wreck, so I turned my bike around to start to block traffic," Bramett said. "They really just needed me to hold off traffic. Probably 4-5 guys ran out and pushed her car off onto the parking lot. it was so hot out there we walked her into the flower shop."
The deputy said they were not sure what exactly was the car problem, but the busyness of Commerce Street during the day meant traffic would become an issue if the car wasn't moved off right way.
Bramlett said he called for an ambulance to come and check her out because of the heat that afternoon, but Sadie was insistent that she was not going to a hospital. As he called for an ambulance, a call was also made for fellow deputies Tyler Brown and Keshun Massey to come and assist.
"It (the car) probably just stalled and was workable and driveable afterwards," Bramlett said. "Whatever the reason was at the time, she was having trouble with it and couldn't get it to go forward, backward, anything."
The entire event gained social media traction when the Hernando Flower Shop posted on Facebook a photo of Bramlett and Sadie standing together outside the shop with a rose Bramlett got there for her.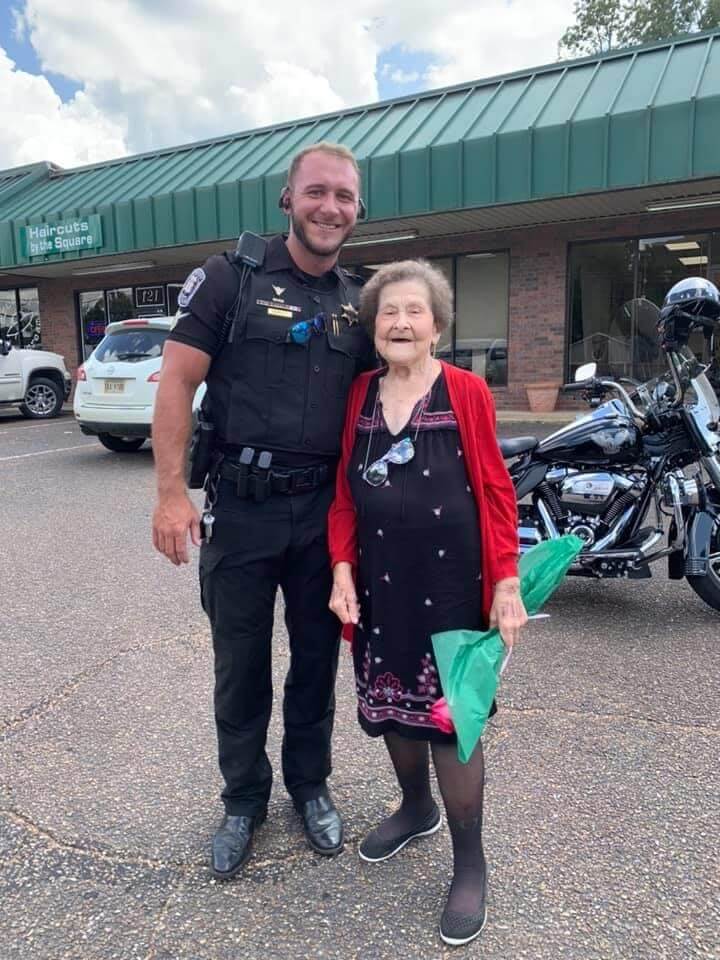 "I just gave it to her and said, 'I hope your day goes better.' I think sometimes it's the small things that can make a day go better," noted Bramlett.
There were several shares of the photo that Bramlett says is simply an example of what law enforcement officers are called to do each time they put the uniform on.
"I think the majority of our job is doing the small things and people don't always see that," he explained. "We're not always out arresting people and writing tickets. The majority of what we do is helping people. That's what we signed up for and that's the type of stuff that doesn't get seen because it's not glamorous and doesn't make the headlines."
Bramlett added the incident points to the caring that people in DeSoto County exhibit and their appreciation of local law enforcement.
"I was really impressed," Bramlett said. "I think it just goes to show people in our community they were there more for her. The people that were out there did just as much as I did. Our community loves us and we love them. We're very fortunate to work where we work. It's nice to know the community is behind us, as well."
Deputy Bramlett has been with the DeSoto County Sheriff's Department for about three-and-a-half years. He worked with the Oxford Police Department for a year prior to coming to DeSoto County.
In his work on a motorcycle, Bramlett is typically involved in traffic control of accident scenes and provides escorts for special occasions, in addition to patrol duties.