DCS weekly report show welcoming trend for COVID-19
Monday's updated numbers from DeSoto County Schools are showing a welcoming decrease in new COVID-19 cases and quarantines in recent weeks.
In the past two weeks, DCS new student cases of coronavirus have dropped from the high of 496 for the week of Aug. 23-27, to 398 for the week Aug. 30-Sept. 3, to this past week's total of 283 new cases of coronavirus in the public schools.  
That means the percentage of new student cases has dropped from 1.44 percent of the DCS student population during the Aug. 23-27 time period, to 1.15 percent between Aug. 30-Sept. 3, and this past week now below one percent at 0.82 percent of the total school student body.
At the same time, student quarantines fell from 1,410 between Aug. 23-27, to 821 new quarantines between Aug. 30-Sept. 3, down to now below 500 at 459 new student quarantines. 
The number of teachers and staff members who have tested positive for coronavirus has also seen a drop in the past two weeks, now at 43 for the past school week, from 82 between Aug. 23-27 and 61 instructors and staffers testing positive between Aug. 30-Sept. 3.  
The fact that Monday, Sept. 6 was the Labor Day holiday has to be considered, but still the drop in numbers among DeSoto County Schools' students and staff in the past two weeks shows a positive trend down in additional infections and quarantines.  
Among individual DCS schools, DeSoto Central attendance area was where the most new cases came from, with 34 at DeSoto Central Middle School and another 21 at DeSoto Central High School. After that, none of the county schools had more than 20 new cases of COVID-19.
At nine new cases, Lewisburg Intermediate School still had the highest percentage of the student body with new case reports at 1.66 percent.
DeSoto Central Middle had the most number of new quarantines this past week at 78 and the highest percent of the student body in new quarantines at 5.13 percent. Southaven Middle reported 44 new quarantines and Southaven Intermediate with 40 new quarantines.
Two schools, Olive Branch Middle and Walls Elementary, had no new cases or quarantines in the past week.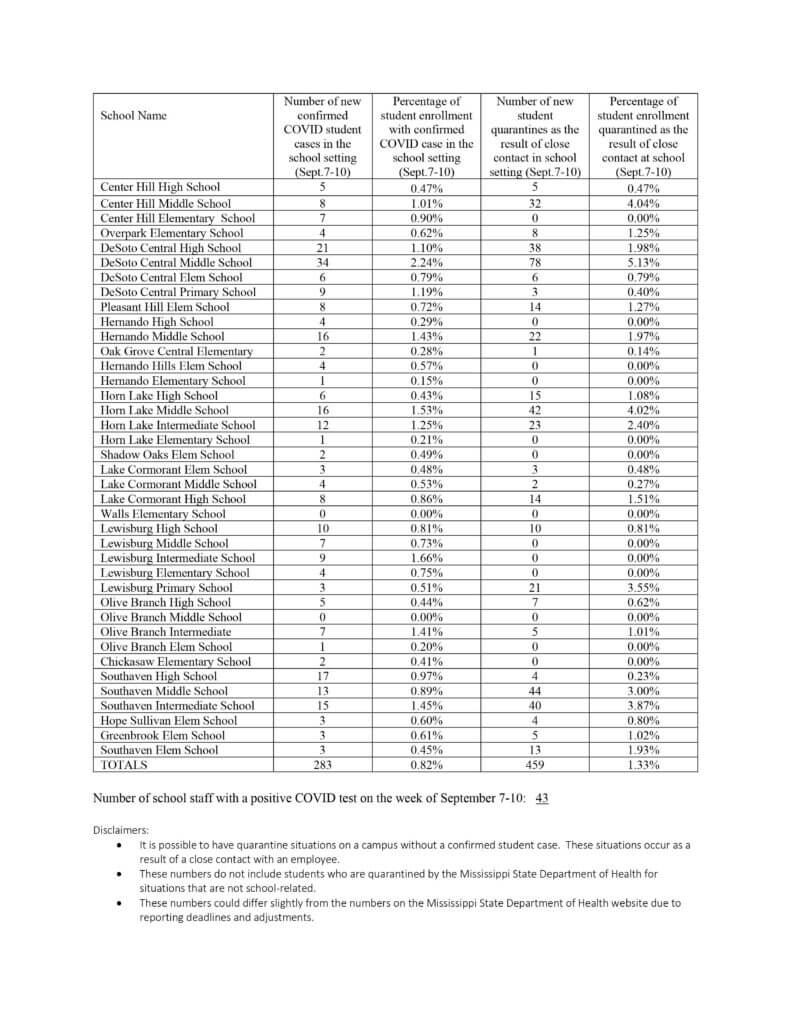 At the same time, the Mississippi State Department Health (MSDH) released its updated figures for cases and virus-related deaths over the weekend, since its last update on Friday.
According to MSDH, there were 3,763 new cases of coronavirus recorded in the state over the past weekend, since its last report on Friday, Sept. 10. There were also 71 additional deaths reported for a total of 8,976 deaths since the pandemic started in March 2020. The state has accumulated 464,075 cases since the start of the pandemic and 1,223,093 persons have been fully vaccinated.
In DeSoto County, there were no additional death reports from the weekend. Pandemic totals for the county are 29,217 cases and 334 deaths.