COVID-19 school numbers continue fall, no county fatalities
The weekly report on new COVID-19 cases and quarantines among the DeSoto County Schools continues to show lower numbers compared to previous weeks.
The report fell below 30 new cases for the first time this school year, dropping to 26 new cases for the week ending Friday, Nov. 5. Total number of new quarantines totaled 57 for the week.
Three schools had three new cases each during the past week. They were Center Hill Elementary, DeSoto Central Elementary, and Oak Grove Central Elementary schools. Center Hill High School had two new cases and 13 other schools saw one new case during the week.
The most number of quarantines came from Horn Lake Middle School, which reported 16 students in quarantine, and there were 10 new quarantines at Oak Grove Central Elementary in Hernando.
Seven district teachers or staff members reported a new positive test for COVID-19 during the past week.
The complete weekly report is shown below and is also posted on the official DeSoto County Schools website.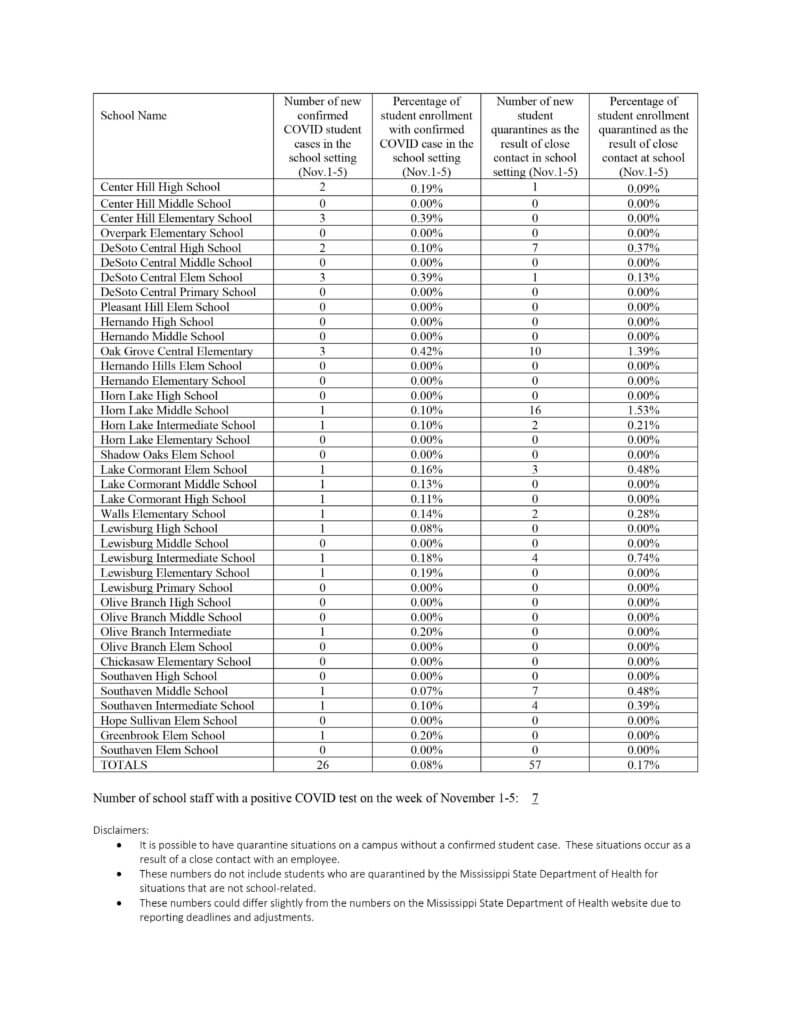 NO COUNTY FATALITIES REPORTED LAST WEEKEND:
In Monday's report on the weekend for COVID-19 in Mississippi, there were no additional virus-related death reports that came from DeSoto County. In the state, the weekend saw 560 more cases and just five virus-related victims during the weekend.
VACCINATION APPOINTMENTS FOR KIDS: County health departments are now accepting appointments for COVID-19 vaccinations to youngsters ages 5-11. The appointments are being made through the Mississippi State Department of Health and you can learn more on the MSDH official website.
The Centers for Disease Control (CDC) reports that, as of Nov. 8, 223.9 million people, or about 67.5% of the U.S. population, have received at least one dose of a COVID-19 vaccine. Of those, 194 million, or about 58.4% of the U.S. population, are fully vaccinated.
Everyone ages 5 and up is now eligible for a free COVID-19 vaccine. For more COVID-19 vaccination data, visit http://bit.ly/CDT_vaccine.