Boutique shopping is no 'trouble' at all
When a woman who has been involved in a pharmacy career for three decades decides it's time to try something different, moving from a pharmacy to a women's boutique store may seem like a difficult shift.
But for Kristi Lanham, it was no trouble at all, or it might be trouble, as in the Trouble Boutique she and daughter Kassidy Gillis opened this summer in Olive Branch.  
The shop, located at 6515 Goodman Road, had its grand opening July 23 and offers a variety of clothing, shoes, accessories and gifts to fit any woman's style, fit, and likes.
Lanham said she wanted a career change and the chance to own her own business when the boutique idea came about.  She also knew the perfect partner for it was her college-age daughter, Kassidy.  
"Kassidy was the perfect match to try to recruit for this endeavor with me because she's definitely the fashion-forward one, she's very creative, artistic and social media is such a huge part in any business these days," Lanham said. "She's had experience running social media accounts in school. We just felt there was no time like the present so we decided to jump in."
When approached about moving from college to store ownership, Gillis said she immediately wanted to jump in.
"At first she (Lanham) was kind of hesitant about having me leave school and come do it, so I was more for it than her," Gillis said. "I was excited to do it and once we started working on things more it just became more exciting and became more real. Now we're here and I wouldn't change it."
The pair now go to market together often looking for more styles for their customers and Lanham believes they make a good combination picking out clothing that will appeal to all ages.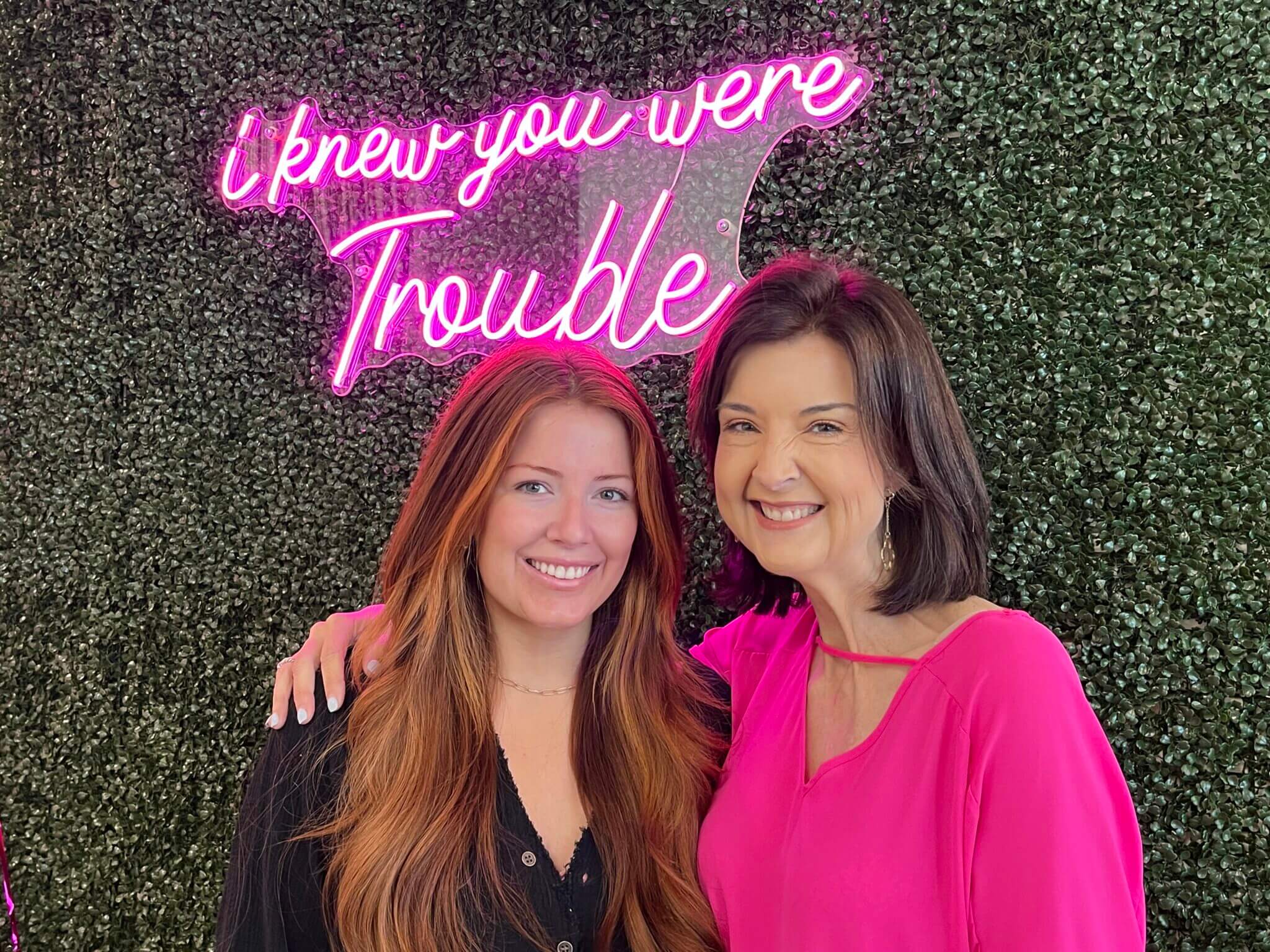 "Kassidy has done a great job of teaching me that fashion doesn't have to really be about age," Lanham said. "Obviously, I want to wear something that is appropriate, but dressing young and dressing with bright colors doesn't have to stop at a certain age.  That's what I want our shoppers to feel."
"I'm thinking about current trends and what I know people have liked in the past, what I've seen and what I like," Gillis added. "It's kind of a mix of what I would wear and what shoppers want to see."
Lanham believes women who shop for clothing can be very hard on themselves and she wants the boutique to be a fun place to shop, with bright and fun music and other elements.
"Even if they don't buy anything, we just want it to be a positive experience," Lanham said.
But there remains the question about the name. Most stores try to avoid being called "trouble," but Lanham and Gillis there's a story about the name and they embrace it.
Lanham said it goes back to Kassidy being in college and calling home for help.  
"It got to be a cute little joke because she would always call her dad needing help, about the funny noise her car was making or the how to put something together that she ordered off of Amazon," Lanham said. "He'd joke, saying, 'she sure was a lot of trouble.' It got to be that when he saw her name on the caller ID, it would be, 'hey trouble, what do you need?' His nickname for her is 'Trouble.'"
"I think 'Trouble' is my name on his phone now, I don't think it's my real name," Kassidy added. 
In addition to the store, Trouble Boutique is found on Facebook, Instagram, and TikTok, and the store has a Trouble Boutique website. Store hours are from 10 a.m.-6 p.m. Monday through Friday and Saturday until 4 p.m.
So now you know, shopping for women's clothing and accessories is now no Trouble at all.