DeSoto County remembers 9/11
Photo: An American flag is held as the Hernando Farmers Market opening ceremony takes place on Saturday, Sept. 11. (Bob Bakken/DeSoto County News)
DeSoto County paused Saturday to remember the approximately 3,000 Americans who died from the Sept. 11, 2001 terror attacks.
In Hernando, the weekly Hernando Farmers Market was opened in a solemn way Saturday morning with remembrances of the day planes flew into the World Trade Center buildings, the Pentagon, and a hijacked airliner crashed in Pennsylvania.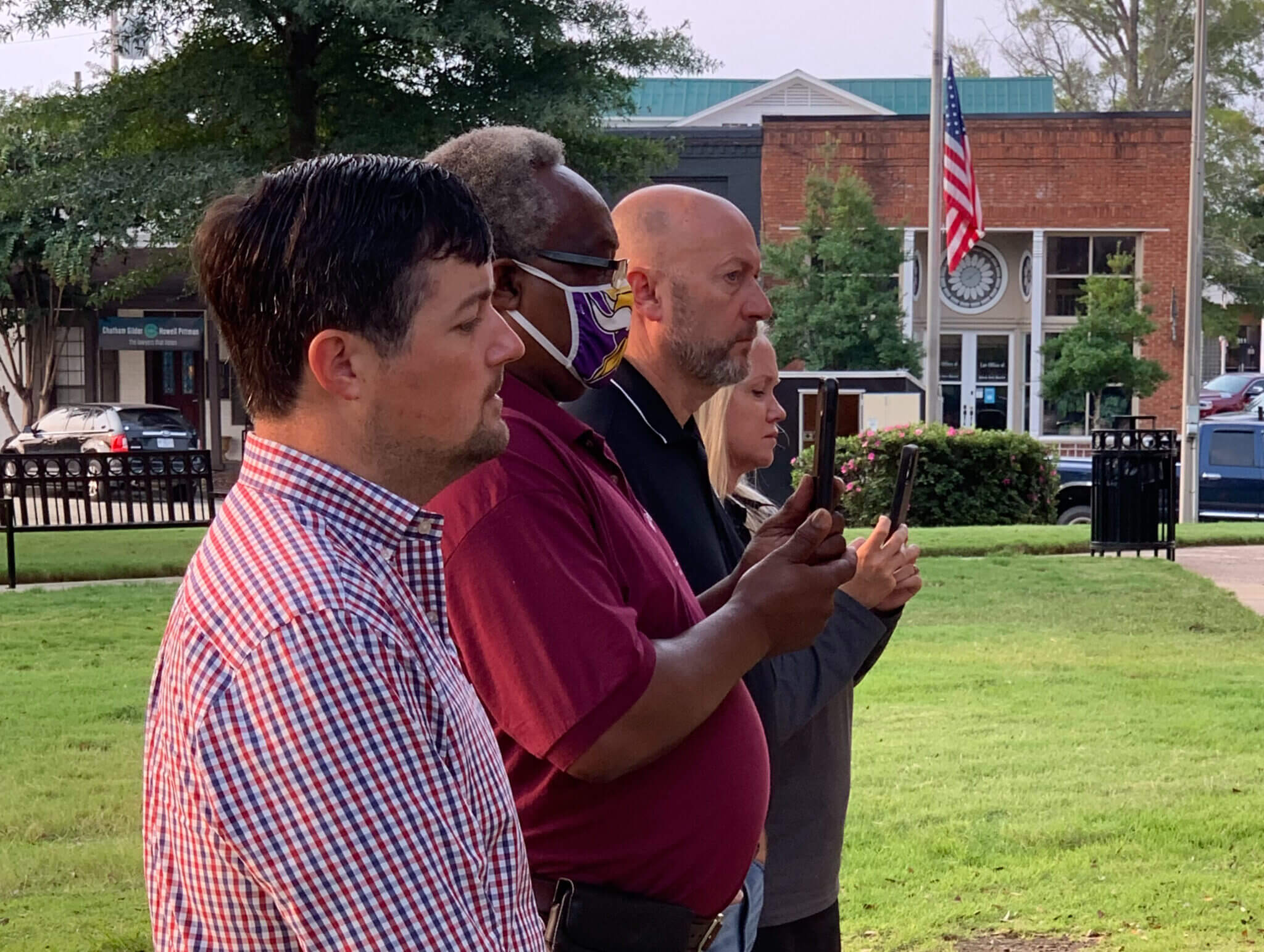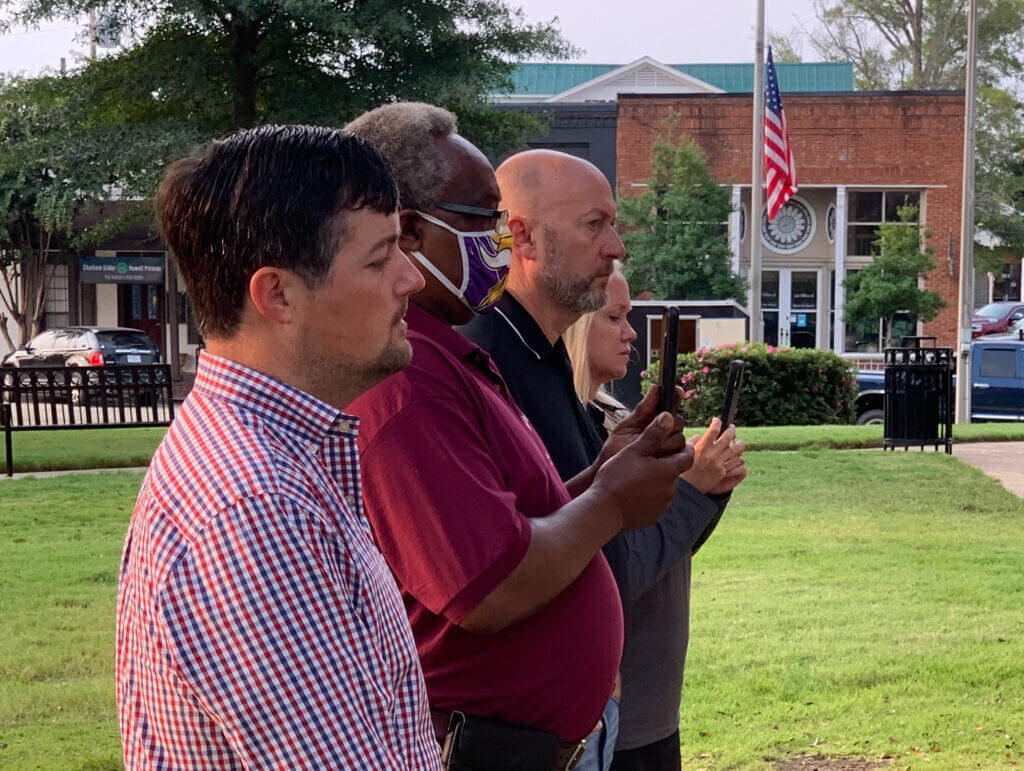 Later Saturday morning, Hugh Dancy American Legion Post 134 held a ceremony outside its Goodman Road West location in Horn Lake to honor the victims of those attacks and the first responders who became heroes in their efforts to save people from the collapsing Twin Towers.
The popular farmers market on the DeSoto County Courthouse Square began its day with DeSoto County Museum curator Robert Long, who is also pastor of New Bethlehem Presbyterian Church in Nesbit.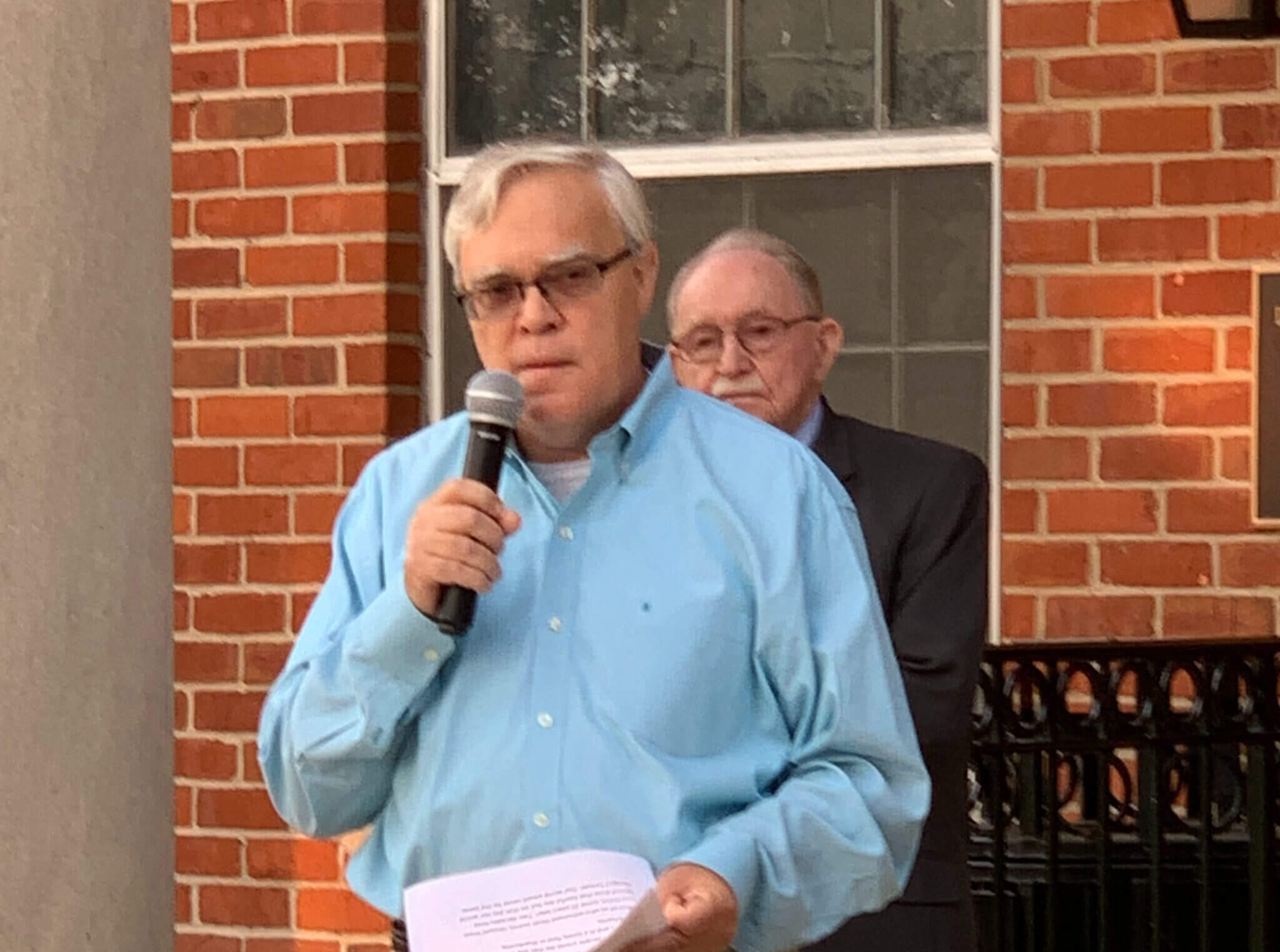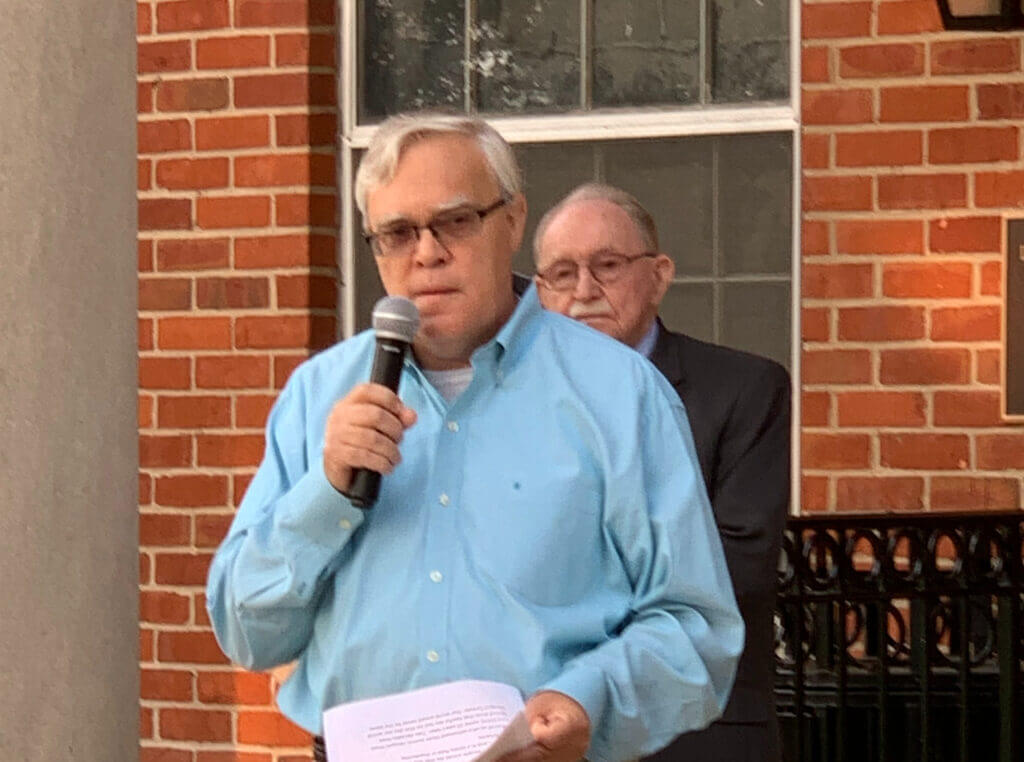 Long offered his reflections of what happened on Sept. 11, 2001 in his role as a newspaper reporter at the time in Hernando. As he watched what transpired, as millions did on watching on television, Long took note of the first responders running toward danger.
"There were hundreds upon hundreds of firefighters that were running up those flights of stairs, running towards the danger," Long said. "On this day we reflect on those whose love for humanity stretches beyond the capacities of most of us. They deserve and have earned the title of 'heroes.'"
Long said those who died that day may "no longer be with us, but their memories do live on. The sacrifices they made for their families will endure and their memories will live forever."
The morning ceremony on the Courthouse steps also included Dorothy Herron singing "God Bless America."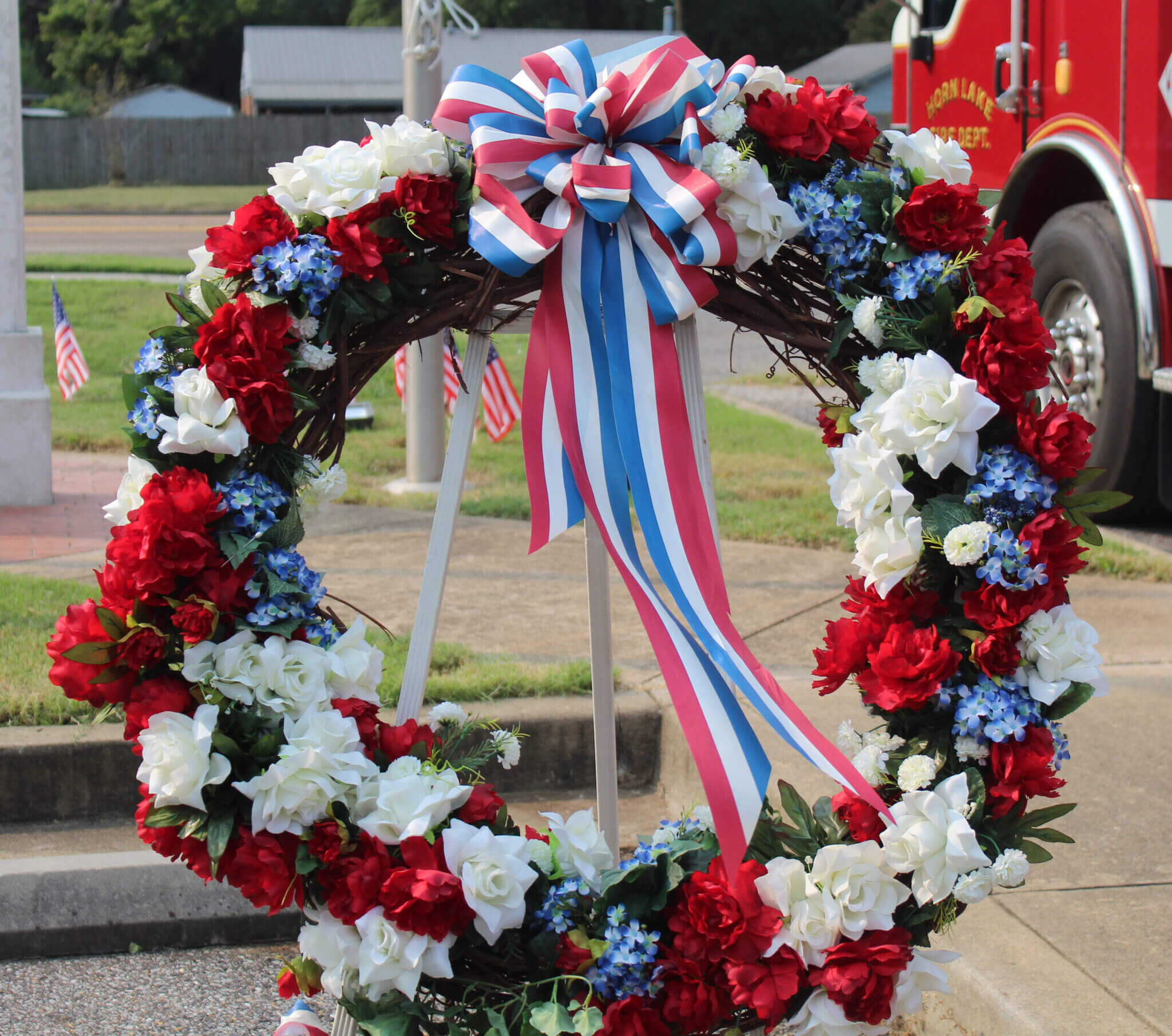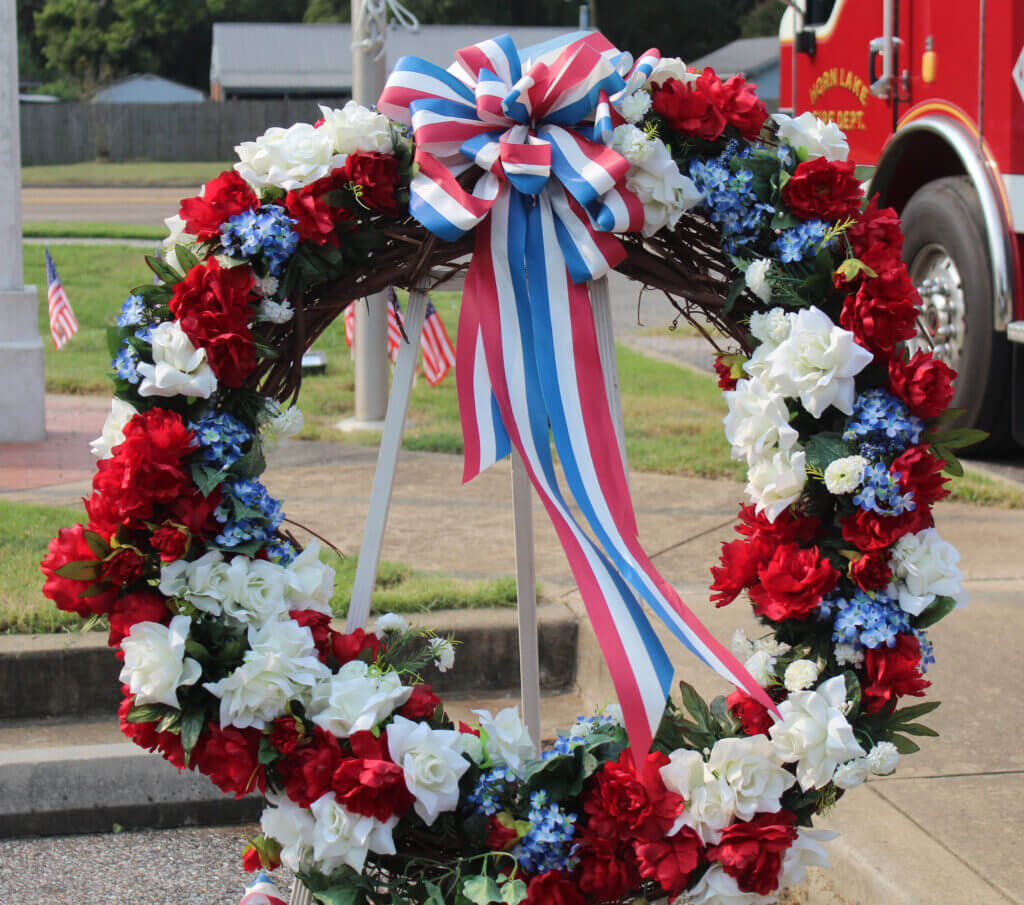 The ceremony in Horn Lake also honored the first responders of the Sept. 11 attacks. Horn Lake Fire Chief David pointed out that firefighters are trained to serve and protect, but to save lives first.
"Each and everyone of those firemen in New York went into that tower not knowing that they weren't coming out, but they knew they had to get people out," Linville said. "As long as we remember and never forget the men and women that died that day, they will live on."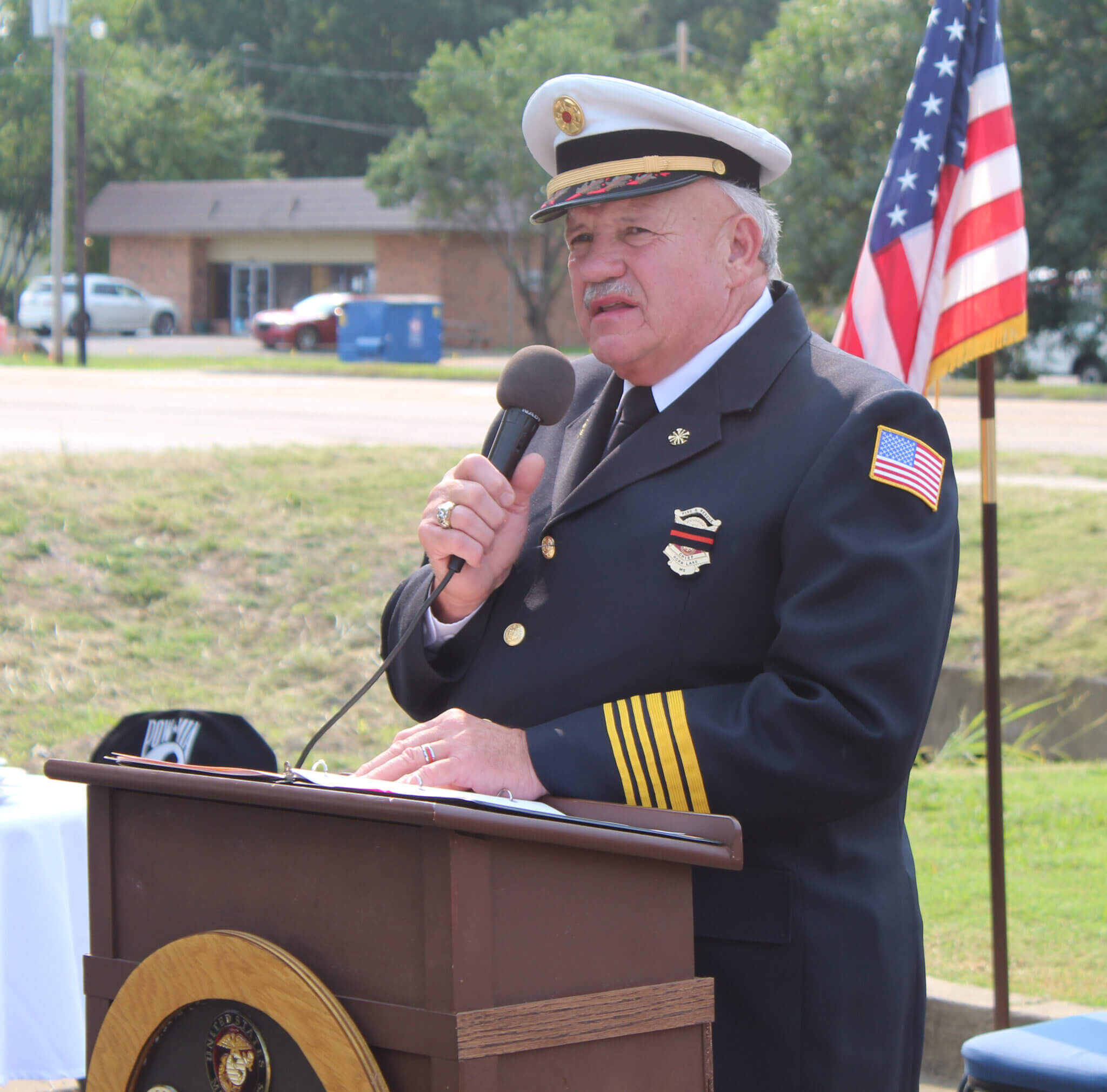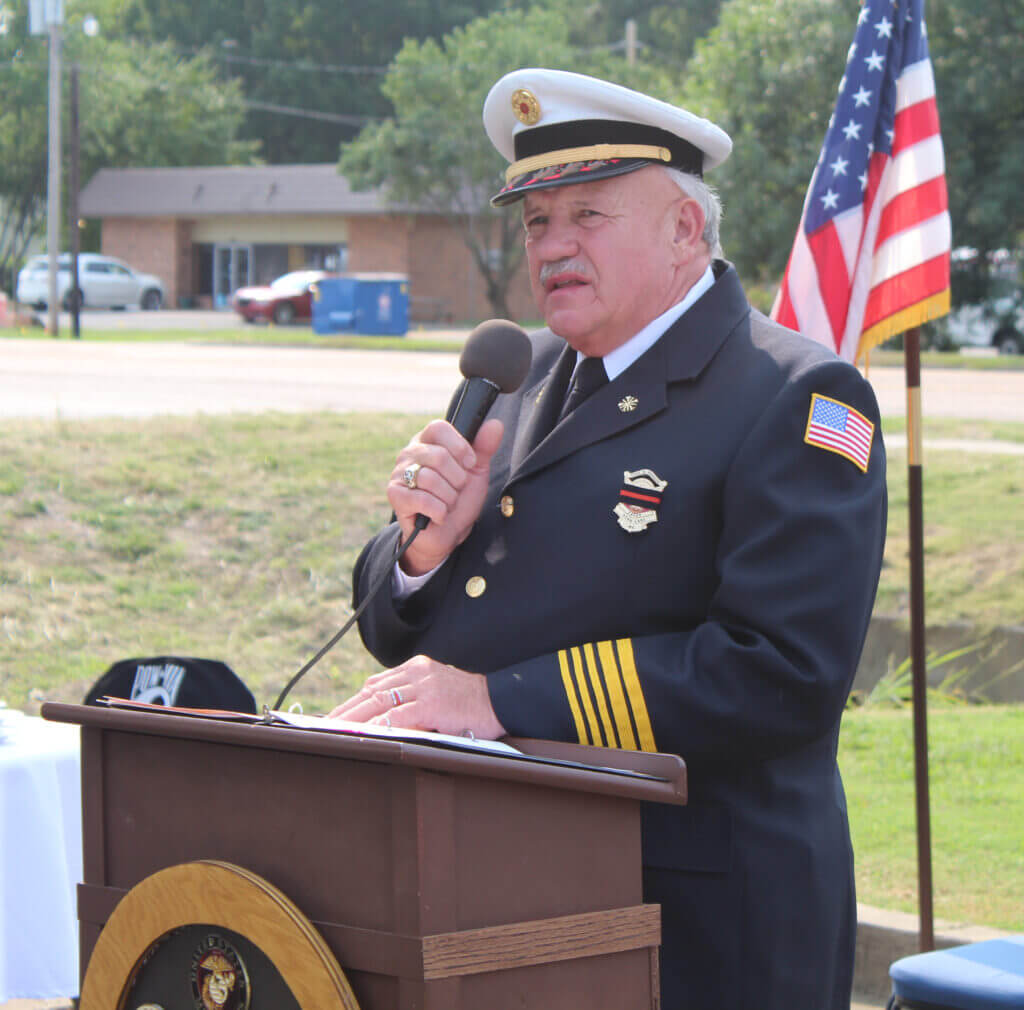 Linville also participated in an act of ringing a bell called "striking the four fives." It is the sound of a bell ringing a specific number of times to alert a firefighter that a fellow firefighter has died.
State Sen. Michael McLendon (R-Hernando) made brief remarks to support first responders and urge the government to provide what they need to do their work.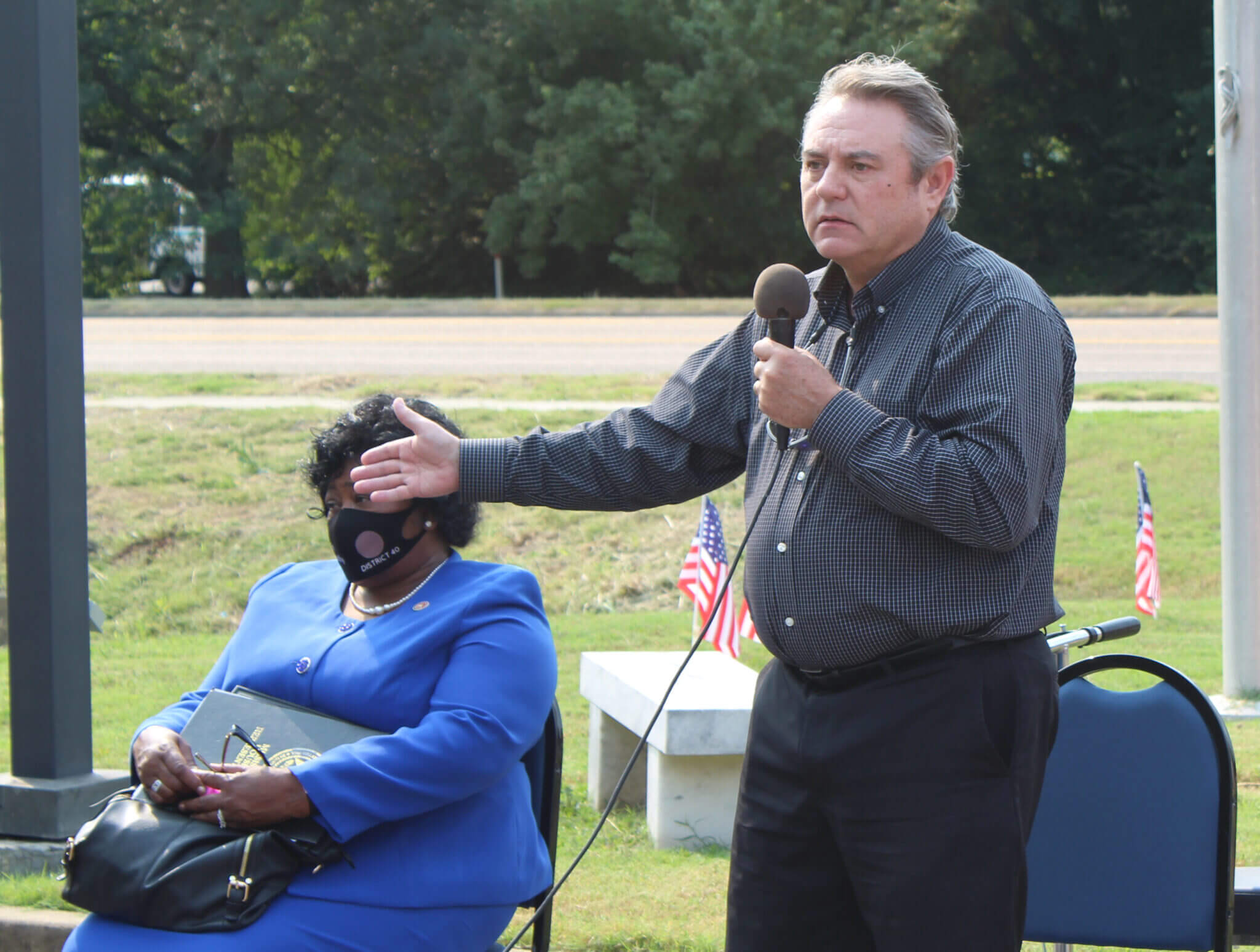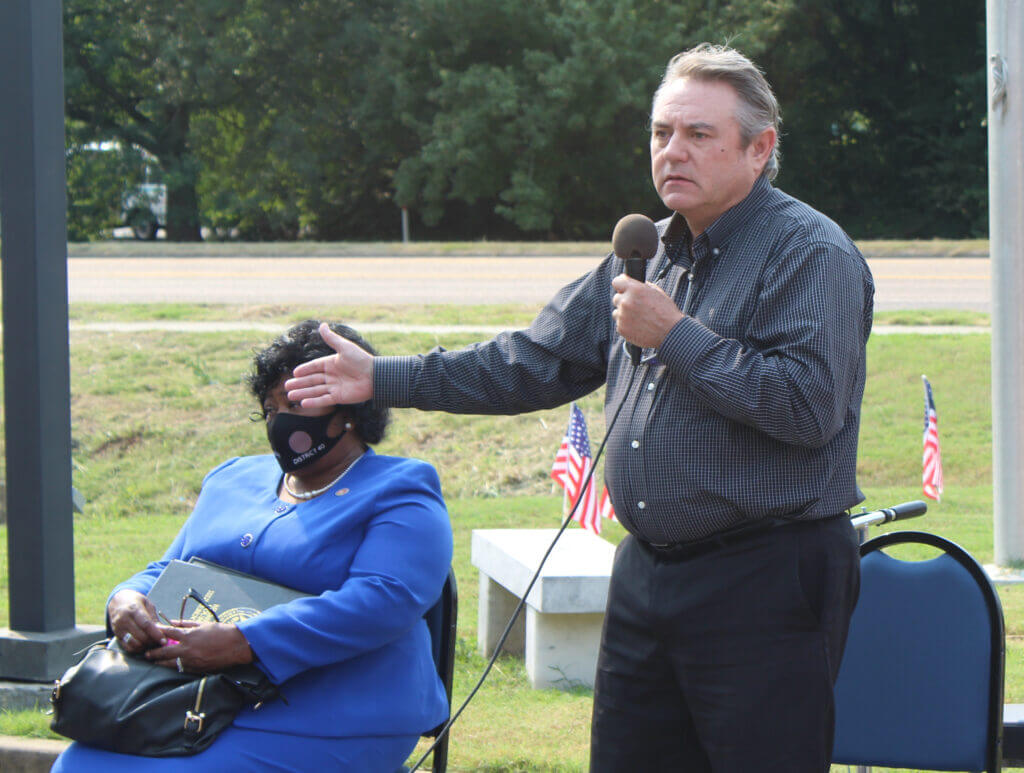 "We need to insist that our governmental leaders fund what's needed for our first responders and our veterans, as well as our armed forces," McLendon said.
State Rep. Hester Jackson-McCray (D-Horn Lake) called the current coronavirus pandemic a "new 9/11" and supported continued means to support first responders stressed in trying to stop the spread of the virus.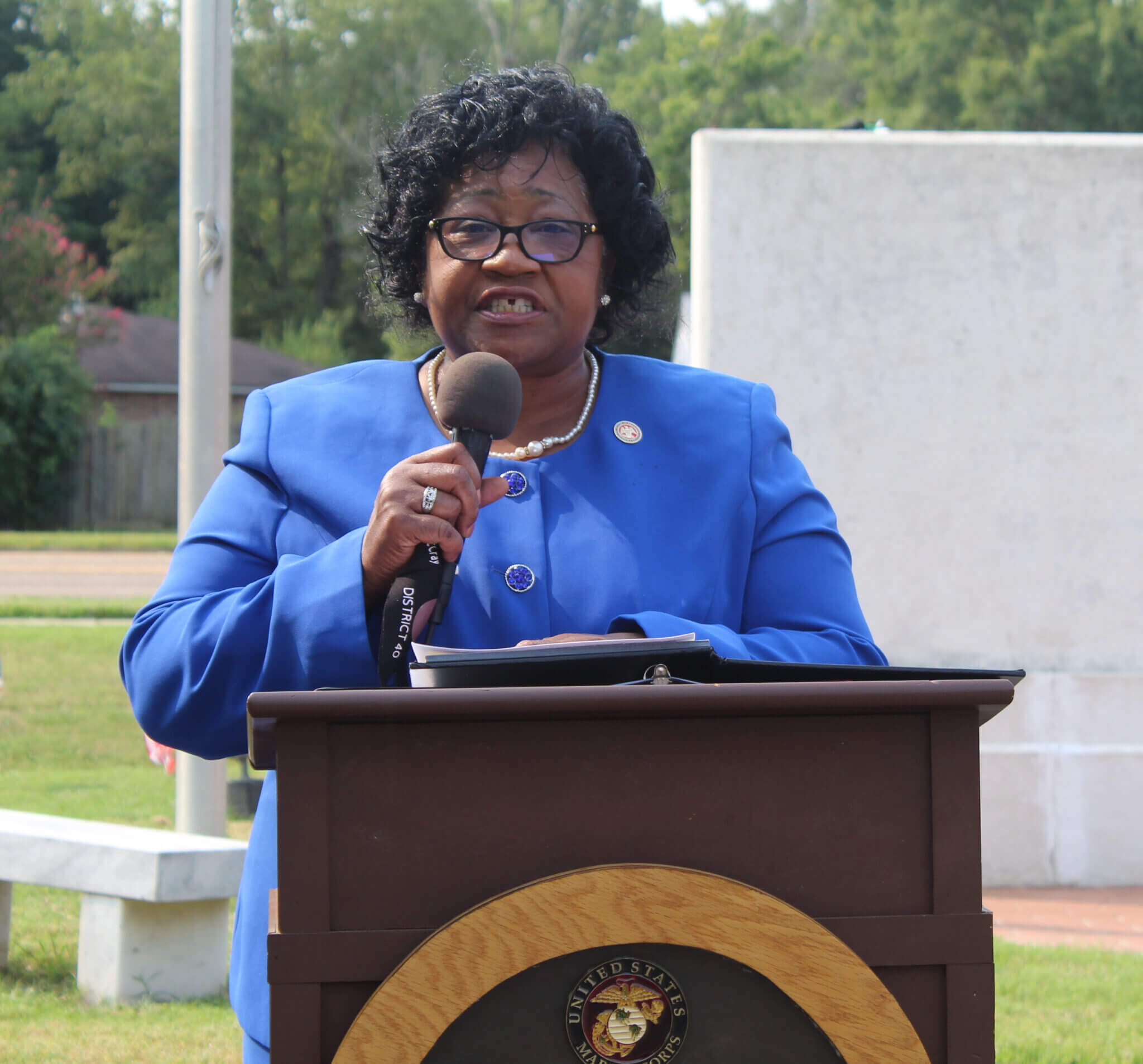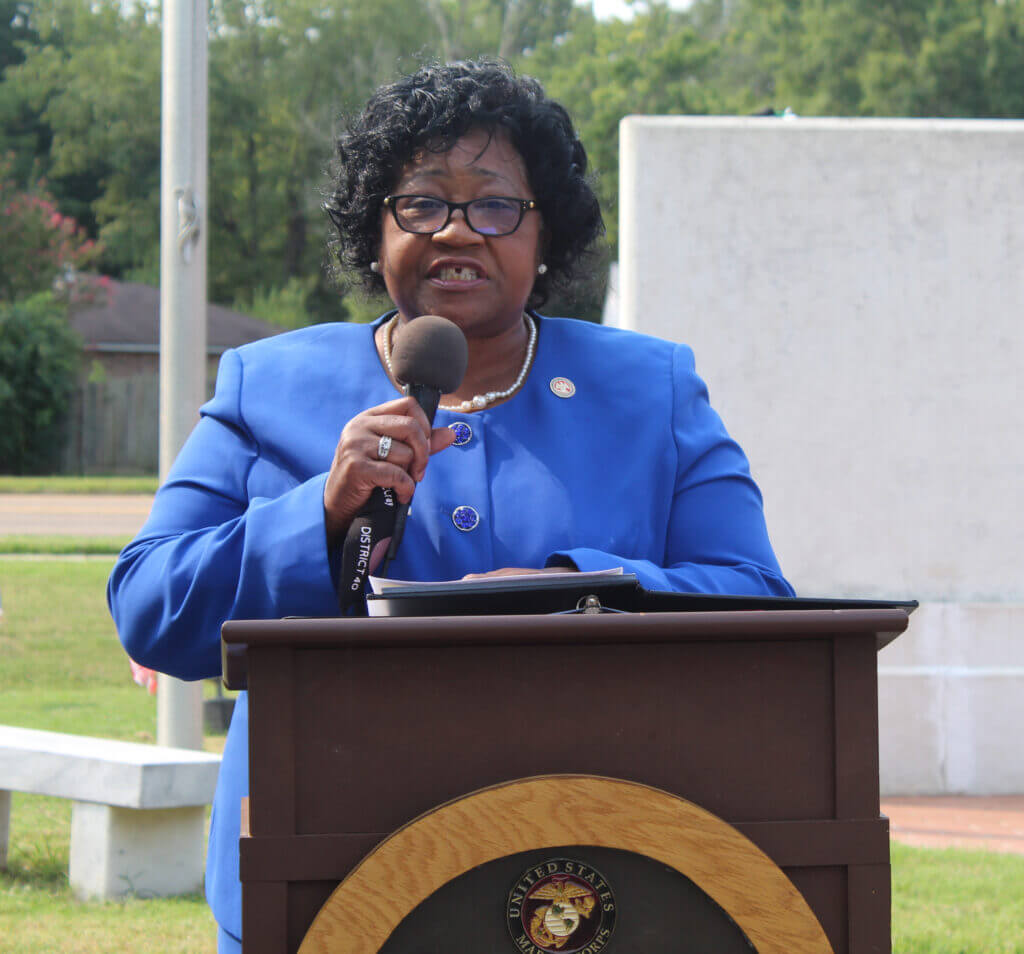 "First responders need our help today," Jackson-McCray said. "As an elected representative in the state of Mississippi, I urge everyone to please honor our first responders by getting vaccinated, wear masks, and when you qualify, get the booster shot."
Saturday's ceremony included proclamations of thanks to the American Legion from Jackson-McCray for remembering first responders on the 20th year anniversary, and a proclamation from the City of Horn Lake.