Former Grenada legislator arrested in DeSoto County
A former state representative from Grenada is in the DeSoto County Adult Detention Center after his arrest Friday night, reportedly on prostitution charges.
Jail information states Donald (Donny) Ryals, age 63 of Grenada was booked into the jail Saturday morning. Ryals was a state representative from Grenada from 2000-2004 and is owner of D-Ryals Performance in Grenada, a company that troubleshoots and consults on Automotive Engine Management systems. He has owned the company since 2018.
Darkhorse Press first reported Ryals' incarceration with the following screen grab from his page on the DeSoto County jail website: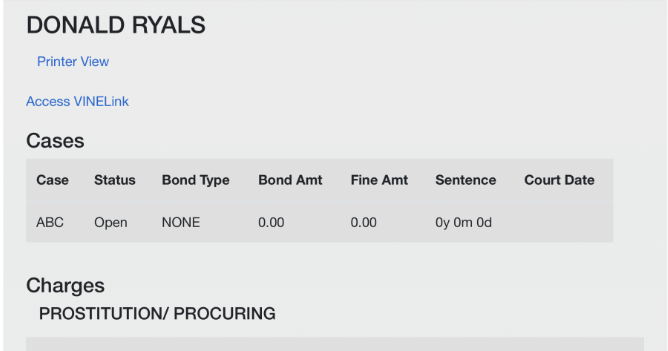 No bond has yet been indicated for Ryals and the DeSoto County Sheriff's Department and Mississippi Bureau of Narcotics are listed as arresting agencies in different parts of the page.
UPDATE: A spokeswoman for the Sheriff's Department Monday said the arrest was part of an operation the department was involved in, but state officials made the actual arrest and became the lead agency in what she termed was a misdemeanor charge. His information on the jail website has now been updated to state a bond of $10,000 has been set and he has a court appearance set for Dec. 21.