Tuesday sports: Lewisburg stays unbeaten in region volleyball play
Photo: Lewisburg's Hallie Wright and Ella Grace Holloway set their block at the net during Tuesday's four-set victory over DeSoto Central. (Bob Bakken/desotocountynews.com)
Lewisburg won the battle of the top Region 1-7A volleyball teams Tuesday night with a 3-1 victory over DeSoto Central. Set scores were 25-23, 25-15, 22-25, 25-16.
Here's a recap of what happened in the Lady Patriots victory.
Set 1 – Lewisburg 25, DeSoto Central 23
The Lady Patriots took an early 5-2 lead and made it 10-6 after a long serve from DeSoto Central. But the Lady Jags recovered and took a 14-13 lead on a diving play from Emma Clare Story. Lewisburg would take the lead back and DeSoto Central took a time out with the Lady Patriots leading 16-14. Lewisburg extended the lead out of the time out to 20-15, forcing another DeSoto Central stoppage. An Ella Grace Holloway kill put Lewisburg ahead 23-18, followed by another kill for a 24-20 advantage. DeSoto Central scored two more points, including an ace from Zion Rucker but Lewisburg went on to take the 25-23 set win.
Set 2 – Lewisburg 25, DeSoto Central 15
The Lady Patriots roared out to a 5-0 lead and at 7-2, DeSoto Central called a timeout. A kill from Avery Carter of the Lady Jags cut the deficit to 8-5, but Lewisburg would build back a five-point edge at 10-5 and 15-10 after a kill. Another point grew the advantage to 16-10 and a Lady Jag timeout, but Lewisburg continued to extend the margin to 20-12 on a kill from Holloway, and 24-13 on a long serve from DeSoto Central. Another Lady Jag long serve ended the set at 25-15.
Set 3 – DeSoto Central 25, Lewisburg 22
DeSoto Central took a 3-0 lead in the set, but Lewisburg rallied to tie the set at 5-5. The set stayed tight after that, with a block giving the Lady Jags an 11-10 lead, but after a long volley put the Lady Patriots ahead 17-14, DeSoto Central called a time out. The Lady Jags came out of the time to claim an 18-17 lead. A kill gave DeSoto Central a 20-19 lead and Lewisburg took a timeout when the Lady Jags added another point for a 21-19 advantage. DeSoto Central scored four of the last seven points to win the set.
Set 4 – Lewisburg 25, DeSoto Central 16
The Lady Patriots claimed a 5-1 lead to start the set after an ace and after a kill by Holloway made the lead 10-5 Lewisburg, DeSoto Central took a timeout. The lead grew to 16-10 and at 18-11 Lewisburg after a service ace by Jayda Bradley, another timeout was called by the Lady Jags. A kill brought DeSoto Central within 19-15 but a couple of kills from Bradley were featured to bring the lead back to seven at 23-16 Lady Patriots, which would then score the final two points to win the set, finished with another kill from Bradley.
Post-match comments from Lewisburg coach Amy Hendrichovsky:
"I thought that we played well. I obviously think there are some things we could have done better, but we know that any time we play them, it's going to be a battle, and I thought we came back in the fourth set and responded. I feel it was our defensive effort and how we played defensively. We are size-wise a bigger team and I do think that's a factor for us, but it comes down to which team defends better behind the block."
"The last couple of weeks we've been working on some offensively and we were able to run those in this match and execute them, so I think we have multiple players we can distribute the ball to and we want to be that kind of team. We don't want to depend on our outside hitters and I thought we got great contributions from other people. Kennedy Inskeep had a great match. I thought our middles worked hard and put together some good stat numbers.
Hendrichovsky on Ella Grace Holloway reaching 800 career kills, second in school history to reach the feat:
"Ella Grace is a very driven person from the get go. She pushes herself individually. I love that she's been rewarded with that. She's been a phenomenal player for our program. She's the first in our program to commit to a Division I program, but you wouldn't know that because she's a humble amazing teammate and that's what makes her great. I'm happy for her, she's worked hard for it and she's definitely put in the time in high school, in club (volleyball) and the off-season to be where she is right now."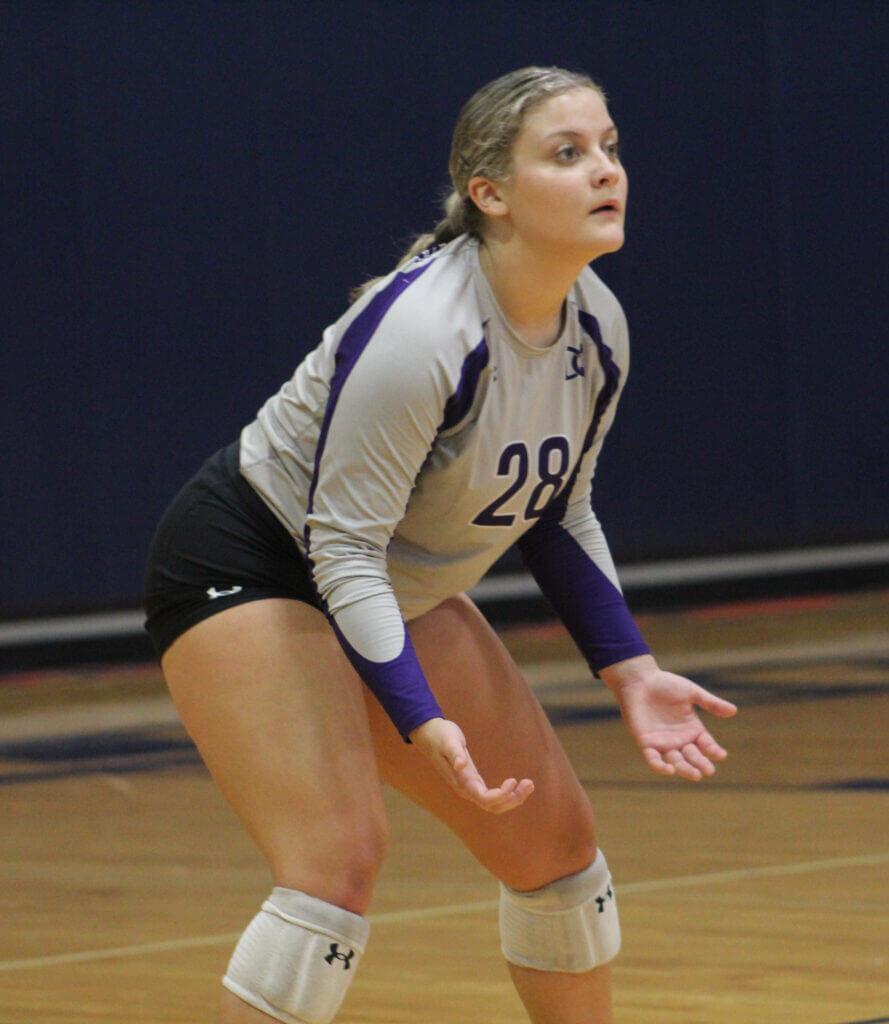 Tuesday, Sept. 19
Prep volleyball
Lewisburg 3, DeSoto Central 1 (25-23, 25-15, 22-25, 25-16)
Notes: Lewisburg stat leaders: Ella Grace Holloway (17 kills), Jayda Bradley (15 kills, 5 aces, 10 digs), Kennedy Inskeep (9 kills attacking .533%), Claire Smith (44 assists, 17 digs, 3 blocks), Allie Kate Hall (26 digs). DeSoto Central stat leaders: Reese McIntosh had 11 kills, 19 digs, and 3 aces. Avery Carter had 5 aces and 10 digs. Kasey Scruggs had 10 kills and 3 kills. Genesis Weeks had 5 blocks.
Olive Branch vs. South Panola
Horn Lake at Byhalia
Center Hill 3, Grenada 0 (25-7, 25-16, 25-11)
Hernando 3, Oxford 2 (21-25, 25-19, 22-25, 25-18, 15-12)
Lake Cormorant 3, Regents (Oxford) 1 (25-19, 25-12, 20-25, 25-15)
Northpoint 3, St. George's (Collierville) 2 (17-25, 25-27, 25-22, 29-27, 15-13)
Notes: Northpoint stats: Kylee Reynolds (10 kills, 9 blocks, 2 digs, 3 assists), Quinn Thurman (11 kills, 4 aces, 11 digs), Sarah Johnson (5 kills, 30 assists, 15 digs, 1 Ace), Hassie Clare Thurman (2 kills, 20 digs, 2 blocks, 2 aces), Val Hurdle (6 blocks, 8 aces, 10 digs), Isis Reid (8 kills, 6 blocks, 1 dig), Sailor Cole (22 digs, 5 assists), Avery Heun (3 assists , 1 ace)
Prep girls soccer
Harding Academy 1, Northpoint Christian 0
JUCO men's soccer
Itawamba 2, Northwest 0
Notes: Rangers fall to 1-1 for the season.
JUCO women's soccer
Northwest 2, Itawamba 0
Notes: Nationally ranked Northwest now 9-0 for the season.
Prep softball
Bayou Academy 3, Magnolia Heights 2