Tuesday sports: Horn Lake rallies to beat Mustangs
Photo: Horn Lake's Kylen Pernell, shown in Tuesday's contest at Center Hill, led the Eagles with 23 points. (Bob Bakken/desotocountynews.com)
Horn Lake took a pair of basketball wins at Center Hill Tuesday night but none of them came easy. The number-one ranked Horn Lake boys recovered from a deficit to defeat the Mustangs 72-67 after the Lady Eagles rallied late in a low scoring 38-34 win.
HORN LAKE BOYS 72, CENTER HILL 67: Center Hill took an early three-point lead after one quarter at 18-15 and led the Eagles 36-33 at halftime. The Mustangs were led in the first half by Jaidyn Rankins, who scored 15 of his game-high 32 points in the opening half of play. Jeremy Holloway added nine in the half for Center Hill.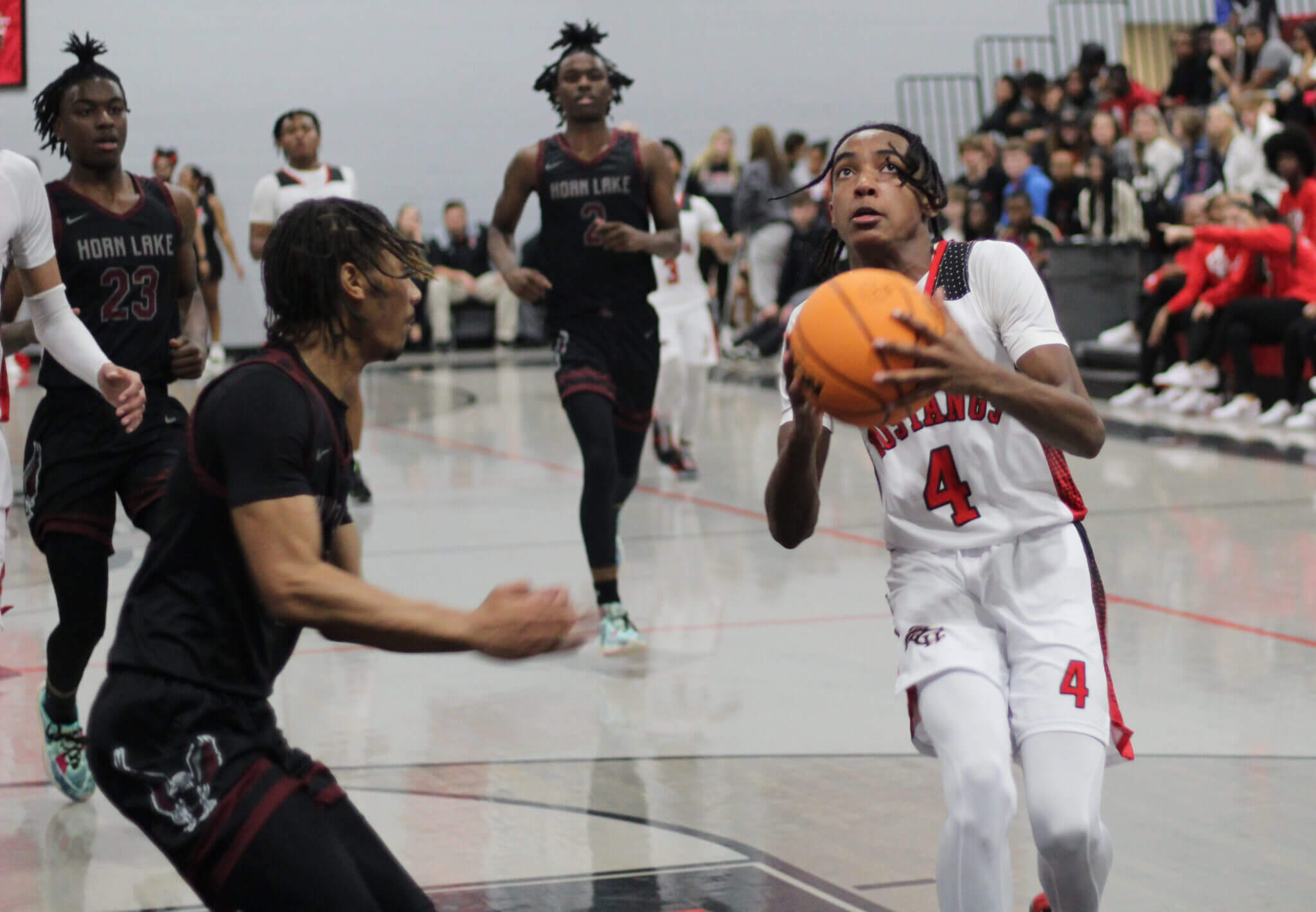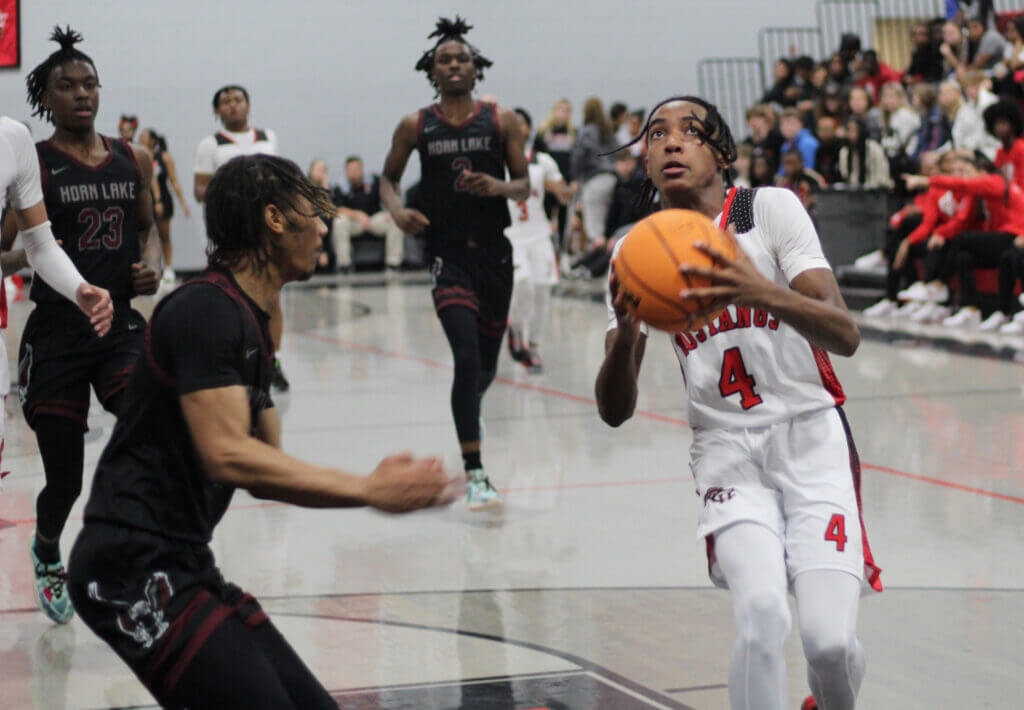 Horn Lake countered with Kyren Pernell, who finished the first half with 10 points including a pair of three-pointers.
Twin brother Kylen Pernell keyed the second half turnaround for the Eagles, scoring 11 of his team-high 23 points in the first eight minutes after halftime, and a Kylen Pernell dunk with 1:17 left in the third quarter gave Horn Lake a 54-52 lead which they never lost after that. 
At one time in the third quarter, Center Hill had as much as a 12-point lead on the top-ranked Eagles at 45-33.
The 10-0 Eagles would hold Center Hill to 12 points in the final quarter for the five-point victory.
Kylen Pernell's 23 points were backed by Kyren Pernell's 19 and John Randle with 10.
Rankins, who finished with 32 points for Center Hill, nailed seven three-point baskets, including a run of four straight in the third period of play.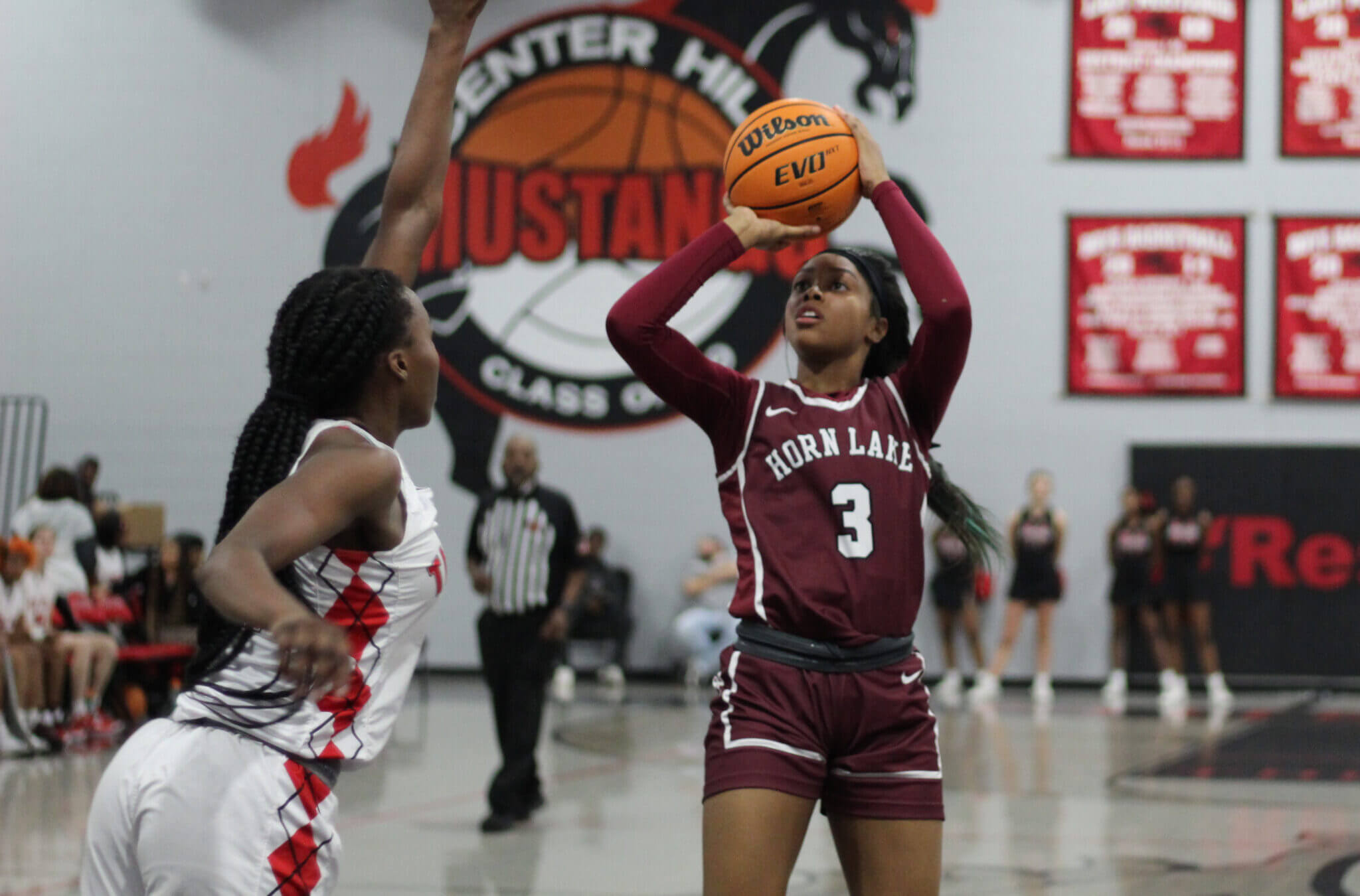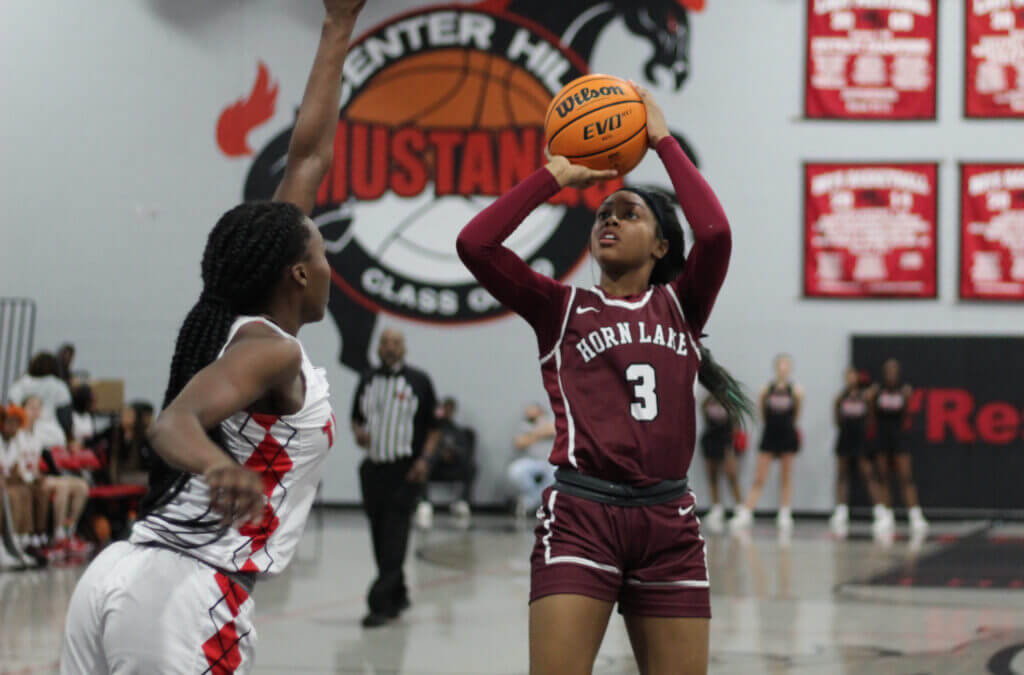 HORN LAKE GIRLS 38, CENTER HILL 34: The Lady Eagles recovered after weekend losses to Brandon Friday at home and to Ingomar at the Tangle on the Trail, but had to rally late Tuesday to beat their cross-county rival.
Center Hill roared out for the early 13-7 lead after one quarter and held Horn Lake to just five second-quarter points for 27-12 halftime lead.
However, the Lady Eagles rallied in the second half, holding the Lady Mustangs to just a basket from Paige Wilcher in the third quarter, but still trailed 29-20 going into the final eight minutes.
That's when Indiya Bowen took over in the fourth quarter for the Lady Eagles. Despite being saddled with foul trouble, Bowen took charge to score nine of her game-high 16 points while the Lady Mustangs struggled in the offensive end to net just five points in the final eight minutes.
After Bowen's 16 points, Lamyah Harris scored eight points with five coming in the final quarter.
Center Hill, now 4-7 for the season, was led by Madison Hughes' 11 points, along with seven each from Dominique Collins and Madison Bush. Neither Collins or Bush would score in the second half.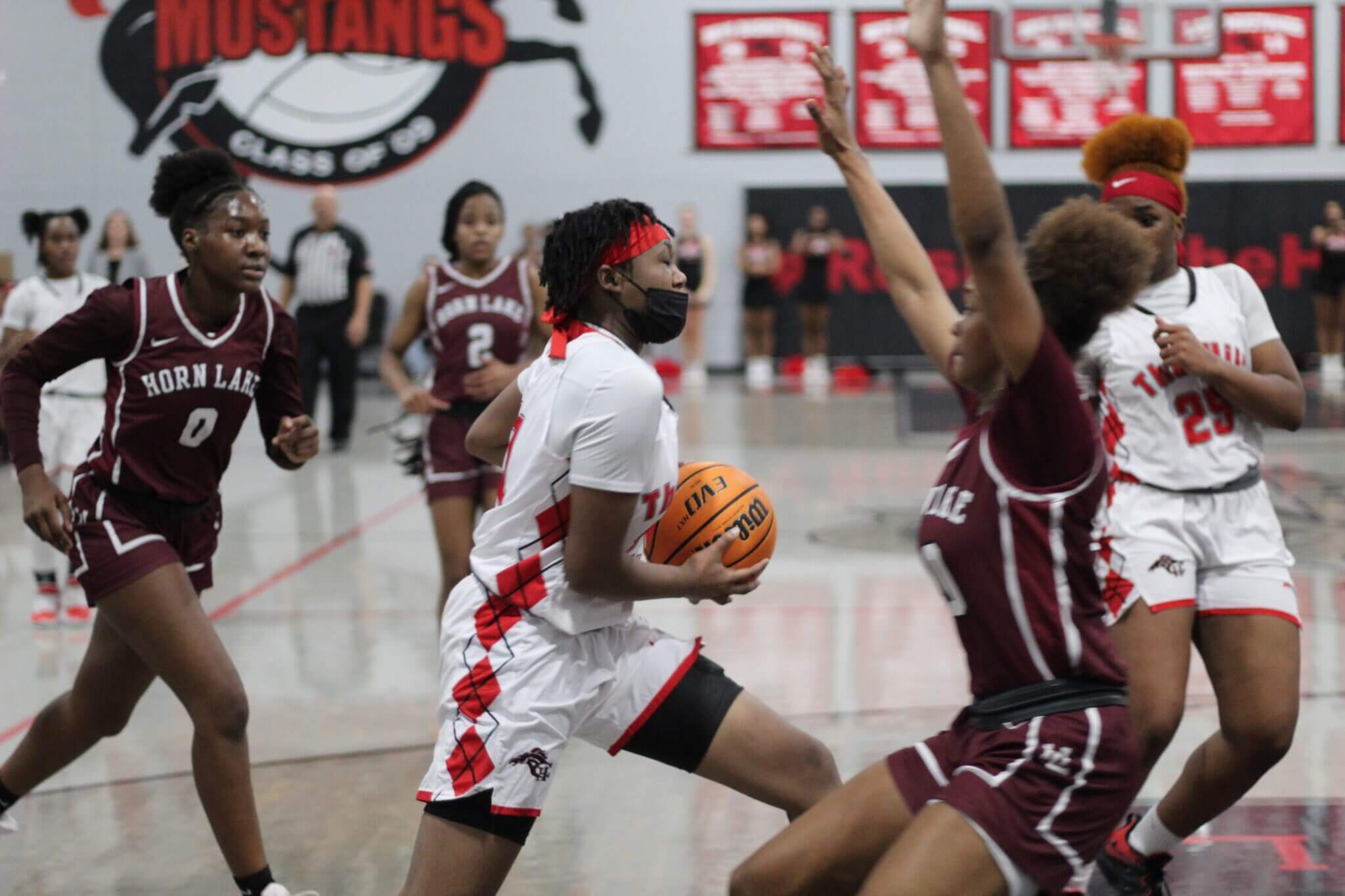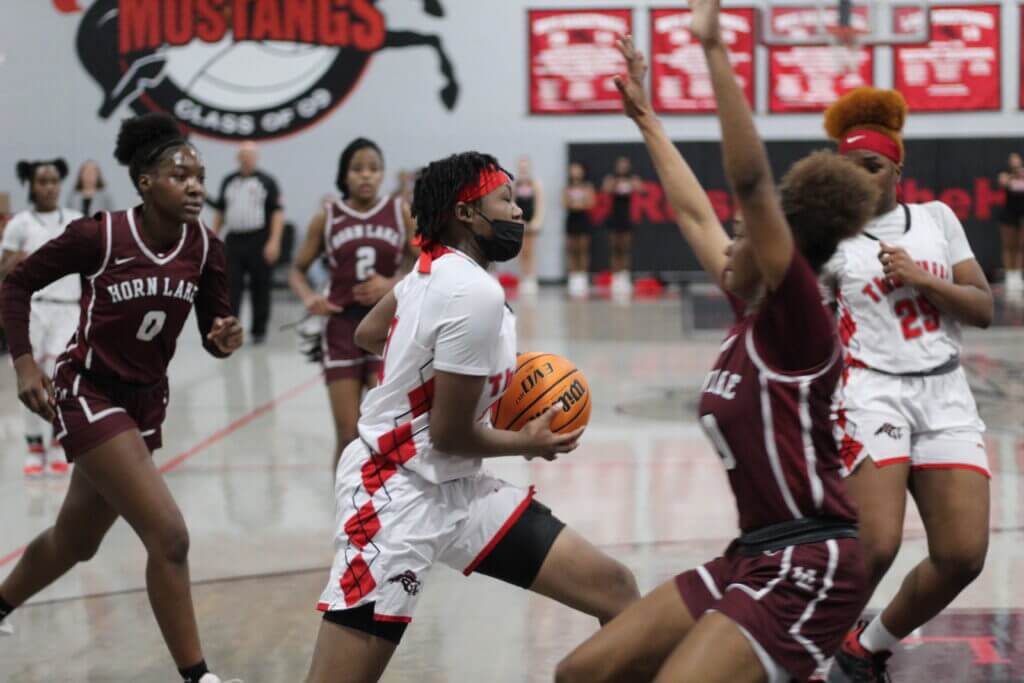 Here's Tuesday's DeSoto County scoreboard:
Tuesday, Dec. 13
Prep boys basketball
Byhalia 73, DeSoto Central 71
Horn Lake 72, Center Hill 67

Horn Lake-Kylen Pernell 23, Kyren Pernell 19
Center Hill-Jaidyn Rankins 32, Kaison Saunders and Jeremy Holloway 10 each

Hernando 65, Tunica Rosa Fort 56

Hernando-Derrell Tate 23, Eric Oliver 14, Justin Hammett 11

Southaven 66, Lewisburg 48

Lewisburg-Gage Haley 12
Southaven-Kam House 19
Prep girls basketball
DeSoto Central 66, Byhalia 33

DeSoto Central-Mya Richardson 26

Horn Lake 38, Center Hill 34

Center Hill-Madison Hughes 11
Horn Lake-Indiya Bowen 16

Hernando 53, Tunica Rosa Fort 5

Hernando- Hallan Wallace 12, Skylar and Damyia Cummings 10 each

Southaven 44, Lewisburg 43

Lewisburg-Rainey Lamb 17, Allison Irby and Alicia Kautzky 10 each.
Southaven-Leanna Silas 18
Prep boys soccer
Center Hill 3, Olive Branch 0
Lake Cormorant at Horn Lake – canceled
South Panola at Hernando – canceled
Prep girls soccer
Center Hill 4, Olive Branch 1
Lake Cormorant at Horn Lake – canceled
South Panola at Hernando – canceled
Prep wrestling
North Pontotoc 43, Lewisburg 33
NBA G League basketball
Memphis Hustle 132, Lakeland Magic 130 (overtime) (box score)