Spurrier named AutoZone Liberty Bowl Distinguished Citizen Award recipient
Photo: Steve Spurrier, AutoZone Liberty Bowl Distinguished Citizen Award recipient (Courtesy AutoZone Liberty Bowl)
The AutoZone Liberty Bowl Sunday evening named former SEC coach and 1966 Heisman Trophy winner Steve Spurrier the latest winner of the bowl game's Distinguished Citizen Award.
Spurrier was in the Mid-South for a dinner in his honor and as a benefit for the St. Jude Children's Research Hospital at the Hilton Memphis Hotel.
Spurrier is very aware of the AutoZone Liberty Bowl in his coaching career, having led his South Carolina Gamecocks to a 44-36 bowl game victory over Houston in 2006.
As the latest winner of the award, Spurrier joins the ranks of St. Jude founder Danny Thomas, FedEx founder Fred Smith, Holiday Inn founder Kemmons Wilson, and actress/entrepreneur Priscilla Presley. Recipients of the award from the sports world include Paul "Bear" Bryant, Bobby Bowden, Lou Holtz, Tony Dungy, Lee Corso, Darrell Waltrip, Dick Vitale, Archie Manning, Tim McCarver and last year's honoree Peyton Manning have also received the award.
"When I saw the list of previous recipients, I said, 'man this is something special," Spurrier said in a news conference with reporters Sunday ahead of the dinner. "It's really an illustrious group, so it will be nice to have my name added on there."
"Coach Spurrier joins a decades-long list of renowned Americans who have distinguished themselves and reached the pinnacle of their chosen field," said Steve Ehrhart, Executive Director of the AutoZone Liberty Bowl. "We are proud to include Coach Spurrier among the luminaries who have been honored by the AutoZone Liberty Bowl over our 64-year history."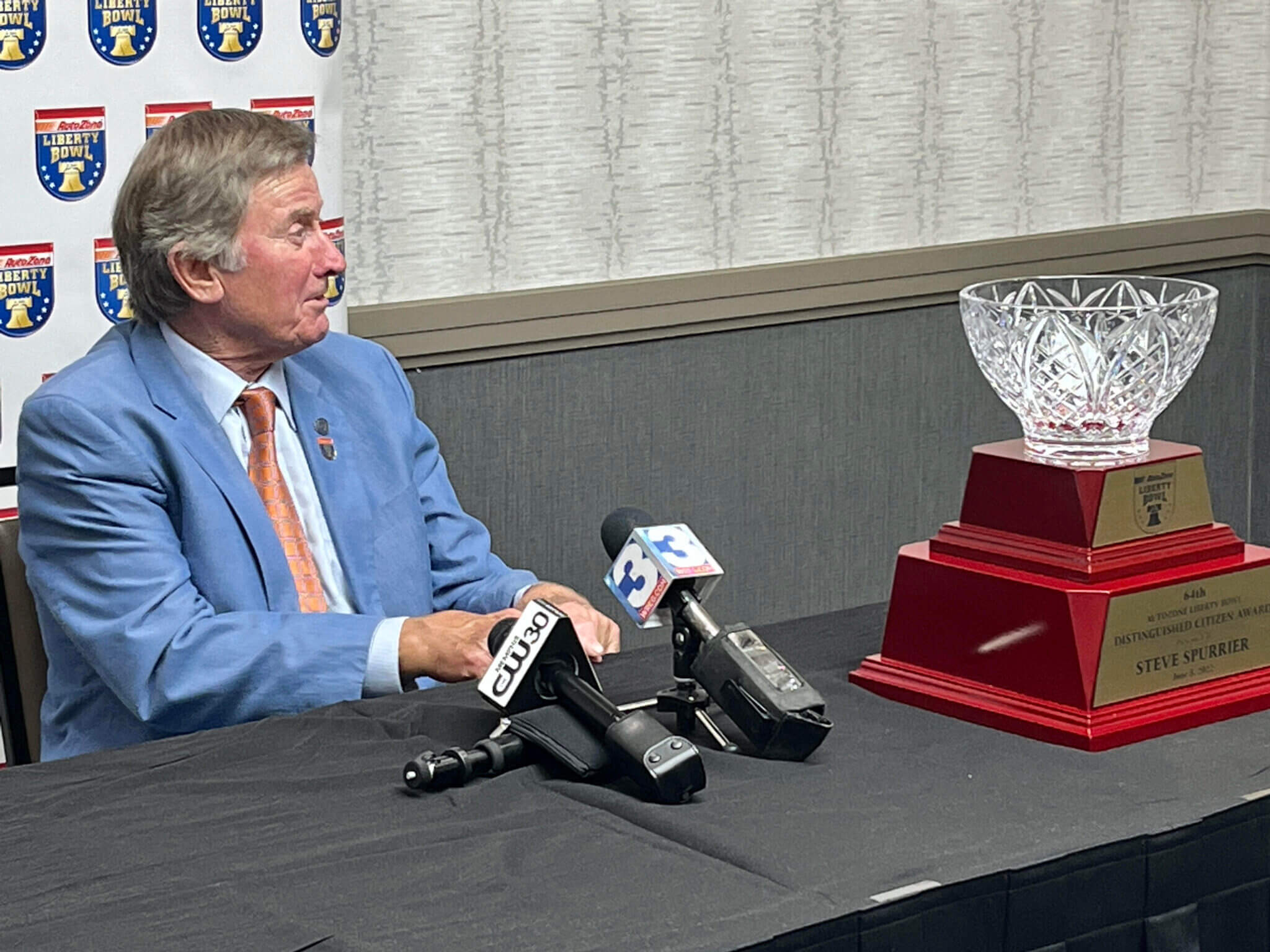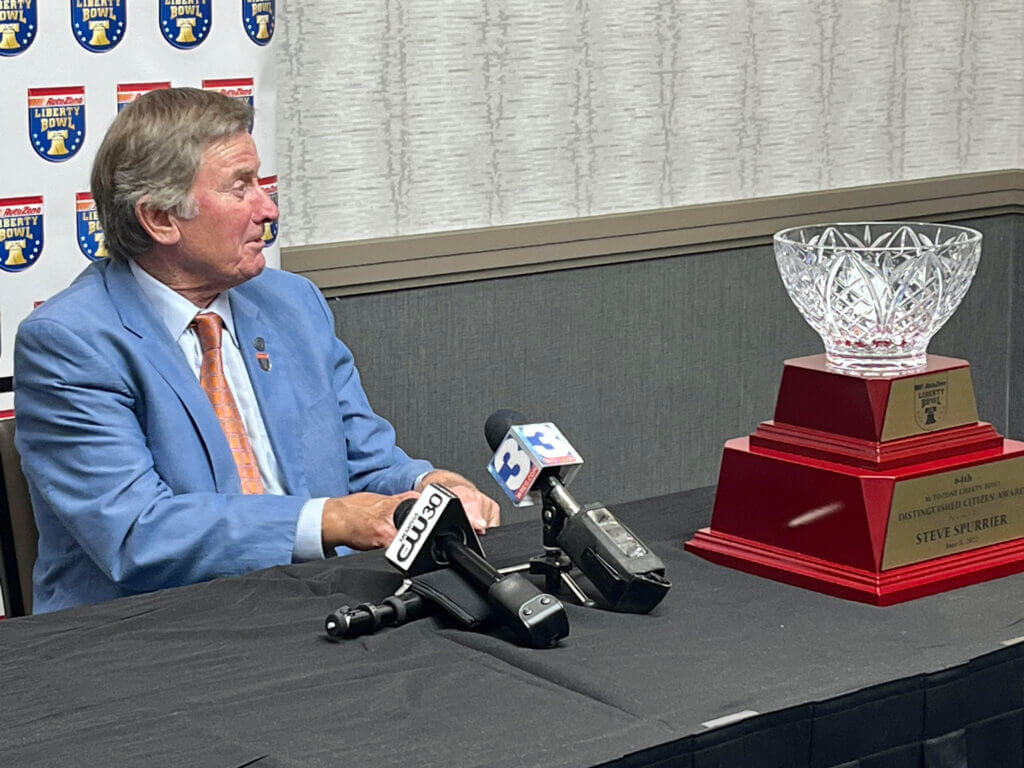 In his coaching career, Spurrier led the Florida Gators to six Southeastern Conference championships and the 1996 national championship. Spurrier also coached at Duke and at South Carolina in his college coaching career.
In professional football, Spurrier coached the Washington Redskins in the NFL and the USFL's Tampa Bay Bandits. He also coached the Orlando Apollos in the ill-fated Alliance of American Football, ending that stint in the Liberty Bowl Stadium against the Memphis Express after just eight games.
As an athlete, Spurrier was a three-sport star at Johnson City, Tenn. Science Hill High School, where he was the winning pitcher when Science Hill defeated Memphis Christian Brothers for the 1963 Tennessee state baseball championship.
Recruited to Florida, Spurrier became an All-American quarterback for the Gators, winning the Heisman Trophy and Walter Camp awards in 1966, ahead of being the third overall draft pick in the 1967 NFL draft. Spurrier is also in the Tennessee Sports Hall of Fame and twice in the College Football Hall of Fame, as a player and as a coach.
His pro playing career had Spurrier primarily as a backup quarterback and punter for the San Francisco 49ers. After a decade in the NFL, Spurrier turned to coaching.
Spurrier spoke about a number of items during his time with reporters on Sunday. He's not a big fan of NIL's, or Name, Image, and Likeness contracts that college athletes are now able to get.
Spurrier would like to see athletes have to play at least one year without an NIL agreement before they're able to enter into one.
"Go back to the original recruiting rules," Spurrier said. "After he gets to a college and does very well, then he can do a deal. They have to come and play for one year, and then, it's a free country."
The college football playoffs also need to be expanded, Spurrier said, and not just from four to eight selected teams.
"We have to have more now," Spurrier said. "I used to say eight but now I say 16. The top teams are probably still going to win. We could use all of the bowl games across the country. I'd like to see it expanded a bit."
This year's AutoZone Liberty Bowl Classic this year is set for Wednesday, Dec. 28 at 4:30 p.m. The game will be aired on ESPN and is the 64th annual bowl game, making it the seventh-oldest among college football postseason bowl contests.