Sports roundup: Mustangs tame the Tigers
Photo: Center Hill's Zandon Haralson reaches for the basket in Friday's game at Saltillo. (Bob Bakken/DeSoto County Sports)
THE VITAL NUMBERS
FRIDAY NIGHT'S SCOREBOARD
Prep boys basketball
Center Hill 76, Saltillo 55
Horn Lake 50, Hernando 45
Harding Academy 70, Northpoint Christian 65
Lake Cormorant 52, Lafayette (Oxford) 40
Tupelo 78, Lewisburg 61
DeSoto Central 63, Olive Branch 52
Southaven 71, Oxford 61
Prep girls basketball
Saltillo 45, Center Hill 35
Hernando 52, Horn Lake 35
Northpoint Christian 57, Harding Academy 43
Lafayette (Oxford) 65, Lake Cormorant 13
Tupelo 65, Lewisburg 40
Olive Branch 50, DeSoto Central 47
Oxford 46, Southaven 45 (overtime)
FEATURED CONTESTS
CENTER HILL BOYS 76, SALTILLO 55: The smile of satisfaction on the face of Center Hill basketball coach Newton Mealer may have had a secondary meaning after Friday's blistering of district rival Saltillo 76-55 on the Tigers' home floor called "The Den."
The gymnasium, with its almost balcony-like bleachers and raucous student section, has the feel of a hostile road gym that the Hickory High team had to play at in the famous basketball movie "Hoosiers."
"It's a home court advantage (for Saltillo)," Mealer said. "I tell our kids they're 15 points down when you start the game here."
Mealer left the Saltillo bandbox Friday night satisfied with his team's 11th straight victory, but also safe in the knowledge that as Center Hill moves to Class 6A next season, his Mustangs won't have to darken the doors of the place anymore.
There was still motivation for Center Hill to leave with a win and that was to keep a streak going as the Mustangs enter the district tournament at Lake Cormorant.
"We haven't lost a district game in two years," Mealer said. "We wanted to finish this out with a good showing tonight."
He and his Mustangs left with a convincing victory that saw Center Hill never threatened in the game.
The Mustangs quickly jumped on the outgunned home squad with a 23-point first quarter for a 23-9 lead after eight minutes. Center Hill made it 38-21 at halftime and outscored the Tigers 21-17 in the third quarter for a 59-34 edge going into the final quarter.
That's where Saltillo tried to make a comeback with a 21-point fourth period, but the game was too far gone at that point.
Tanner Burcham got the Mustangs galloping in the first half with 13 points, 10 of which came in the opening quarter.
"We've got too many shooters on this team," Mealer said. "If you try to take (Kaeden) Laws and Zandon (Haralson) out, which they weren't able to do, it still left guys wide open who were on the floor to make shots."
Laws scored nine points in the first half, all of which came in the first eight minutes of the game.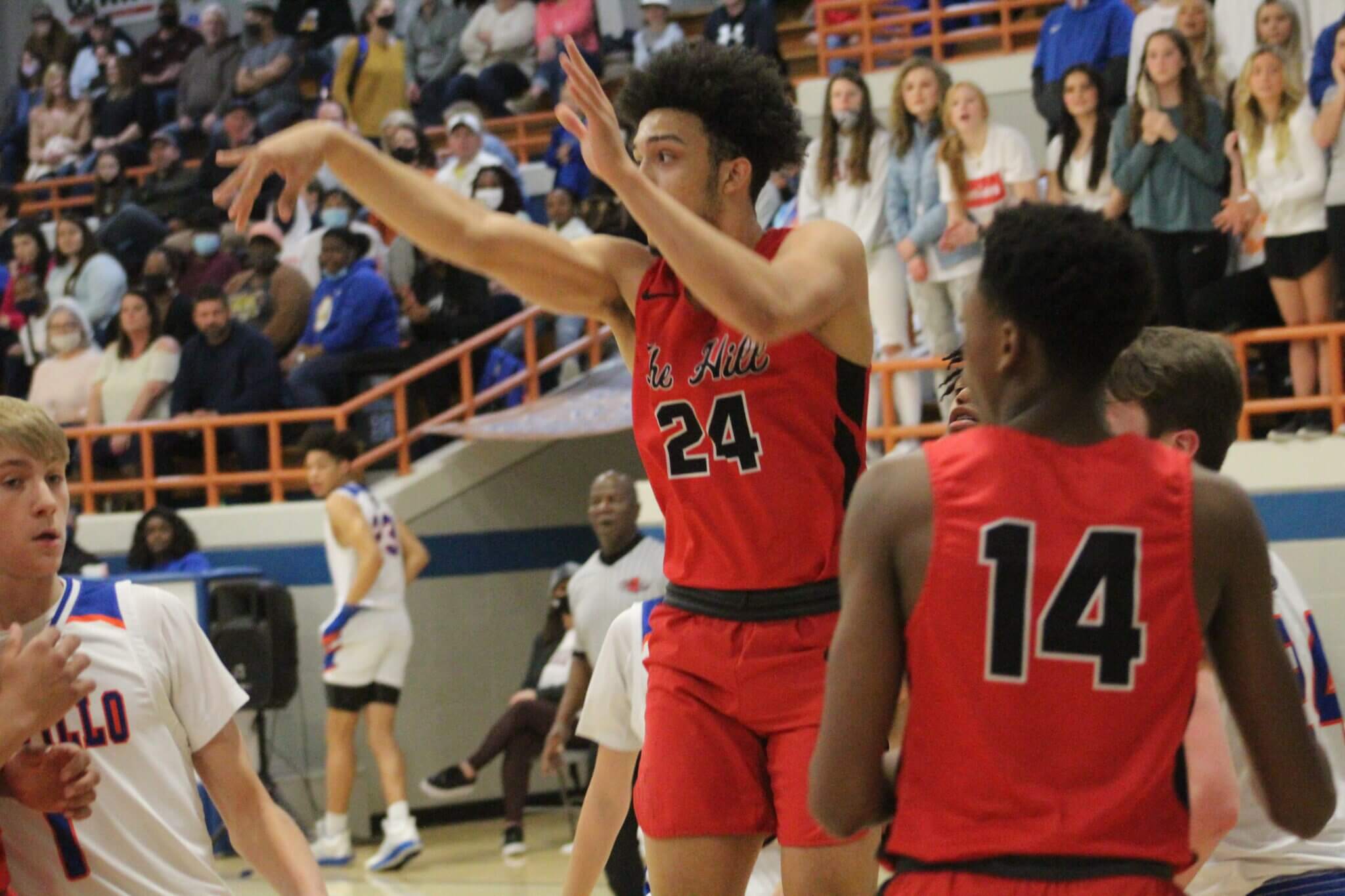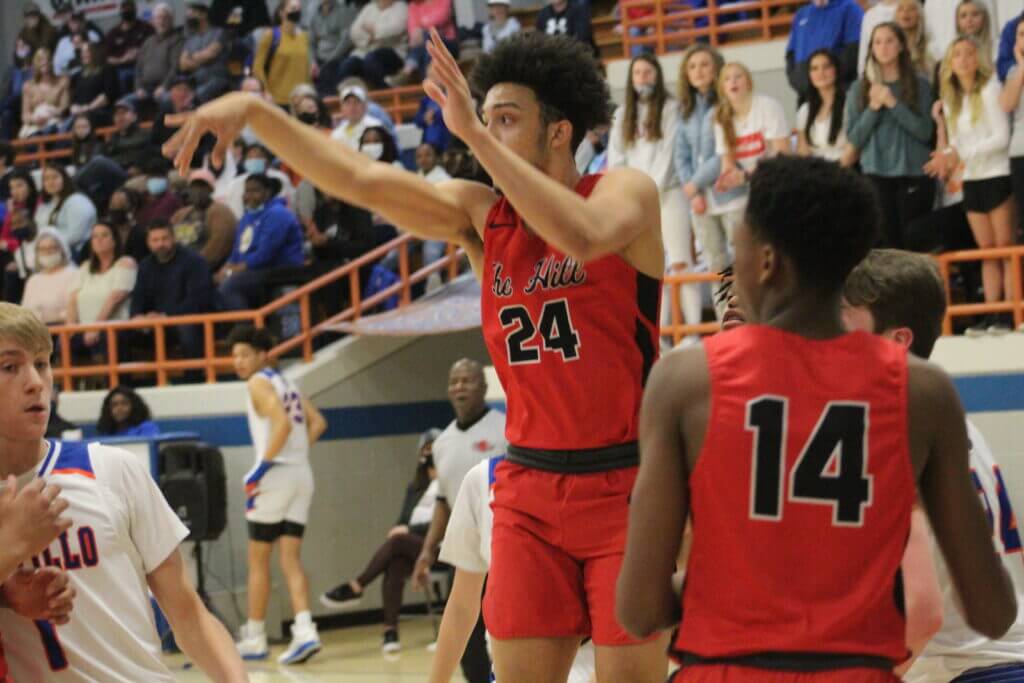 Laws kept his hot shooting going in the second half, hitting four three-point shots in the third quarter and finished with a game-high 23 points.
Burcham ended his night with 21 points for the Mustangs and Zandon Haralson scored 18 more, 11 of which for Haralsoon came after halftime.
"When we shoot the ball like we've been shooting the last five games, we're a hard, hard team to beat," said Mealer.
Braxton Gibbs led Saltillo's scoring with 16 points.
Mealer revealed Friday night that he had added one more opponent for the final week of the regular season. Olive Branch will come to the Center Hill gymnasium Tuesday night to renew a rivalry that was not expected to continue this season. Friday, the Mustangs' regular season ends with a contest against Southaven.
Center Hill's victory improved the Mustangs' overall record to 18-8.
SALTILLO GIRLS 45, CENTER HILL 35: The Center Hill girls dropped to 3-3 in 5A division play with Friday night's 45-35 loss to Saltillo. The Lady Mustangs struggled against the Lady Tigers, falling behind 15-9 in the first quarter. Center Hill was held to seven points in a second quarter that grew the Saltillo advantage to 26-16 at intermission.
"We started out the game with a little cold shooting and we didn't allow ourselves second chances, which really hurt us," said Lady Mustang coach Emily Owens. "We gave them a lot of second chances and that really hurt us in the first half."
Both teams traded points in the second half, but Saltillo held off Center Hill for the 10-point victory.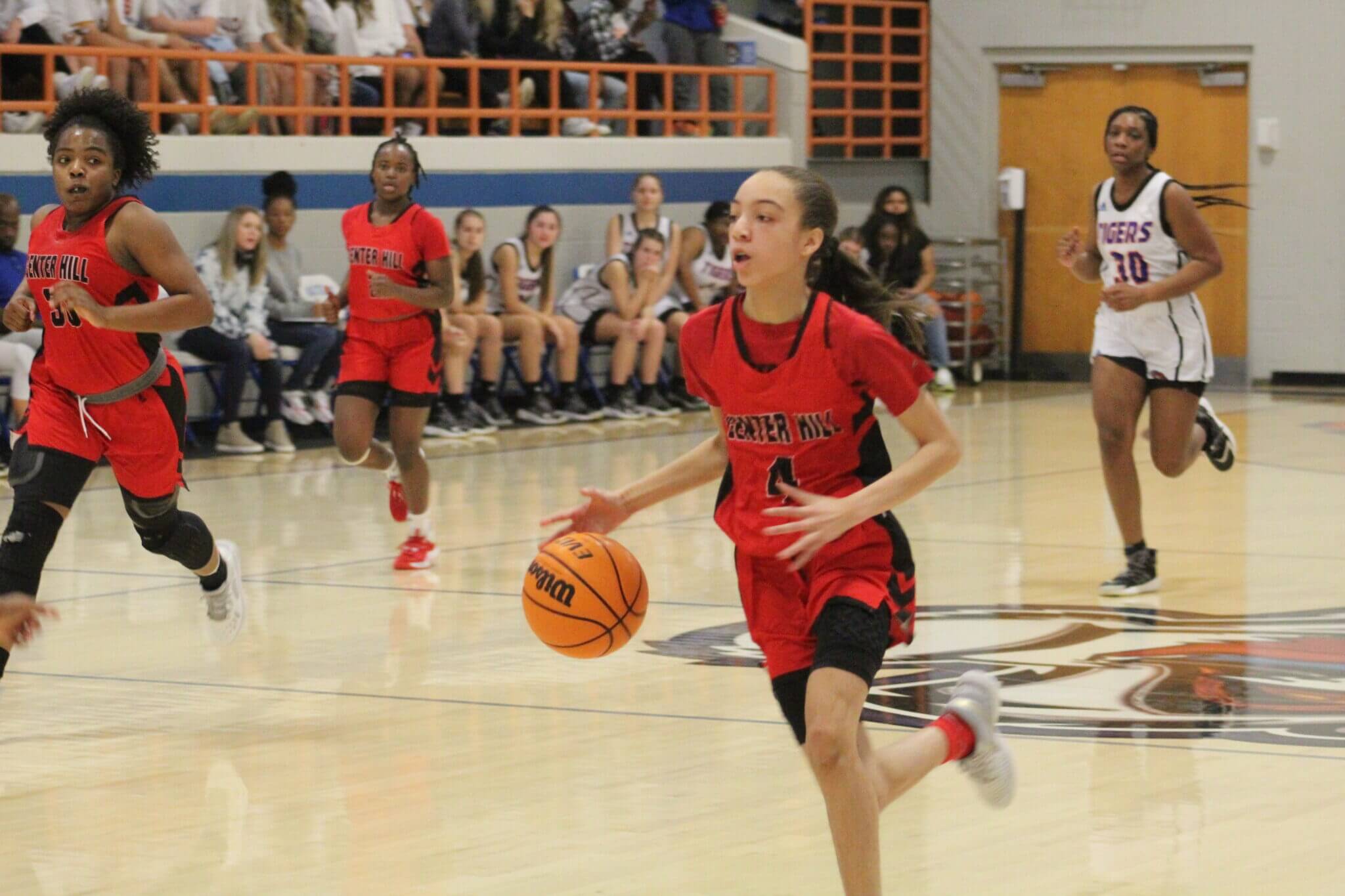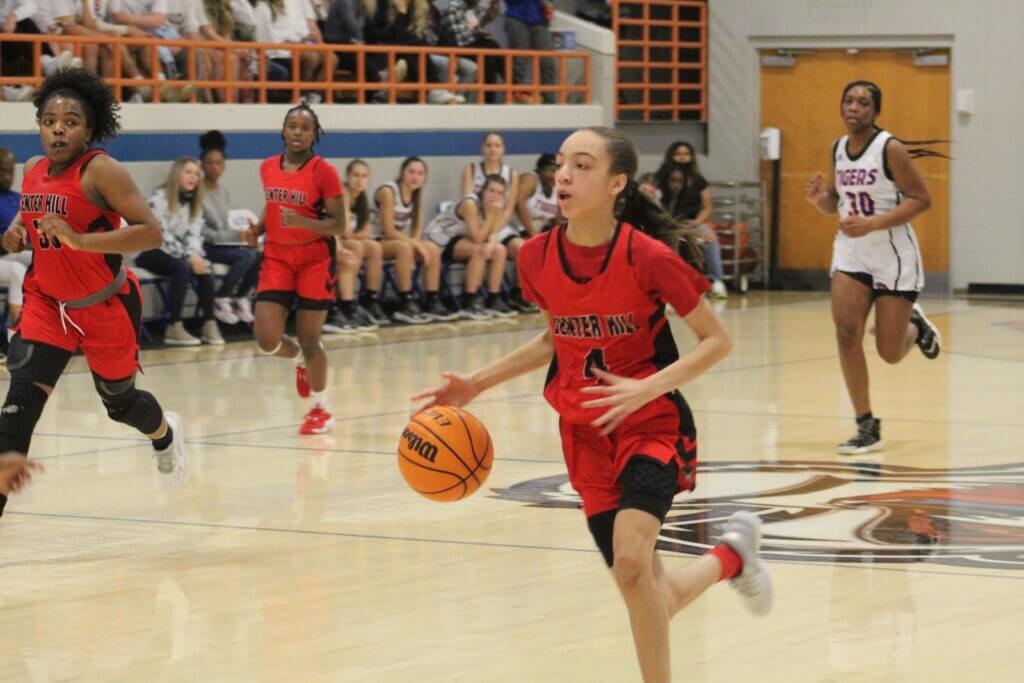 Jairya Rankins led Center Hill scoring with eight points, Dominique Collins and Kayleigh Prentiss each scored six more.
"Rankins is a ninth-grader and she can play some basketball," Owens said. "We're working on her mental toughness. Once she conquers that part of the game, she'll be pretty much unstoppable."
Hope Mealer, usually Center Hill's long range scoring threat, was held to just four points, on a basket and two free throws, all of which came in the fourth quarter, as the Saltillo defense seemed to make a special effort to keep Mealer from raining threes from outside the arc.
Janiah Hinton's 14 points led Saltillo in scoring for the contest.
"We worked a lot this week on rebounding, boxing out, crashing the boards, and we really didn't stick to that game plan which hurt us," Owens said. "We'll have a down day tonight, but hopefully for the tournament we'll fix that problem."
NOTABLES:
The 63-52 DeSoto Central boys' basketball victory at Olive Branch was the first Jaguars' victory over the Conquistadors since 2015. It was also the first time DeSoto Central had claimed a win over the Quistors at Olive Branch in seven years.
Horn Lake broke free from a 24-24 halftime tie to take a 35-31 lead after three quarters and the Eagles flew on to a 50-45 win at home against Hernando.
The Lake Cormorant boys rallied from a 22-18 halftime deficit to overtake the Lafayette Commodores by a final score of 52-40. The Gators took a 33-29 lead after three quarters
Lewisburg fell to 12-13 overall and 2-3 in 6A division play after Friday's 78-61 loss to Tupelo.
Southaven is the number one seed for their 6A district boys basketball tournament and is undefeated in district play after Friday's 71-61 win against Oxford.
Northpoint Christian dropped a 70-65 home game to Harding Academy, despite Darius Naylor and Eric Steward each scoring 14 points and Christian Gilliland added 13 more. Harding rallied for the win after trailing 50-45 going into the final quarter. Northpoint also led 30-24 at halftime.
The Hernando girls won their 6A district regular season title with Friday's 52-35 result over Horn Lake. The Lady Tigers were paced by Abbey Harrison again, as she scored 16 points, with support from Victoria Walton with 15 points. Hernando now has an 11-game winning streak, is 19-4 for the season and 5-0 in division action.
Addison Howell scored 19 points for Olive Branch in the Lady Quistors' 50-47 victory over DeSoto Central.
Leah Jones and Brylee Faith Cherry each scored 15 points as Northpoint Christian remained undefeated in division play after a 57-43 victory at home over Harding Academy. Izzy Carlson got 12 points for the Lady Trojans and Karrington Edwards contributed 10 more for Northpoint.
The Lake Cormorant girls were held to just three points in the second half of the Lady Gators 65-13 loss at Lafayette (Oxford), which led 45-10 at halftime.
MUSTANGS CLOSE TO STATE SOCCER FINALS
The Center Hill soccer Mustangs blistered Grenada 7-0 in a second round Class 5A playoff soccer match Friday night. Center Hill roared out to a 5-0 halftime lead and scored two more goals in the second half to end the game on the mercy rule. Center Hill now awaits the winner of Saturday's Saltillo-New Hope match for the North Half Championship on Tuesday at a site not yet determined.
REGION BOWLING RESULTS
Olive Branch was the boys' champion and Oxford had the top girls result in the regional Class 3 bowling meet at Strike Zone Lanes in Southaven Friday.
The top three teams in the boys' meet were Olive Branch with a team score of 2,802, followed by DeSoto Central in second at 2,749 and Lewisburg in third place with a score of 2,718.
Leading the girls' results were Oxford at 1,733, Tupelo (1,715), and Lewisburg (1,682).
Jaden Craigen of Lewisburg had the high series for boys at 638. Genevieve Bowker of Tupelo was girls' high series at 504.