Northpoint, Hernando advance in girls' playoff basketball
Photo: Northpoint Christian School's girls basketball team accepts the plaque as TSSAA Division II-A West Region champions after Tuesday's 34-23 victory over University School of Jackson, Tenn. (Bob Bakken/DeSoto County Sports)
By far the hottest high school basketball team in DeSoto County remains the Northpoint Christian School Lady Trojans, a team that continues to find ways to win big games.
Northpoint, which had to play three games on three consecutive nights in the TSSAA Division II-A West Region tournament, took the regional championship from University School of Jackson, Tenn. (USJ) 34-23 on Manley Court in Southaven Tuesday night.
The win not only laid claim to the regional title for the 21-4  Lady Trojans, but it ensured Northpoint would host the TSSAA Division II-A sub-state contest Friday night, after a couple of days to rest from the three-day grind.
"It feels really good to not have to travel to Nashville or Knoxville," Northpoint coach Barry Gray said. "They'll have to travel four hours to get here and we'll have our crowd and the band will be here. We're pretty excited about six o'clock on Friday night here."
The Lady Trojans will learn the opponent on Wednesday, when Goodpasture Christian (Madison, Tenn.) meets Silverdale Baptist Academy (Chattanooga, Tenn.). The winner of that contest will trek to Southaven Friday and the winner of that game will advance to the TSSAA Division II-A state Final Four, starting March 4 at Tennessee Tech in Cookeville, Tennessee.  
Northpoint has not lost a contest since a 37-28 defeat by Hernando in the Magnolia Heights Christmas Classic Dec. 28. The Lady Trojans' four losses this year have been to Hernando twice, DeSoto Central, and Collierville, Tenn., all formidable large-school opponents for the Southaven private school.
Tuesday night, the difference was Brylee Faith Cherry and a defense that allowed USJ only a field goal and a three-pointer the entire second half.
Cherry, with the Lady Bruins keeping a close eye on Tennessee-Chattanooga commit Leah Jones, stepped up to lead Northpoint in scoring with 14 points, 10 of which were scored in the first half.
"She (Cherry) was efficient and we did a good job of getting the ball to her," Gray said.
Jones, Northpoint's leading scorer the past two tournament games, was held to nine points, five of which were in the first half. Karrington Edwards added five for the Lady Trojans.
USJ was led by Carley Hayes with 11.
Northpoint had to crawl back from an early deficit against the Lady Bruins to take a 21-18 lead at halftime, said Gray.
"They came out in the first quarter and hit us 8-2 and made every shot they shot," Gray said. "They were like 5-for-6 coming out. But we dug in and got it back to three at 14-11. The defense then stepped up for both teams in the last three quarters."
In the third quarter, Northpoint outscored USJ 11-2 in taking a 32-20 edge going into the final quarter, which ended with five points scored between both teams, a pair of free throws by Leah Jones and a three-point basket by Hayes.
"We went into a 1-3-1 zone and they missed some corner threes that they normally make," Gray said. "The defensive play tonight by us was about as hard as I've seen for four quarters."
Friday, regardless of the opponent, Gray said his team will have the right attitude to take on their latest challenge.
"I think the Good Lord has blessed us," Gray said. "I keep telling them, 'you keep glorifying God with your talents and He's going to bless us.' I believe that."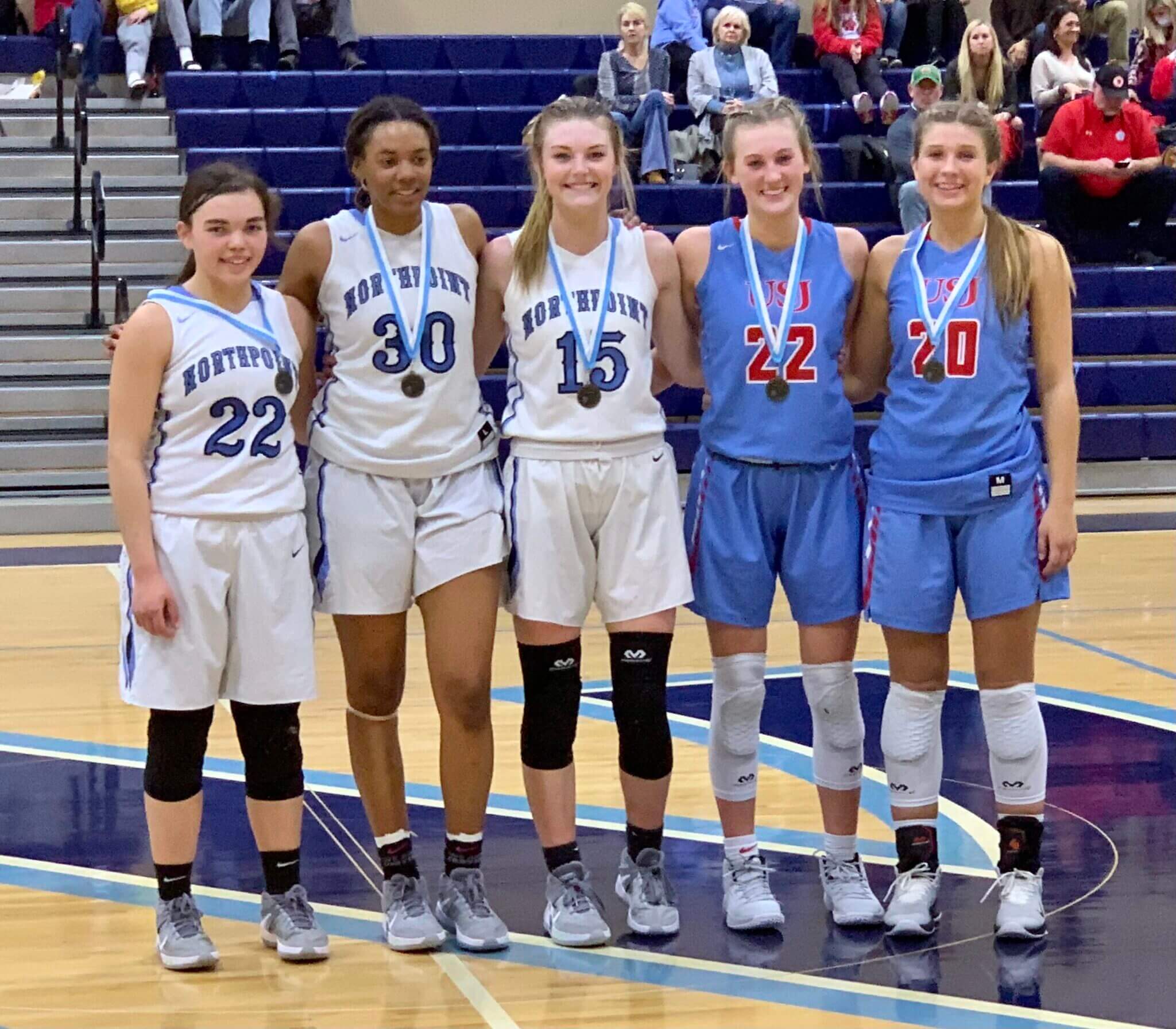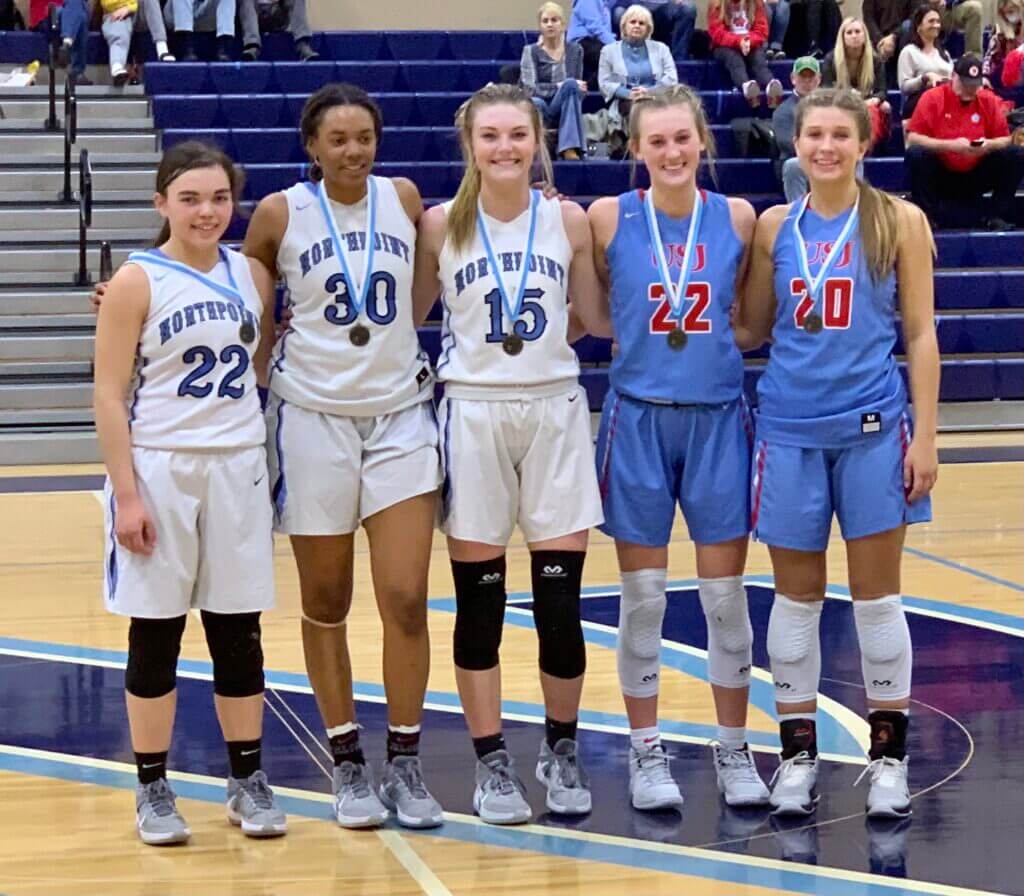 After the game, all-West Region team selections were announced. They include Cherry, Leah Jones and Izzy Carlson from Northpoint, and from USJ, Hayes and Olivia Jones.
HERNANDO ADVANCES IN 6A: In a MHSAA 6A first-round girls' game moved Monday afternoon to Tuesday, the Hernando Lady Tigers advanced to the second round with a solid 77-53 victory over South Panola. Hernando now turns around to play top-ranked Olive Branch Wednesday night on the Lady Quistors' home floor.
Andrea Manning led the Hernando attack with 24 points, followed by Victoria Walton with 14 points and Abbey Harrison scored 12.
Hernando led pretty much from start to finish, taking a 27-12 lead after one quarter. The margin was increased to 42-24 at halftime and the Lady Tigers held a 58-31 lead after three quarters.