Hustle announce promo schedule, single game ticket sale date
The Memphis Hustle has announced its promotional schedule for the 2021-22 season, featuring a variety of themed nights and giveaways, as well as the public on-sale date for single game tickets.
Fans will be able to purchase single game tickets for all regular season Hustle games beginning Wednesday, Oct. 27, at 10 a.m. Tickets start at just $12 and are available for purchase at Ticketmaster.com, Memphis.gleague.nba.com or by calling (901) 888-HOOP. Additionally, all-inclusive floor seats and tables are still available for purchase, and the Hustle are accepting $50 deposits for groups of 15-or-more.
The promotional calendar tips-off with Frontline Workers Weekend against the Mexico City Capitanes on Friday, Nov. 5, at 7 p.m. and Sunday, Nov. 7, at 2 p.m. The Hustle will deliver 2,000 tickets to frontline workers across the Mid-South for both games, and frontline workers will have the chance to show a work I.D. to the Landers Center Box Office to receive a complimentary ticket to either game. The first 1,000 fans in attendance on Friday, Nov. 5, will also receive a Hustle Clear Bag to celebrate opening night.
Returning this season are two dates for Hustle & Hounds night, where fans may bring their canine friends to the game, on Sunday, Dec. 5, at 2 p.m. vs. South Bay and Friday, Feb. 25, at 7 p.m. vs. Austin. The first 250 fans in attendance will receive a Hustle Doggie Bag Holder. The Hustle will host Millennials Night on Friday, Dec. 3, Superhero Night on Friday, Feb. 4, and the team's fourth annual Financial Literacy Day Game presented by Renasant Bank on Thursday, Feb. 10.
The complete 2021-22 Memphis Hustle promotional schedule is listed below: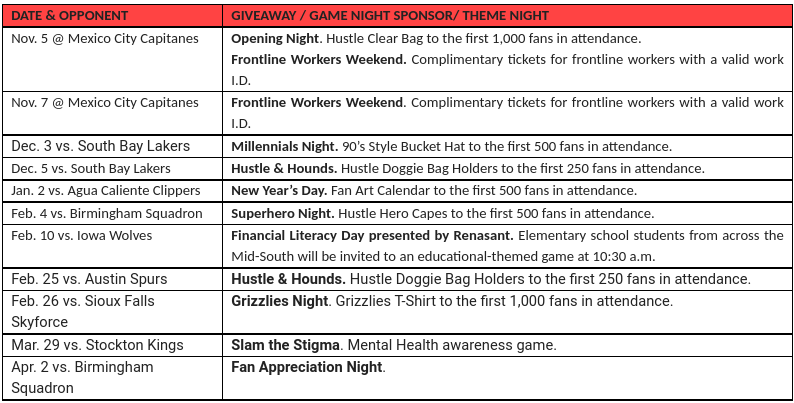 DeSoto County News Service – News Release