Horn Lake names Jackson new football coach
Photo: New Horn Lake High School football head coach Brandon Jackson talks with his team during a workout Monday afternoon. (Bob Bakken/DeSoto County Sports)
It's not often for a high school principal to be perusing through the resumes of potential head football candidates and read "Super Bowl Champion." That's what Horn Lake High School principal Nick Toungett came across as he looked through the candidates for a new man to lead the Eagles.
But Toungett said it was Jackson's passion for the school and the football program he began his playing career at that sold him as the man to be the new head coach.
The Horn Lake job abruptly became open a few weeks back and Toungett was faced with finding a new coach before spring practice began.
Jackson was chosen over applicants from both inside and outside the DeSoto County School District. He comes to Horn Lake with an extensive assistant coaching resume, from college to an NFL internship. He was a defensive coordinator for Olive Branch High School ahead of getting the Horn Lake job.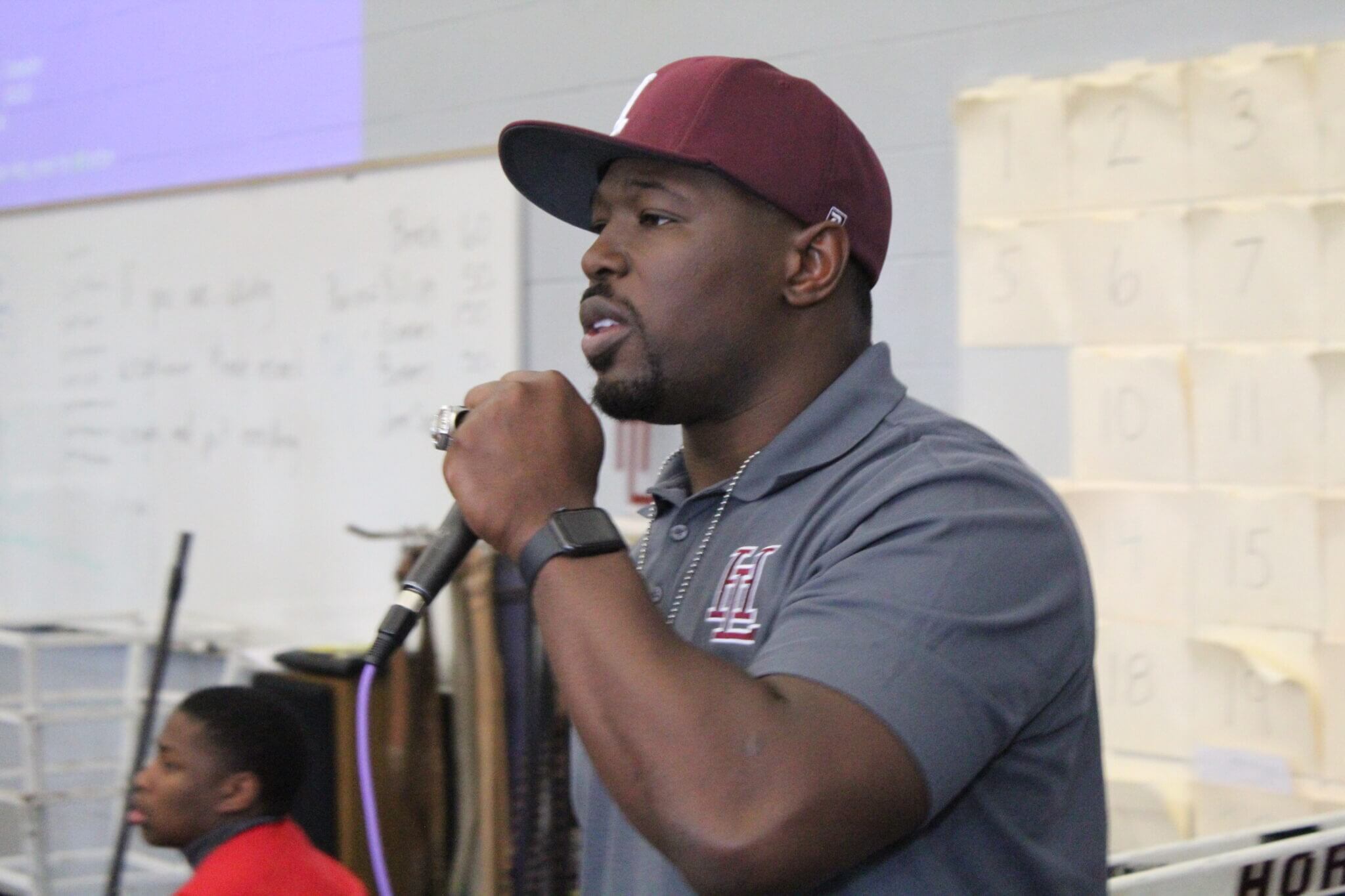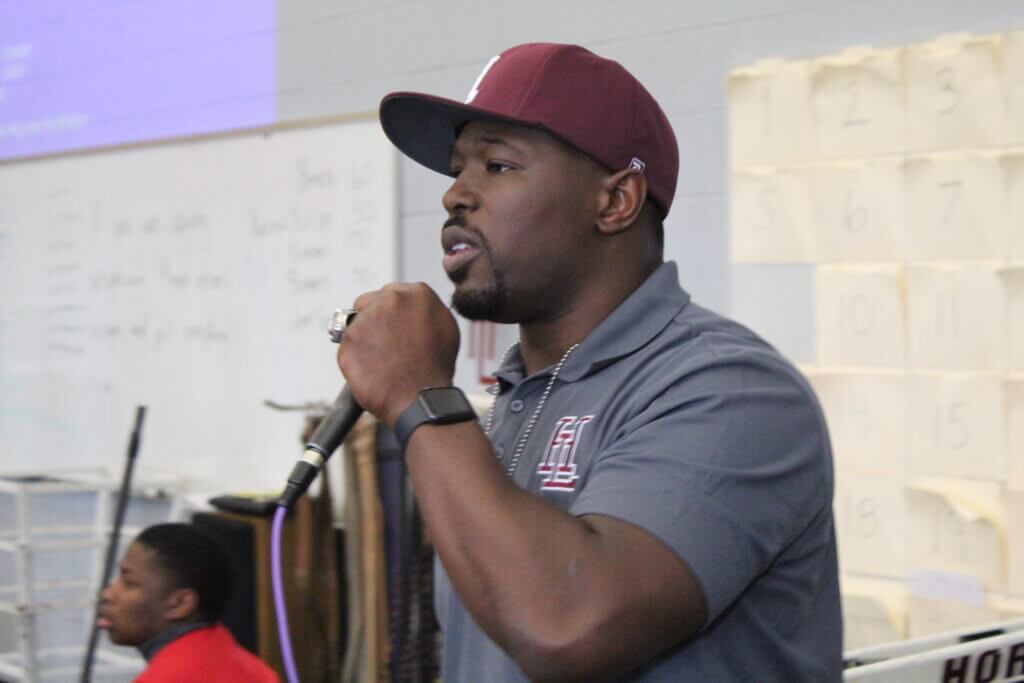 "He knows what it takes to get it done and to get from this level to the next, and the next level to the next," Toungett said. "I think he'll be a great role model for our kids to see somebody from Horn Lake who has done it."
Jackson said returning back to the school on Church Road is truly coming home for him.
"This is where everything started for me," said Jackson. "It was a great opportunity for me to come back and give back to my community and these young men and show them the way that it needs to be and show them how success looks."
trul
Following a high school career that had Jackson being named as Class 5A offensive player of the year, Jackson was recruited and played for coach Bill Callahan at Nebraska. During his time with the Cornhuskers, Jackson ran for 1,431 yards and 14 touchdowns, starting 11 of 33 games.
Jackson was selected in the second round of the NFL Draft by the Green Bay Packers and was part of the 2010 Super Bowl XLV championship, defeating the Pittsburgh Steelers.
He also played two seasons with the Cleveland Browns before his NFL career ended. In his NFL career, Jackson ran for 1,383 yards and seven rushing touchdowns. He also also 112 passes for 864 yards and two receiving touchdowns.
Stops at Briar Cliff University in Iowa, Tusculum, Austin Peay, and Southeast Missouri State University are on his coaching resume before his return to DeSoto County.
Jackson said the players were excited when he first entered Monday after being named new football coach.
"It was full of energy in the room," Jackson related. "They started clapping and they started getting excited. They saw the rings. It was good, it was warm. It felt natural, it felt good."
Horn Lake football should be fast, energetic, and physical, Jackson said.
"I want to be fast on both sides of the ball," Jackson said. "I want to be up and down the field on offense, and making opponents think twice on defense."
Toungett says, beyond wins and losses, Jackson should emphasize pride in the program and remind his players how high they can conceivably get to in football
"I felt his passion for Horn Lake and for this job in particular," Toungett said. "I don't think anybody wanted the job more than he did. I think he's going to fight to make sure the Horn Lake community is proud and our players are served and taken care of on-and-off the field.
"My time here is all about them, about making sure they get offered and they get noticed, they get their ACT and they get the GPA that they need and want to be successful," Jackson added.