THE VITAL STATISTICS
Prep football
DeSoto Central 14, Horn Lake 7
Center Hill 27, Lewisburg 17
Southaven 16, Hernando 9
South Panola 56, Olive Branch 28
Cleveland Central 25, Lake Cormorant 14
Northpoint Christian 27, St. George's (Collierville, Tenn.) 13
Complete DeSoto County high school scores and schedules
Prep girls soccer
TSSAA Division II-A playoffs
Northpoint Christian 5, Sacred Heart of Jesus (Jackson, Tenn.) 4
GATORS BITTEN BY WOLVES
Friday night's meeting between Cleveland Central and Lake Cormorant was a matchup between two of the top four teams in Region 1-5A after the first week of district play. It also was the second contest ever between the Wolves and Gators, which beat Cleveland Central 16-7 in a 2017 5A playoff game.
Friday, the opportunistic Wolves entered the Swamp and came away with a 25-14 victory to move among the top teams in the region standings at 2-0, 3-2 overall. Lake Cormorant dropped a game back to 1-1 and 3-3 overall.
It was a game Lake Cormorant coach Nick Nester thought they let slip away.
"Absolutely," Nester said. "We felt like we absolutely let that game get away."
Cleveland Central was opportunistic because a third-quarter punt block led to a touchdown when it appeared Lake Cormorant had started to take control of the contest. The Wolves also benefited from a fumble on what appeared to be a drive leading to a touchdown by the Gators, and a fourth-down measurement after a short yardage run by Jeremy Henderson appeared to be enough for a first down, but when spotted, the Wolves had held and kept the Lake Cormorant offense from keeping the late fourth-quarter drive going.
The Wolves opened the scoring with 2:20 left in the first quarter on an eight-yard run from quarterback Jaryn Kelly. The extra-point kick was missed to keep the score at 6-0.
The kicking game was a struggle for the Wolves much of the night, which also had a 28-yard field goal attempt earlier in the quarter miss the uprights.
There was no scoring in the second quarter, but there were three key plays in the 12-minute period of play.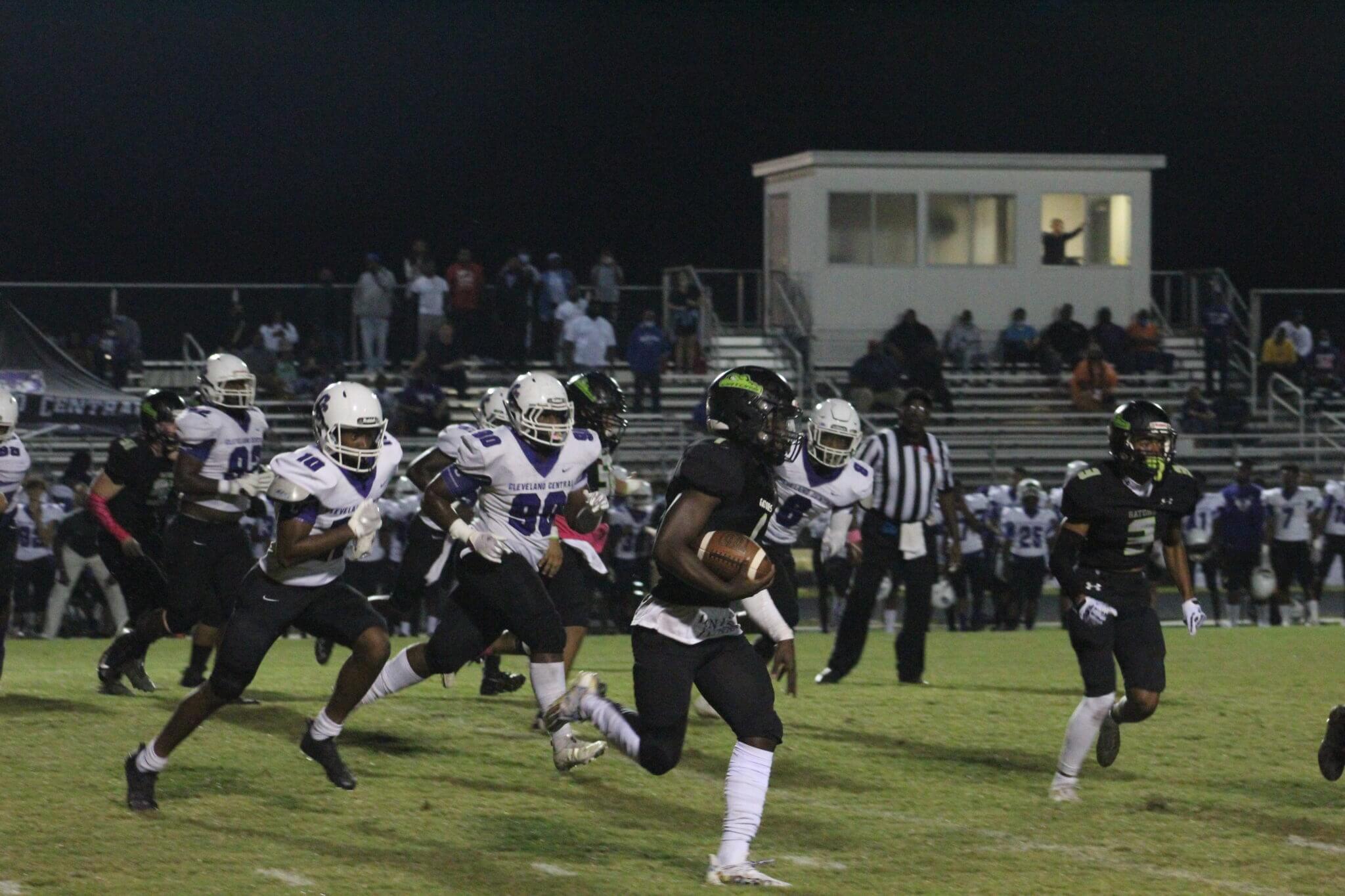 An apparent scoring pass by Cleveland Central was negated by a holding penalty, Lake Cormorant quarterback Telvin Amos appeared to be leading the offense on a scoring drive when he fumbled and lost the football at the Cleveland Central 18-yard line after picking up some significant yards on a keeper play; and once again, the Wolves' kicking game came up short as a 34-yard field goal attempt missed with 19 seconds left before halftime that would have put the visitors up by two scores heading into intermission, when the halftime scoreboard still read 6-0 Cleveland Central.
Lake Cormorant came out of the locker room at halftime and started to take over the contest. Actually it was Amos taking control, with a pair of rushing touchdowns for a 14-6 lead. His 47-yard scoring run with 8:20 left in the quarter was quickly followed by another, this time of 37 yards, when the Gators recovered a fumble on the kickoff after Amos' first touchdown.
"The first half we started out slow, but the second half we came out great," said Nester. "The next thing you know we're ahead 14-6."
But a play that swung the pendulum back in the Wolves' favor came later in the third quarter when a blocked punt on fourth down put Cleveland Central in possession at the Gators' three-yard-line. Running back Myles Griffin powered over from there to get the Wolves within 14-12 Lake Cormorant after a rushing attempt for a two-point conversion came up short.
"Even though we let them back in the game, it was still 14-12 at the start of the fourth quarter," Nester said. "I thought we had great control of the game, but with the punt block we never really got back into it."
Griffin would score two more touchdowns in the fourth quarter to put the game away. His second score of the night came with just over eight minutes remaining and would give Cleveland Central an 18-14 lead.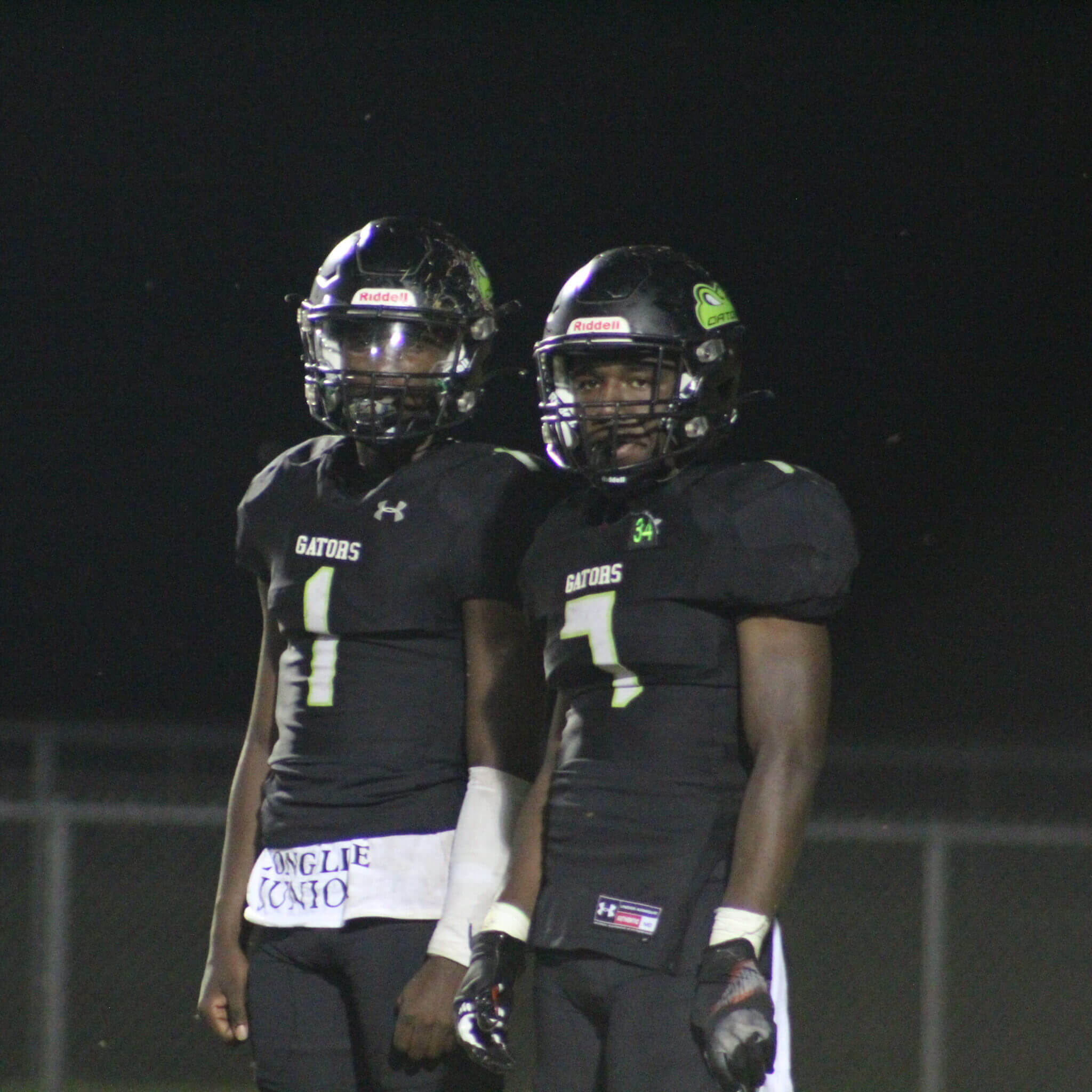 And when Henderson was stopped just short of a first down on a fourth-down call, Griffin finished off the ensuing drive with another two-yard run with 3:09 remaining, followed by the Wolves' placekicker finally kicking a successful extra point for the final 25-14 score.
"On the fourth down call we just came up short," Nester said. "We go for it on fourth down, we thought we had it, but the refs said we didn't. I just hate that we let that slip away. I thought we should have had that game."
One last chance by the Gators ended when a desparation Amos pass was intercepted near the goal line and the Wolves ran out the clock.
Cleveland Central plays host to West Point next Friday night, while Lake Cormorant hopes to rebound at Saltillo, a team the Gators beat 30-6 last season.
WORTH NOTING…
Andrew Moore tossed a 36-yard touchdown pass to Ethan Minor with 46 seconds remaining in the game to give DeSoto Central (3-3/2-0) a 14-7 victory over Horn Lake (2-3/1-1). Marquis Fields opened the scoring with a two-yard touchdown run in the final minute of the first quarter. Horn Lake's two-game winning streak was stopped and DeSoto Central now has a two-game winning streak. It was the fifth victory all-time for the Jaguars in the series against the Eagles.
Center Hill took a 20-3 lead into halftime and held on to defeat Lewisburg 27-17 and return a traveling trophy between the two schools that had been at Lewisburg since 2019. Marq Holmes scored a pair of touchdowns and Amari Dawkins ran for 173 yards in the Center Hill win, its ninth all-time against Patriots. Gunner Gilmore threw for 87 yards and a touchdown and myles Smith ran for 66 yards and a score for Lewisburg. The win stopped a three-game losing streak for the Mustangs and Lewisburg has now lost three in a row. It was also Center Hill's first region win as a 6A school.
Hernando lost its fourth in a row and Southaven grew its current streak to three wins in a row in the Chargers' 16-9 victory. Southaven also rebounded from a 12-0 loss to the Tigers in the teams' last meeting last season.
Olive Branch has also lost four straight after its 56-28 defeat at South Panola, which has won four in a row after losing its first two games to COVID-19 protocols. The game turned around in favor of the Tigers after the Conquistadors had taken a 14-0 early in the game, which was tied at 21-21 at halftime. South Panola exploded for 35 second-half points, including 21 in the fourth quarter to put the game away.
Northpoint Christian won its first TSSAA district game of the season in its 27-13 win over St. George's of Collierville, Tenn. The Trojans have also won two in row after losing its first three contests.
In the Northpoint Christian School girls' soccer playoff victory, Clare Chambliss scored three goals, Moriah Tims and Madison Fowler each scored a goal.