Friday sports: DeSoto Central handles Gators
Two teams looking to bounce back from tough losses met Friday night in week two of the DeSoto County high school football season, with DeSoto Central coming away with a 31-6 victory over the visiting Lake Cormorant Gators.
An early indication of how Friday's game would go happened in the first minute and a half of the contest, shortly after the Gators had stalled in their initial drive off the opening kick off and punted the ball away to the Jaguars.  
In just one snap of the football, DeSoto Central quarterback Andrew Moore found wide receiver Destin Wheeler open, jetting down the sideline. The connection was made with Moore throwing to Wheeler for a 76-yard touchdown and a 7-0 Jaguar lead with a 1:36 played in the contest.
Lake Cormorant continued to struggle moving the football and became handicapped even more when running back Jeremy Henderson went down with an injury and couldn't return.
But DeSoto Central's offense continued to push the Gator defense and eventually Cameron Taylor bullied his way through the line for a one-yard score with 6:49 left and a 14-0 Jaguar lead at the end of the first quarter.
A 24-yard field goal by Ean Marsiglia of DeSoto Central with 3:29 remaining in the first half upped the margin to 17-0 before Lake Cormorant finally got on the scoreboard in the final 1:12 left in the half.
Cur'darrius Bullock, called on to take over the vast majority of the Gators' running offense with the injury to Henderson, found paydirt for a 17-6 lead ahead of the extra point kick.
However, Omar Varela's kick try deflected up and off the left upright, making it no good and kept the first half score at 17-6 DeSoto Central.
Having kicked off to the Gators to open the game, the Jaguars took the second half kickoff and took it all the way for its second big play touchdown of the night. Jalen Spikes took it home on a 79-yard kickoff return and a 24-6 advantage just 12 seconds into the third period of play.
Taylor added a short yard touchdown with just under eight minutes left in the quarter for what became the final 31-6 score for the Jaguars.
Two teams that struggled in their season opener but felt they should have won now find themselves facing different situations.
DeSoto Central (1-1) gains some momentum heading into next Friday's game up in Eads, Tennessee against Briarcrest Christian.
Meanwhile, Lake Cormorant (0-2) will be concerned about the health of Henderson, an important cog of their offense who missed much of Friday's loss. They also have to gather together and prepare for the annual Lake Bowl battle with neighboring Horn Lake.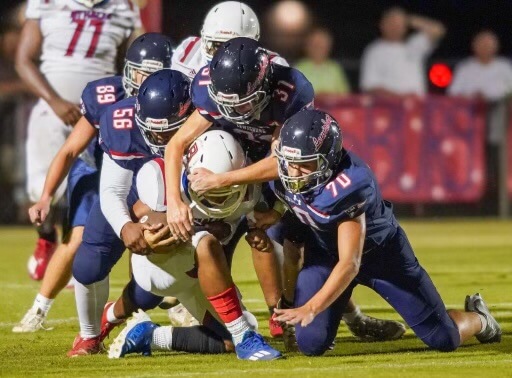 DeSoto County scores
Lewisburg 43, Byhalia 12
DeSoto Central 31, Lake Cormorant 6
Southaven 28, Columbus 0
Oxford Lafayette 50, Horn Lake 13
Center Hill 41, Memphis Kirby 0
Hernando 33, Cleveland Central 26
Olive Branch 37, St. George's (Collierville) 0
Northpoint Christian 43, Marshall County, Ky. 14