DeSoto County represents on first Ranger VB roster
History is being made on the campus of Northwest Mississippi Community College in Senatobia and DeSoto County volleyball players will have a major part in it.
While county high school programs have been a force to be reckoned with at the state level for volleyball the past several years, the players have had few chances to continue their careers at the collegiate level, unless they were discovered and signed on by a Division II, Division III, or NAIA school. You see very few athletes dot the rosters of Division I volleyball programs, including the three major Mississippi schools: Ole Miss, Mississippi State, or Southern Miss.
However, the start of volleyball at the community college level in Mississippi means more athletes are able to use their court savvy and skills to get an education and continue playing the game they love and have played for years.
Three Mississippi junior colleges now offer volleyball as a sport. Pearl River was the first to do so last year and Itawamba and Northwest have added the sport this year.
Thanks to the coronavirus pandemic, the schedules won't start until January this year but practice and preseason training has begun.
It's history being made for a sport overdue for an introduction at the junior college level and seven young women from DeSoto County want to make the first season a memorable one.
The roster for Ranger volleyball includes: Kamryn Connor (DeSoto Central); Elizabeth Perkins, who is from Nesbit but played high school volleyball at Evangelical Christian School in Cordova, Tennessee; Taylor Smith (Hernando); India Jeffries (Southaven); Sydney Sides (DeSoto Central); Alexia Davis (Lake Cormorant); Caroline Aldridge (Lewisburg); and Kapria Manning (Center Hill).  The two team managers are also from DeSoto County. They are Maddie Hammond (Lewisburg) and Jaclyn Gronke (Lake Cormorant). 
These names are familiar to fans of high school volleyball in the area, along with the first coach for Northwest in Allison Burchyett, who led both Southaven and Lewisburg to state championships as a high school coach.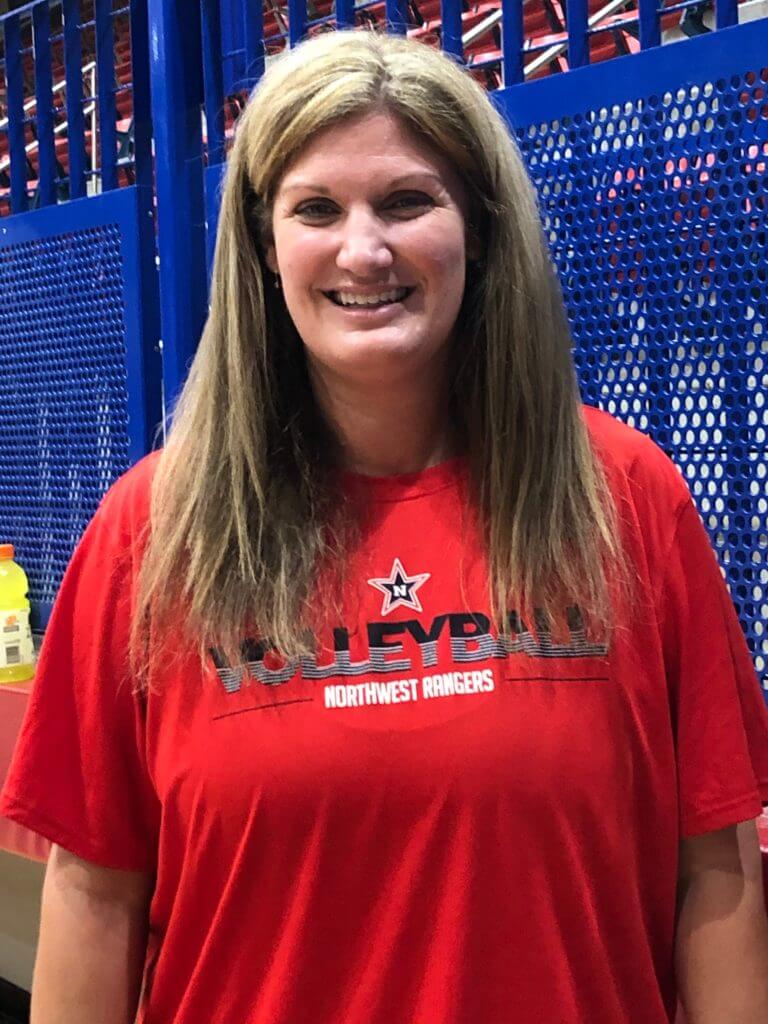 Some players said Burchyett was a reason they chose to be a part of the first-year program.
"I have a strong belief in the vision of Coach Burchyett as a team," Aldridge said in explaining why she transferred from Blue Mountain College to play at Northwest.
"I watched Coach Burchyett dominate my high school team all those years (at Southaven)," added Jeffries. "So to be able for her to watch me play since ninth grade shows me she knows what I can do and she knows what I need to do to be better."
Several said they left high school thinking they would never be able to play competitive volleyball again, so they were very glad to get the opportunity, a word they freely used to explain what they were getting involved in.
"I looked at it as an opportunity, an opportunity that was given me," said Davis. "I have a new coach, I get to meet new people, so I saw the opportunity and took it."
"To me, it means that I got to continue my volleyball career after sitting out a year because I graduated high school in 2019," Connor explained. "I finished my freshman year at Northwest and was given an opportunity to play this year. I thought high school would be the end of it. I had gotten a few offers but I just put them down. I was ready to get out in the workforce and finish school."
"I honestly thought I would never get the chance to continue to play a sport that I had fallen in love with in seventh grade," said Smith. "When I got the offer I took it as a blessing, a pat on the back, and I just rolled with it."
"When I graduated from high school, I didn't see myself continuing my volleyball career, to get to play past the high school level," Perkins added. "But I think the Lord just brought this opportunity that after my freshman year of being at Northwest the volleyball team came about. I'm really excited to be here with these girls and get to make history with this first team."
Excitement about being the first volleyball team on the Senatobia campus permeates the Rangers locker room.
"It makes me feel really good that I get the chance to play with a bunch of different players all the way around and to have a really good coach," Smith said. "I just think it's going to make history and be something good to look back on. Some of us may even get further offers on to the next level."
"We're making history, there's no other team that'll get to say they were the first volleyball team at Northwest," added Perkins.
"I've heard so many people say when I told them I was coming to play here, they wished that when they were my age they had something like this," Aldridge said. "I think it's going to grow a lot as it goes on."
"This is all I wanted to do, really, just play volleyball," Jeffries explained. "I get to be explosive and aggressive on the court, and running hard for the ball, that's what gets my attention."
Not to be forgotten are the other members of this brand new team, with Julissa Soto (Cordova, Tennessee); Chariah Mabry (Walnut Ridge, Arkansas); MK Kuchta (Water Valley); and Allison Greene (Corinth).
Northwest will have scrimmages with other teams before the actual season starts in January. The unknowns with the coronavirus pandemic means there are still a lot of questions about the season, including how, or if, fans will be able to come watch.
But one thing is for sure, history is about to happen on the Howard Coliseum floor, so break out the volleyball and let it happen.