Arkansas holds on past Kansas in AutoZone Liberty Bowl
Photo: Arkansas players hold the AutoZone Liberty Bowl Champions Trophy following the Razorbacks' three-overtime victory over Kansas. (Photo by Michael Priest.)
The 64th AutoZone Liberty Bowl likely had one of the most exciting finishes in its history Wednesday night, as Arkansas survived a furious rally from Kansas and held on to defeat the Jayhawks 55-53 in three overtimes.
The game started with Arkansas scoring a bowl-record high 24 points in the first quarter on three touchdown passes and a three-yard run for a score from quarterback KJ Jefferson.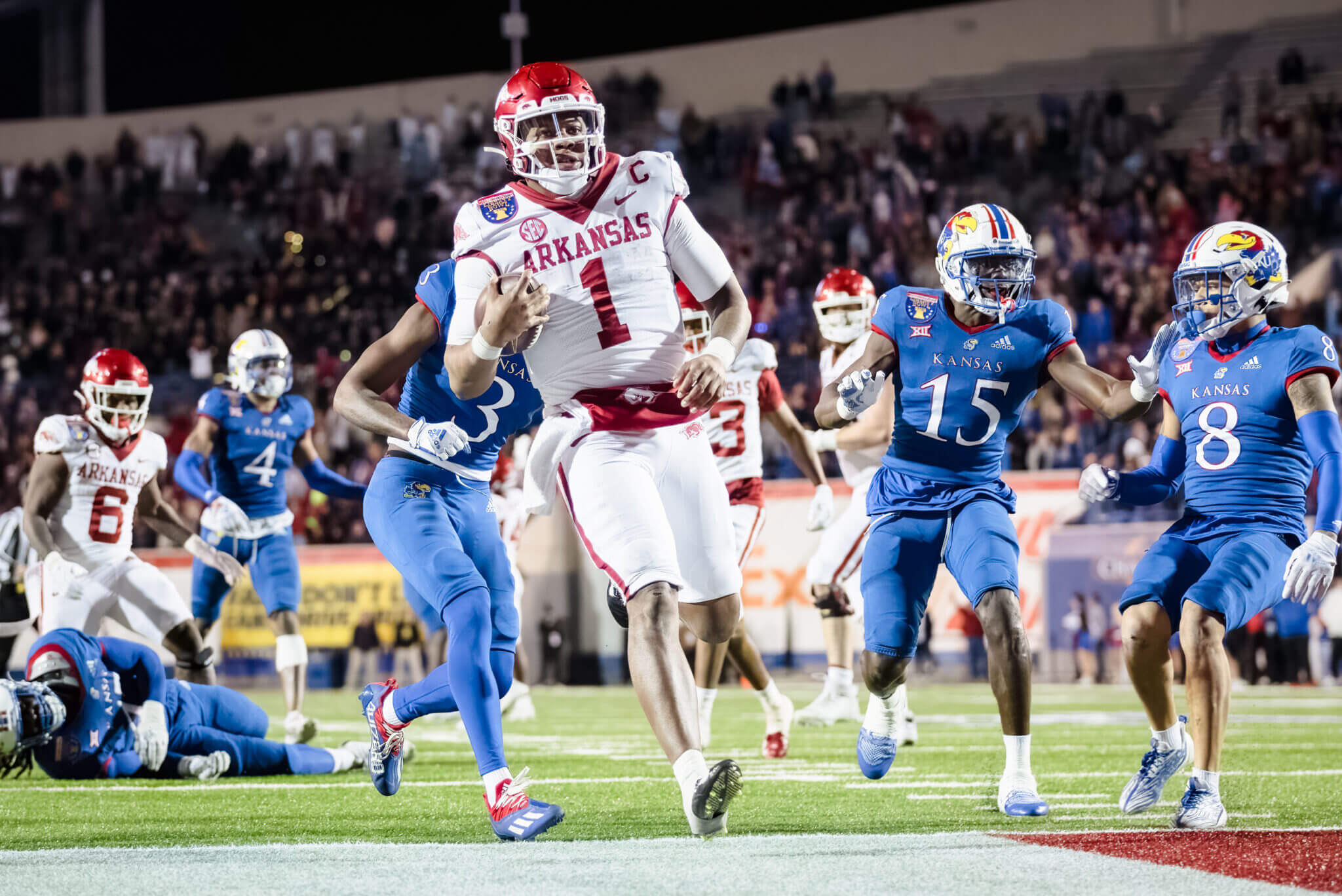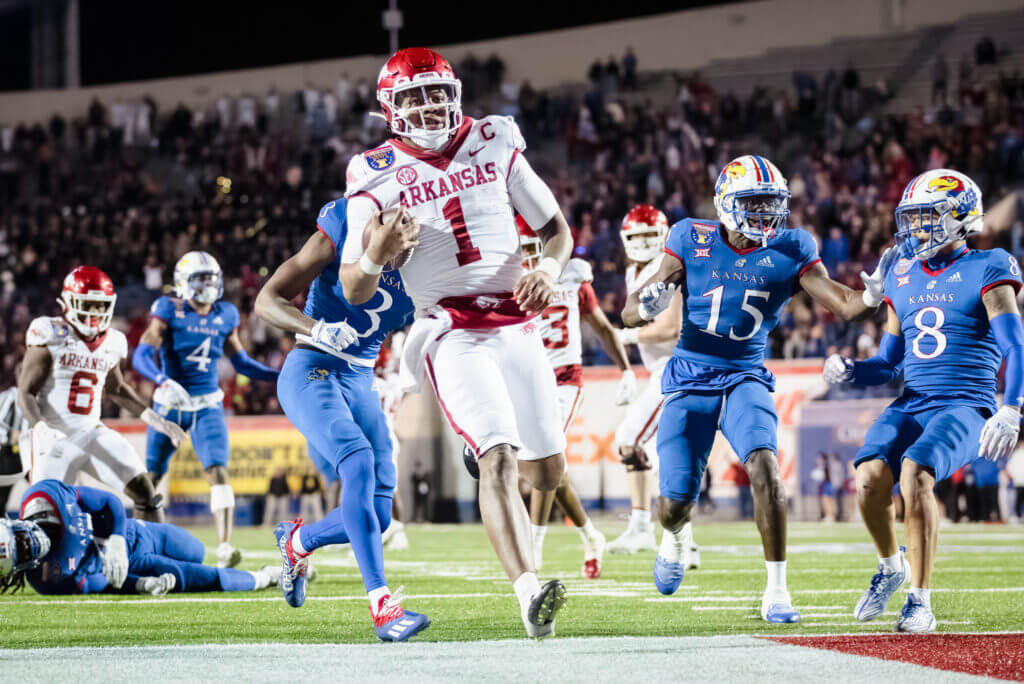 The Razorbacks took the 24-7 first-quarter lead and led 31-13 at halftime.
The teams traded touchdowns in the third quarter as Arkansas led 38-20 lead into the final quarter of play. But that's when the Big 12 Jayhawks, playing in its first bowl game since 2008, scored 18 points in the final 15 minutes of the game, climaxed by quarterback Jalon Daniels' 21 yard scoring pass to Luke Grimm with 41 seconds remaining to send the game into overtime.
The difference came in the third overtime when Rashod Dubinion scored a two-point conversion and Kansas pass attempt for a tying two-point score sailed over the end zone and the intended receiver.
Arkansas outgained Kansas in yardage 681-603. Jefferson was the leading rusher for the game with 130 yards in 14 carries. Dubinion added 112 yards in 20 attempts.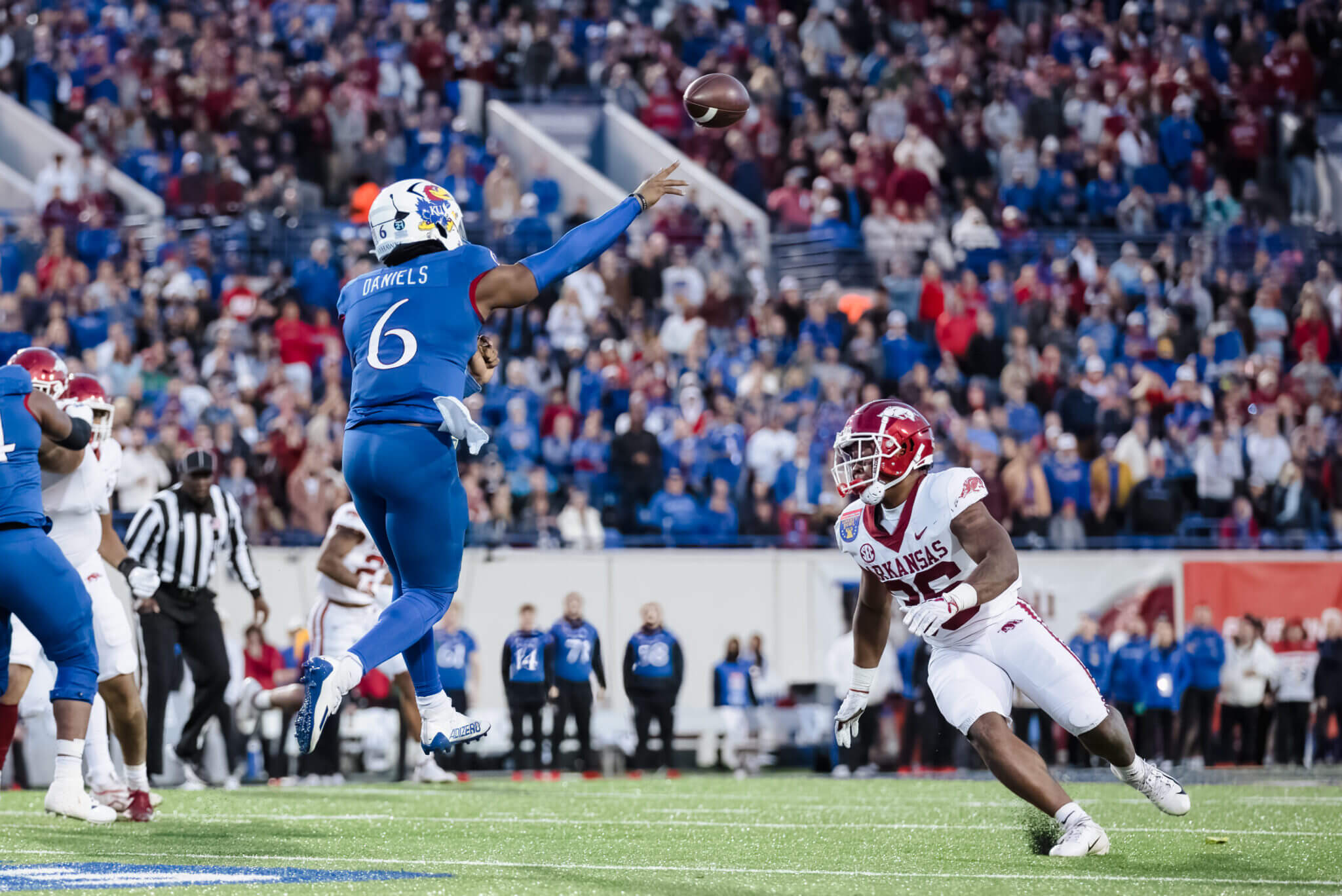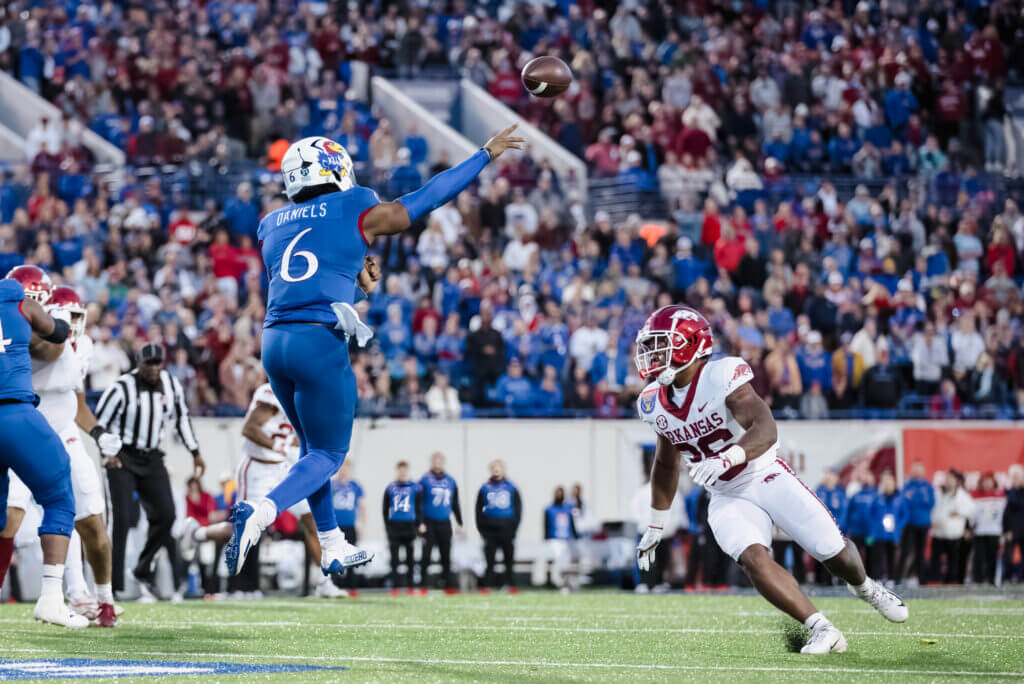 Kansas on the ground was led by Devin Neal with just 29 yards on nine carries. However, Daniels kept the football in the air, throwing 55 times with 37 completions and two interceptions for 544 yards and five touchdowns.
Jefferson was 19 of 29 with one interception for 287 yards and two scores.
Grimm was the leading pass receiver for Kansas with 167 yards and a touchdown in 10 catches. Matt Landers of Arkansas caught three passesfor 121 yards and a score.
With the victory, Arkansas finished with a winning record for the year at 7-6 while Kansas ended with a 6-7 record.
NOTING THE AUTOZONE LIBERTY BOWL:
Kansas entered the game trying to stop a three-game losing streak while Arkansas lost three of its last four, including the regular season finale, a 29-27 loss to Missouri. Kansas opened the season winning five in a row before a 38-31 loss to TCU on Oct. 8 started a second half of the regular season where the Jayhawks lost six of seven games, including the season finale, a 47-27 defeat suffered by Kansas State.
A bit of DeSoto County returned again to the AutoZone Liberty Bowl. Chuck Roberts of Southaven has done the public address announcing for the game the past several years and was back behind the microphone Wednesday. Roberts also is heard at Northpoint Christian School home football, baseball and basketball games.
The young man who tossed the coin to begin Wednesday's game was a familiar face to DeSoto County. Caleb, a St. Jude Children's Research Hospital patient from Lewisburg, was invited to do the coin toss ahead of the contest.