Tournament update: Gators sideline Callaway to head for Jackson
Photo: Lake Cormorant's Keithean KB Brooks calls for the ball while guarded by Callaway's Marquise NIchols during Saturday's state 5A quarterfinal game at Lake Cormorant. (Bob Bakken/DeSoto County Sports)
"Making history, we're making history!"
Those were the words Lake Cormorant guard Donovan Sanders exclaimed as he and his jubilant teammates were leaving the court after Saturday night's 80-75 double-overtime upset victory over defending champion Callaway to move the Gators into the MHSAA 5A state semi-finals.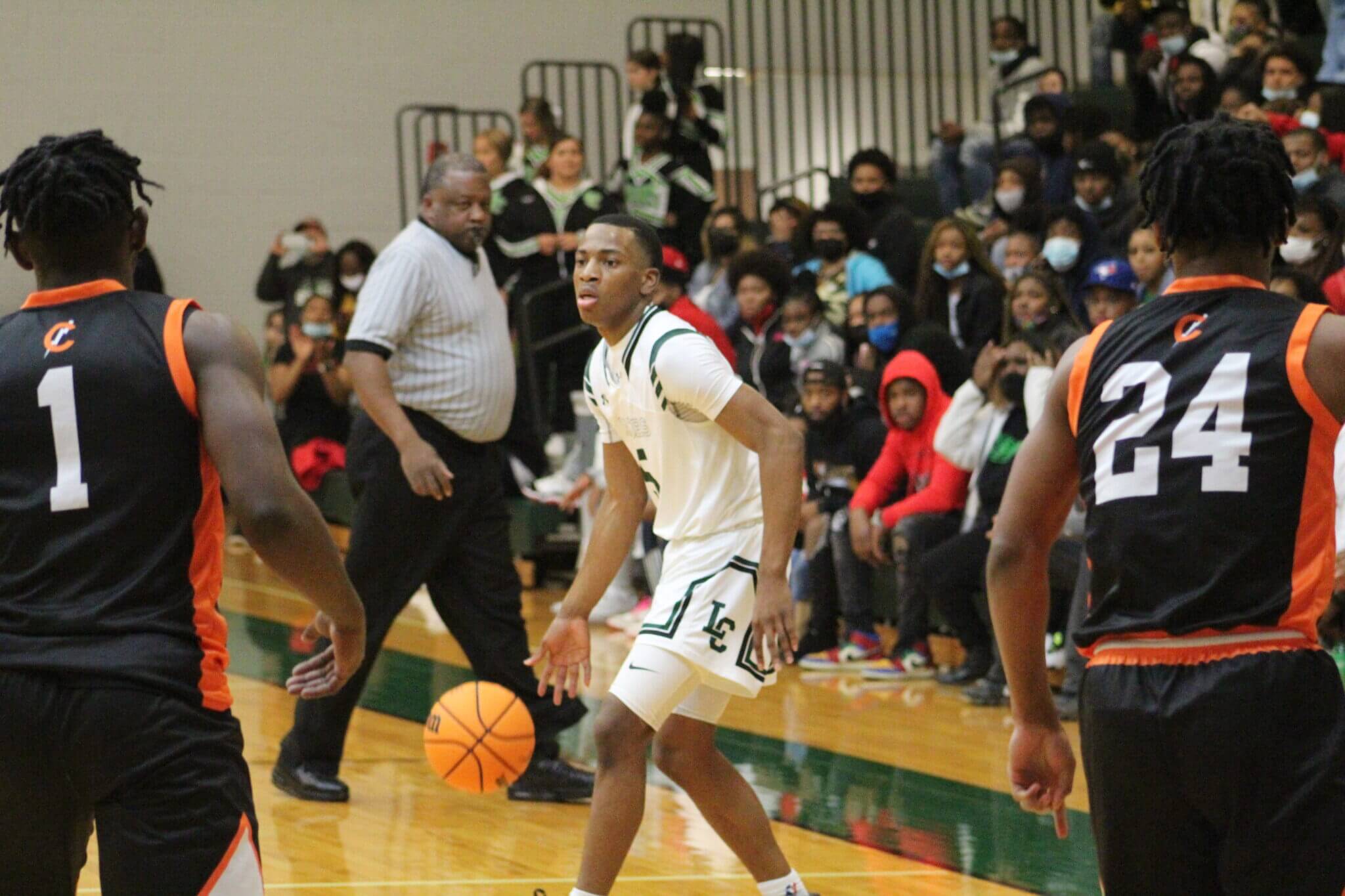 Lake Cormorant (19-7) will next play Hattiesburg (13-6) Tuesday evening, March 2, at Mississippi Coliseum in Jackson, starting at 7 p.m. It will be the first time in school history that a Lake Cormorant team has reached the state's Final Four 5A.
"From the tip to the final horn of two overtimes we played with heart and we never let up," said Lake Cormorant coach Bryant Worsham. "We go down six, we go up six. It's the best game I've ever been a part of, win or lose. I'm just glad we came out on top."
Callaway might have expected to come in and easily move past the underdog Gators into the semifinals, but Lake Cormorant refused to fall away. The Gators constantly kept close to the Chargers, so close in fact, that Tony McCray's responsibility for the night was to keep next to Callaway's standout guard Daeshun Ruffin. So close in fact, McCray tried to get shoulder-to-shoulder with Ruffin when the Chargers gathered around coach David Sanders during a free throw in the first half, causing coach Sanders and a couple of Callaway players to start pushing at McCray to try and move him away, an action finally broken up by a referee.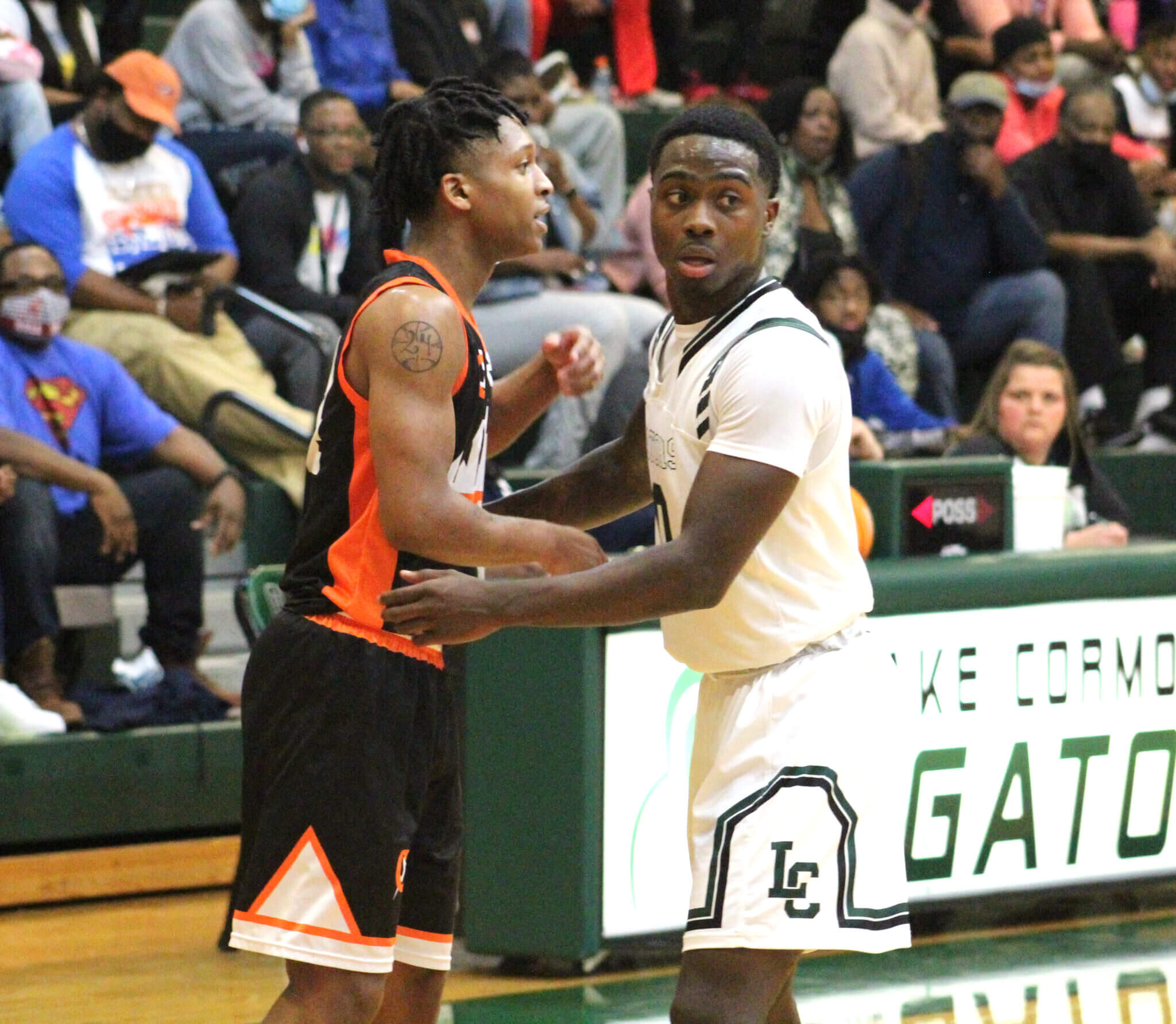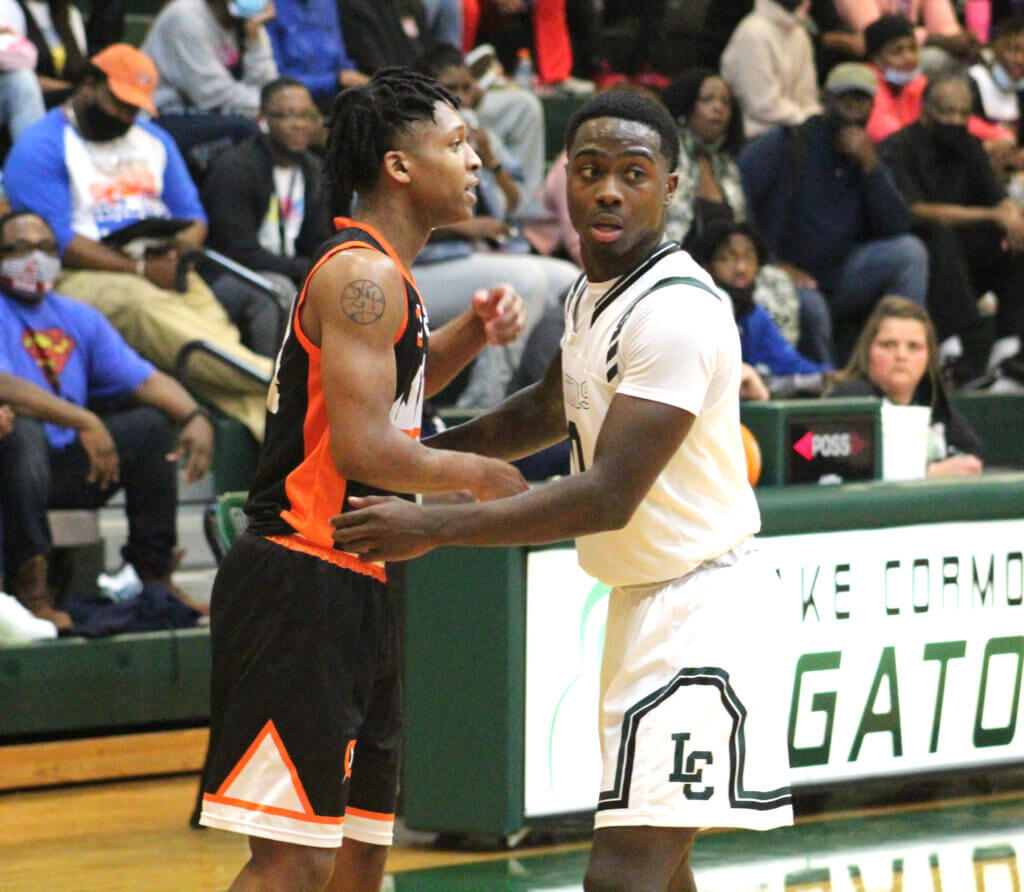 "If he (Ruffin) went back to Callaway, Tony McCray was going to follow him," Worsham said. "Tony played about as great as he could possibly play. We knew if we could get it four-on-four we'd have a shot and we did it for 40 minutes."
McCray's face-guarding defense couldn't keep Ruffin from putting in the points however, as the Ole Miss signee led all scorers with 37 points. The total included five three-pointers. Kevion Hunt scored another 22 points for the Chargers and Anthony Richards finished with 12.
However, the Lake Cormorant attack was led by the pair of Sanders and forward Keithean "KB" Brooks, who led the Gators with 26 points. Sanders scored 22 and Draper Newell finished with 12.
"KB is so consistent," Worsham said. "He gets in his own head and that's the only thing that can stop him."
Lake Cormorant took a 23-21 lead after one quarter, with Sanders, Brooks, and Damien McKnight each scoring six points in the quarter. Ruffin scored 13 points in the first quarter alone for Callaway, which had a 17-14 lead with 2:15 left in the quarter, but the Gators turned three straight turnovers into baskets to end the first period of play with the lead.
A low-scoring second quarter ended with Lake Cormorant holding a 33-32 lead at halftime, but it was the Chargers that needed a late layup to get within one entering the intermission.
Brooks added four more points to his total to pace the Gators in the second quarter. Ruffin added seven points in the quarter for Callaway.
Richards helped give the Chargers a 51-47 lead going into the final quarter with eight of his 12 points coming after halftime. Sanders' seven points led Lake Cormorant in the period.
It was Brooks with six points in the final eight minutes of regulation play who helped Lake Cormorant forge a 64-64 tie after 32 minutes of play.
Key moments in the final quarter came when McKnight committed his fifth foul with 4:47 left that kept him on the bench for the rest of the night. Lake Cormorant actually could have won the game at the end of regulation but a free throw by Marshall Odum with 1.8 seconds left fell off and the teams entered overtime.
Lake Cormorant took a six-point lead in the first overtime when Newell sank a three-pointer and the Gators still led by 70-68 with less than a minute left. But two free throws by Dyllion Redmond tied the game at 70-70 and the teams went into another extra period.
The second overtime saw Ruffin miss a couple of free throws and Sanders was fouled hard going in for a layup and after a moment to recover sank a pair of charity tosses. He made one more free throw before taking his fifth foul with 45.6 seconds left.
The final desperation toss from Ruffin at the top of the key came off line and fans stormed the court to celebrate the Gators' 80-75 victory over a Callaway team that eliminated Lake Cormorant in the second round last year.
"History's been made," Worsham said. "But we are not done. We have two more wins yet, so we're not done."  
HOLMES COUNTY CENTRAL 70, CENTER HILL 51
The Center Hill Mustangs that lost to Callaway in the state championship game last year will not be able to return to the Final Four, thanks to a 70-51 defeat at Holmes County Central.
Center Hill, which won the state 5A title two years ago, found the Jaguars clamping down on the Mustangs' two best players, Kaeden Laws and Zandon Haralson. Laws finished with 10 points and Haralson was held to just five.
The Mustangs, which led 31-23 at halftime, were paced by Calvin Dockery and Preston Newson, each with 11 points.
Holmes County Central meets Forest Hill (Jackson) in the other 5A semifinal on Tuesday night in Jackson at 8:30 p.m.
STARKVILLE 78, OLIVE BRANCH 54
Playing on their home floor, the Yellowjackets took a 33-21 lead into halftime and went on to the 78-54 6A state quarterfinal victory over the Conquistadors on Saturday in Starkville.
Starkville outscored Olive Branch 23-13 in the second quarter and finished off the Quistors in the final eight minutes with a 27-24 shootout that couldn't bring Olive Branch back from a deep deficit.
Three Quistors scored in double figures in the contest, led by Jonathan Burns with 17, including a pair of three-pointers. Terry Joyner scored 13 and Jaylyn Tyler added 11 for Olive Branch.
Starkville (20-2) meets Oak Grove (Hattiesburg) 18-3 Wednesday night at 8:30 p.m. in the second 6A semifinal game after Clinton meets Harrison Central.
CLICK HERE to find all of the 2021 DeSoto County postseason basketball playoff scores for MHSAA and TSSAA playoffs.