Vaccinations now being given at Landers Center
Photo: National Guardsmen assist as appointments for vaccinations enter a tent area at the Landers Center in Southaven. (Bob Bakken/DeSoto County News)
On a day when the Mississippi State Department of Health reported new coronavirus daily cases had dropped below 1,000 for the first time in quite some time, vaccinations for those with appointments were being administered at the Landers Center for the first time.
With assistance from members of the Mississippi National Guard, vaccinations administered through MSDH were given out through a drive-through method in the arena parking lot.
Those who had originally received appointments for vaccinations at the County Health Department in Hernando were instructed to come to the Landers Center instead.
The Hernando facility was where appointments for the vaccine were initially given but eventually it was not able to handle the crush of vaccination appointments MSDH tried to get out in a county that has the highest number of cases reported in Mississippi.
The Landers Center will be the vaccination site in DeSoto County going forward, officials said. The map below shows the traffic flow requested to get to and from the vaccination site.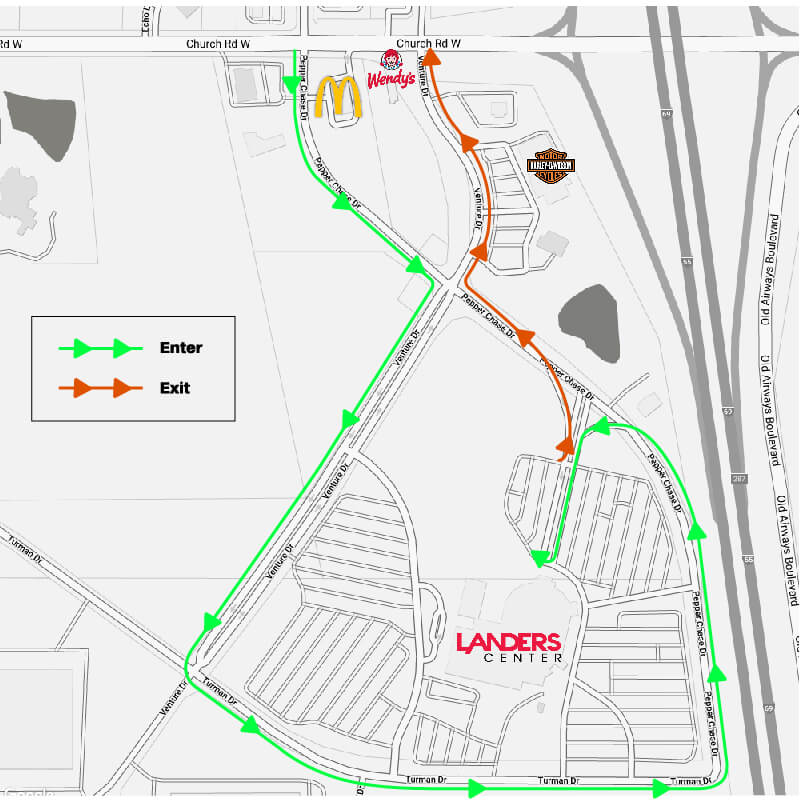 Expect the number of appointments to continue growing for DeSoto County residents wanting the shot series to protect themselves against the potentially deadly COVID-19, said DeSoto County Supervisor Lee Caldwell.
"By Feb. 1, we'll be up to 800 vaccinations a day and we're hoping to soon go to 1,000," said Caldwell. "We can get more people vaccinated and safe in our community."
The Hernando location had been limited to 400 appointments a day. Caldwell said the Landers Center provides a larger volume of appointments to be filled in that facility.
"There had been a plan for this to happen," Caldwell said. "For whatever reason the plans were changed in Jackson. The logistics weren't there for us (at Hernando), there wasn't enough space in order to do that. This is working much nicer so we're able to move people through here faster."
Appointments can be made online at covidvaccine.umc.edu or by calling 877-978-6453. People are encouraged to monitor the website for appointment availability. Announcements will also be made on the DeSoto County Government Facebook page.
MSDH reported 927 new cases were reported for the day through 6 p.m. Sunday and there had been five new death reports related to COVID-19 in the state. None of the new death reports came from DeSoto County.
It's believed the 978 cases reported on Christmas Day may have been the last time MSDH reported fewer than 1,000 new positive cases reported from the Magnolia State.
There were 66 new cases reported in the county for the 24-hour period through 6 p.m. Sunday for a total of now 17,807. The number of deaths from coronavirus in DeSoto County remained at 191.
There were also 199 active outbreaks at Mississippi long-term care facilities. Mississippi has had a total of 265,146 residents who caught the virus, according to MSDH statistics, and there have been 5,777 people who have died with the cause of death related to coronavirus.
DeSoto County long-term care facilities have seen a total of 113 outbreaks and 24 people have died.
Baptist Memorial Hospital-DeSoto in Southaven on Monday reported that it had two intensive care unit beds available and 16 available staffed beds. The hospital reported 56 coronavirus patients being treated and nine ICU patients with COVID-19.
At Methodist-Olive Branch Hospital, there were two available staffed beds and one available ICU beds. The Olive Branch hospital had 16 coronavirus patients being treated and six COVID-19 patients in intensive care.